Travel
Best Fall Drives Through the Ozarks
When fall color begins creeping its way into the trees, grab your favorite road trip snacks and a top-notch driving soundtrack and hit the road. The Ozarks are chock-full of scenic byways that are perfect for a leisurely afternoon spent on the open road.
By Katie Pollock Estes
Sep 2020
Are you ready to leave your to-do list behind, hop in the car and explore some Ozarks roadside vistas? We sure are. We love hitting the open road with a good soundtrack and some great snacks, following the curves and bends and admiring bursting fall color. As you keep an eye on peak fall foliage and find free weekend moments that beg for exploration, use this feature as your guide to getting started.
417 Magazine Publisher Logan Aguirre shares her favorite fall drives with KY3's The Place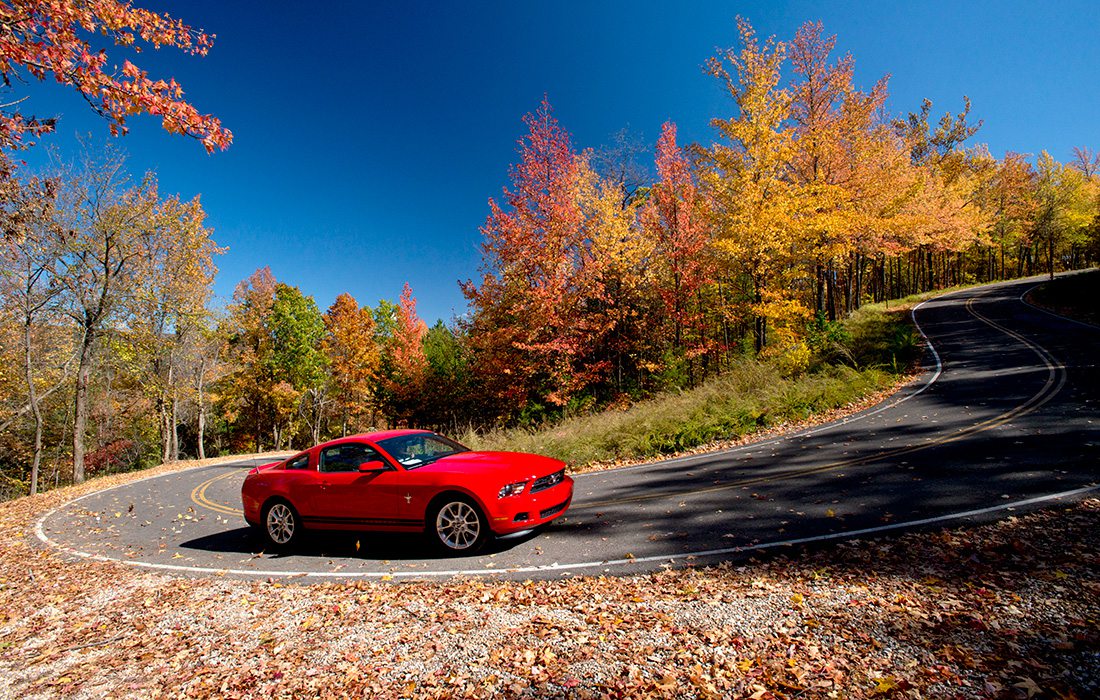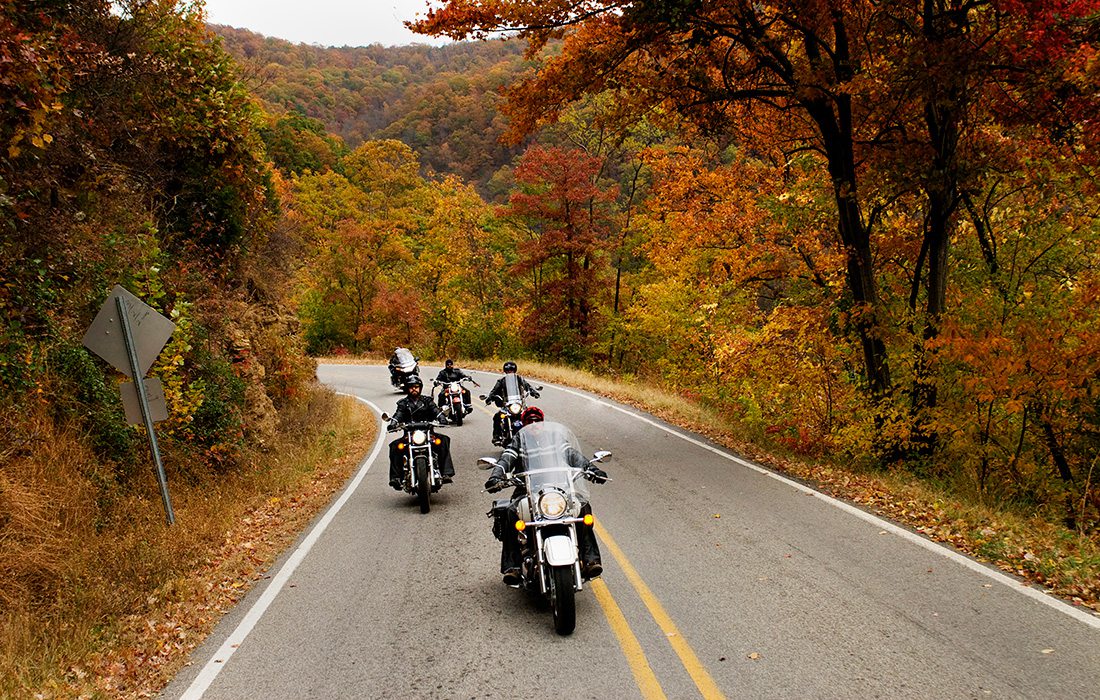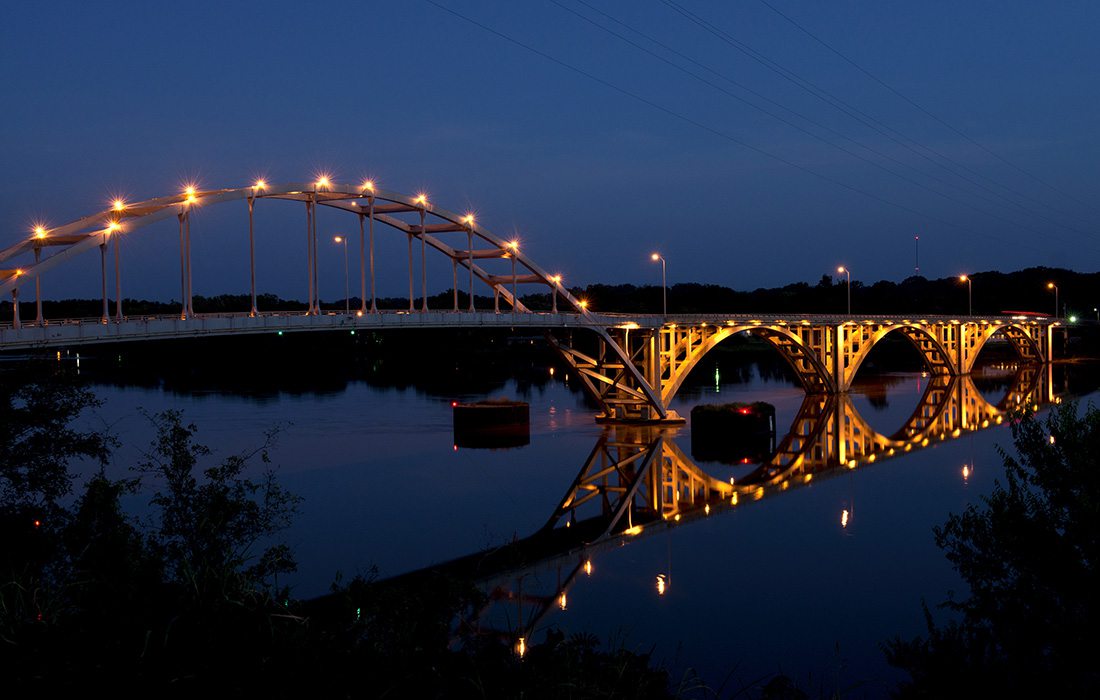 Pig Trail Scenic Byway
How to Find It: Start in Eureka Springs, Arkansas. Check the map and plan your trip.
Time Commitment: This 19-mile drive might only take half an hour to complete. Factor in drive time and a stop to eat too.
Why It's Worth the Gas: Your view on this trek is of Northwest Arkansas's Boston Mountains, which erupt in bright oranges and yellows when fall foliage is at its peak.  And if you save your road trip for the spring, you'll be rewarded with bursting swaths of wildflowers instead of fiery foliage.
This path's curving switchbacks are popular among motorcyclists, and while the route is just a short 19 miles, its views are rewarding, as drivers cross the Mulberry River along the way. Plus, we love that driving Pig Trail requires you to pass through Eureka Springs to get there. You can turn a pretty drive into a whole day trip or even weekend away by stopping to shop and play in the sweet, hilly little town.
Dine Along the Way: Get tacos and some elote before or after your drive at Aquarius Taqueria in Eureka Springs (91 S. Main St., Eureka Springs, 479-253-6888).
More Ways to See Fall Color in the Ozarks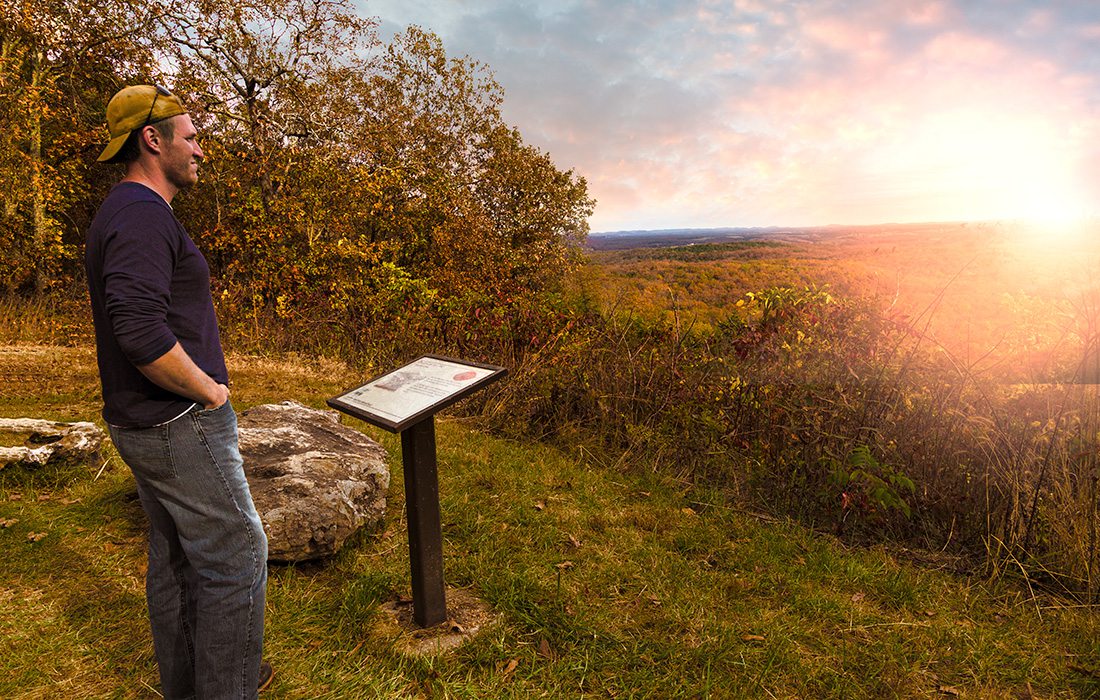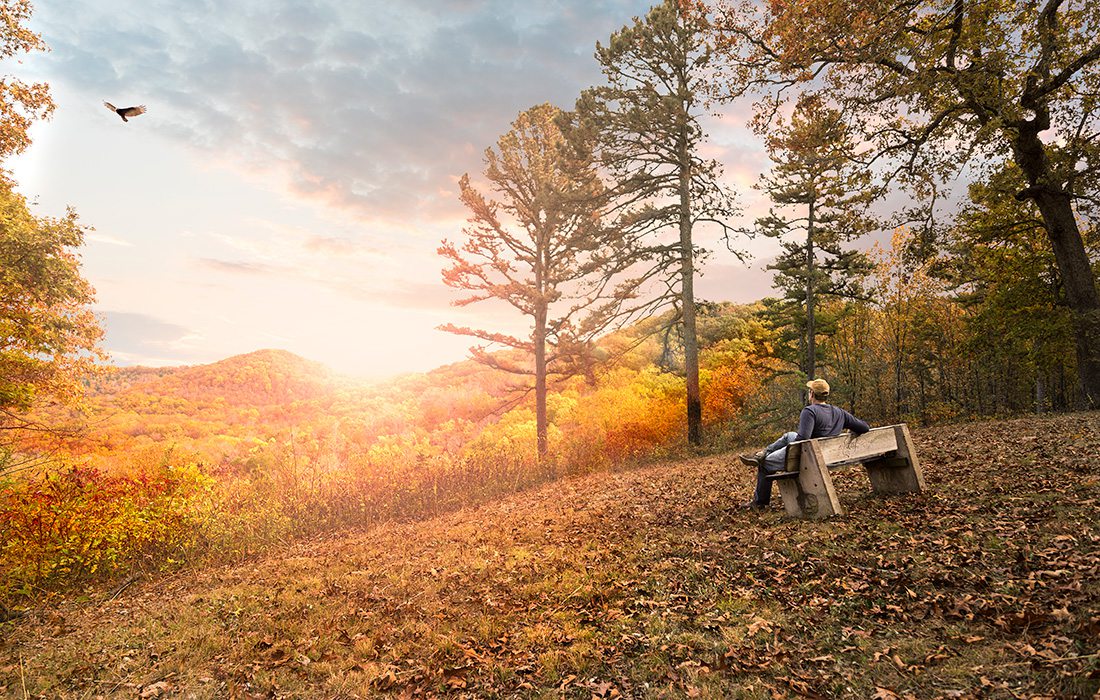 Glade Top National Forest Scenic Byway
How to Find It: Start in Ava. Check the map and plan your trip.
https://goo.gl/maps/UKJsVwaPrN1pxN9T7
Time Commitment: The byway is only 23 miles long, but we recommend you give yourself at least a couple hours to stop and enjoy the vistas. Don't rush!
Why It's Worth the Gas: Following a high ridge through dense woods, Glade Top National Forest Scenic Byway gives you all the Missouri autumn feels. Stop at the pullouts and stretch your legs while you look out over sweeping Mark Twain National Forest vistas. You might even spy interesting critters, like tarantulas and eastern collard lizards, among the glades. The byway splits partway through for a choose-your-own-adventure drive. You can end at either Longrun or State Highway 125. We recommend taking one leg of the split, then backtracking to take the other as well, so you can enjoy the full 23 miles of byway.
Dine Along the Way: Make reservations for a Friday night multi-course French dinner at La Galette Berrichonne (143 E. Main St., Fordland, 417-738-2112) in Fordland on the way home.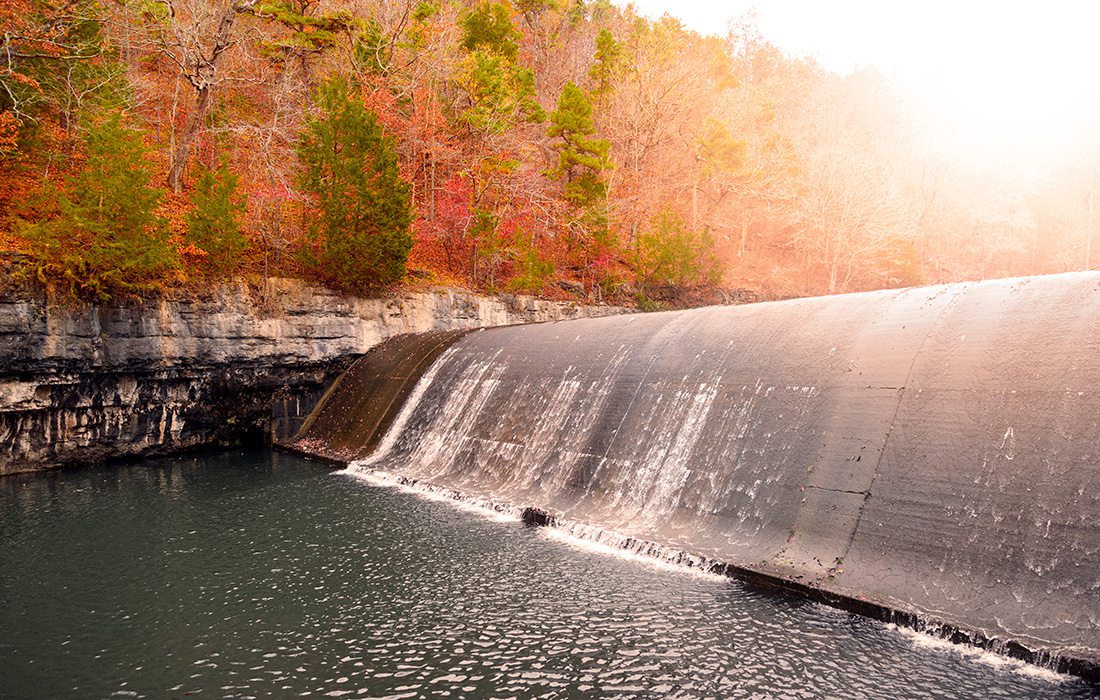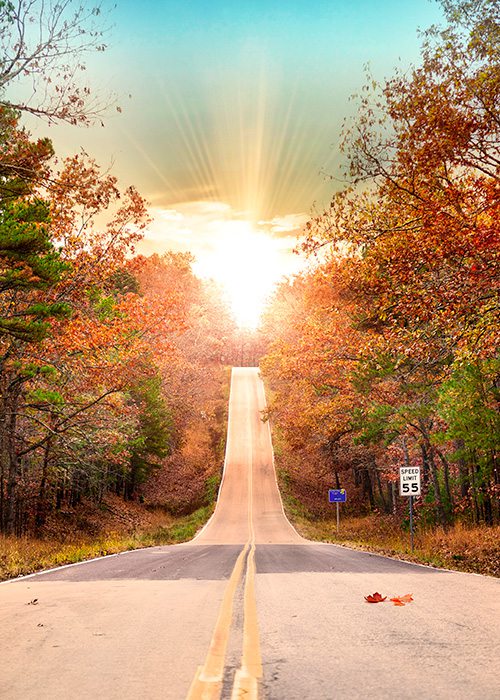 Blue Buck Knob National Forest Scenic Byway
How to Find It: Start in Cabool. Check the map and plan your trip.
Time Commitment: A 24-mile trek, the drive itself isn't long. Plan for a couple of hours so you can explore.
Why It's Worth the Gas: Mark Twain National Forest is the backdrop for this drive. You'll climb hills, cross Indian Creek and take in beautiful fall color along the way. You'll want to make sure you leave some time to hop out of the car at Noblett Lake Recreation Area, where you can give the kids a little history lesson on the Civilian Conservation Corps while you check out Noblett Lake Dam.  (They built the curved structure that cuts across the length of the waterway.) To make a day of it, you can also take a detour (either on the way there or on the way home) to hike at the Cedar Gap Conservation Area, located about halfway between Blue Buck Knob and Springfield.
Dine Along the Way: Swing into Mountain Grove on the way home for a catfish or fried chicken dinner from The Grove Family Restaurant (2130 N. Main Ave., Mountain Grove, 417-926-1638).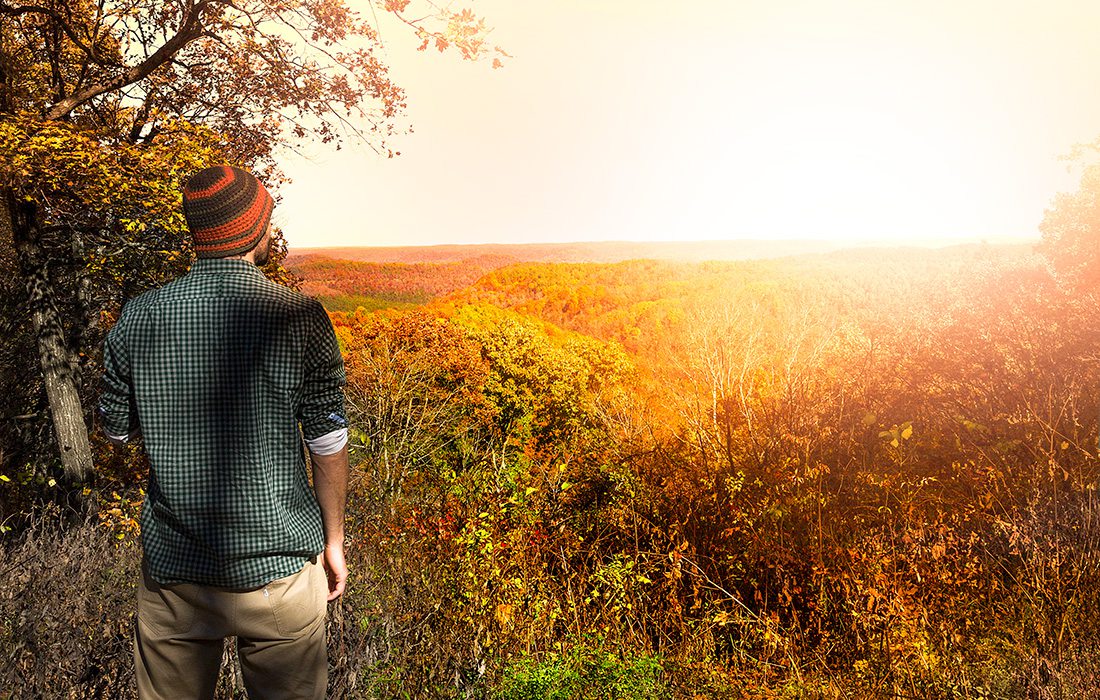 Sugar Camp National Forest Scenic Byway
How to Find It: Start in Cassville. Check the map and plan your trip.
Time Commitment: You'll log 28 miles along the byway but should plan for half a day so you can also visit Roaring River State Park.
Why It's Worth the Gas: In addition to the fiery colors of a 417-land fall that create the backdrop of these rolling hills and valleys, you'll also get to see a Civilian Conservation Corps fire tower. The road is gravel for eight miles of the trek, but don't let that deter you. Some of the prettiest sights are along that stretch. There are designated rest areas with picnic tables where you can take a break and spend some time admiring the vistas and keeping an eye out for flora and fauna. If you make time to stop at Roaring River, you can explore the fish hatchery, check out a beautiful spring or pick a trail for a brisk hike. 
Dine Along the Way: Midway between Springfield and the byway, stop at Hog Tide Bar-B-Que (22020 Lawrence 1200, Aurora, 417-308-3525) for killer brisket.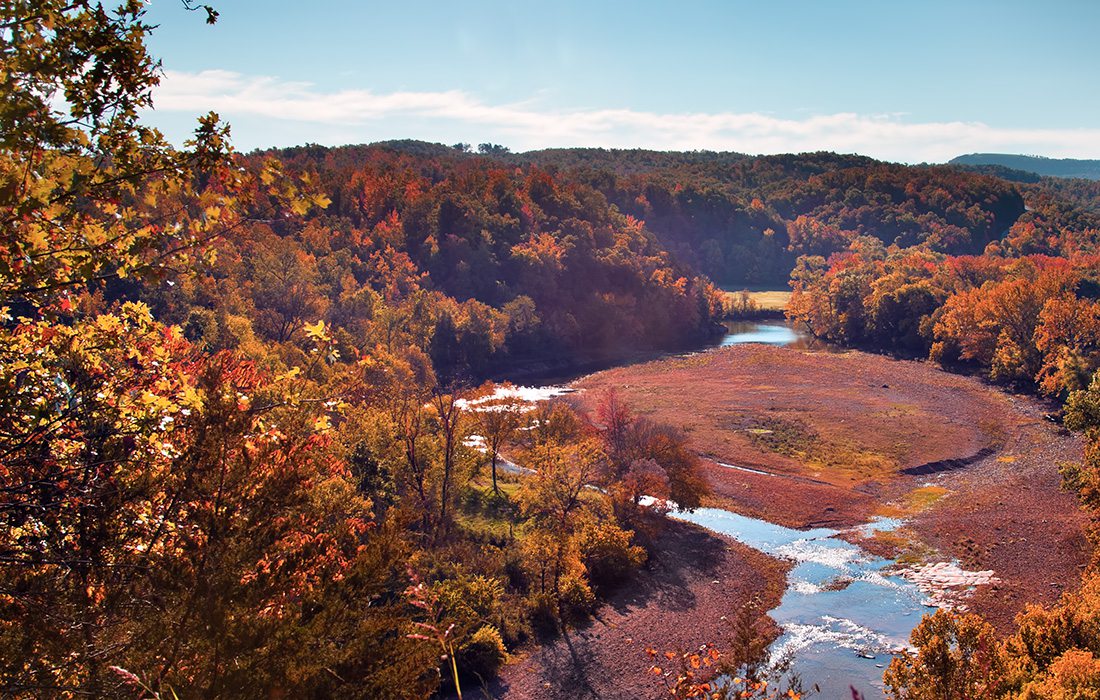 Arkansas's Scenic 7 Byway
How to Find It: Head south of Springfield to Harrison, Arkansas. From there, you'll head further south on the byway (aka Highway 7) toward Russellville. Check the map and plan your trip.
Time Commitment: The byway is 85 miles, so plan to be driving for more than two hours, plus stops.
Why It's Worth the Gas: This is a great drive for lovers of Arkansas because you'll see some of the area's prettiest spots, like the quartz-filled Ouachita Mountains, the Arkansas River Valley, the Ozark Mountains and the Buffalo National River. The towns of Harrison, Jasper and Hot Springs all offer nearby options for meandering side ventures, although the drive is gorgeous even if you never pull off. If stopping is your thing, be sure to seek out the observation tower located at the Scenic Point Gift Shop (102 S. Highway 7, Jasper, AR). It looks out over a deep, sweeping, wooded canyon for a great selfie opp.
Dine Along the Way: At the Cliff House Inn (6 Highway 7, Jasper, AR)  you can peep the breathtaking Grand Canyon of the Ozarks after you grab a bite. If you've made a long day of this road trip and need a rest, you can even spend the night at the inn. Hot tip: You really need to be there at sunrise! It's gorgeous.