Life
5 Creative Ways to See Some Fall Color
You already know that the Ozarks are filled with trails and vistas that provide great opportunities to catch a glimpse of fiery fall color while you're hiking. This year, get your thrills while you're enjoying the season with these five activities.
By Katie Pollock Estes
Oct 2018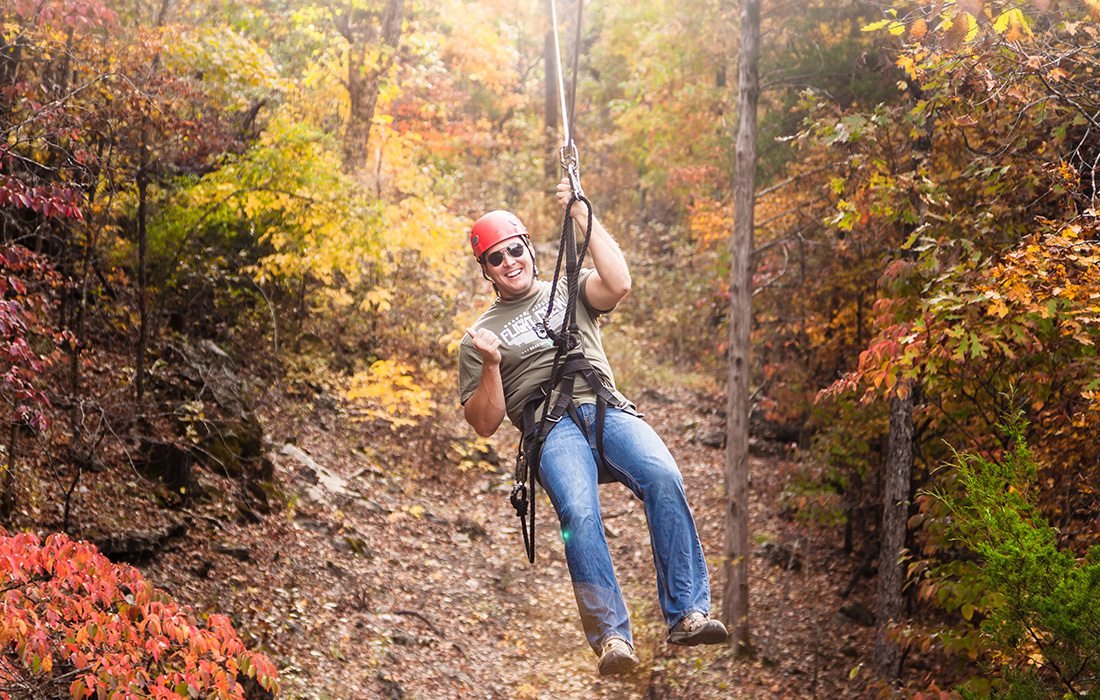 It's true there are newer, faster and crazier coasters than Wildfire at Silver Dollar City. But this classic thrill ride has our hearts now and forever thanks to the truly stunning view you get as the ride ratchets you up the first hill. There, at the peak, the ride slows just long enough for you to look out over Table Rock Lake and the surrounding wooded hills with their changing leaves. But hold tight because the view doesn't last long. As the car dips over the edge, that serene vista transforms into a speedy drop!


For a view that includes a little city along with the colorful trees, take a ride up to the top of Branson Ferris Wheel. There you'll see a bird's-eye view of fellow action-seekers riding the go-carts or braving the SkyCoaster, tourists making their way down Highway 76 and beyond all that—the orange Ozarks hills. It's a leisurely ride with a beautiful view."


There are eight ziplines at Wolfe Mountain, and the Canopy Adventure Combo package takes you down every single one of them. Instead of viewing the season from a static scenic overlook, you're flying right through it as you zip down super-strong airline cables and trek across suspension bridges. Here, you get a ride that puts you right in  the middle of the trees and all their autumnal glory.


Get close to nature as you sail through the woods on this double Alpine coaster. Brakes allow you to control the speed of your ride, as the track weaves in and out of the trees around you. This coaster offers some thrills, but it really isn't too terribly scary. Kids as young as 3 can ride, and older guests can hit the track alone or team up with a co-pilot to enjoy the ride with them.


For the  most relaxing option on our list, see autumn's prettiest palette from your seat on the Branson Scenic Railway. The train rides are a blast from the past, traveling 40 miles through the hills, under tunnels and across railway bridges. For the best view, snag a seat on the upper deck. You'll feel like you're on your way to Hogwarts. (Chocolate frogs not included.)