Travel
Embrace the Western Vibes of Oklahoma City, Oklahoma
Take in some of our midwestern history and then enjoy all of the surprising natural wonders that can be found in the heart of the town—Oklahoma City is bursting with new experiences for you to explore over a long weekend getaway.
By Jenna deJong | Art Direction by Fried Design Co.
Jan 2019
FRIDAY
3 p.m. National Cowboy & Western Heritage Museum

Internationally renowned for its collection of western art and artifacts, National Cowboy & Western Heritage Museum is the best way to kick off your weekend in OKC. View Native American artifacts, see historical cowboy gear and view galleries that tell the stories of Native Americans.

6 p.m. The Skirvin Hilton 
At more than 100 years old, The Skirvin Hotel has remained an icon of Oklahoma City. When it was first built, the hotel was the largest in the state at 10 stories. Pro tip: Stop by the Red Piano Lounge to hear live music. 

7 p.m. Cattlemen's Steakhouse 
When it opened in 1910, Cattlemen's Steakhouse served cowboys and ranchers and continues that service today. The dinner menu offers 12 steaks including The USDA Prime Blue-Ribbon Special, a steak only offered on occasion due to limited supply. Be sure to try the Hawaiian chicken breast, too.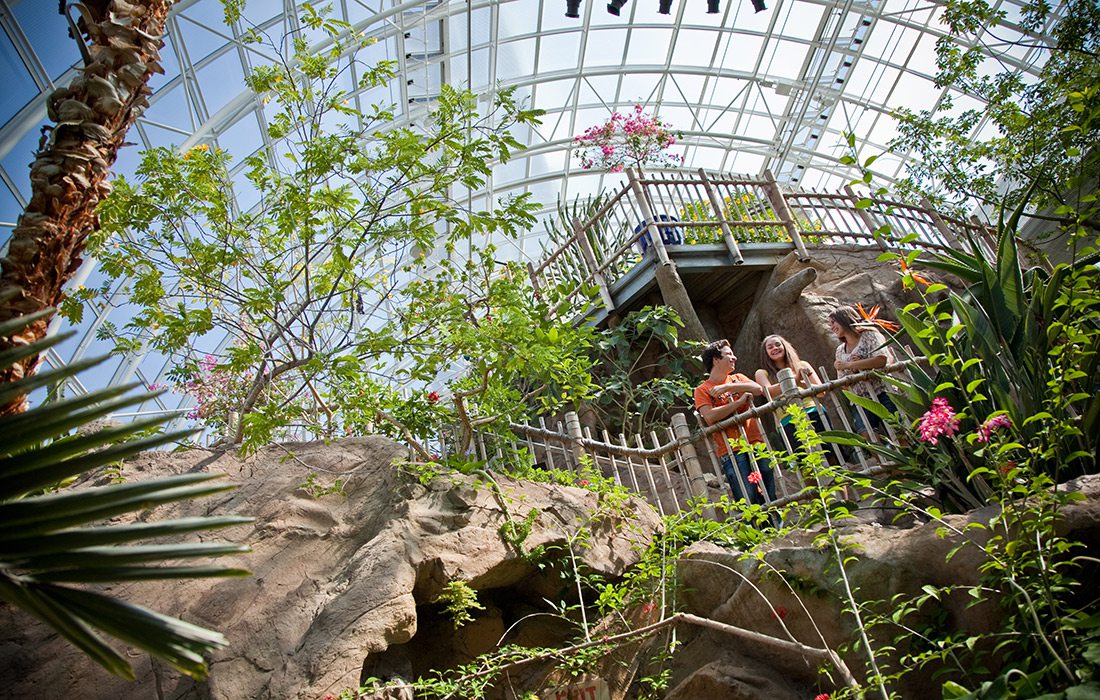 SATURDAY
9 a.m. Myriad Botanical Garden  
A 15-acre natural space in the middle of downtown requires plenty of time to explore. Meander through ornamental gardens, a children's garden and the Crystal Bridge Conservatory, which has 750 varieties of plants and a sky bridge to view it all from. 

Noon: Nic's Grill 
OKC is home of the onion burger, a greasy concoction of hamburger meat mixed with caramelized onions for a delicious guilty pleasure. Nic's Grill is one of the best places to try one, and its old-school atmosphere is delightful. 

3 p.m. Oklahoma City National Memorial & Museum
Spend a few hours walking through a timeline of events surrounding the 1995 bombing of the Alfred P. Murrah Federal Building and the years following. The museum includes a "Field of Empty Chairs" representing the 168 lives lost.

7 p.m. Mickey Mantle's Steakhouse

Mickey Mantle's Steakhouse offers over 500 labels of wine. Pair your glass with the dry-aged 24-ounce cowboy-cut ribeye and a side of jalapeño bacon mac and cheese. 
9 p.m. Bricktown 
Home to more than 45 restaurants, bars, retail shops, family-friendly attractions, public art, museums and galleries, Bricktown is the cherry on top of your day. Take it in from a water taxi. Tip: Your tickets last all day, so hop on and off as you choose.


SUNDAY
9 a.m. Midtown 
While Oklahoma City offers many vibrant districts to explore during your trip, Midtown is a sure bet that's not to be missed. It's home of the famous Ambassador Hotel, an escape room attraction, The Dust Bowl Lanes & Lounge, plus tons of shopping and dining. This area is close to the downtown core of the city and hosts events throughout the year so check the calendar before you go.

11:30 a.m. Sunday Gospel Brunch at The Boom 

Go out with a bang and munch on brunch at The Boom as you watch an irreverent drag performance by Kitty Bob and Norma Jean. According to 405 Magazine, the performance includes "good-natured (hilariously harsh) teasing." Try the popular omelets or chow down on the breakfast burger or smoked salmon bagel.

WALK AROUND SIX DISTRICTS IN OKC 

Arts District
Location: west of the city 
Landmarks: OKC Museum of Art, Civic Center Music Hall 
Why go there: The area is home to over 20 galleries and more than 80 artists all within walking distance of each other. Scout out the art schools, restaurants boutiques and other businesses when you go. 


Automobile Alley
Location: north of the city 
Landmarks: bike share station, various parking 
Why go there: Stroll the streets and gawk at some of the city's most coveted real estate. 


Central Business District
Location: center of downtown
Landmarks: Downtown Library, Devon Energy Center, Myriad Botanical Gardens, Chesapeake Energey Arena, Cox Convention Center, community basketball court, bike share station, skywalks, parking 
Why do there: This area is one that keeps the city running. Home to the center of finance, business and government, the Central Business District boasts tons of skyscrapers including signature hotels. 

Deep Deuce
Location: east of the city 
Landmarks: bike share station
Why go there: Known for its Africa-American heritage, this area thrived on jazz music and culture in the 1940s and 1950s. Today large-scale apartments and condos are revitalizing the area and houses the majority of downtown living. 


Film Row
Location: west of the city 
Landmarks: parking, historic to the film industry in the state of Oklahoma
Why go there: As one of the smallest districts in the city, this area is popular for its rich history in film. The district housed offices of major Hollywood companies like Paramount Pictures, Warner Bros., MGM and more. Now visitors get to experience its artistic businesses, movie house and locally-owned businesses. 


Park Plaza
Location: north of the city 
Landmarks: Embark Transit Center, Oklahoma City National Memorial & Museum 
Why go there: The district is in the process of undergoing renovations of many office spaces and is a favorite among locals to frequent.
Interested in making the trip? Learn about everything that Oklahoma City has to offer!