Things to Do
The Ozarks Spring Must-Do List
Your guide to the springiest things to do in 417-land now that winter is waning and the weather is warming up.
By Katie Pollock Estes
Mar 2023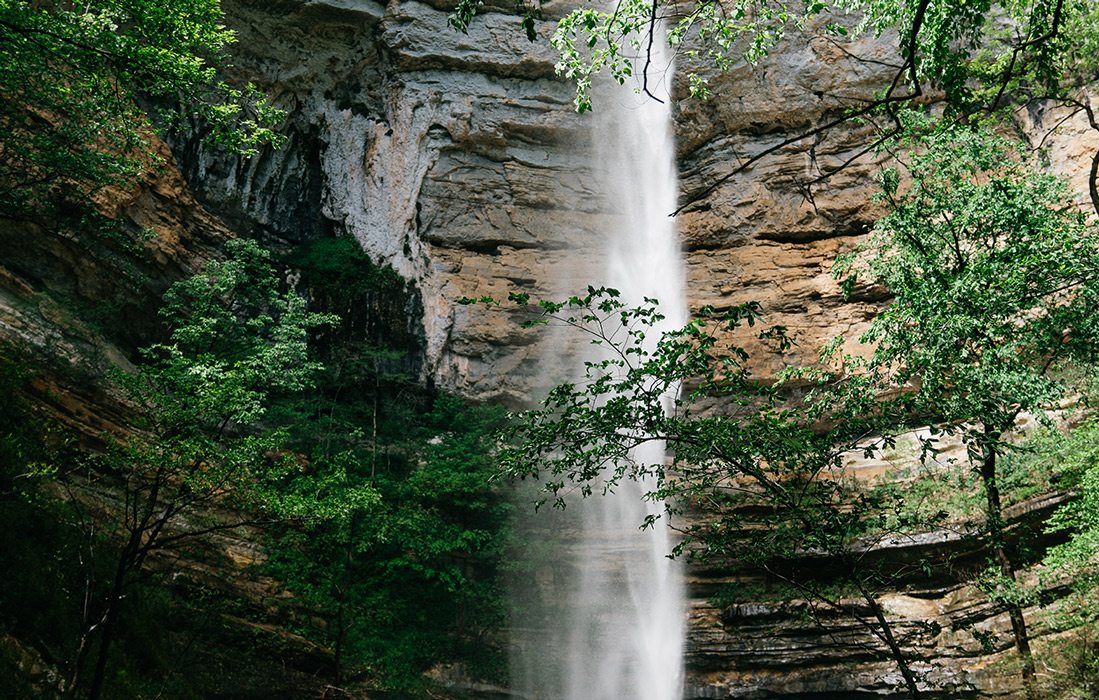 Float the Buffalo
If you're like us, you think of floating as a summer activity—because nothing's better than slipping out of your canoe and into the chilly water on a super-hot day. But the Buffalo National River in northwest Arkansas is one you'll want to consider for a spring float. The upper Buffalo—with its gorgeous scenery, winding curves and soaring riverside bluffs—is best floated early in the season while the water levels are still high. The air temp might not be Ozarks-infernal just yet, but the river itself is just right. There are plenty of outfitters who can hook you up with canoe or kayak rentals, including Buffalo River Outfitters. They also offer cabin lodging so you can make it a weekend on the river.
Look for Blooming Trees
There are several trees native to southwest Missouri that explode with springtime blooms, mostly in April and May. Our woods are peppered with pink and white dogwoods, bright magenta redbuds, snowy white serviceberry and more. Pick your favorite wooded hiking trail, and see how many you can spot along your trek. Or visit Nathanael Greene / Close Memorial Park (2400 S. Scenic Ave., Springfield) to see the redbud garden, a small cluster of redbud trees surrounding a gazebo that explodes with color in the spring.
Replenish Your Backyard Bird Feeders
There's nothing like sitting on you back porch and being serenaded by bunches of little native songbirds. Be sure to fill those feeders to attract those feathered critters. Spring is a great time to keep the feeders packed with seeds because several birds (like bright orange and black orioles or striking rose-breasted grosbeaks) are passing through the area to breed or migrate and might treat you to a little visit if you're lucky. In addition, bluebirds are looking for nesting places in the spring. Hot tip: Missouri's state bird loves munching on mealworms.
Go Waterfall Hunting
There are plenty of waterfalls in southwest Missouri and northwest Arkansas, but some of them can be a bit elusive. Many in the area are wet-weather waterfalls, meaning they dry up when the weather dries up. With spring's abundance of rainier days, it's a good time to seek them out. Hemmed-In Hollow near Compton, Arkansas, is a great one. At 210 feet tall, they are the tallest falls between the Rocky Mountains and the Appalachian Mountains, and you can find them at the end of a somewhat challenging 5.7-mile out-and-back trail at Compton Trailhead. An easier one to get to is Eden Falls, located at the end of a 2.3-mile out-and-back Lost Valley Trail not far from Ponca, Arkansas. The trail is kid-friendly and not strenuous at all, and the falls at the end are 53 feet tall.
Have a Leisurely Pedal Sesh
You can ride your bike in the winter, but the frigid wind on your face and hands is a pretty strong deterrent. As spring warms up, cycling gets more and more appealing. We recommend taking a fairly flat and easy (albeit potentially quite long) bike ride on the Frisco Highline Trail to ring in the season. The full trail is 35 miles long from Springfield to Bolivar, but you can tackle just a section of it at a time if you prefer. What it lacks in challenging hills it makes up for in lovely scenery. We love the section between miles 18 and 35, where you get to cross 16 former railroad bridges and pass through the beautiful La Petite Gemme Prairie. Look for blooming wildflowers on that part!