Gardening
What to Plant Right Now
Take advantage of southwest Missouri's long planting season, and choose colorful plants that will spruce up your flowerbeds all summer long.
by Lucy Caile, Katie McWilliams, Katie Pollock Estes
Apr 2022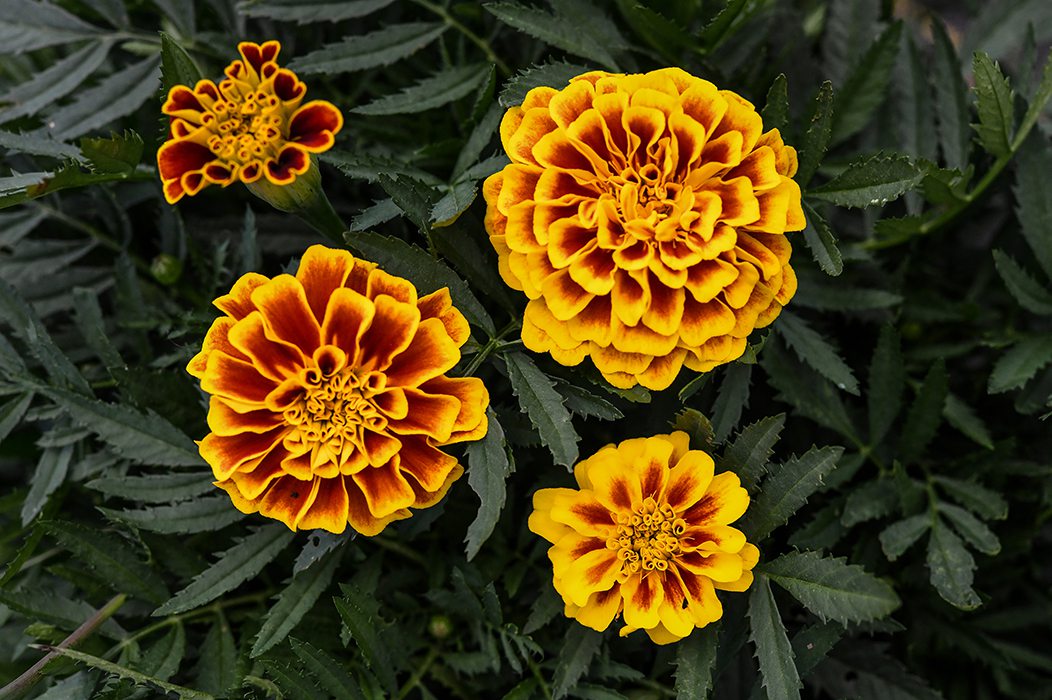 You might be surprised to know that many greens grow well once planted outdoors or sown indoors through the final days of unwelcome frost.
Start your garden's harvest at a slow and steady pace by planting greens known for toughing out cooler weather like peas, lettuce and arugula. Spinach is a good choice to start with if you're beginning really early, as it is cold tolerant and often planted during the final days of the fall and through the winter seasons. Late winter is also a great time to start planting kale. This hardy green has the richest flavor after it's harvested in the thick of cold weather, but you can also plant the seeds inside and set out young kale plants just before spring begins.
Other veggies you might consider fitting into your planting schedule before the spring heat arrives are Brussels sprouts, cabbage and broccoli.
If you're really serious about getting your garden going, you can invest in season extending devices such as cold frames, hot beds, cloches or floating row covers. Several plants can thrive just as well with more budget-friendly tools like indoor planters, so there's no one-size-fits-all technique for gardeners to use as they brave the chilly conditions.
Ready to get started? Use local resources like the extensive seed options at Mansfield-based Baker Creek Heirloom Seed Co. and the seeds and starts that will soon start to fill the aisles at your favorite nurseries like Schaffitzel's Greenhouse and Wickman's Garden Village.
Have you already started all your garden veggies from seeds inside your house so you can put them in the ground later this month?
No?
Well… honestly… neither have we. But that's okay, because this is also the perfect time of year to get your hands on plants that were started by other gardeners. You know, ones with better planning skills than us.
At the Annual Master Gardener Plant Sale on April 30, 2022 (starting at 8 a.m. at the Mizumoto Japanese Stroll Garden Pavilion, 2400 S. Scenic Ave., Springfield), you can spruce up your flower beds or veggie gardens by buying plants from the pros. Expect to see everything from ground cover and perennial flowers to herbs and veggies. They even have shrubs and trees.
So get out and shop for the little plants that will help you make up for lost time in your backyard garden. Whether you're looking for large green foliage or blooming flowers, these bulbs put your spirits in a sunshine daydream.
Canna
Canna bulbs thrive in a moist setting with full sun but can be grown in partial shade, says Lynne Reynolds from Wheeler Gardens & Florist. Best of all, cannas require very little maintenance once planted, and after they bloom, the flowers are perfect for bouquets.
Elephant Ear
"Favoring rich, moist soil, elephant ear bulbs can be grown in full sun or filtered sun or shade depending on variety," Reynolds says. Although they do not have a bloom, these plants provide great foliage and mix well with vibrant-colored flowers. Plant the bulbs 5 to 6 inches below ground level and water frequently during dry spells. Not seeing much growth? Not to worry—elephant ear bulbs grow slowly, says Kathy McFarland with Baker Creek Heirloom Seed Co.
Caladium
Correct water and nutrients are crucial in the early life of caladium bulbs. Fertilize soil before or after planting to strengthen bulbs for next season. Keep bulbs moist but not so wet that they'll rot, Reynolds says. If you're unsure, err on the drier side. Plant the bulbs 1 inch below the ground and four to six inches apart for the best results.
Lily
Offered in a wide variety of colors, lilies are perfect for customizing your garden. Oriental, Asiatic or Madonna lilies offer a summer bloom, and Reynolds says their one requirement is well-drained soil. Plant the bulbs 6 to 8 inches beneath the surface and watch their beauty come to life. To strengthen their droopy stems, McFarland recommends stalking the plants as they grow taller.
What to Plant in the Summer

We reached out to local flower shops and gardening centers to find out what the best flowers are to plant now, so that gardens stay bright and beautiful as summer rolls along.
Start on the Porch
According to Schaffitzel's Flowers & Greenhouses (1771 E. Atlantic St., Springfield), it's a great time to plant both annuals that last through the spring and summer season, as well as perennials that offer the big payoff of returning every year. Start small by dressing up your deck and porch spaces with a hanging fern. Its foliage does well in Missouri's climate. Other recommendations: prolific and multicolored Million Bells, bright purple scaevola and fiery-hued lantana—all of which work great as hanging baskets that give pops of color in sunny spots.
Build up those Flower Beds
Flowers like sunpatiens, petunias and verbena thrive in bedding areas, if baskets aren't your thing. But for shadier spots, opt or a bed of hostas.
Diving deep into the flower beds, according to the Baker Heirloom Seed Company, zinnias are great in the garden. They are easy to grow and make perfect blooms to attract pollinators—plus, they hold up well in cut arrangements. They come in a variety of colors ranging from pinks and purples, to brighter hues like yellow and lime green.
The ever-popular marigold should be in every garden too. One advantage is their wide range of sizes. They can be small and petite or large and showy, so they can be used in borders, beds and more. They work well as a pest repellent when planted in the vegetable garden too. Cockscomb is a very popular variety reminiscent of the decades past when every flower garden included them. They can be so regal looking.
Go Big or Go Home
Sunflowers are spectacular show pieces if you have the room to grow these tall flowers, and they do well in the Ozarks climate. At Baker Creek, varieties aren't all massive, though. The Teddy Bear sunflower is a smaller option. If you like them enormous, try the Mammoth Grey. They are striking as a single flower or planted in multiples.
Find Flowers in the Veggie Garden
If a vegetable garden is more your speed, you can still enjoy some fragrant and attractive blooms on those veggie plants. Okra plants make beautiful lotus-type flowers, while runner beans produce lovely itty bitty flowers. The meaty blooms that grow on zucchini plants look nice but are edible to (try them battered and fried.)
What to Plant
While most gardeners plant vegetables in late spring, there are some great veggies to plant in early fall. Plants that grow fast and can handle the colder temperatures tend to be planted in early September. That includes broccoli, beets, carrots and a variety of greens including arugula, kale, spinach, collard greens and tatsoi.
When to Plant
The greens can survive well into the winter, and the flavor is actually enhanced by the frosty weather. Kale and collard greens should be started six to eight weeks before the first frost, and spinach should be started four to six weeks before the first frost. Kale and spinach can survive temperatures down to 10 degrees, and collard greens can survive down to 5 degrees.
With a little extra protection, broccoli, beets, arugula and carrots can also survive these conditions, and that extra protection doesn't have to be complicated. Anything from a blanket to a small greenhouse will work.
After the Harvest
Of course, when they are ready to be harvested you need to know how to prepare or preserve them so the vegetables and your hard work do not go to waste. One way you can make sure you do not waste those beautiful greens is to freeze them. Close them in a vacuum-sealed bag and put them in the freezer until you're ready to use. Or, use up fresh greens by making a hearty, Tuscan kale soup or kale pesto that you can eat or freeze for later.
Don't let winter kill your gardening hobby like it killed your tomato plants; plant some beautiful greens instead.
Baker Creek Heirloom Seed Co.
2278 Baker Creek Road, Mansfield
Wheeler Gardens & Florist 
1925 S. Bedford Ave., Springfield
1345 S. Fort Ave., Springfield