Waterways
A Guide to Spring-Hopping in the Ozarks
Springs in the Ozarks make for slow, quiet days in nature. You can get a late start, take it slow, enjoy the ride and immerse yourself in a beautiful landscape.
By Sony Hocklander
Jun 2022
What Kind of Spring-Hopping Experience Are You Looking For?

Greer Spring
It takes some effort to reach Greer Spring, set in a lush deep gorge, but it's oh so worth it. One of the prettiest springs in the Ozarks area, Greer breaks the mold of most because it doesn't appear as a large blue pool. Instead, Greer is a spring creek that, if you didn't know better, looks and sounds like it's set in the mountains. The second largest spring in Missouri, with a daily flow of over 220 million gallons, is actually two springs—another way it stands out. One emerges from a serene cave setting, quickly flowing into cascades as it begins its 1.25-mile journey toward the Eleven Point River. The second spring bubbles up from the ground, beneath the spring branch surface, about 250 feet downstream from the cave.
To get to the spring, start your hike from the Greer Spring Trailhead parking lot, about one mile south of the Missouri 19 bridge over the Eleven Point River. The trail is roughly two miles out and back if you go all the way down to the stream gorge. While the path is relatively easy to hike and includes wooden bridges and benches along the way, the return trip is all uphill, making it more challenging for some. Near the end of the trail, you will find an overlook that provides a glimpse of the spring, but to really enjoy its beauty, take three sets of steps down to the rocky gorge. To see the spring cave, pick your way along a rocky path upstream. To find the bubbling second spring, take a narrow trail downstream.
After returning to your car, add to the day's adventure by paying a visit to the nearby historic Greer Spring Mill (which, by the time this story is published, might be reached by a new trail to the mill from the Greer Spring Trailhead parking lot). If you have time, head to Alley Mill Spring near Eminence, about 40 minutes away.

Getting There
Greer Spring near Alton is about 2.5 hours east of Springfield; take U.S. 60, turning south on Missouri 19 near Winona.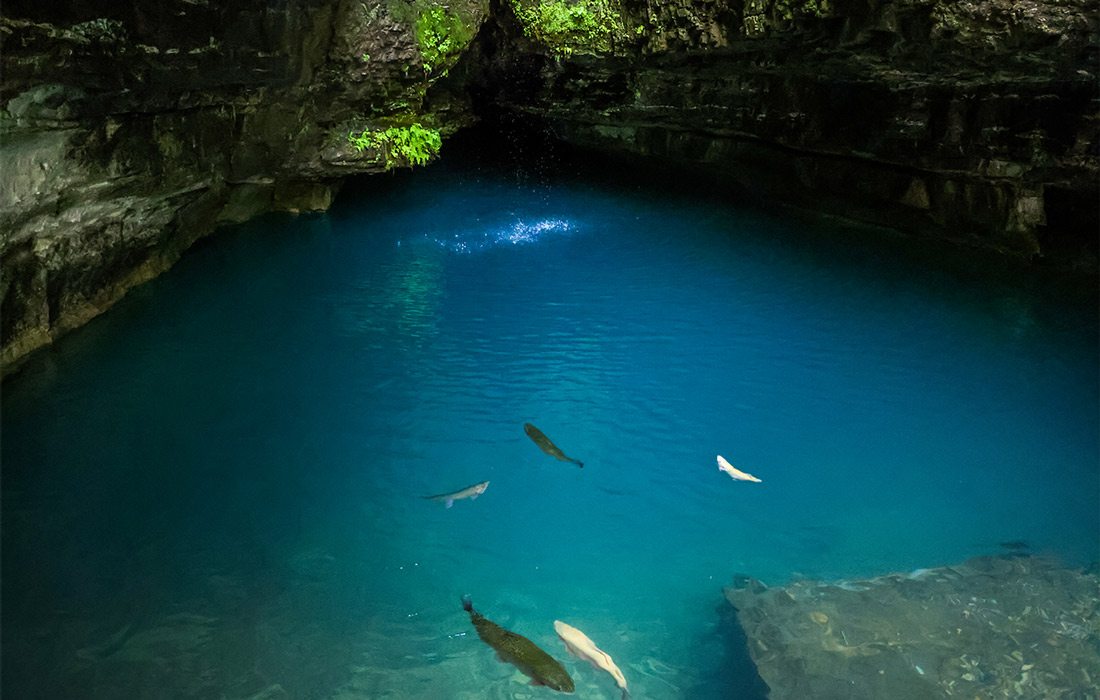 Roaring River Spring
Most people visit Roaring River State Park for trout fishing, hiking or camping. But its pretty little blue spring, tucked in a cave beneath a high bluff, is certainly worth seeing as part of your visit to this active park.
Less than 90 minutes away located near Cassville, Roaring River State Park is divided into sections, with trails in each one along with opportunities to fish up and down the river. Upon arriving, stop in the park store, at the intersection of Route F and Highway 112, to grab some coffee or snacks – and a trout tag if you plan to fish. Find a map of park trails here, too.
Zone 1 of the park features the old CCC-built lodge, which, following a lengthy renovation, can now be reserved for overnight stays. The road follows the river upstream to its source: the spring cave and pool where a hatchery keeps anglers happy with daily in-season trout stocking. A paved path along the pool and hatchery leads to the spring. Nearby, the Deer Leap Trail takes hikers up and over the spring bluff to an overlook with a vast park view of the hatchery. The more challenging Fire Tower Trail and the Devils Kitchen Trail start in this park section too.
For overnight visitors, in addition  to rooms in the old lodge, Roaring River has cabins for rent, plus the Emory Melton Inn and Conference Center features a restaurant and lodging. Campsites in three sections can also be reserved. With a park swimming pool open seasonally, Roaring River is good for families, too.
Getting There
Take U.S. 60 west to reach the Roaring River Spring, located in Roaring River State Park, 1.5 hours southwest of Springfield near Cassville.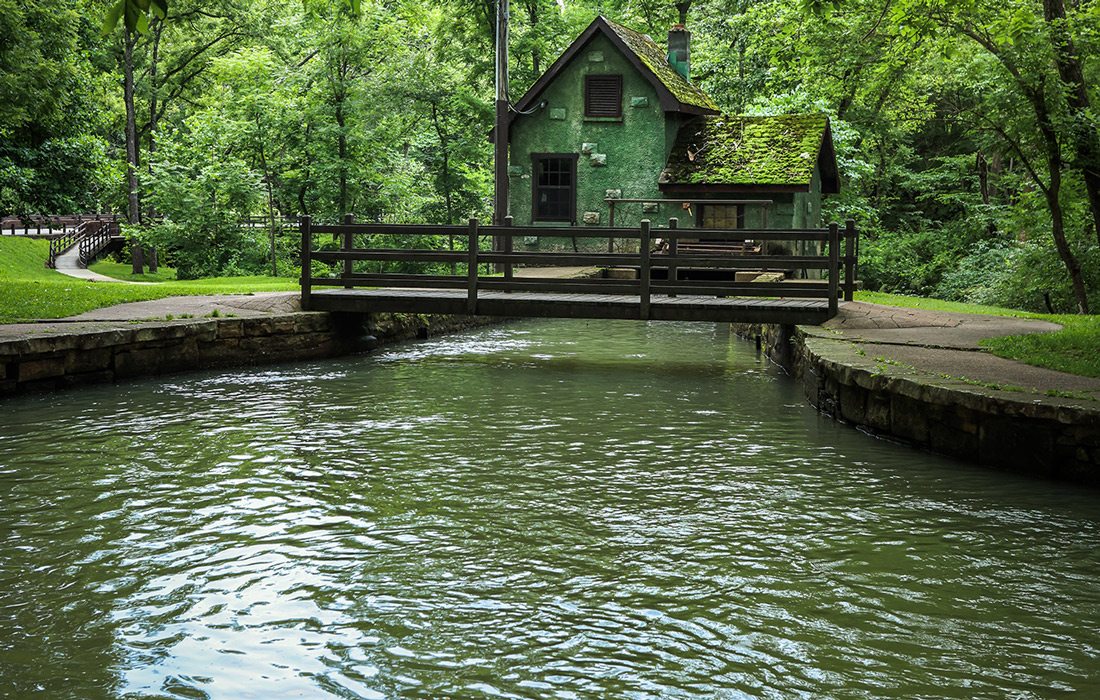 Maramec Spring
Maramec Spring is the sampler plate of Missouri spring locations. Whether towing kids or friends, the activity-packed Maramec Spring Park and nearby town of St. James should satisfy every taste. Visit the spring as a side trip to your wine and dine weekend, or add a stop in St. James to your outdoor family getaway: This lovely area won't disappoint.
Located along the Meramac River (yes, the spring and river names are spelled differently), Missouri's fifth largest spring, a daily average flow of 100 million gallons of water, bubbles up from more than 350 feet beneath a serene, sun-dappled emerald pool circled by a paved path. Stocked daily with trout from its nearby hatchery, the park's flowing spring branch is ideal for anglers of all ages.
The 1,860-acre park, privately owned by the nonprofit James Foundation, sports activities for the family including picnicking, playgrounds, trails, camping near the water and two museums. Explorers will find remnants of the old Maramec Iron Works, constructed by Thomas James in 1843, and there's a scenic historic drive around the back side of the park.
In the free Maramec Museum, interactive displays share the area's ironworks history, plus information about area wildlife and spring science. The Ozark Agriculture Museum helps visitors explore life in the 19th and early 20th centuries. Kids hungry? This museum has a snack shop too.
For more hearty fare, try the Pick & Shovel Café at the park's entrance, or venture into the quaint town of St. James. For casual dining, try Country Bob's Café. For a bit finer dining (that's still casual), Sybill's St. James is located nearby in a renovated 100-year-old farmhouse. St. James may best be known for its wineries, which include the St. James Winery, Meramec Vineyards, Eagle's Landing, Belmont Vineyards and more. For food, wine, fishing and outdoor fun, Maramec Spring is a great place to start.
Getting There
Maramec Spring is located inside Maramec Spring Park in St. James, about 25 minutes east of Rolla. About two hours from Springfield, head east on I-44.
Looking for hiking trails to stretch your legs this summer? Check out our guide to hikes around southwest Missouri.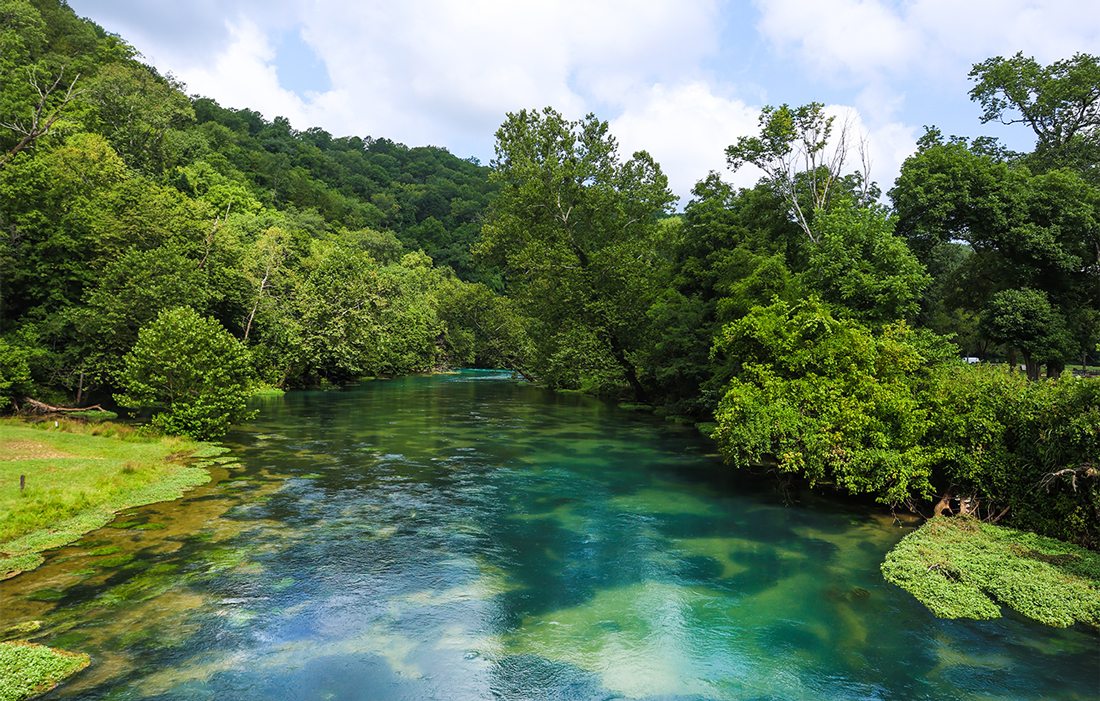 Big Spring
For an easygoing spring experience, Big Spring near the lower Current River is hard to beat. Not only is the fast-flowing spring an awe-inspiring sight, it's surrounded by a park that begs visitors to stay for a while. Stroll the Slough Trail, a short accessible gravel path that leads to the spring, or for more activity, try the River's Edge Trail and the more challenging Stone Ridge Trail.
Big Spring is hard to beat also for its size. Aptly named, not only is it the largest spring in Missouri with an average daily flow of more than 280 million gallons, it's also a contender for the largest spring nationwide. Two others of roughly the same size are the Snake River Spring Complex in Idaho and Florida's Silver Spring. According to the National Park Service, which manages Big Spring, any of the three could out-flow the others on any given day depending on rain.
Decades of visitors have enjoyed the Depression-era location, established in 1924 as one of Missouri's first state parks. More than 40 years later, it was donated by Missouri in 1969 to become part of the NPS Ozark National Scenic Riverways.
Want to stay overnight? The 1930s Civilian Conservation Corps-built Big Spring Lodge and cabins are under renovation with expected completion in 2023, but there are many tent and RV campsites available for reservation, as are day-use picnic shelters. Whether exploring the Current and Jacks Fork rivers, or looking for a peaceful spot, Big Spring is worth the drive.
Getting There
Big Spring, in the Van Buren area, is a 2.5-hour drive east of Springfield along U.S. 60, or roughly 40 minutes southeast of Eminence. From Van Buren, find the park at the end of Missouri Route 103.
Make A Loop Around These Southwest Missouri Springs
The Ozark National Scenic Riverways in Shannon County is ideal for a day—or even a weekend—of spring-hopping. Not only can you reach four very different spring trails within 30 minutes of each other, if you have time or stay longer than a day, there are dozens more outdoor experiences to explore nearby: floating, hiking, dining, waterfall splashing, mill hunting, and even more springs!
Getting There
Start your four-spring itinerary at Blue Spring Natural Area, about 2.5 hours east of Springfield, taking U.S. 60 (or 25 minutes east of Eminence down Missouri 106).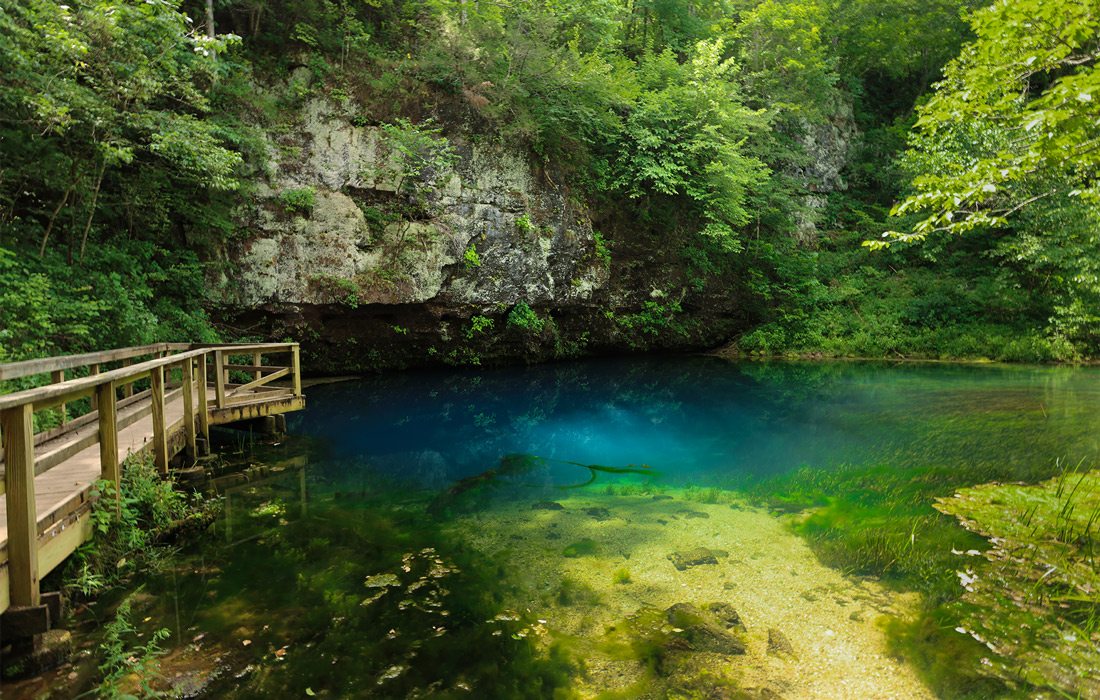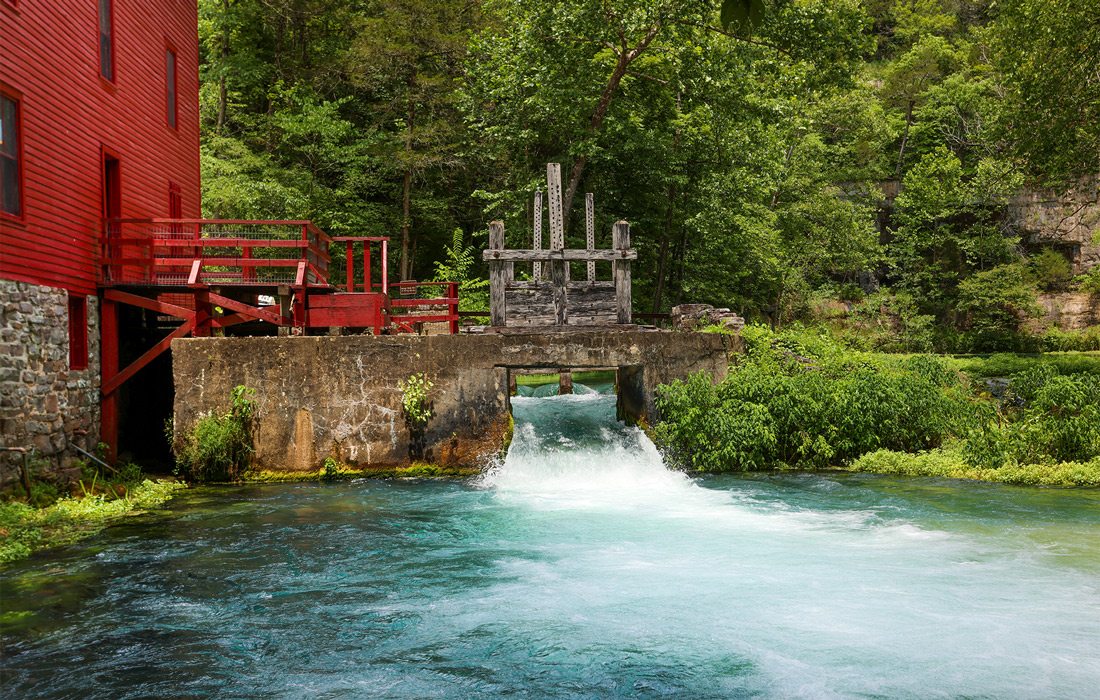 Photos by Joshua Beecher This Blue Spring at Jacks Fork River (left) flows into the Current River and is known for its startling blue color and depth. Alley Spring and its iconic red mill (right) is one of Missouri's most photographed scenes.
Blue Spring
For your one-day spring itinerary, start with Blue Spring. Not to be confused with other "blue springs" of Missouri including a smaller one on the Jacks Fork River, this Blue Spring flows into the Current River and is known for not only its startling blue color but for its extraordinary depth. At 310 feet, it's known for being deep enough to cover the Statue of Liberty and has been explored by divers more than once. The spring, owned by the Missouri Department of Conservation although surrounded by national parkland, can be reached by hiking the Powder Mill/Blue Spring trail that starts in the Powder Mill campground (about 3 miles out and back), or take a shorter trail (about half a mile out and back) from the Blue Spring Natural Area. Both can be found heading east of Eminence on Missouri 106.
Alley Spring
After marveling at Blue Spring, head for Alley Spring and its iconic red mill that's one of Missouri's most photographed scenes. Roughly 30 minutes away from Blue Spring, Alley Spring is located about six miles west of Eminence on Missouri 106. From the parking lot of the 80-acre site, the 1890s red mill is easy to spot. During open hours, visitors can go inside and explore the mill to learn more about its history. Out back, see where the water flows from the spring pool into the branch as it heads toward Jacks Fork River. From here, take the easy Alley Spring Loop Trail that circles the spring and follows the spring branch to a bridge and then back to the parking lot. For such a short and easy trail, it has a nice payoff. The serene setting tucked up against the hillside makes for a relaxing trek.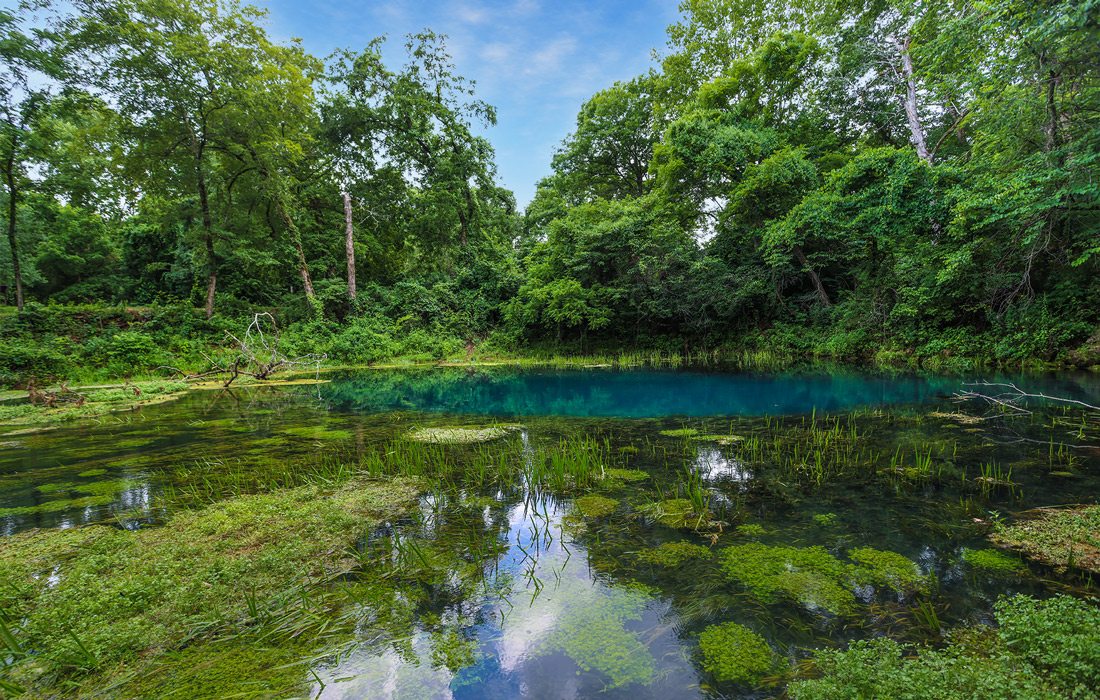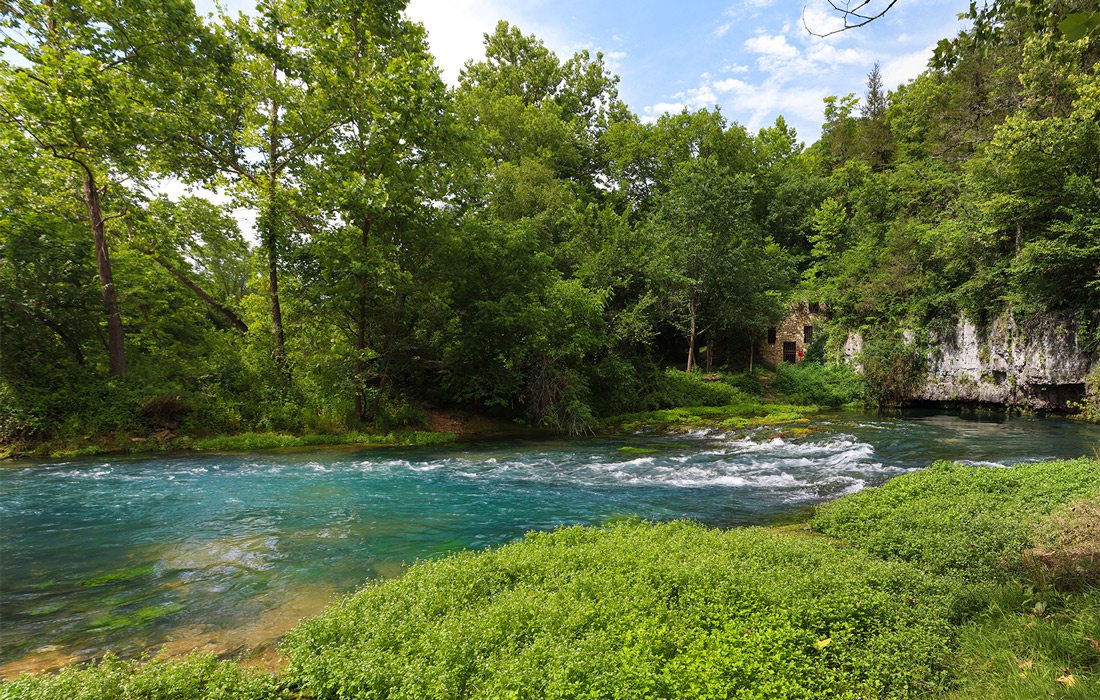 Photos by Joshua Beecher Round Spring (left), unlike some other springs, isn't much of a hike. With a daily output of 75 million gallons, Welch Spring (right) is Missouri's eighth largest spring.
Round Spring
Next stop: Head to Round Spring on the Current River, about 25 minutes northwest of Eminence (north on Missouri 19). Round Spring, unlike some other springs, isn't much of a hike. It's viewed from an overlook into its almost perfectly round blue cavern pool. From there the spring travels underground, emerging from a cavern into the spring branch pool. Round Spring is a great little stop for a short break or stay longer by reserving a campground as basecamp for more outdoor adventures. It's a great location for ending the day if you float the Current River from Pulltite Campground to the Round Spring access. (If you do float that stretch, pull off about half a mile downstream from the Campground to take a short hike to Pulltite Spring — yet another one of Shannon County's spring treasures.)
Welch Spring
Last stop coming up: About 25 minutes north of Round Spring, take a short one-mile trail to Welch Spring on the Current River near Jadwin and Akers Ferry (north of Akers on Route K). With a daily output of 75 million gallons, Missouri's eighth largest spring flows from a cave and, roughly 100 feet later, into the Current River. Welch Spring is notable for the ruins of historic Welch Hospital next to the cave. It's named for Thomas Welch, who homesteaded the land in 1855, selling the property in 1913 to Dr. C.H. Diehl, who built the hospital which operated more like today's spas. The trail ends across the spring from the cave and hospital ruins so they are actually best visited as a scenic stop while floating the Current River — another good reason to stop and visit the area.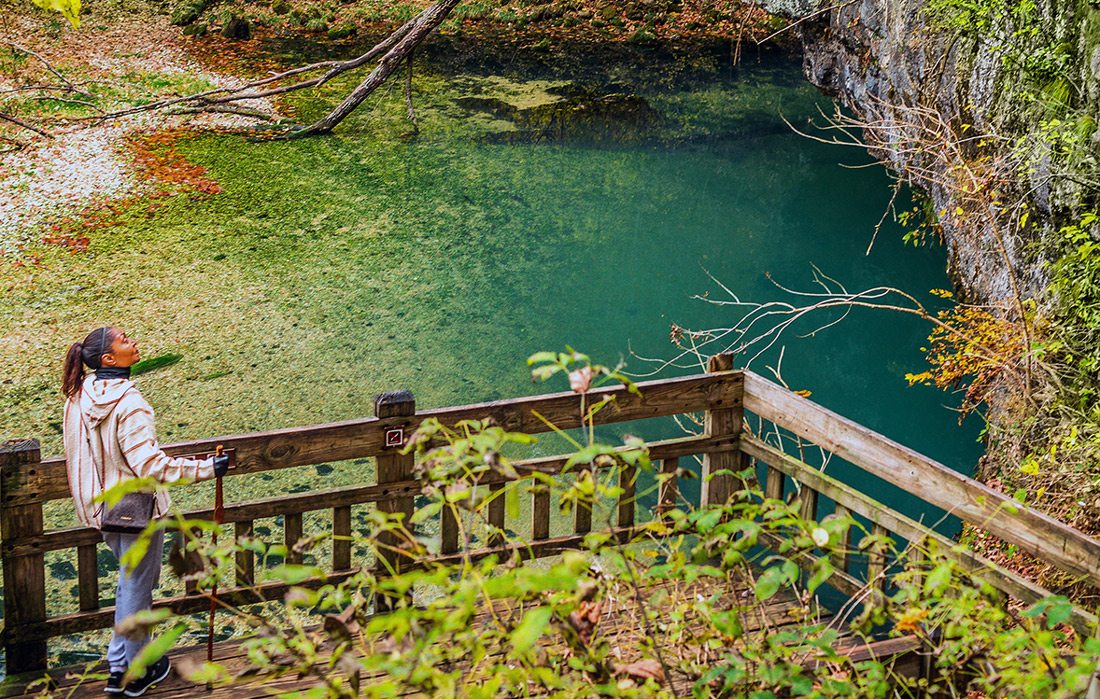 Ha Ha Tonka Spring
Ha Ha Tonka Spring is one reason to visit Ha Ha Tonka State Park near Camdenton at Lake of the Ozarks. This picturesque park is chock full of interesting things to see and do, including a natural bridge, multiple trails (including one that goes to the spring), caves, sinkholes, tall bluffs and — perhaps its most iconic spot — the ruins of a century-old castle retreat. Built initially on land purchased by Robert Snyder from Kansas City, who died in  a car accident, it was finished by his sons in 1922. Leased as a hotel, a fire broke out in 1942. Today, nothing but the oft-visited ruins overlook Table Rock Lake below.
To view the spring, take a half-mile accessible trail that starts along the lake shore and goes by the site of a gristmill that once stood nearby. From there, the trail continues along the shore of the millpond—watch for wildlife!—ending at a boardwalk overlook with the perfect view of protected blue spring that daily expels 58 million gallons of water from beneath a cave at the base of the bluff. From the spring, go back to the trailhead or continue along the 1.4-mile trail that climbs 316 steps to the upper Spring Trail and connects to the Dell Rim Trail.
After visiting the spring and the castle ruins, don't miss the Natural Bridge, 100 feet high and spanning 60 feet. It's easily reached on the Colosseum Trail. Between the spring, the castle ruins and the natural bridge, Ha Ha Tonka State Park is a photographer's playground. After taking in the sights, stay for a picnic in the park or combine your visit with a side trip into Camdenton for lunch or dinner on the square at Pepperoni Bill's Pizzeria.
Getting There
Ha Ha Tonka Spring is located inside the Ha Ha Tonka State Park, about 1.5 hours northeast of Springfield. Take U.S. 65 north to Missouri 73, or I-44 north through Lebanon.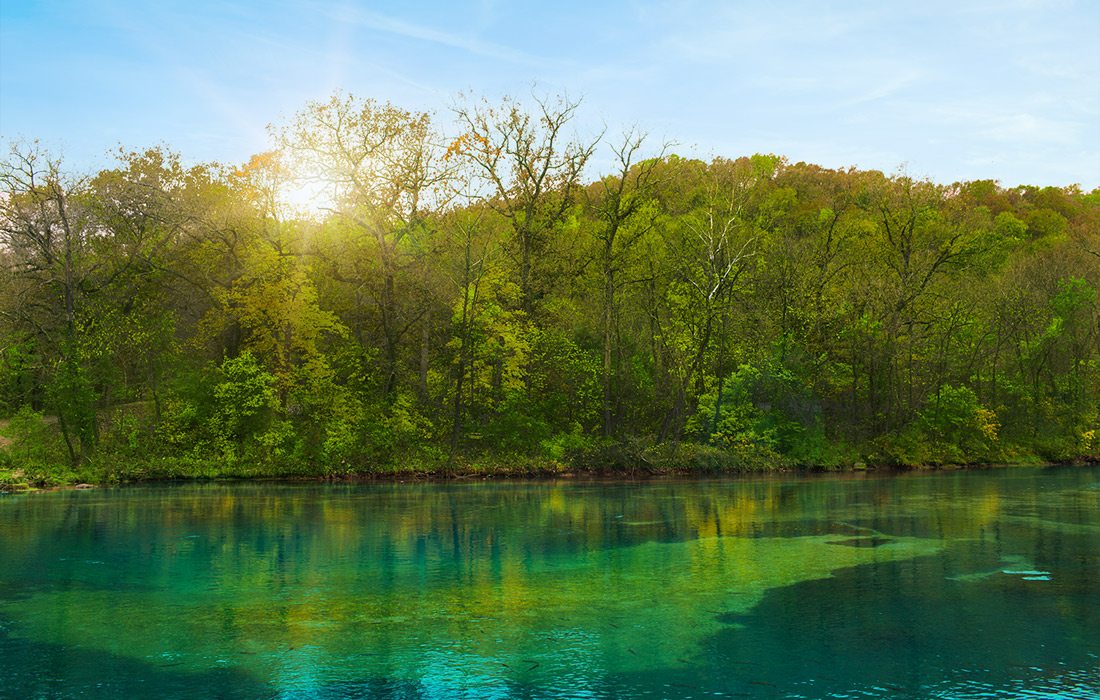 Bennett Spring
When you hear "Bennett Spring," what's the first thing that comes to mind? Trout fishing? Floating the Niangua River? Perhaps it's hiking the Tunnel Trail. All three certainly keep Ozarkers returning often to Bennett Spring State Park, less than 90 minutes from Springfield near Lebanon. The Depression-era park features CCC-built structures and bridges (including an iconic three-tunnel bridge that's photographed often), cabins and campsites for rent, picnic areas and a seasonal dining lodge.
During trout season, the spring can rarely be viewed without anglers in waders, standing in the shallows around the spring, casting for daily stocked trout. The Bennett Spring pool is the largest among state trout parks, with a daily discharge of roughly 100 million gallons or more. It's a lovely setting that features a small stone tower along one shore, and pretty cascades usher spring water on its journey through the park to the Niangua River.
The Niangua itself attracts visitors who may enjoy floating more than fishing. But why not do both? If you take the kids, it's best to avoid Saturdays unless you don't mind a river party. But the Niangua, relatively easy to paddle and quieter on weekdays or even Sundays, is good for all ages and a fun way to enhance your visit to the spring. Camping and cabin rentals outside Bennett Spring State Park are plentiful too.
For a nature-centered day trip, step out for a hike. The most photographed and challenging hike is along Tunnel Trail, but Bennett Spring has seven trails of varying difficulty. After the hike, stretch out and enjoy a picnic near the beautiful blue spring.
Getting There
Bennett Spring is inside Bennett Spring State Park, 26250 MO-64A near Lebanon, a roughly one-hour drive from Springfield heading northeast on I-44.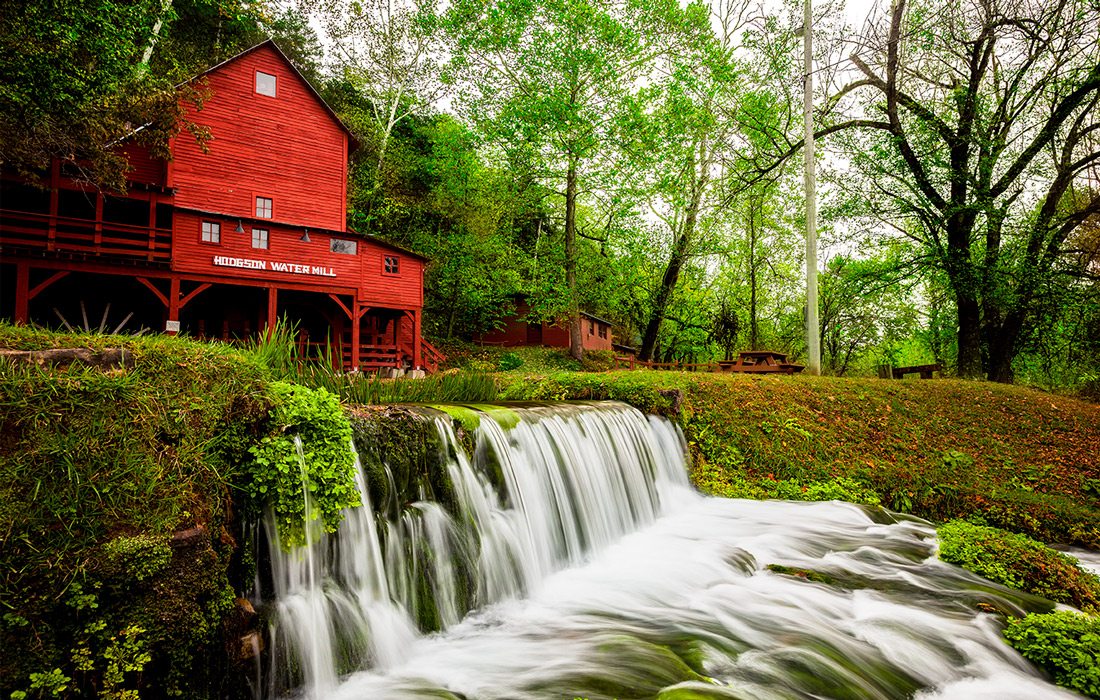 Hodgson Mill Spring
Pack your camera before heading to the candy-red Hodgson Mill and spring in Dora. Like the one at Alley Spring, the mill is reportedly one of the most photographed in Missouri. And no wonder: The serene setting looks like a painting—what one might imagine a mill and spring waterfall should look like. Located where Highway 181 crosses Bryant Creek, the old mill is built over the spring opening with some of the water channeled to a water wheel and the rest to a pool, over a dam and into the spring branch to feed the Bryant.
It's not the first mill to stand in this spot. An earlier one was built in 1861. Master millright Alva Hodgson purchased the mill property and in 1882 built the mill that exists today after the original one burned to the ground. It remained in operation until the mid-1970s when the Hodgson Mill company expanded to modern facilities where it continues producing grain products. Yet its iconic red mill remains for visitors to view and enjoy. Make a full day of your spring mill visit by adding a float on the nearby Bryant Creek, less crowded than other float locations. Or spend part of your day—or the weekend!—at Bull Shoals Lake. The Pontiac Cove Marina and Lake Harbour Resort, about 40 minutes southwest of Hodgson Mill, is a convenient place to rent a boat, stay over in one of its suite rentals or camp out.
Getting There
Hodgson Mill Spring is located about two hours southeast of Springfield, take U.S. 60 south toward the Dora/Gainesville area.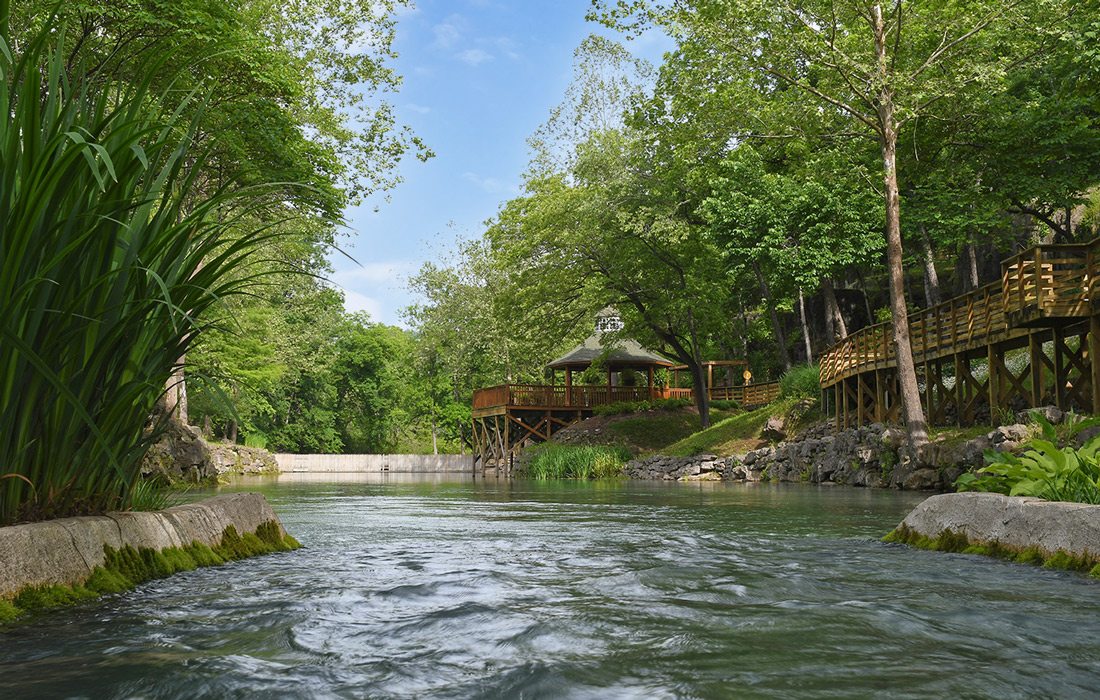 Blue Spring
Unlike other area springs, Blue Spring near Eureka Springs has become a garden setting, with the deep blue spring pool circled by a garden wall. The largest spring in northwest Arkansas with a daily average flow of 38 million gallons, Blue Spring flows into a trout-filled lagoon that feeds White River.
A tourist attraction in some manner since 1948, in 1993 the spring area was transformed into the Eureka Springs Gardens, which, in 2003, were blended with the area's historical aspects to become the Heritage Center it is today. Visitors can start their experience with a film that tells the center's history.
The center exudes history. The spring area was once a trading post for Osage Indians and in 1839, Cherokee people traveling what became known as the Trail of Tears stopped at Blue Spring for respite. Also in the park, a bluff shelter has been listed on the National Register of Historic Places for the thousands of years of ceremonies held under its shelter by American Indians who considered it a sacred place. An archaeological dig at the shelter in 1971 revealed prehistoric artifacts, ancient shellfish and animal bones, and evidence of life dating back to 1700 AD including fire pits, arrow tips and pottery. In addition, the turbine of the old Blue Spring Mill is a reminder of the past. The original mill, powered by the spring, was built in the 1840s followed by a new mill in 1903 then removed in 1940.
Build on your trip with shopping and dining in the town of Eureka Springs, about 20 minutes southeast. Or combine your trip with a stop at Roaring River State Park.
Getting There
Blue Spring at Blue Spring Heritage Center is about 2 hours southwest of Springfield when you go through Monett.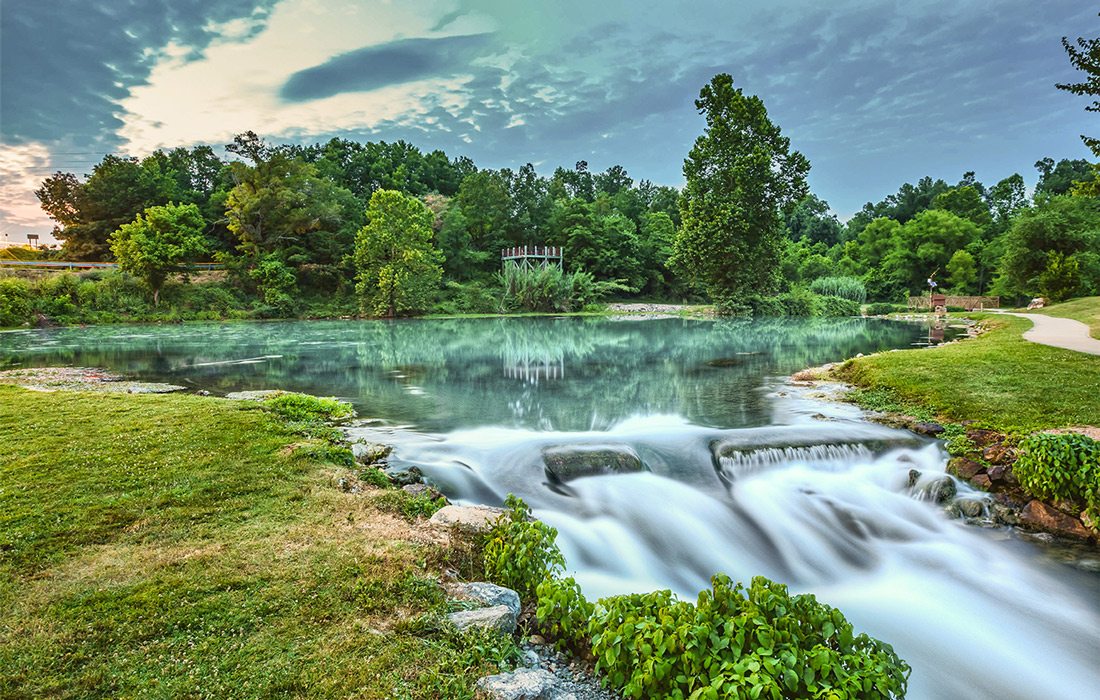 Mammoth Spring
About 500 feet across the Missouri state line, Mammoth Spring lives up to its name as the largest spring in Arkansas. Whether visiting the area for a day trip, for a weekend, or while passing by, Mammoth Spring State Park is a must-stop location. With a daily annual flow of 200 million gallons of water — a few dozen gallons shy of Big Spring — it's the second largest spring in the Ozark Mountains. Unlike Big Spring, its urban setting at the edge of the town of Mammoth Spring is not a backwoods getaway, but its shaded park setting is beautiful all the same.
Start with a stop inside the Welcome Center for information about the spring and visitor material for all of Arkansas. Head out the back door for a first look at the 10-acre spring lake, then over to view the mammoth-sized roaring dam waterfall with an hourly output of more than 9 million gallons of water. A walkway over the dam leads to the remnants of a mill and hydroelectric plant (which operated from 1925 to 1972), part of the spring's history. A trail continues around the lake from here (passing the 1886 Frisco train depot and museum) to reach the spring area. Near the spring, an overlook tower offers a sweeping view of the park.
Visiting the park may take only an hour or two, but there is much more to enjoy in the area. Reserve a rustic cabin or bed and breakfast to serve as basecamp for fishing or floating the Spring River, antique-shopping in nearby Hardy or exploring and hiking in Missouri's Grand Gulf State Park, just 15 minutes away. Kids will enjoy visiting the Mammoth Spring National Fish Hatchery and Aquatic Conservation Center, one of the oldest national fish hatcheries in the United States.
Getting There
Take U.S. 60 toward Mountain Grove and West Plains to reach Mammoth Spring State Park, roughly 2 hours and 20 minutes southeast of Springfield.
Looking for Something a Little Bigger?
If you're not satisfied with springs, head over to our guide to the most spectacular waterfalls in the Ozarks.