Desserts
Apple Crisp
All you need to have on-hand for this apple crisp are a few apples, oats, flour, butter, sugar, brown sugar, salt and whatever fall spices you wish to incorporate. Simple and delicious, this recipe is frill-free.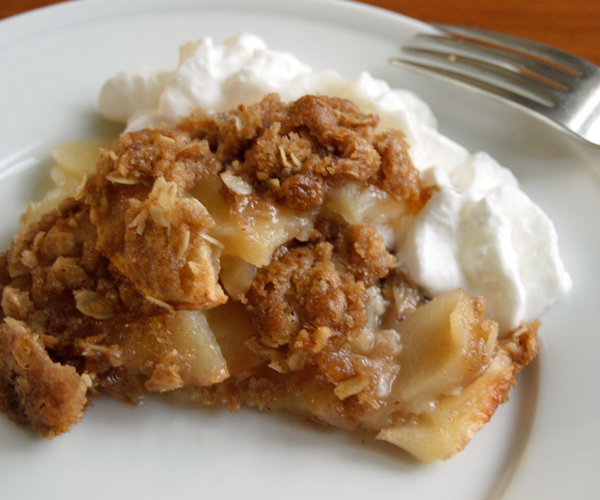 Makes 1 9-inch apple crisp. Adapted from All American Desserts by Judith Fertig.

Ingredients
4 tart apples like Jonathan or Granny Smith, peeled and thinly sliced
¾ cup packed brown sugar
¼ cup sugar
½ cup all-purpose flour
½ cup old-fashioned rolled oats
1 teaspoon ground cinnamon
½ teaspoon ground nutmeg
¼ teaspoon salt
½ cup unsalted butter at room temperature

To Prepare
Preheat the oven to 425°F, and grease a 9-inch baking pan. In a large mixing bowl, make the topping by whisking together the brown sugar, sugar, flour, oats, cinnamon, nutmeg and salt. Cut the butter into chunks, and mix it into the flour and sugar with your fingers until the mixture resembles coarse crumbs. Arrange the apple slices in the prepared baking pan, and sprinkle with the topping. Bake for 15 minutes. Reduce the oven temperature to 350°F, and bake for another 35 minutes or until the crisp is bubbling and the top is starting to brown.