Soups
Autumn Bisque
A creamy bisque perfect for a chilly fall evening in. Recipe by Chef Patty Wingo of Simply Delicious Catering.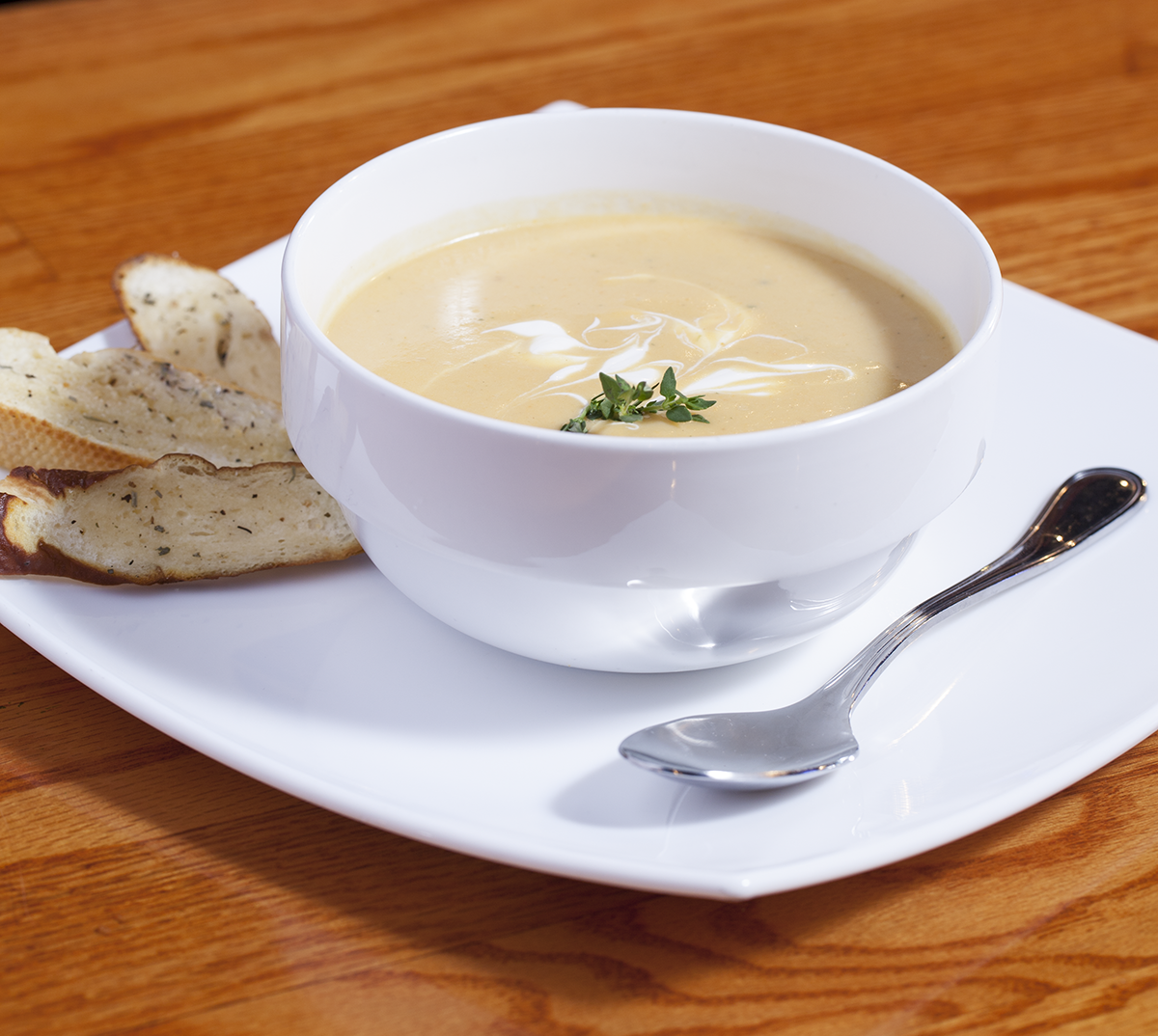 Serves 8. Best paired with Butter Chardonnay. Recipe by Chef Patty Wingo of Simply Delicious Catering. From our October 2016 Cooking Class.

Ingredients
1 butternut squash, 2 carrots and 1 large potato, peeled and diced small
1 medium onion, diced small
1 tablespoon olive oil
1 teaspoon kosher salt
½ teaspoon black pepper
1 small pear (or apple or both), peeled and diced large 
5 cups chicken broth (or vegetable broth), divided 
1 teaspoon fresh ginger, shredded
1 tablespoon chopped parsley
1 tablespoon chopped thyme
¼ teaspoon mace (or nutmeg)
1 cup heavy cream
8 tablespoons butter

To Prepare
Heat oven to 450°F. Toss squash, carrots, potato and onion with olive oil, salt and pepper. Spread onto a large baking pan. Roast for 10 minutes. Add chopped fruit, toss to coat and cook an additional 15 minutes. Add half the chicken broth to a large stock pot or Dutch oven. When vegetables are roasted, place into pot with broth. Using an emulsion blender, blend thoroughly. Add remaining broth, ginger, parsley, thyme and mace. Continue blending until smooth. Heat to medium and let simmer 10 minutes. Add cream and butter and more salt and black pepper to taste. Simmer an additional 25 to 30 minutes, stirring occasionally. Serve with a dollop of sour cream and buttered baguettes or croutons.