Desserts
Chestnut Shortbread Cookies
Lightly nutty, these shortbread cookies are a breeze to make and would be Insta-worthy with a coating of royal icing.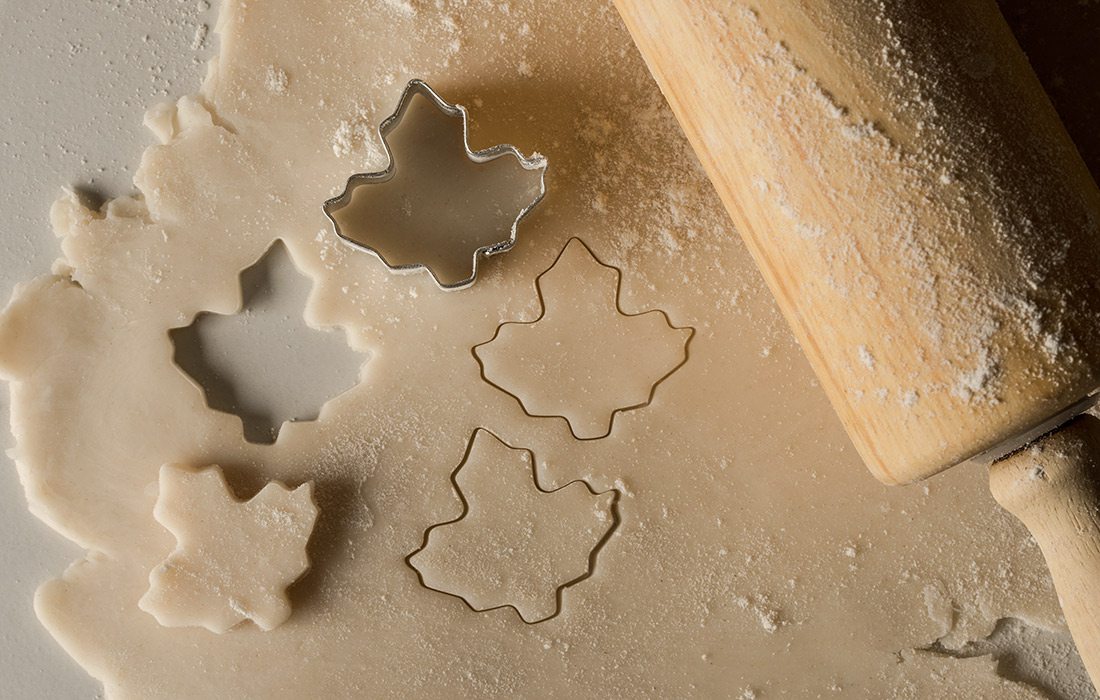 Recipe Modified from Alison Roman's Dining In.

Ingredients
1 cup plus 2 tablespoons salted butter (2¼ sticks), cold, cut into ½-inch pieces 
½ cup granulated sugar 
¼ cup light brown sugar 
1 teaspoon vanilla extract 
1 cup chestnut flour (see note to make your own)
1½ cups all-purpose flour
a pinch of nutmeg (less than ¼ teaspoon)
a pinch of allspice (less than ¼ teaspoon)
½ teaspoon cinnamon
1 large egg, beaten 
Demerara sugar, for rolling 
Flaky sea salt, for sprinkling 

To Prepare: 
Sift chestnut flour, all-purpose flour and spices together in a mixing bowl and set aside. In the bowl of a stand mixer, add butter, granulated sugar, brown sugar and vanilla and beat on medium-high until light and fluffy. Scrape down the bowl and turn the mixer to low. Add the flour slowly and mix just until the flour disappears and dough is smooth. (You might have to mix with a spatula to integrate all the flour.) 

Divide dough in half and shape each half into a disc. Wrap discs tightly with plastic wrap and refrigerate for 2 hours until completely firm. 

When you're ready to bake, preheat oven to 350ºF. Working one disc at a time, remove dough from fridge and allow to soften slightly. Place dough between two sheets of parchment paper and, using a rolling pin, roll dough to about ¼-inch thickness. Use a cookie cutter to punch out shapes and set aside. Reroll scraps and chill for several minutes before cutting out more shapes to allow dough to release from cutters. Repeat process with the second disc. 

Stack all cut-out shapes on top of each other (you might have to make several piles), lining up their edges. If your dough is very warm, sticky or soft, chill your shapes for a few minutes before stacking so they don't stick together. 

Brush the edges of your shaped stack with the beaten egg and sprinkle with demerara sugar. Peel apart your cookies (use a knife to help separate shapes if needed.) Arrange on parchment-lined cookie trays about ½-inch apart (they don't spread much) and sprinkle the tops with flaky sea salt. 

Bake for 12 to 15 minutes until edges are just beginning to brown. Let cool on trays slightly before cooling completely on a wire rack. Ice if you'd like, but they're equally delicious on their own. 

Chestnut Flour
If you cannot find chestnut flour, you can easily make your own. Preheat the oven to 350ºF. Wash and dry about 1.5 pounds of fresh chestnuts. Score the shells with a sharp paring knife, making an X pattern. Make sure your cuts reach around the edges of the nut for easy peeling. Place on a tray and roast for 12 to 15 minutes, or until all chestnuts have curled open and are cooked all the way through. Let cool until you can handle them. Peel off and discard shells. Slice the peeled chestnuts and place on a tray. Dehydrate at 105ºF in a dehydrator for about 12 hours. (If you don't have a dehydrator, turn your oven to the lowest possible setting and cook for a little less than 12 hours. They will dry out faster at higher temps.) Once dried, add nuts to a blender or food processor and grind until you get a fine flour. Sift several times before using.