Breakfast & Brunch
Chicken & Waffles
Sriracha-brined fried chicken atop yeast and sorghum waffle with cashew sauce and fancy gravy. From 417 Magazine's Cooking Class with Patrick Duran of Vespa Kitchen.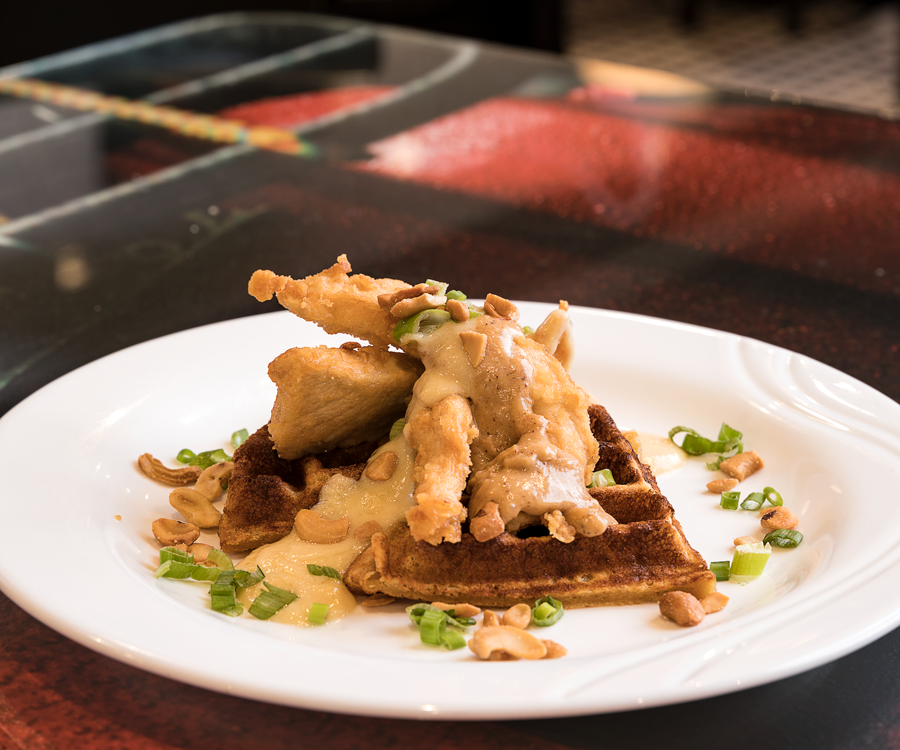 From 417 Magazine's Cooking Class with Patrick Duran of Vespa Kitchen.
Serves 6
Paired with Miraval Provence Rose

Ingredients for Sriracha-brined fried chicken
6, 5-ounce boneless, skinless chicken breasts, cut into four equal-size strips
4 tablespoons Sriracha sauce
5 tablespoons buttermilk
1 clove garlic, chopped
½ lime, squeezed
Pinch of salt
1½ cups flour (for coating)
360 milliliters canola oil (for frying)

To prepare chicken
Place clean, trimmed chicken strips in a large mixing bowl. In a separate bowl, combine the Sriracha, buttermilk, garlic, lime juice and salt. Mix well, then pour on top of the chicken. Toss to cover and refrigerate overnight. When ready to cook, remove the strips from the brine, toss in flour and deep fry in oil until cooked through. Reheat portions individually before serving on waffles.


Ingredients for sorghum waffles
3 cups tepid water
3 teaspoons instant dry active yeast
1⅓ cups sorghum syrup 
6 ounces melted butter
2 teaspoons vanilla
4 cups flour
Pinch of salt

To prepare waffles
Mix water, yeast and syrup in a large mixing bowl. Add the remaining ingredients and gently blend. Allow to rest for 25 minutes in a warm, dark area. Portion out enough to fit in a waffle iron, and cook until the waffle is brown on both sides.


Ingredients for the cashew chicken waffle sauce
4 cups chicken stock
⅔ cups tiger sauce (a cayenne-based sweet and sour hot sauce available online and at select grocery stores)
½ cup soy sauce
⅔ cup cashew butter
Water

To prepare cashew chicken waffle sauce
Combine all ingredients in a pot and simmer gently for five minutes. Allow to cool. Check for consistency and add water if needed. Serve.


Ingredients for the fancy gravy
½ pound butter
½ pound flour
⅓ cup dry white wine
1 pint heavy cream
1 tablespoon chicken base
Pinch of white pepper

To prepare fancy gravy 
Cook the butter and flour for a few minutes in a heavy-bottomed sauce pan. Do not allow to color. Add the white wine and whisk well to drive off the alcohol. Add the cream and chicken base. Simmer gently for 10 minutes, whisking as needed. Season to taste and serve. 

To plate
Place waffle on plate, and top with four pieces of fried chicken. Drizzle with cashew sauce and fancy gravy, garnish with green onion and cashews and serve.