Salads
Elote & Green Corn Salad
Learn how to make elotes and green corn salad with this recipe.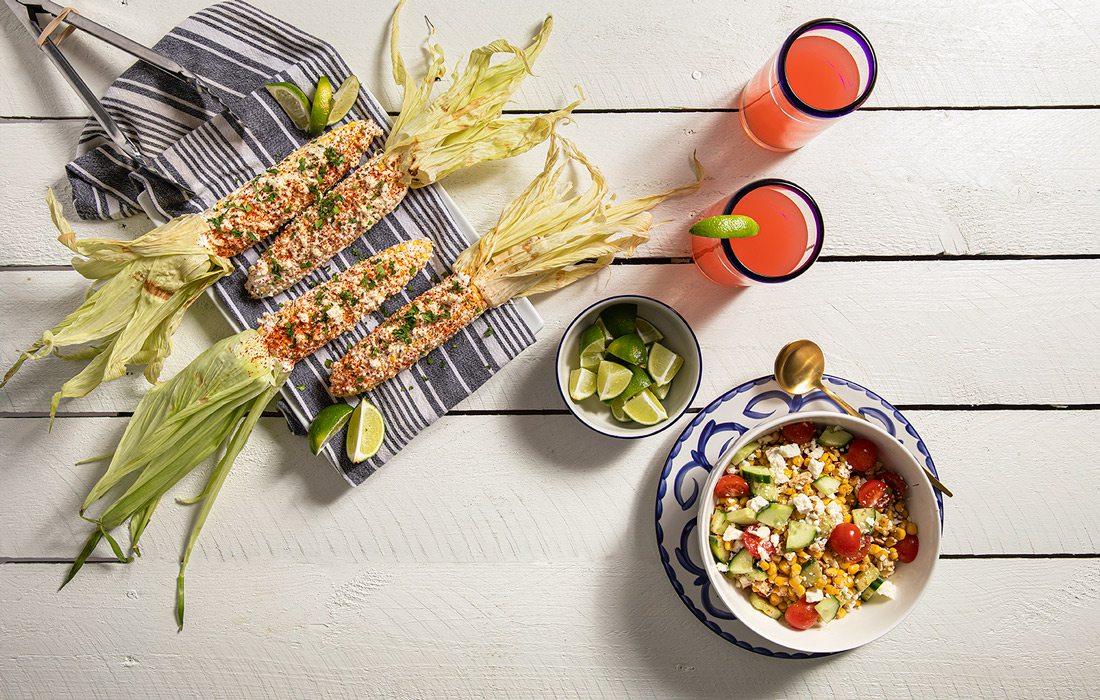 Elote 
Ingredients
• 4 ears sweet corn, shucked
• ¼ cup Mexican crema
• ¼ cup mayonnaise
• Tajin or Cornhub Elote seasoning 
(as desired)
• 1 tablespoon lime juice
• ¼ cup Cotija cheese, crumbled
• Garnish with cilantro and lime wedge (optional)
To prepare 
Prepare corn as desired until cooked thoroughly (grill or boil for 10 to 15 min). Mix the mayonnaise, Mexican crema/sour cream and lime juice together and cover each ear with creamy mixture on all sides. Lather each ear generously with Cotija cheese. Sprinkle a desired amount of Tajin seasoning on top or all sides of ear. Serve garnished with cilantro and a lime wedge. Enjoy your hot, steamy, juicy elote.
Easy Green Corn Salad
Ingredients
• 4 cups of cooked corn* (4–8 ears)
• 10 to 15 cherry tomatoes, cut in half
• 1 cup of feta cheese, crumbled
• 1 cup cucumber, chopped
• 2 teaspoons of your favorite Greek seasoning 
or Cornhub Greek seasoning
• 2 teaspoons of balsamic vinegar
• Salt and black pepper to taste
To prepare 
Combine all ingredients in a large salad bowl. Toss until combined. Taste for salt and pepper before serving. Serve warm or refrigerated. *Let corn cool before removing from the cob. Cornhub seasoning is available to purchase at showmecorn.com.