Entrees
Herb-Crusted Shrimp with Goat Cheese Polenta
If you love shrimp and grits, try this cheesy polenta version of the famous seafood pairing. This herb-crusted shrimp and goat cheese polenta gives a pleasant crunch and tangy update to the classic comfort food.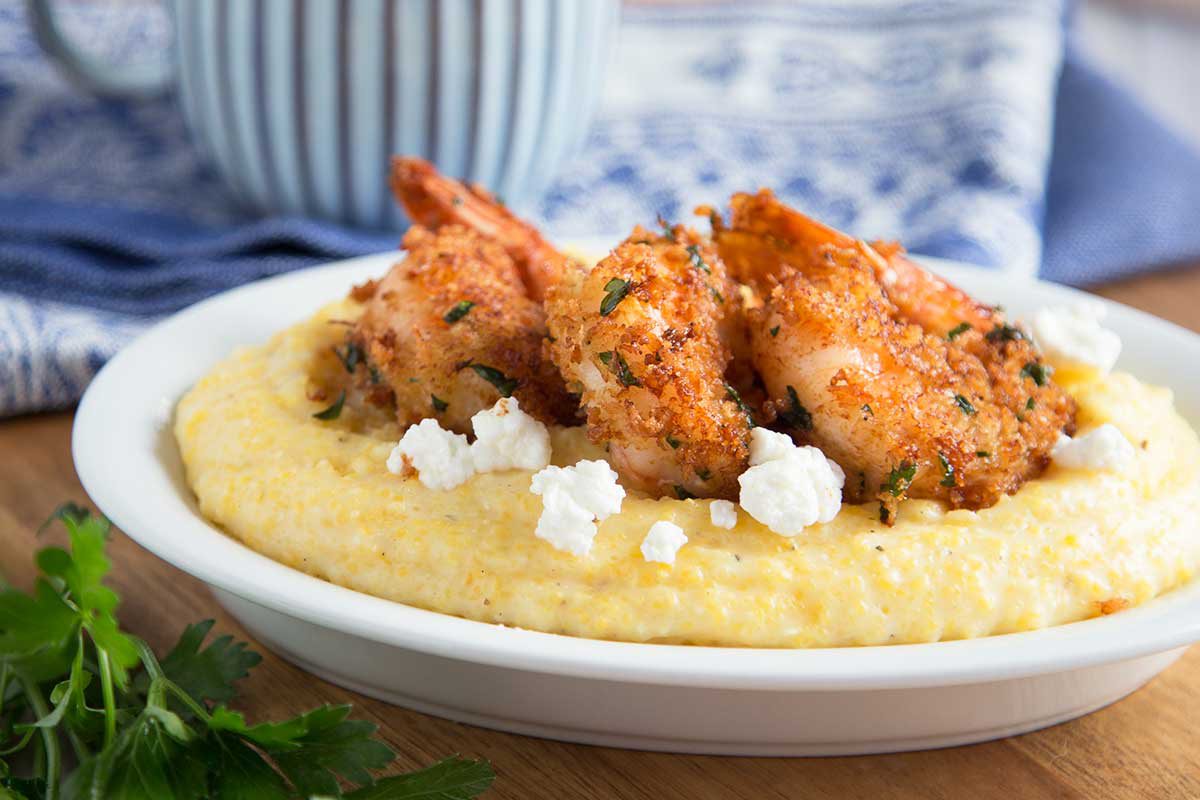 Time: 1 hour
Serves: 4

Ingredients
For the polenta:
2 cups milk
1½ cups low-sodium chicken broth
¾ cup stoneground polenta
2 tablespoons butter, softened
6 ounces chevre goat cheese
 
For the shrimp:
2 eggs, beaten
½ teaspoon salt
½ teaspoon pepper
½ cup parsley, chopped
½ cup panko breading
2 cloves garlic, minced
1 pound fresh, large shrimp, peeled with tails on
2 tablespoons olive oil

To Prepare
Heat milk and chicken broth in a medium saucepan over high heat until it simmers. Slowly pour in polenta while whisking to combine. Turn heat to low and partially cover. Cook, scraping the sides and stirring vigorously every five minutes, until liquid is absorbed and polenta is creamy, about 30 minutes. While polenta cooks, prepare the shrimp. Add beaten eggs, salt and pepper to a shallow bowl. In another shallow bowl, combine parsley, panko and garlic. Stir to combine. Dip each shrimp into egg mixture before coating each side in breading. Heat a large skillet over medium-high heat. Add 1 tablespoon olive oil and swirl to coat pan. Add  a single layer of shrimp and cook until golden on one side, about 1 to 2 minutes, before flipping and cooking another minute. Remove and set onto a paper towel–lined plate. Repeat with remaining tablespoon of oil and shrimp. Once polenta liquid is absorbed, add butter and goat cheese. Stir until smooth. Top with shrimp and serve immediately. Garnish with extra parsley and a squeeze of lemon.