Entrees
MaMa Jean's Market and Deli Turkey Recipe
Learn how to make MaMa Jean's Market and Deli's turkey recipe. It makes for the perfect Thanksgiving meal.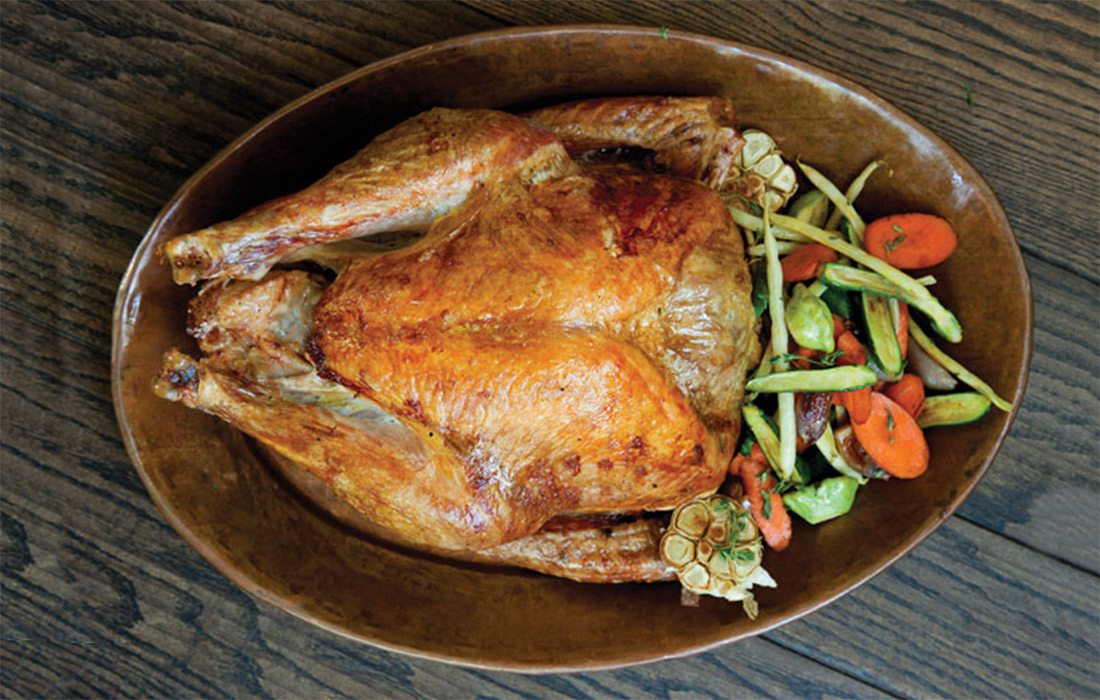 Ingredients
4 cloves garlic, minced
3 tablespoons fresh thyme (three sprigs)
3 tablespoons rosemary (three sprigs)
1 tablespoon sea salt
1 tablespoon black pepper
½ cup melted butter or oil
2 onions, quartered
4 carrots, coarsely chopped
2 ribs celery, coarsely chopped
1 whole fresh turkey 
To Prepare
Combine garlic, thyme, rosemary, sea salt, black pepper and butter (or oil). Place the vegetables at the bottom of the roasting pan, surrounding the turkey, to create an aromatic seasoning. Rub half of the mixture over and under the skin of the turkey. Tie turkey limbs with kitchen twine. Preheat oven to 375ºF with racks in the upper and lower thirds. Place the hindquarters on the top rack and the breast on the bottom. Roast for 30 minutes. Remove the hindquarters, flip them so that the seam side is down, and baste with the second half of the premade mixture. Return the turkey to the oven for about an hour, or until a thermometer reads 170ºF when inserted into the drumstick and 155 to 160ºF when inserted into the thickest part of the breast, close to the bone. Remove hindquarters and breast and let rest for 15 minutes.