Entrees
Morel Mushroom–Encrusted KC Strip
You can enjoy morels at any time—even out of season—with this dish. Recipe courtesy Chef Robert Stricklin of The Keeter Center.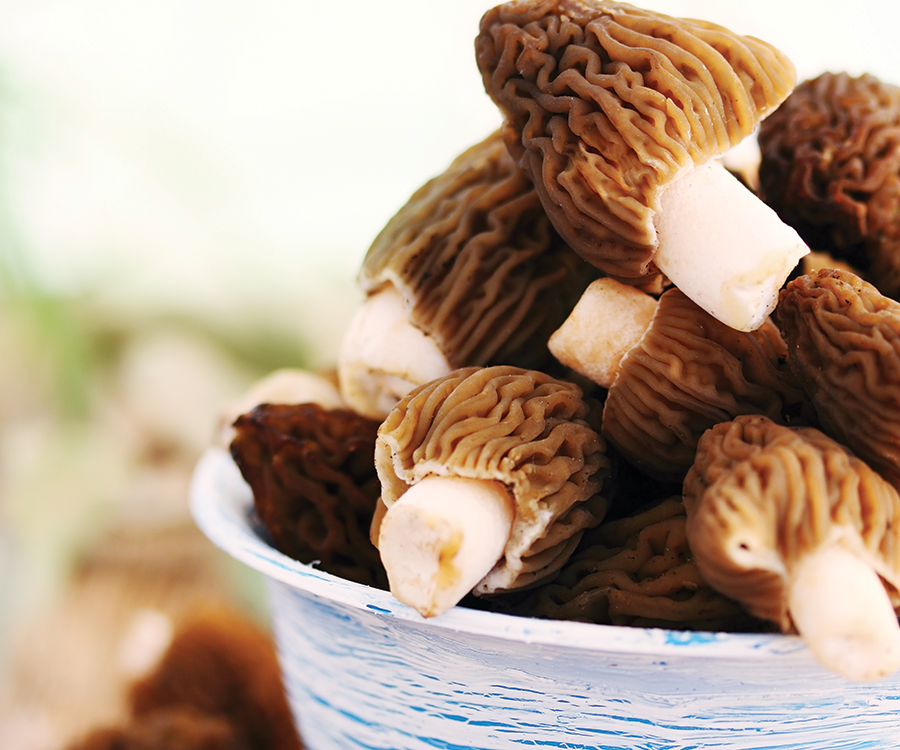 Serves 2. Recipe by Chef Robert Stricklin of The Keeter Center.

Ingredients
2 ounces dried morel mushrooms
½ cup breadcrumbs        
2 tablespoons Kosher salt        
2 teaspoons freshly ground black pepper
1 16-ounce Kansas City strip steak
4 tablespoons olive oil
8 Cipollini onions, peeled
2 tablespoons shallot, finely diced
3 sprigs fresh thyme
2 tablespoons balsamic vinegar
1 tablespoon Worcestershire sauce
1 tablespoon Dijon mustard
2 tablespoons unsalted butter
¼ cup ketchup

To Prepare
Cover eight of the dried mushrooms with hot water for 1 hour. Set aside. Heat oven to 400°F. Using a food processor, finely grind the remainder of the dried mushrooms and the breadcrumbs. In a small bowl, season the ground mushroom and breadcrumb mixture with salt and pepper. Coat the KC strip on all sides with the mixture. In a large sauté pan, heat the olive oil. Brown the KC strip evenly. Remove from heat, and place the KC strip and the Cipollini onions into a roasting pan. Reserve the sauté pan and drippings for preparing the sauce. Roast the strip for 10 minutes. The beef is best served medium-rare, or 110°F. While the meat is cooking, prepare the sauce by removing most of the oil from the sauté pan. Add the shallots and the 8 reserved mushrooms. Cook for 1 minute over low heat. Add the thyme, balsamic vinegar, Worcestershire, Dijon and ketchup. Finish with the unsalted butter. Slice the strip, and divide onto two plates.