Cocktails
Pineapple Jalapeño Margarita
Unfortunately, Tequila and Mezcal is no longer open, but we're still loving this recipe from former team member Dakota Hall.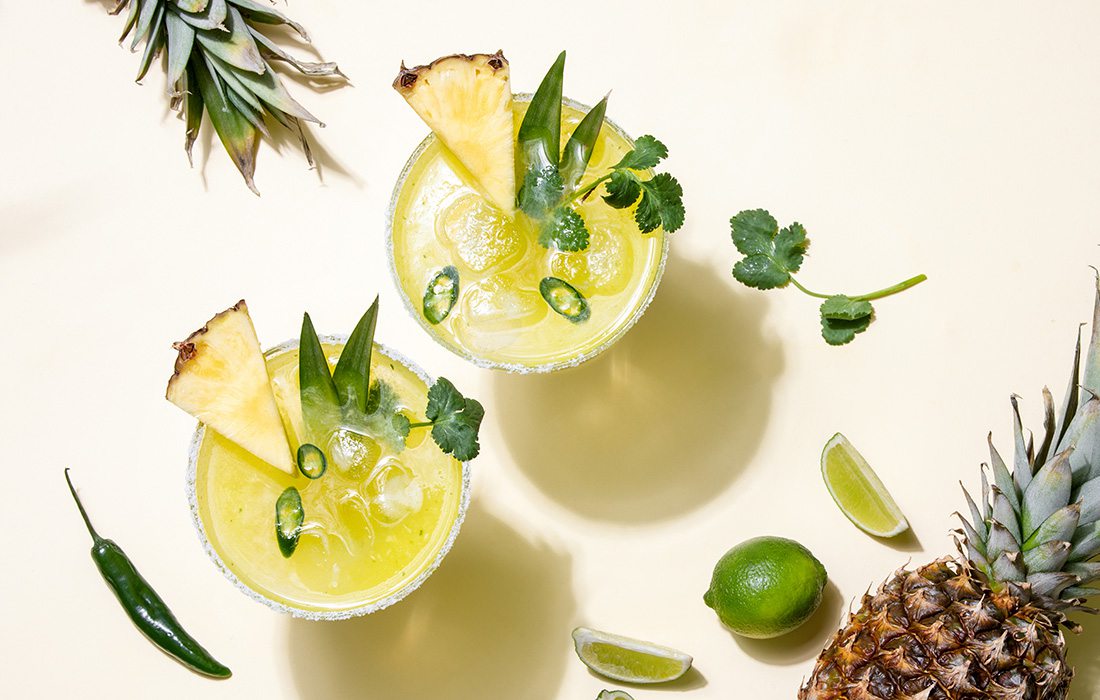 Recipe courtesy Dakota Hall of the former Tequila and Mezcal
1 ounce of a fruit-forward blanco tequila (like Avion or Patron)
½ ounce of Agavero (if you don't have Agavero, you can increase both the orange liqueur and tequila by ½ ounce, resulting in 1½ ounce of tequila and 1 ounce orange liqueur)
½ ounce orange liqueur (like triple Sec or Cointreau)
¾ ounce lime juice
½ ounce raw honey (preferably not clover)
3 ounces grilled pineapple juice 
2 jalapeño coins.
Grilled pineapple juice:
Quarter a fresh pineapple and remove the core. Grill each quarter on both sides until you have good char marks, which takes about 5 minutes on each side. Move to a plate and allow the pineapple to cool in the fridge for one hour, or until chilled. Cut the quarters into small pieces and transfer to a blender, adding two cups of water. Blend until smooth, then strain the juice from the pulp. The juice will keep refrigerated for five days.
Margarita:
Combine tequila, Agavero, orange liquor, lime juice and honey in the bottom of a cocktail shaker. Stir well with a spoon to fully mix in the honey. Add the jalapeno coins to the liquid and muddle well. Add the pineapple juice, followed by ice and stir about 20 times. You can rim the glass if you would like (fine sugar or Tajin are preferred). Strain into a cocktail glass filled with ice. Garnish with a pineapple wedge or lime wheel.