Entrees
Ratatouille
Ratatouille is a well-known French dish. Recipe courtesy of The Food Channel.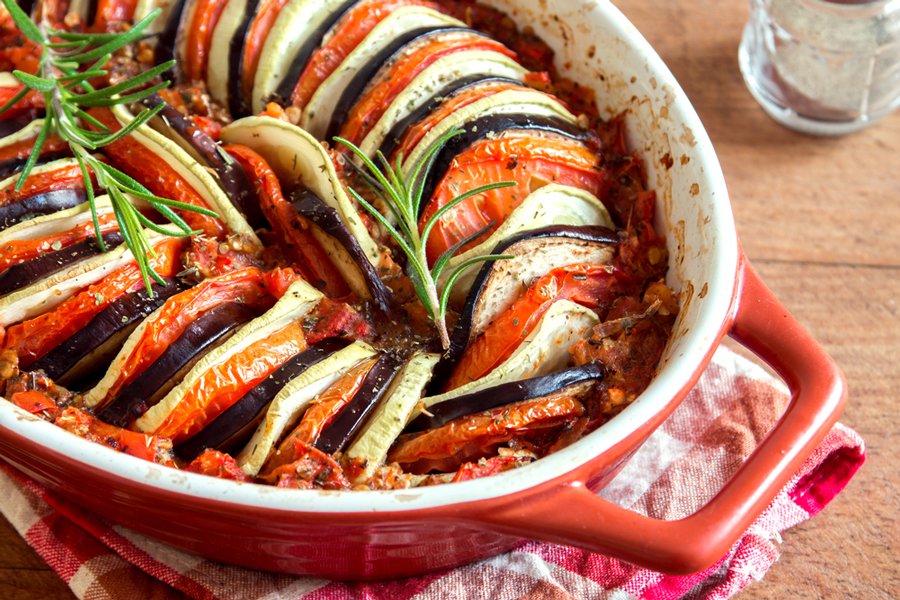 Recipe courtesy of The Food Channel.
Ingredients
2 cups diced eggplant (from 1 large eggplant)
3 tablespoons olive oil
1½ cups yellow onion, diced
1 cup red bell pepper, diced
1 teaspoon kosher salt
½ teaspoon ground black pepper
1½ cups zucchini, diced
3 cloves garlic, minced
1 8-ounce can tomato sauce
2 cups Roma tomatoes, diced
1½ teaspoons fresh rosemary
1½ teaspoons fresh thyme
Salt and pepper, to taste
Soft polenta, for serving
To Prepare
Heat oil in a large nonstick frying pan over medium heat. Add onions, bell pepper and garlic. Season with salt and pepper. Saute six to eight minutes, or until onions become translucent. Add eggplants and saute five minutes or until eggplant begins to soften. Add zucchini and saute until hot. Add tomato sauce, tomatoes and herbs. Saute until zucchini and eggplant are cooked to desired doneness. Season again with salt and pepper, if needed. To serve, spoon polenta into bowls and top with warm ratatouille.