Entrees
Sous Vide Hanger Steak
Sous vide hanger steak with confit fingerling potatoes and sauteed prawns. Recipe by Chef Damien Tiregol of Crabby's Seafood Bar & Grill in Joplin.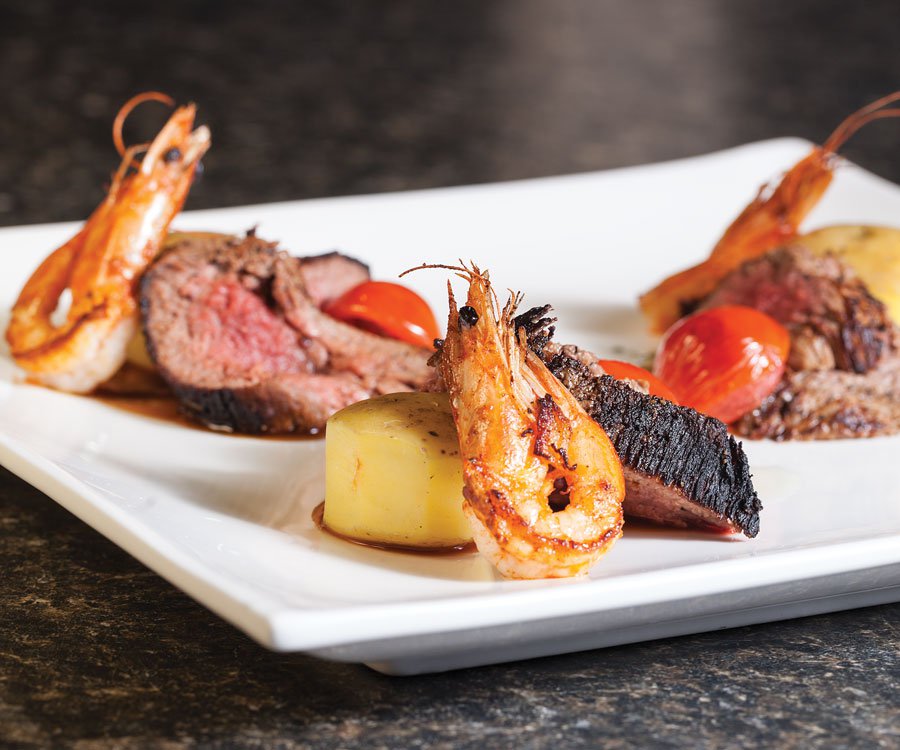 Serves 4. Best paired with Charles Smith Boom Boom Syrah. Recipe by Chef Damien Tiregol of Crabby's Seafood Bar & Grill.

Ingredients for Sous Vide Hanger Steak
2 pounds hanger steak, fully trimmed and cut into 
6-ounce portions
2 tablespoons Worcester-shire sauce
2 sprigs fresh thyme
1 garlic clove
1 teaspoon Dijon mustard 
1 tablespoon butter

To prepare Sous Vide Hanger Steak
Vacuum seal steaks two at a time with the Worcestershire, thyme, garlic and mustard. Drop steaks in a water bath regulated with an immersion circulator set to 58°C for 1 hour 30 minutes. Remove steaks and let set. Heat butter in a pan on medium high heat. Add the thyme and garlic from the bag. Sear the outside of the steak until brown. Remove steak from pan and let rest for five minutes. Slice on a bias. To serve, swirl the veal glace onto the center of the plate. Add four confit potatoes to the center. Fan out the hanger steak slices in a half moon shape surrounding the potatoes. Place the sauteed prawn opposite the steak, propped up on the potatoes. 
 
Ingredients for Confit Fingerling Potatoes
1 pound fingerling potatoes
2 garlic cloves
2 cups duck fat
salt and pepper to taste

To prepare Confit Fingerling Potatoes
Heat oven to 350°F. Melt duck fat in a sauce pan. Remove from heat. Add other ingredients to the duck fat and cover the pan. Roast in the oven for one hour, or until tender. Remove potatoes from fat and add salt and pepper to taste. Save duck fat for future recipes. 
 
Ingredients for Sauteed Prawns
1 pound large prawns (8-10)
1 tablespoon butter
1 clove garlic
2 sprigs thyme

To prepare Sauteed Prawns
Heat a medium-sized pan to medium and melt the butter with the garlic and thyme. Make a small incision along the back of the prawns and remove the mud vein. Rinse well. Add the prawns to the pan and saute until the flesh becomes white. Remove from pan and set aside.