Breakfast & Brunch
Traditional Colombian Breakfast
Learn how to make a traditional Colombian breakfast with this recipe.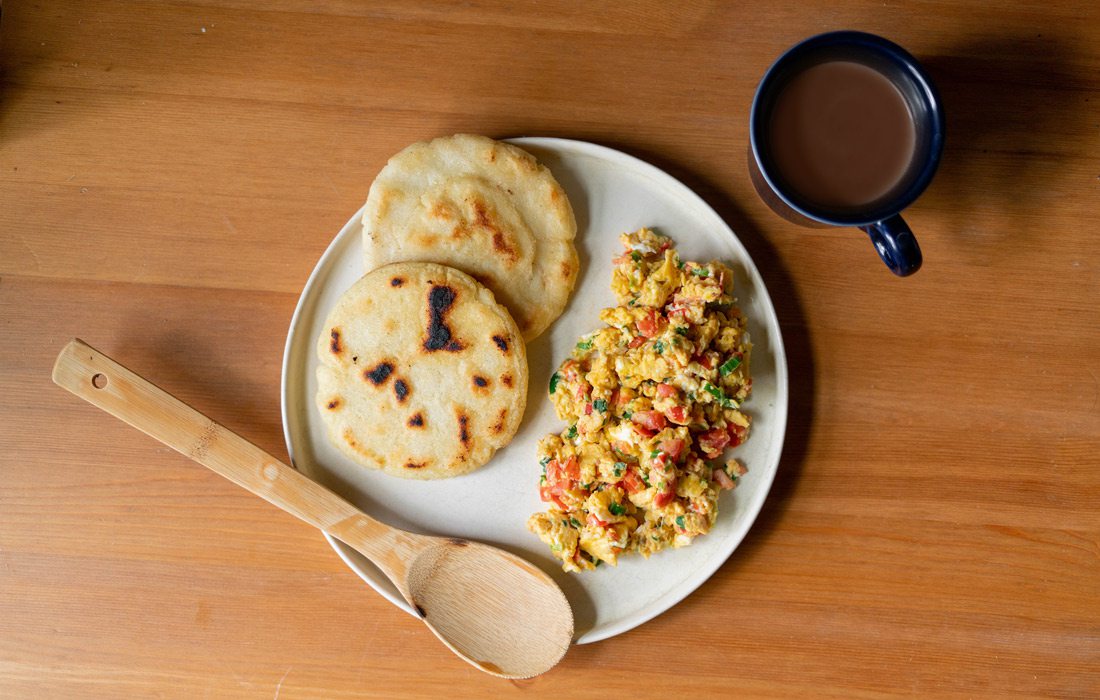 Arepas
(Yields 4)
Ingredients:
• 1 cup pre-cooked white corn meal (such as P.A.N.® - can be found at our local Latino markets)
• 1 cup luke-warm water
• ¼ tsp salt (or to taste)
• ⅓ cup shredded mozzarella cheese (optional)
Method:

1. Combine all ingredients in a bowl and knead until a soft, moist and malleable dough is formed.
2. Divide the dough into four balls and carefully press in between the palms of your hands, forming it into a ½ inch thick patty (for thinner and crispier, make it closer to ¼ inch). If the dough cracks a lot on the edges and is crumbly, you may need more water. The dough will naturally crack a little, just gently pat along edges to smooth.
3. Add butter or oil (whatever you prefer) to a pan or griddle and place over  medium heat. Place arepas in pan and cook each side for about 5 minutes, until golden brown.

Huevos Pericos (Colombian Scrambled Eggs)
(Serves 4)
Ingredients:
• 8 Eggs
• 2 Roma Tomatoes
• 5 Scallions
• 1 tbsp Olive Oil
• Salt and pepper to taste.
Method:
1. Heat olive oil in a pan over medium heat.
2. Chop scallions and dice tomatoes, then saute until liquid from the tomato evaporates. Cook for about 3-4 minutes.
3. Add beaten eggs to the pan and scramble until just cooked.
4. Once plated, add salt and pepper to taste.

This dish is typically served with hot chocolate (such as Nestle® Abuelita Hot Chocolate, which can be found in local supermarkets or Latino Markets) or cafe con leche y azúcar (coffee with milk and sugar).