Small Bites
Vegan, Gluten-Free and Nut-Free Turmeric Energy Balls
Alice Oh keeps turmeric energy balls on hand for when she needs a boost. Here, she reveals her classic recipe that she formerly sold at The Press Coffee & Juice Bar.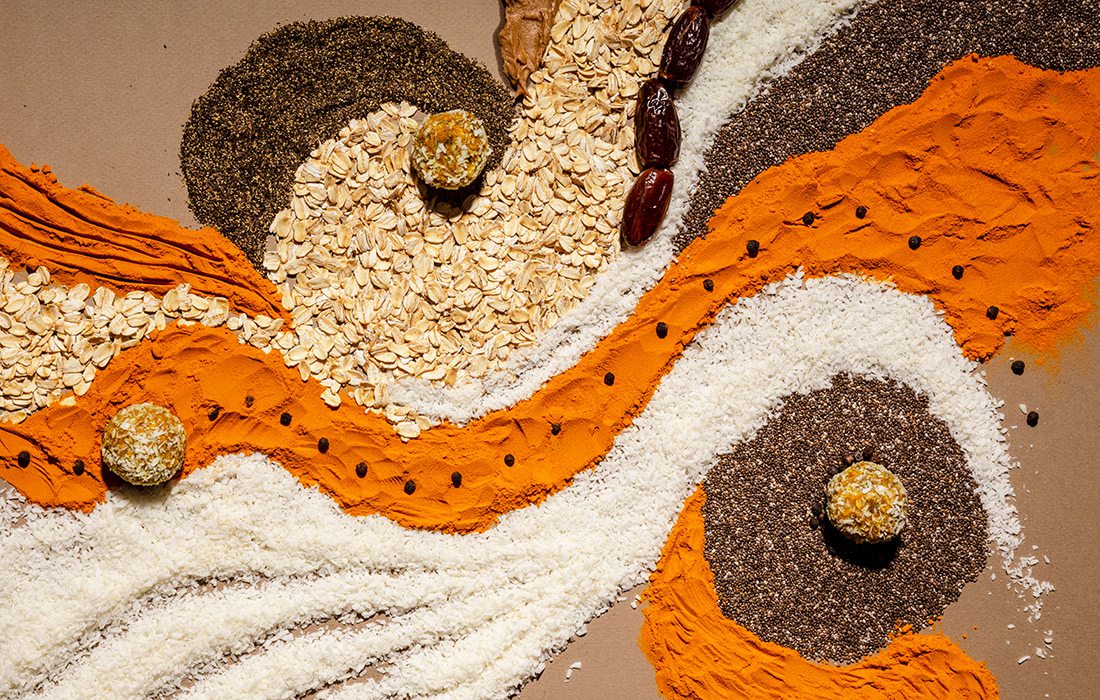 Recipe courtesy Alice Oh of The Press Coffee & Juice Bar
Makes 12
Ingredients

6 Medjool dates
½ cup gluten-free rolled oats
½ tablespoon chia seeds
¼ cup sunflower butter
2 tablespoons lemon juice 
½ teaspoon vanilla extract
1 teaspoon turmeric powder
⅛ teaspoon black pepper 
½ cup shredded coconut flakes 
To Prepare
Remove the pits and soak the dates in hot water for several minutes until softened. Drain the dates, reserving the water. Put dates in food processor. Add other ingredients, excluding coconut flakes, and pulse until it becomes like dough. You can add in the date water if the mix is too dry. (If you like more sweetness you can add ¼ cup raw honey instead of water. However, this will make the recipe vegetarian and not vegan.) Add a little at a time until slightly sticky but dry. Using a spoon, scoop the amount you want and roll into a ball. Roll the ball in the coconut flakes. Serve.