Soups
Vegetable Soup and Fennel Salad
Craig von Foerster of Harvest Restaurant shares a healthy, fresh and delicious recipe made with ingredients straight from the farmers market.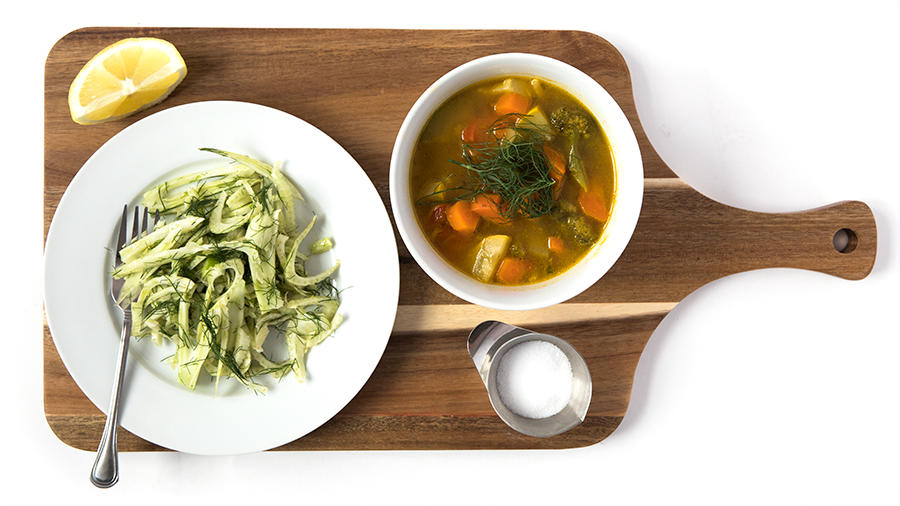 Ingredients
5 tablespoons olive oil, divided
1 head fennel
Zest and juice of one lemon
1 teaspoon fennel seed
4 cups of chicken or vegetable broth
A wide variety of farmers market veggies (We used broccoli, zucchini, carrots, yellow squash and red pepper.)
To prepare soup
Cut off the long tops of the fennel, reserving the bulb for later use. Remove fronds from stem and set fronds aside. Slice stems into thin pieces. Warm three tablespoons olive oil in a 2-quart pot. Add sliced stems and sweat until soft, about five minutes. Add fennel and lemon zest and saute for two more minutes. Add broth and simmer for 20 minutes. Strain broth and add lemon juice and salt to taste. While broth is simmering, cut vegetables into small pieces, keeping them separated. Bring the broth back to a simmer and add vegetables one variety at a time, starting with the variety that will take longest to cook. Cook until tender.
To prepare salad
Cut fennel bulb in half and remove most of core. Slice fennel thinly on a mandolin into a bowl. Add salt, lemon juice and olive oil to taste. Add reserved fennel fronds and toss.