Weddings
Naturally Yours
Natural elements and effortless elegance combine to create a wedding day that is naturally yours.
Art direction by Abby Gust | Styled by Heather Kane | Photos by Chuck Travers | Modeled by Olyvia Behnke, Lydia Linsenbardt | Shot on location at Enchanted Hills Weddings & Events | Hair by Emily Park with Pinup Salon | Makeup by Liz Watts with Acacia Spa
Jun 2016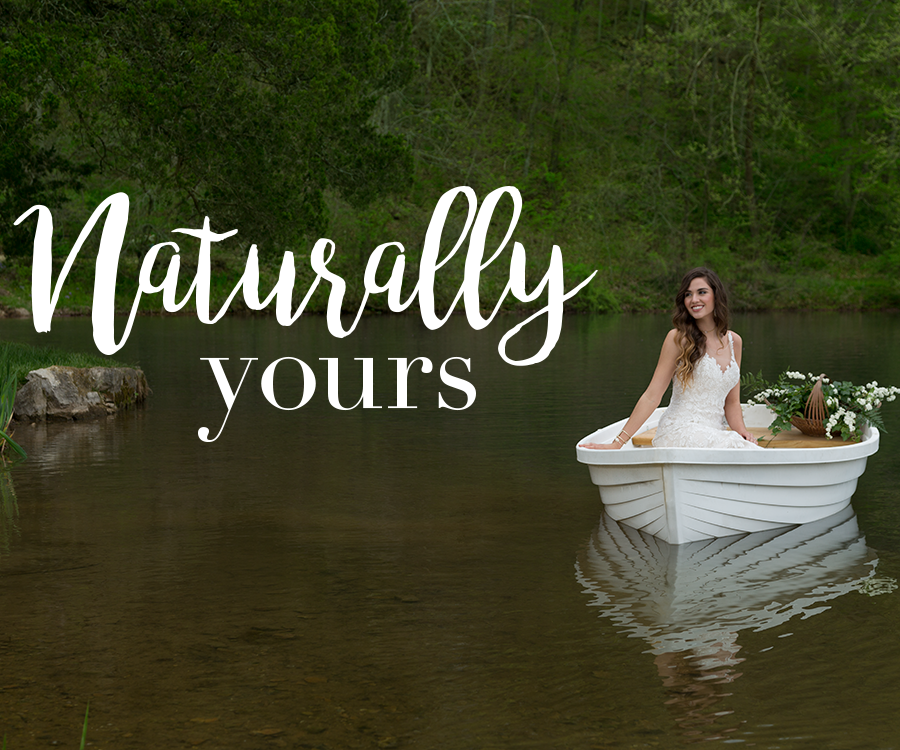 When the beauty of nature combines with the beauty of love, you can't help but get lost in the idea of natural romance. These dresses from local boutiques showcase effortless elegance with lace details and gorgeous beading that pair perfectly with accessories from local shops. Your love story starts now.


---

Photographed by Chuck Travers
Art direction by Abby Gust
Styled by Heather Kane
Modeled by Olyvia Behnke and Lydia Linsenbardt 
Shot on location at Enchanted Hills Weddings & Events
Hair by Emily Park with Pinup Salon
Makeup by Liz Watts with Acacia Spa


---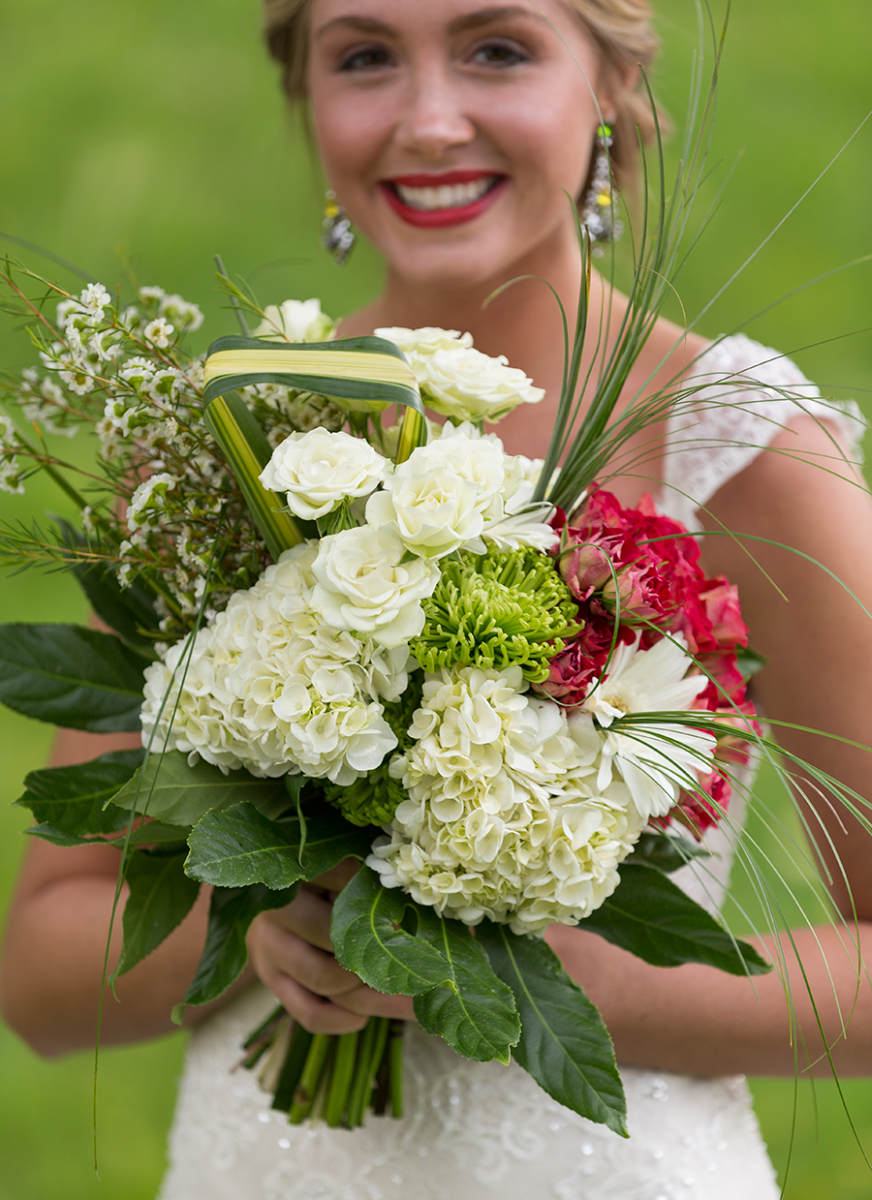 Love That Blooms
Bouquet: Hand-tied garden gathered bouquet of Stargazer lilies, white  hydrangeas, Gerbera daisies and sunflowers accented with Bupleurem, Bear grass and Plumosa fern, $249.95 at Wickman's Garden Village 

On Bride: Essence ivory dress, $1,699 at Normans Bridal; green crystal dangle earrings, $18 at MODERN Society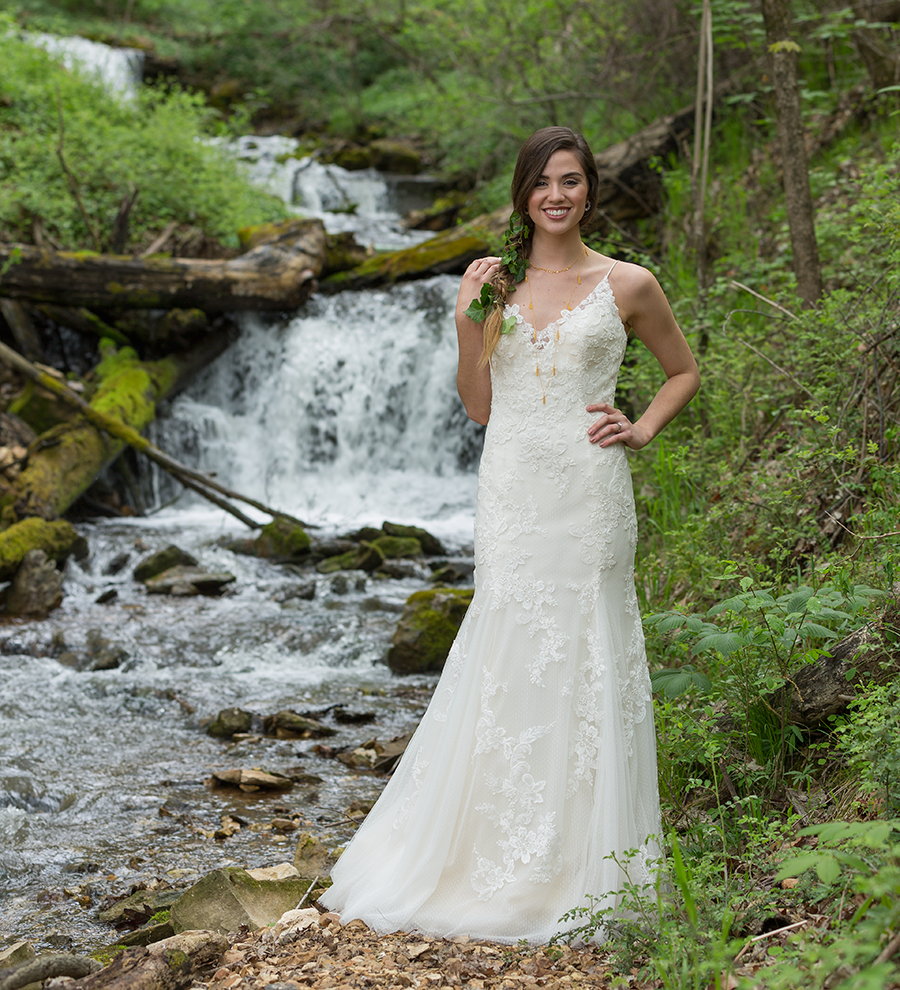 Enchanted falls
Sottero and Midgley Sandrina dress, $1,349 at Ella Weiss Wedding Design; Gloriana Chloe mini necklace, $48 at STAXX; Gloriana Joplin wrap necklace, $104 at STAXX; half moon pearl earrings, $24 at STAXX
​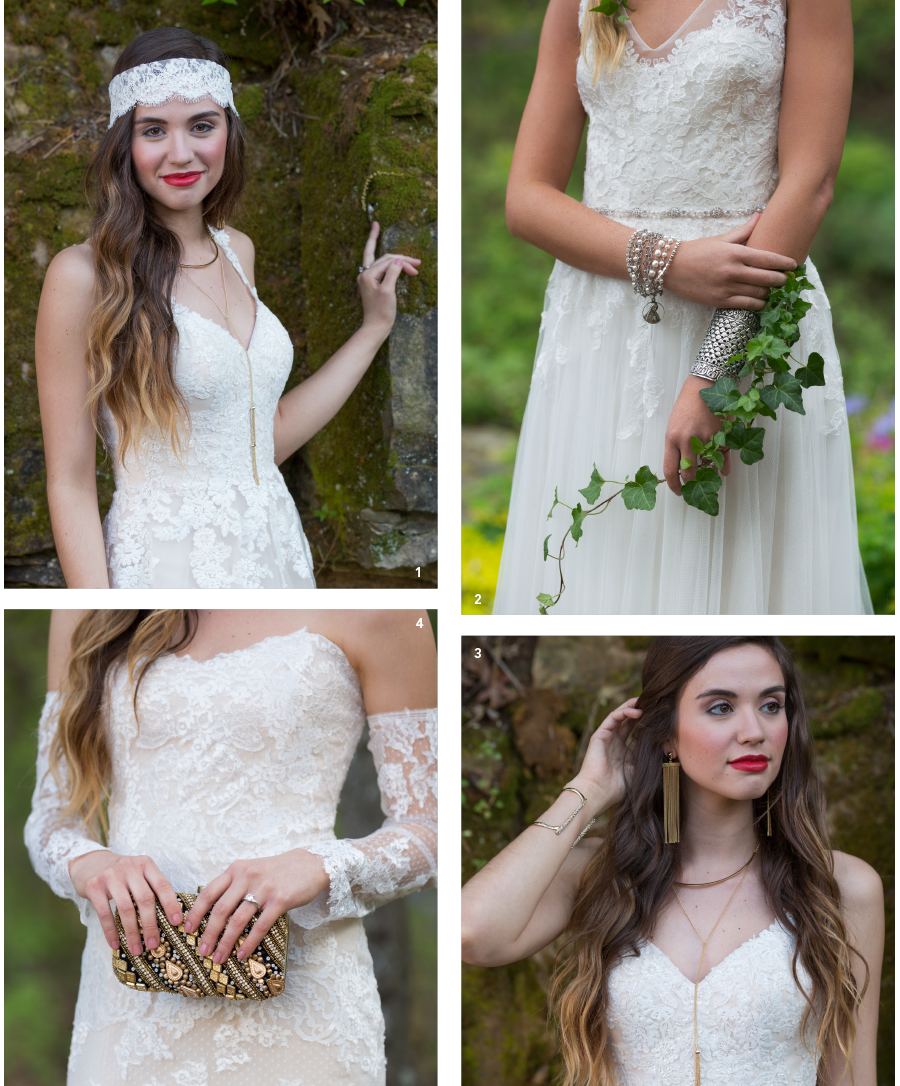 1. Stella York dress, $1,299 at Normans Bridal; BCBGMAXAZRIA tassel and chain layered necklace, $68 at Harem & Company; lace headband, $120.95 at Normans Bridal 2. Willow by Watters ivory almond dress, $998 at Ella Weiss Wedding Design; Essense of Australia belt, $159 at Normans Bridal; Bella Rose pearl and chain bracelet, $289 at Harem & Company; Natalie B protector cuff, $72 at MODERN Society 3. Stella York dress, $1,299 at Normans Bridal; Alexis Bittar gold cuff, $245 at Harem & Company; BCBGMAXAZRIA tassel and chain layered necklace, $68 at Harem & Company; SSD fringe earrings, $129 at Harem & Company 4. Sottero and Midgley Alexandra dress, $1,639 at Ella Weiss Wedding Design; Primavera bronze clutch, $50 at Gracie's Bridal
Blown away
Essence ivory dress, $1,699 at Normans Bridal; Toni Federici Marianna cathedral lace veil, $550 at Ella Weiss Wedding Design; green crystal dangle earrings, $18 at MODERN Society
Into the woods
Stella York dress, $1,299 at Normans Bridal; Alexis Bittar gold cuff, $245 at Harem & Company; BCBGMAXAZRIA tassel and chain layered necklace, $68 at Harem & Company; lace headband, $120.95 at Normans Bridal 
Divine Equine
Marnie lace dress, $1,225 at Ella Weiss Wedding Design; Kendra Scott Elisa necklace, $65 at Town & County; Erimish copper glimmer rings, $28 at The Market 
Natural Beauty
Martina Liana dress, $2,099 at Normans Bridal; half moon pearl earrings, $24 at STAXX; TRIBALE by Erika Peña freshwater pearl necklace, $129 at Harem & Company 

Growing together
Bouquet: garden-style bouquet with Polar Star roses, white peonies, spider chrysanthemums, Iceland poppies, umbrella fern, honeysuckle tendrils, rosemary, Hypericum berries, snow berries and flowering thistle pods, $175–225 at The Flower Merchant 

On Bride: Sottero and Midgley Alexandra dress, $1,639 at Ella Weiss Wedding Design
Path to Forever
Willow by Watters ivory almond dress, $998 at Ella Weiss Wedding Design; Essense of Australia belt, $159 at Normans Bridal; Bella Rose pearl and chain bracelet, $289 at Harem & Company
Sitting Pretty
Sottero and Midgley Sandrina dress, $1,349 at Ella Weiss Wedding Design; Sassy gold and pearl earrings, $35 at Ella Weiss Wedding Design; Gloriana Chloe mini necklace, $48 at STAXX; Gloriana Joplin wrap necklace, $104 at STAXX
Pop of Color
Allure dress, $878 at Normans Bridal; blushing tassel earrings, $14 at MODERN Society; Pronovias headband, $178.95  at Normans Bridal 
Green with Ivy
Martina Liana dress, $2,099 at Normans Bridal; half moon pearl earrings, $24 at STAXX; TRIBALE by Erika Peña freshwater pearl necklace, $129 at Harem & Company 
1. Martina Liana dress, $2,099 at Normans Bridal; Erimish copper glimmer rings, $28 at The Market; beaded rose gold bracelet, $23 at The Market; Hobo copper clutch, $110 at The Market 2. Marnie lace dress, $1,225 at Ella Weiss Wedding Design; Kendra Scott Carla earrings, $70 at Town & County; Kendra Scott Elisa necklace, $65 at Town & County 3. Sottero and Midgley Sandrina dress, $1,349 at Ella Weiss Wedding Design; Gloriana Chloe mini necklace, $48 at STAXX; Gloriana Joplin wrap necklace, $104 at STAXX 4. Sottero and Midgley Silvia dress, $1,599 at Ella Weiss Wedding Design; Kendra Scott Danielle mother of pearl earrings, $60 at Town & County; Gold My Heart moonstone necklace, $72 at STAXX; Kendra Scott Gavin cuff, $85 at Town & County
Under the Veil
Allure dress, $878 at Normans Bridal; Bling veil, $379.95 at Normans Bridal; clear beaded bracelet, $23 at The Market 
Tickled pink
Bouquet: Pink Mink protea, ranunculus, ivory peonies, blush astilbe, pale pink rice flowers, accented with seeded eucalyptus and other assorted greenery, $200 at RosAmungThorns 

On Bride: Sottero and Midgley Sandrina dress, $1,349 at Ella Weiss Wedding Design; Gloriana Joplin wrap necklace, $104 at STAXX
Stop and Stare
Allure dress, $878 at Normans Bridal; blushing tassel earrings, $14 at MODERN Society; Pronovias headband, $178.95  at Normans Bridal; clear beaded bracelet, $23 at The Market