Weddings
Bridesmaids Dressed to Impress
Let your bridesmaids embrace classic styles with modern flair for a stylish twist to your wedding party.
By Heather Kane | Photos by Brandon Alms
Dec 2016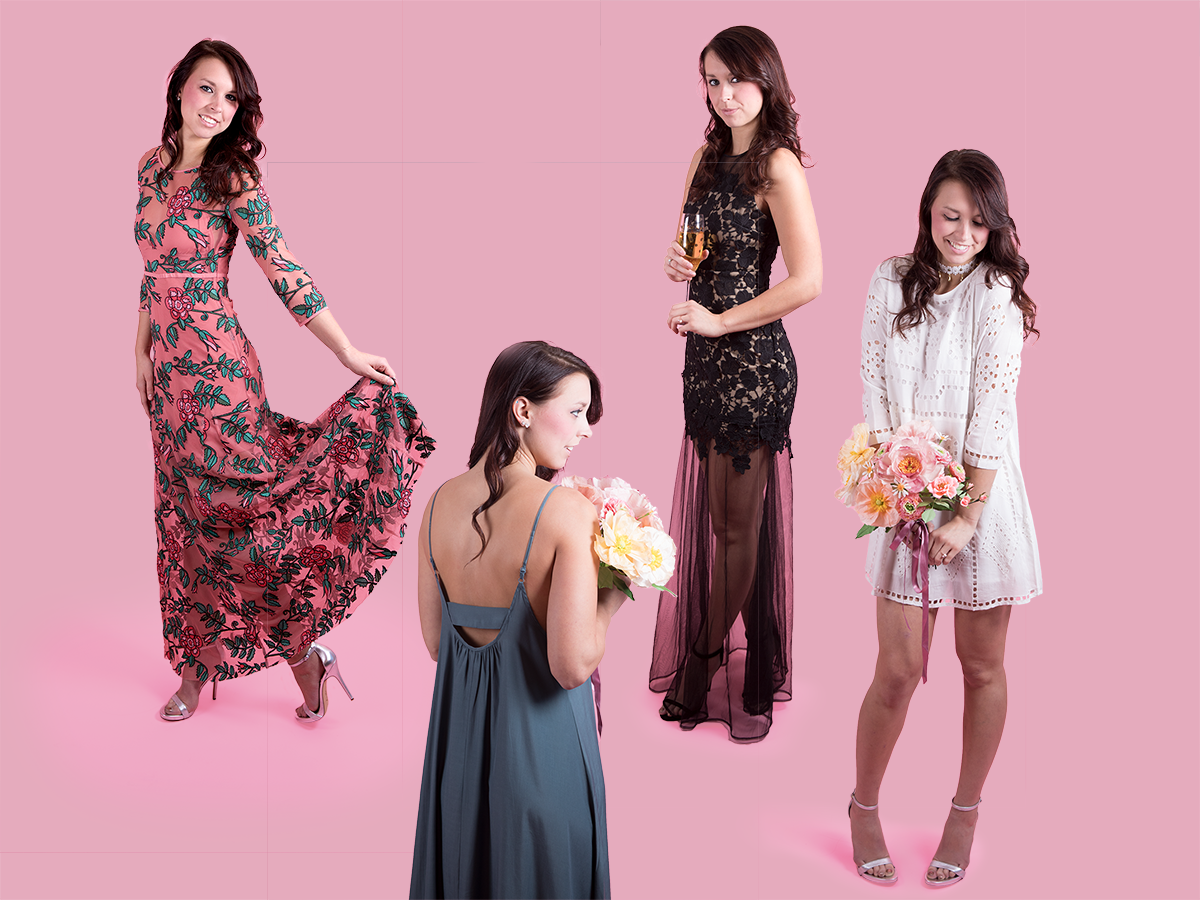 Get the Look:


1. Embroidered details (far left)
We love this Rosali embroidered maxi dress by For Love and Lemons ($345 at STAXX) for several reasons. The embroidery detail gives this simple silhouette a wow factor, and the muted colors read sophisticated and feminine. Sleeves for bridesmaids will add a more traditional vibe to your wedding day. Pair it with Sam Edelman Eleanor silver heels, $110 at Harem & Company. 


2. Bare the back (center left)
For a classic bride, subtle details like the beautiful back on this Pink Stitch high-low dress ($98 at Harem & Company) will carry your classy taste throughout your wedding day. We especially love this dusty sage green color that would work for any season. The silhouette would work for several body types. 


3. Blissful Black Tie (center right)
Need something a little more glam for your wedding? Black lace is another bridal trend that has us drooling. This sheer lace maxi dress ($78 at MODERN Society) is modern and super-flattering on women of any height. Pair it with Qupid ARA strappy heels, $36 at MODERN Society.


4. White in sight (far right)
This Society A Muse Ophelia dress ($155 at STAXX) is just too adorable and would be perfect for a spring wedding. Its geometric laser-cut pattern gives it a little something extra, and the silhouette would work for many body types. If you want to add a fun trend, try a white lace choker (Vanessa Mooney $72 at STAXX) with gold accents to give it that bridal look. Complete the look with Sam Edelman Eleanor silver heels, $110 at Harem & Company.