Home Profiles
Best Bedroom Winner
Denise Wright of DKW Designs delivered a beach worthy oasis for two Springfield, Missouri homeowners. By brining the outdoors in and surrounding the space with soft, romantic details, every day feels like a getaway.
By Briley Rakow
Jun 2020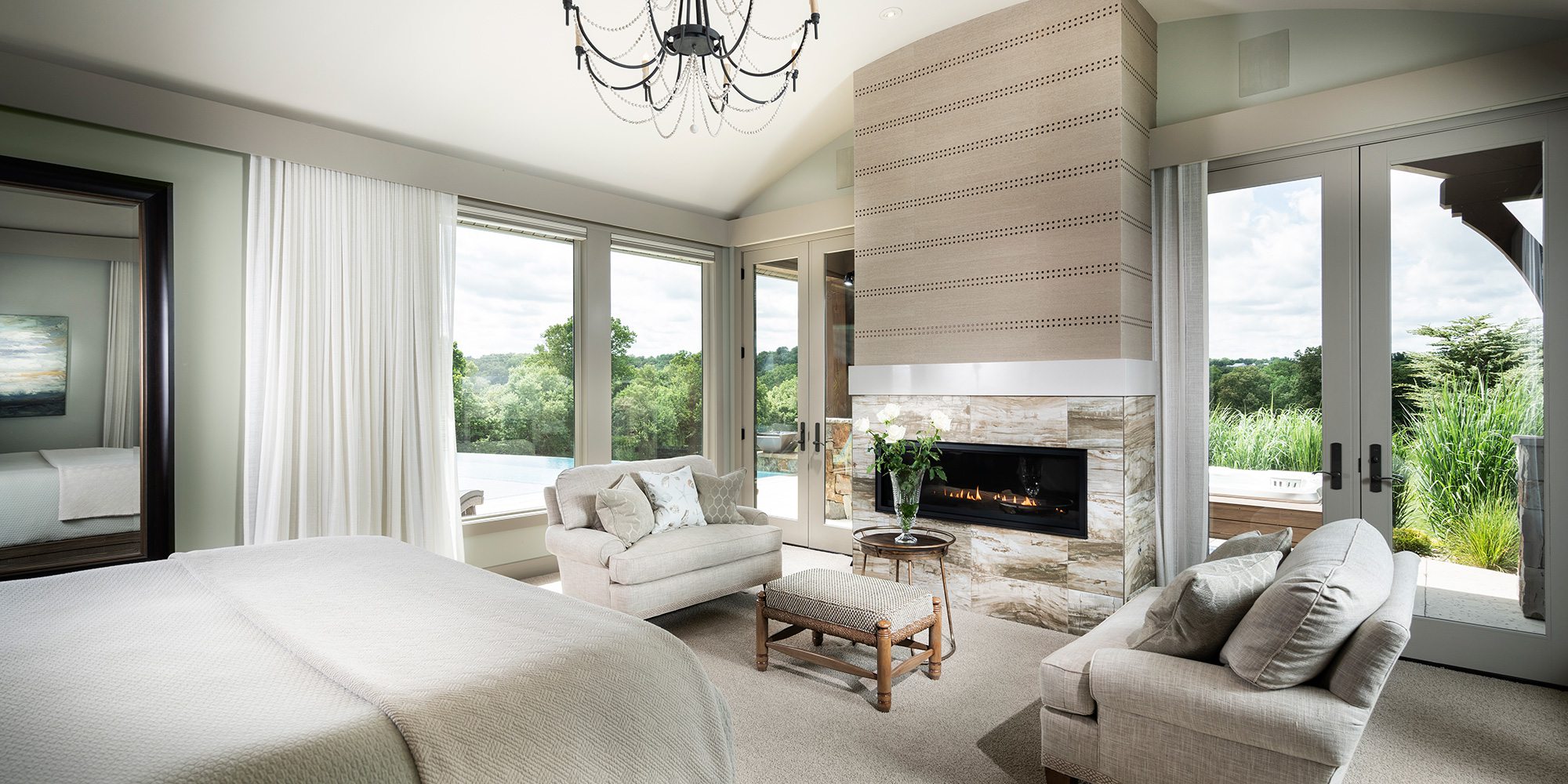 WINNING DESIGNER: Denise Wright, DKW Designs
PROJECT GOAL: This space was designed to be a relaxing and peaceful escape for the homeowners. They worked to make the space open and have the views of the outdoor landscape be seen while still ensuring privacy. The entire room was meant to be influenced by the ocean and beach resorts the homeowners had been to over the years. 


---
Denise Wright of DKW Designs created a bedroom that serves as an idyllic, restful retreat for the homeowners. Incorporating elements inspired by the sea and colors that offered a more tranquil environment were at the center of her design. 
"The homeowners wanted to be able to be inside but experience the wildlife and the landscape," Wright says. Originally, the idea was to have the entire room be made of walls of windows, but Wright suggested doing partial walls to have space to hang art and protect the homeowners' privacy. To accomplish this, the windows were only placed around the lounging area—a feature that helped separate the space from the rest of the bedroom.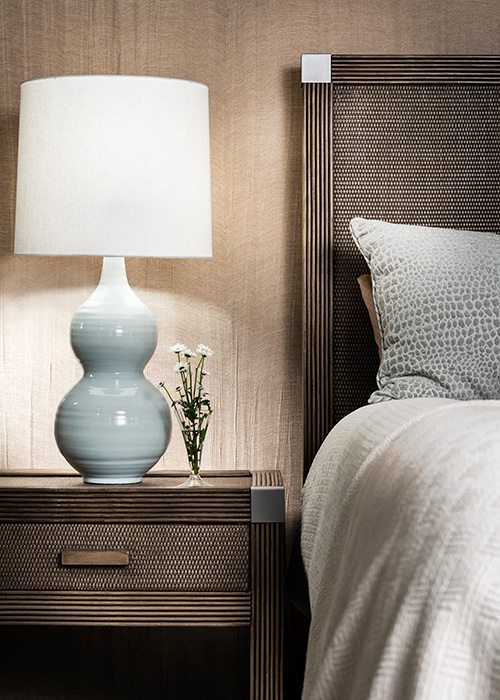 The main challenge was finding a way to create an impressive, open space while still maintaining the feeling of seclusion. The barrel ceilings and light colors help to soften the room for this purpose. There are also flowing sheers that wrap around the room, giving the space a breezy ambiance. Behind the fireplace, there is a cavity that allows the sheers to fully envelop the room, providing a more romantic feel. The homeowners can close the sheers for diffused lighting throughout the space or, if they want more privacy, they can remotely close the shades for complete darkness. 
The other amenities around the room are also remotely operated. At the homeowners' request, Wright implemented all smart appliances, so at the push of a button they can control the shades, all lighting fixtures and the fireplace. These conveniences add to the feeling of being at a luxury hotel that the homeowners desired when beginning the project. 
Because the homeowners have large pets, the bedding was made to be washable and the sofas were custom-made with a more durable fabric that looks like linen. The personalization allows the space to be pet friendly without taking away from the beach theme of the room. The wallpaper and textured carpet also add to the idea of an island escape with textures reminiscent of a sandy beach. From the seashells on the throw pillows to the beading on the chandelier, the island theme is present throughout the bedroom.
RESOURCE LISTINGS
Where to find the looks and materials used to create this winning bedroom design in Springfield, Missouri and surrounding areas.
STONE
6001 N. 21st, Ozark

417-581-4600

LIGHT FIXTURES/CHANDELIER
2252 S. Celebration Ave., Springfield

417-350-4520

RECESSED LIGHTING
4113 S. National, Springfield

417-889-1088

SHADES
224 W. Republic Rd., Springfield
417-881-1821

PAINT
Sherwin Williams and Benjamin Moore
FLOORING
1827 E. Seminole, Springfield

417-883-6455

FIREPLACE INSERT
4130 W. 3rd St., Battlefield

417-886-0660

BATHROOM CABINETS AND HARDWARE
4123 State Hwy H, Springfield

417-725-3400

TILE
1827 E. Seminole, Springfield

417-883-6455

2252 S. Celebration Ave., Springfield

417-350-4520

CUSTOM FURNITURE
2252 S. Celebration Ave., Springfield

417-350-4520

DRAPERIES
2252 S. Celebration Ave., Springfield

417-350-4520

ACCESSORIES
2252 S. Celebration Ave., Springfield

417-350-4520

ART AND FLOOR MIRROR
2252 S. Celebration Ave., Springfield

417-350-4520
CUSTOM BEDDING

2252 S. Celebration Ave., Springfield

417-350-4520