Home Profiles
Whole House Interior Design 2023 Winner
The goal of the winning 2023 project was to update an early 2000s home inside and out with timeless finishes, whimsical art and a mix of contemporary and antique accessories.
by Tessa Cooper
Jun 2023
Winning Designers
• Courtney Beykirch, CGB Designs
• Kara Bruner, Canvas Design

Project Goal Summary
To update an early 2000s home inside and out with timeless finishes, whimsical art and a mix of contemporary and antique accessories. Additionally, to enhance its layout without extending its footprint.
Courtney and Greg Beykirch's Highland Springs home features a mélange of complementary styles. Jewel tones pop against pastels, and details like crown molding and trim create a classic backdrop for contemporary and antique furniture alike.
In its current state, it's surprising to learn this home was entirely unrecognizable just two years ago. When the Beykirches purchased the house, it featured tell-tale signs of an early 2000s new build, and there was no showpiece or anchor point to draw your interest. 
Now, when you pull open the custom wrought iron door, a newly added fireplace immediately catches your eye. Next, your attention trails into the distance to the den with white oak built-ins and a matching coffered ceiling. On your left, you'll see a dining room with teal silk wallpaper.
When reimagining the home's potential, the couple knew they wanted to make major changes to enhance its beauty, form and function. To help, they brought on general contractor Jake Gullett with JBG Services. He kept the entire process running smoothly throughout the supply chain issues and delays amid the midst of the COVID-19 pandemic. 
Home designer Susie Wieland with Wieland Studios improved the original floor plan. This included expanding the primary bath and closet area, which added more storage and room for both a bathtub and shower. Additionally, Courtney wanted interior stair access to the attic, so Susie drew up plans for annexing the attic space to make a large upstairs bonus area for the couple's children to lounge. This space originally only featured a garage entrance. With the new interior entrance, they were able to remove the old staircase from the garage.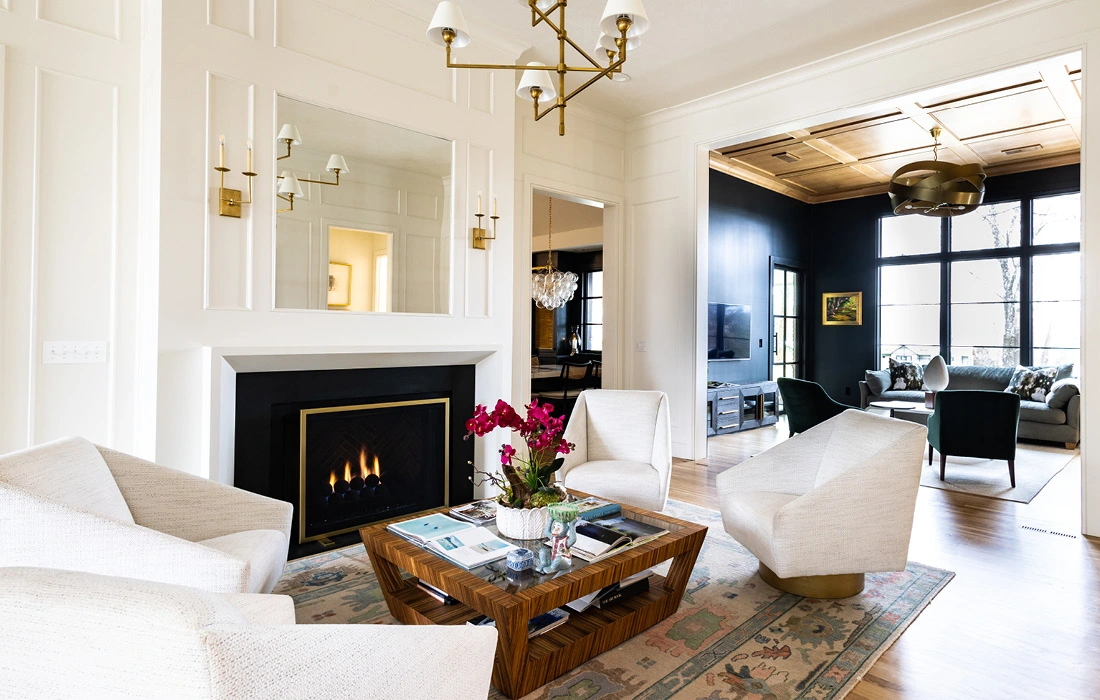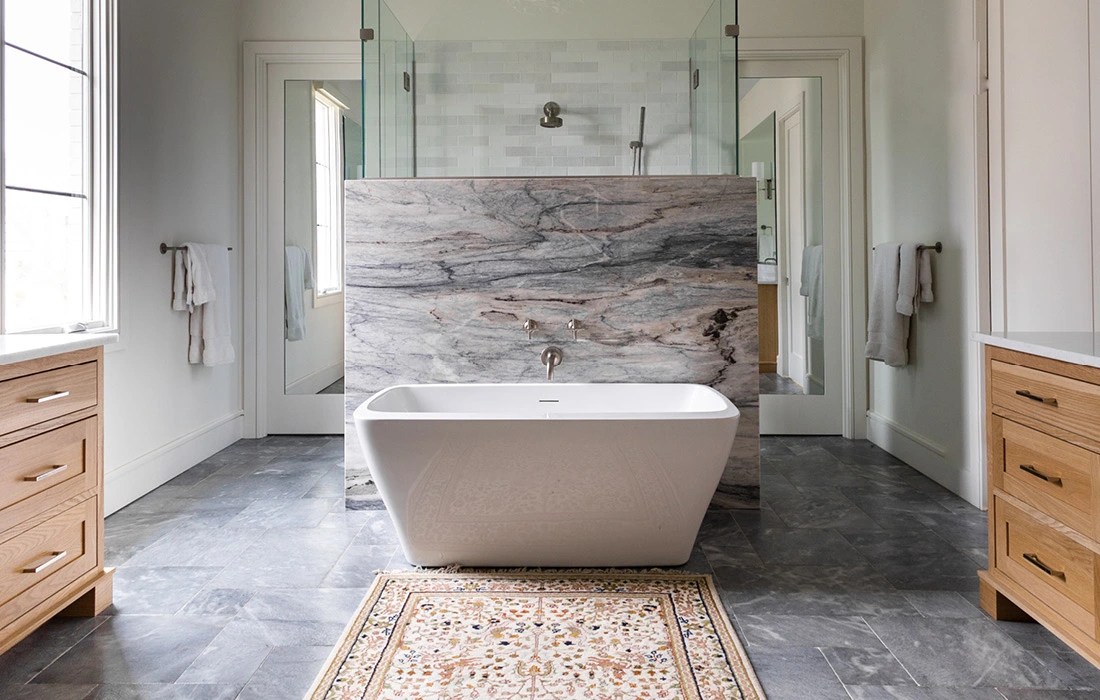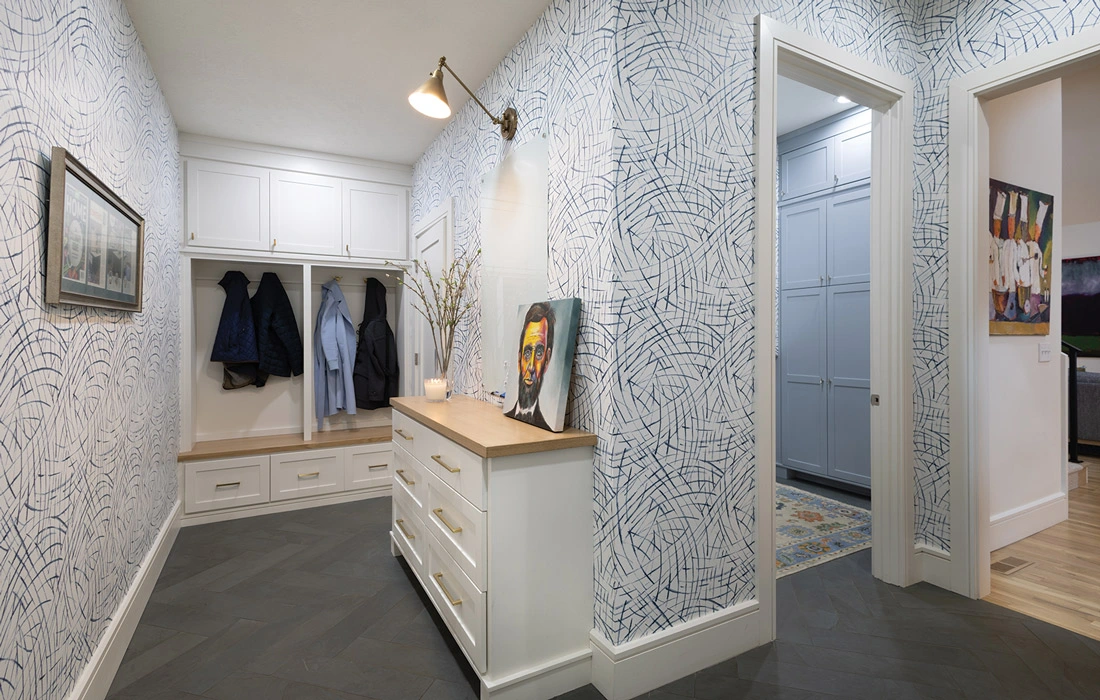 This created extra room, which Courtney suggested turning into an interior mudroom entry and laundry room. 
"Courtney has such good taste, and she also had a good vision for how she wanted the house to flow," Wieland says. "When I come in to talk to someone, it is very helpful when they have strong knowledge of how they plan to use the house and how their furniture might be set up. It helps me do my job. You can cover up a poorly designed floor plan with beautiful interiors, but you're always going to struggle to fix problems with color and furniture placement. So we did the best we could with fixing the floor plan, so it wasn't such a struggle to do everything else." 
Since Courtney was living in West Plains as construction started, she contracted designer Kara Bruner with Canvas Design to help out as a for Springfield-area suppliers. While Courtney selected most of the furniture and decor accessories herself, Bruner was especially helpful with designing the bones and backdrop of the house. This included the plumbing fixtures, tile, panel molding, detailed trim and coffered ceilings. Many of the other selections were a collaborative effort between the two, such as the wallpaper and paint choices. 
Obelisk Home is where Courtney went to source much of the new furniture. A few pieces are also antique or high-end vintage, such as the authentic midcentury dining chairs by Baker Furniture and the flame mahogany table in the Regency style. 
She filled her walls with an art collection she's amassed over time, and even the light fixtures look like pieces you'd see on display in a museum. For example, a plaster light fixture by New Orleans artist Julie Neill hangs above the bathtub in the primary bathroom. "I'm a fan of artistic sculptures in the form of light fixtures," Courtney says. "To me, that's what they are. They're a piece of art in their own right. In some ways, this house is a gallery of things I like artistically."