Home Profiles
Whole House Interior Design 2022 Winner
The goal of the winning design of the Whole House Design category for 2022 was to conceptualize, design and build a grand, Cape Cod-style home rich with historical charm and bright pops of lively coastal colors.
by Colin Shea Denniston
Jun 2022
Winning Designer: Nathan Taylor of Obelisk Home
Project Goal Summary
To conceptualize, design and build a  grand, Cape Cod style home rich with historical charm and bright pops of lively coastal colors. 
From rustic lodges to French country retreats, we've seen our fair share of design trends come through 417-land. What we don't often experience is the coastal charm of a traditional Nantucket home perched on 15 acres in the Ozarks countryside.
In true "everyone knows everyone" 417-land fashion, the inception of this home traces back to a chance meeting at a cocktail party. "I actually met the clients several years ago at a cocktail party in another client's home," recalls Nathan Taylor, owner and principal designer of Obelisk Home. "They said, 'oh one of these days we're going to build a house' and I was like, 'oh sure I'll never hear from you again,' and then one day she called and she's like, 'do you remember me?'" From there, Taylor met with the would-be homeowners at their property and began sketching out designs for their future home. "We literally conceptualized this project from the very beginning all the way to completion," says Taylor. After drawing layout and floor plan, Taylor turned to Jeremy Cook of Cook Haus Design to create the full architectural plans.
Taylor's design—featuring arched doorways, shadow box paneling and a classic east coast color palette—gives the homeowners their desired Cape Cod aesthetic but with added layers of richness and history. "With the shadow box paneling that we put pretty much everywhere on the main floor, that really added just a wonderful old classic traditional feel to the home," says Taylor.
The home's kitchen, dining room, great room and office space are all combined in a carefully designed open concept layout. The kitchen and dining area feature a lighted shadow box ceiling, adding a custom architectural detail and delineating that space from the home's grand living room. Anchoring the living space are four oversized leather ottomans topped with custom built walnut trays. Taylor carried the same walnut through the large entertainment cabinet and base of the kitchen island.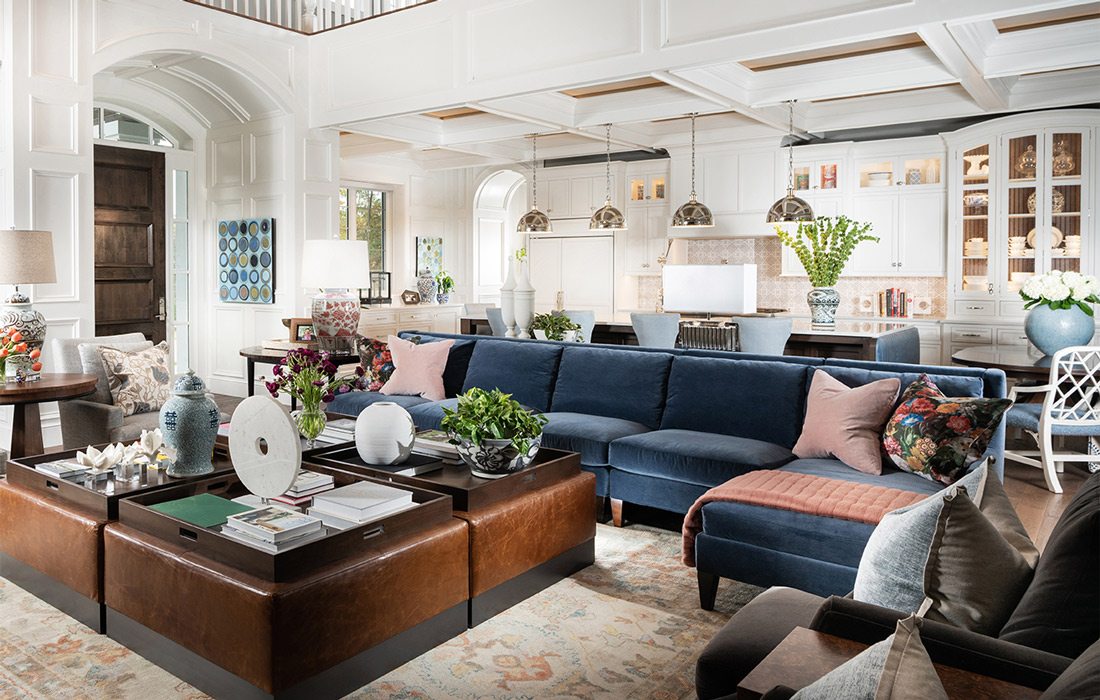 In lieu of a separate formal dining room, the homeowners chose to connect the dining space to the kitchen through a banquet off the island—dressed in a rich powder blue leather. "She didn't want a separate dining area because she said nobody ever uses it, and so that's where we kind of came up with this idea," says Taylor. "And then we did a very dressy dining table and chairs to go with it," he adds. Across from the dining table, the large floor to ceiling china cabinet—with built-in lighting and arched crown molding—adds the perfect touch of formality to round out the space.
Around the corner, the delightfully cozy home office is tucked under the grand floating staircase and offers a spectacular view out the front window. It also gives easy access to turn around and join in on living room conversation. "And it just felt kind of like a really neat library setting," adds Taylor.
The home's cornflower and dusty blue color palette is carried upstairs into the primary bedroom where it's met with bold patterns and vibrant punches of pink, orange and fuchsia.
Continuing into the primary bathroom, Taylor took a tone-on-tone approach using a high-end marble in a variety of textures and patterns. The room is finished with a bold fuchsia rug tying in bright colors from the bedroom. The sophisticated companion molded glass chandelier and sconces add touches of classic upscale elegance to the calming spa-like space. "It just feels very historical in a way," says Taylor.
Though not devoid of challenges, after two years of work, this from-the-ground-up project has given the homeowner the coastal dream home they've always hoped for. "They absolutely love it," says Taylor. "It was an amazing project to do from start to finish."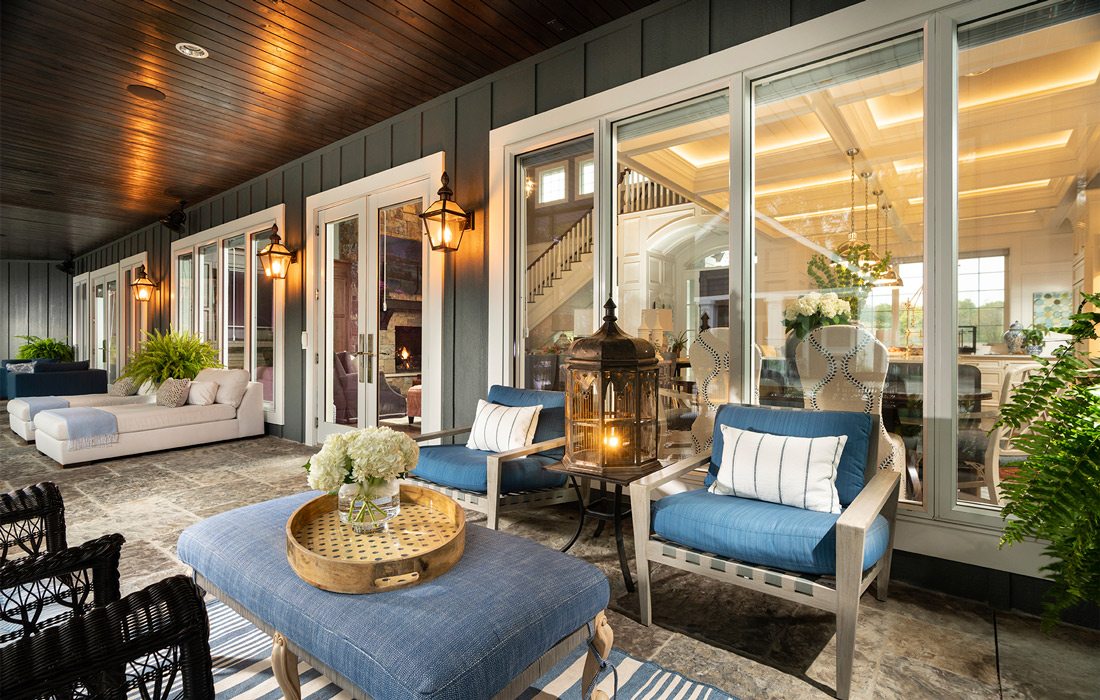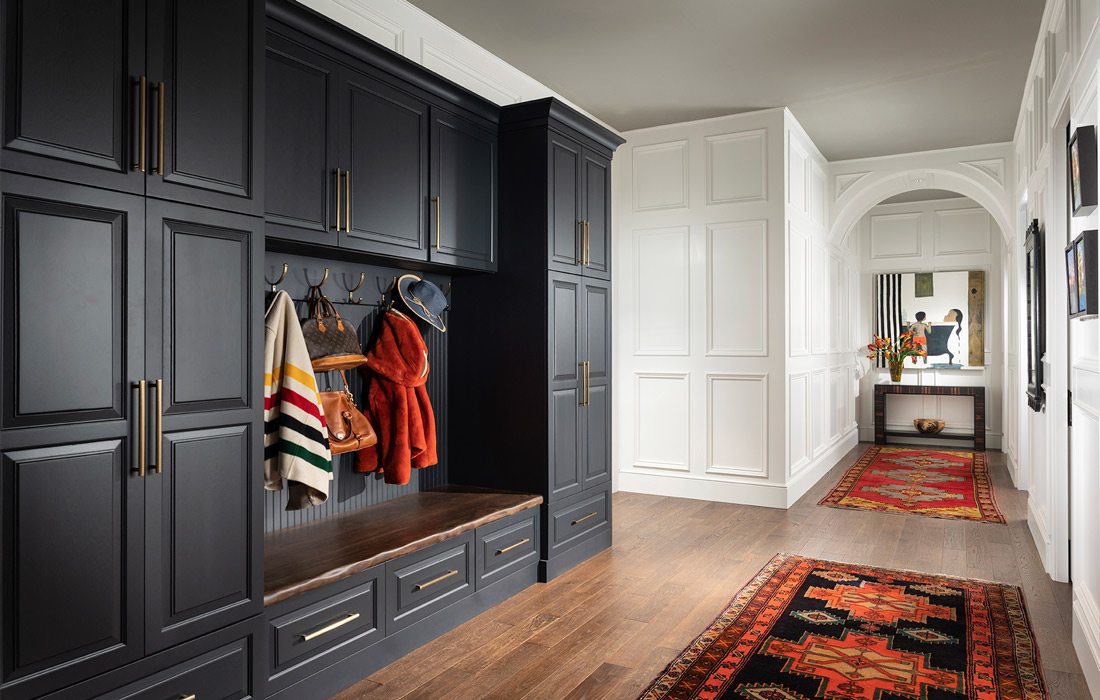 Photos by Jeremy Mason McGraw, Global Image Creation (Left) The site of the home has added significance for one of the homeowners. "It was the playground of the husband as a child," says Taylor. "He grew up in the home next door that his parents still live in and this was where he played as a kid." (Right) To add strength and weight to the back hallway mudroom, Taylor chose an alder bench— stained and painted to match the walnut in the kitchen and living room—paired with cabinetry painted a rich dark blue. "It's a blavy," Taylor laughs. "It's a black navy—it's a really beautiful color."
Light Fixtures
Obelisk Home
214 West Phelps, Suite 101, Springfield, 417-616-6488
Kitchen Cabinets
Cabinet Concepts by Design
4123 State Highway H, Springfield, 417-725-3400
Kitchen Countertops
Signature Granite
12837 Keith Lane, Neosho, 417-451-0535
Bath Cabinets
Cabinet Concepts by Design
4123 State Highway H, Springfield, 417-725-3400
Bath Countertops
Signature Granite
12837 Keith Lane, Neosho, 417-451-0535
Stone/Tile
Obelisk Home
214 West Phelps, Suite 101, Springfield, 417-616-6488
Wood Floors
Carpet Shoppe
1827 E. Seminole Street, Springfield, 417-883-6455
Paint (brand)
Sherwin Williams
535 E. St. Louis Street, Springfield, 417-862-7483
Contractor for Venetian plaster in principal bedroom fireplace
David Hardin, 417-507-4994
Architectural Moldings
Stephen E. Hoy Contracting
11784 W. Farm Rd. 120, Bois D'arc, 417-209-0655