Home Profiles
Best Dining Area Winner
Open concept spaces can be tricky to section and define. Nathan Taylor of Obelisk Home managed to create a colorful and elegant, yet approachable, dining area for this family that ties together with the kitchen and living room.
By Briley Rakow
Jun 2020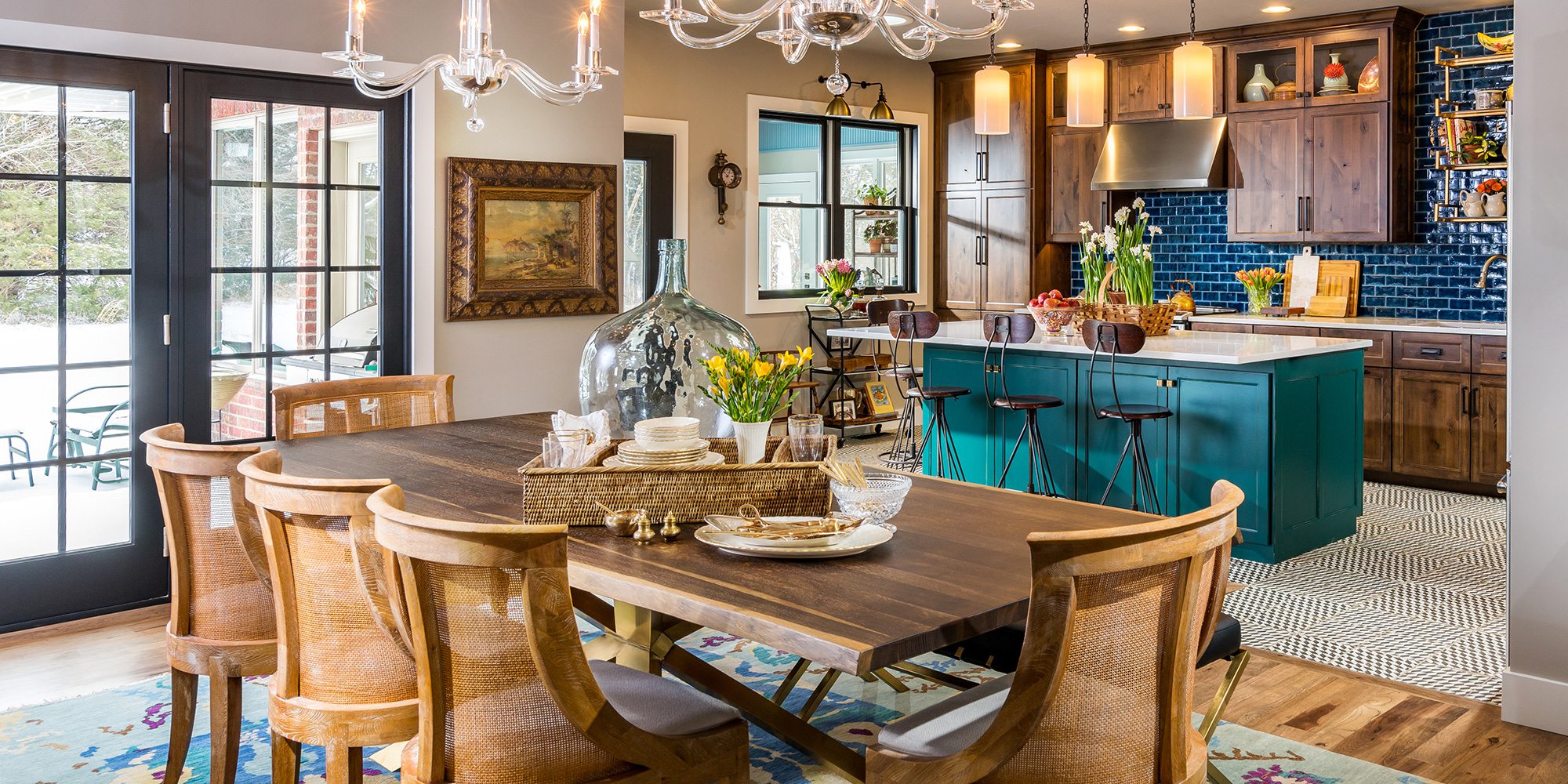 WINNING DESIGNER: Nathan Taylor, Obelisk Home
PROJECT GOAL: While accommodating the needs of a growing family, the homeowners wanted to create a colorful and welcoming area that catches the eye when people walk into the home. The room was intended to be stylish but still informal to maintain the family-oriented feel of the space. 


---
A dining room that created a "wow" moment for everyone who walked through the door was top priority for this family. Another requirement was to keep the space warm and inviting to keep family and friends feeling welcome. Up to the challenge, Nathan Taylor of Obelisk Home and his team worked to create a colorful, yet homey atmosphere. 
"The client loved seeing the dining room when walking through the front door but didn't want to look at the backs of chairs," Taylor says. To accomplish this request, they designed the dining room to run lengthwise from the entryway and put a bench on one side to limit the amount of chair backs in view at any given angle in the room.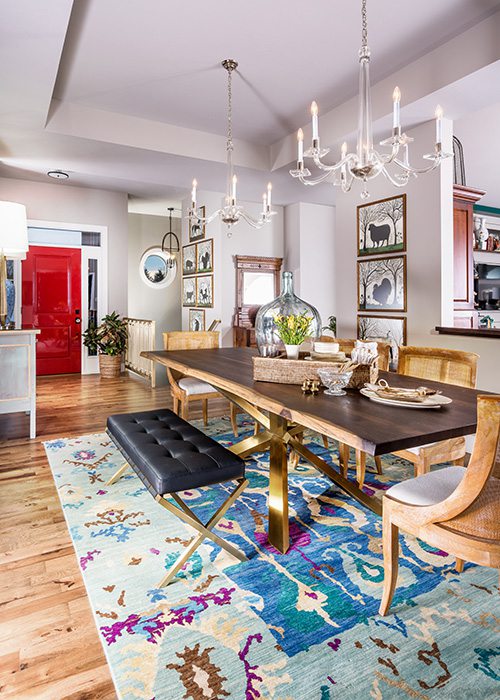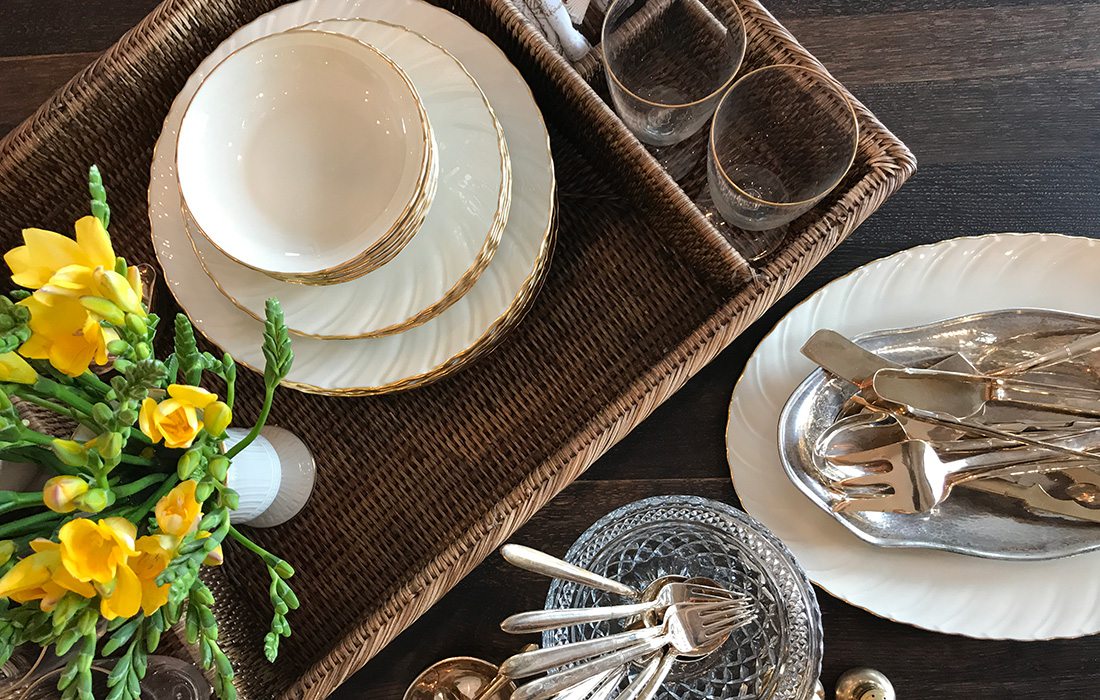 Color was an important factor to the homeowners when designing the space, but due to the location of the dining table, there weren't walls around to use as color accents. Luckily, Taylor found a colorful rug that fit the room so perfectly that the homeowner agreed to it over a simple text message picture. 
Keeping the dining area connected to the living room and kitchen was also important to the homeowners, as well as making it big enough for their growing family. Taylor found a table large enough to seat ten people at a time and positioned it with enough space to walk around comfortably. The table is a live edge table that was refined so it's informal, but not rustic. "They wanted a table their grandchildren could live on, but still be beautiful," Taylor explains. The cane backed chairs also help to make the space cozy and welcoming for everyone who enters. Taylor opted for two crystal chandeliers rather than one to continue with the goal of an informal dining area while still having refined decor. The more elegant light fixtures offered the perfect juxtaposition to the casual dining table. 
The layout of the home was an open concept, so Taylor and his team needed to create definition. Taylor added a coffered ceiling to outline the space and French doors to make the dining area look more like its own room. To complete the room, Taylor used hickory floors with a matte finish to add weight to the space.
RESOURCE LISTINGS
Where to find the looks and materials used to create this winning home design in Springfield, Missouri and surrounding areas.
LIGHT FIXTURES
214 W. Phelps St., Suite 101, Springfield
417-616-6488
FURNITURE
214 W. Phelps St., Suite 101, Springfield
417-616-6488
HARDWARE
PLUMBING FIXTURES
605 N. Sherman Parkway, Springfield
417-865-8392
COUNTERTOPS
12837 Keith Ln, Neosho

417-451-0535

FLOORING
523 W. Farm Rd 182, Springfield

417-882-7666

CABINETS
17497 Independence Rd., Lebanon

417-532-6002

STONE/TILE
214 W. Phelps St., Suite 101, Springfield
417-616-6488
DECORATIVE PAINT CONTRACTOR
Wall Constructions (Randy Wall)
315 Coach Rd., Lebanon
417-532-3679
WALL COVERINGS
214 W. Phelps St., Suite 101, Springfield
417-616-6488
PAINT
535 E. Saint Louis St., Springfield
417-862-7483
APPLIANCES
3252 N. Glenstone Ave., Springfield
417-833-1113
RUG
214 W. Phelps St., Suite 101, Springfield
417-616-6488