Home Profiles
Best Living Space Winner
What once started as dirt and concrete is now an entertainment getaway for one Springfield family. Nathan Taylor and the Obelisk Home team created a space as beautiful as it is functional.
By Briley Rakow
Jun 2020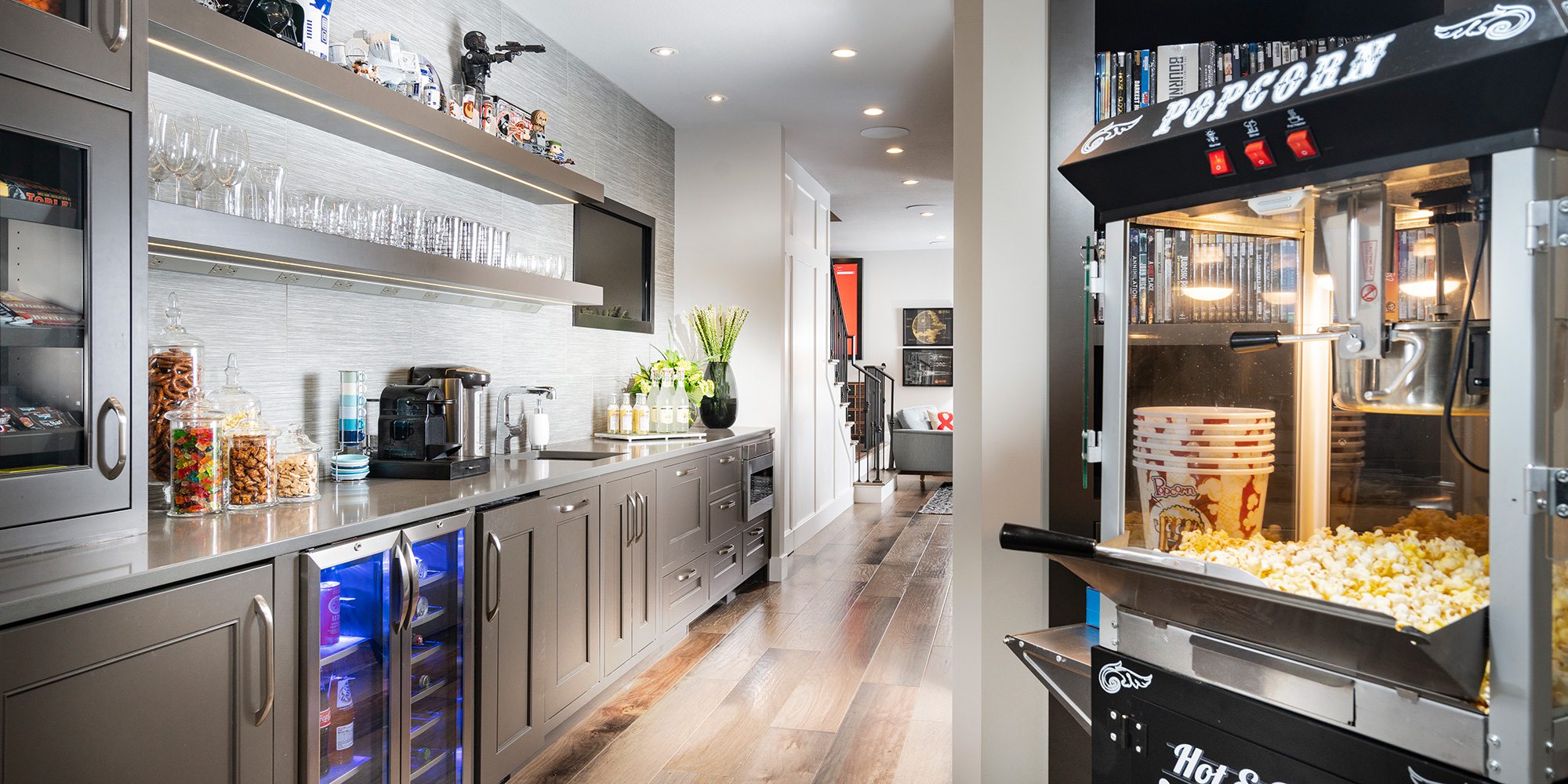 WINNING DESIGNER: Nathan Taylor, Obelisk Home
PROJECT GOAL: What is now a home theater and gym was only a crawl space when this project began. The space had to be completely altered to reconfigure a space full of dirt and gravel into a livable space. The homeowners wanted to turn this unused space into somewhere they could watch movies, play video games, work out or simply spend time entertaining friends and family. 


---
When Nathan Taylor of Obelisk Home was first introduced to this project, the space was nothing but dirt and walls. Over the seven months to follow, he and his team found a way to turn this crawl space into the basement of the homeowners' dreams. 
"We had to really get creative on how to bring the staircase down from the second floor to the basement and raise the floor up to get all the electrical and plumbing," Taylor says. The Obelisk team worked hard to achieve the homeowners' goals while also taking the necessary precautions to ensure the space's safety and structure. Once the roots were in place, the team got creative in concealing the inner workings, careful to create a space that was as beautiful as it was functional. To do this, most of the plumbing was disguised behind the large bar and a hidden door under the stairs was created for more storage.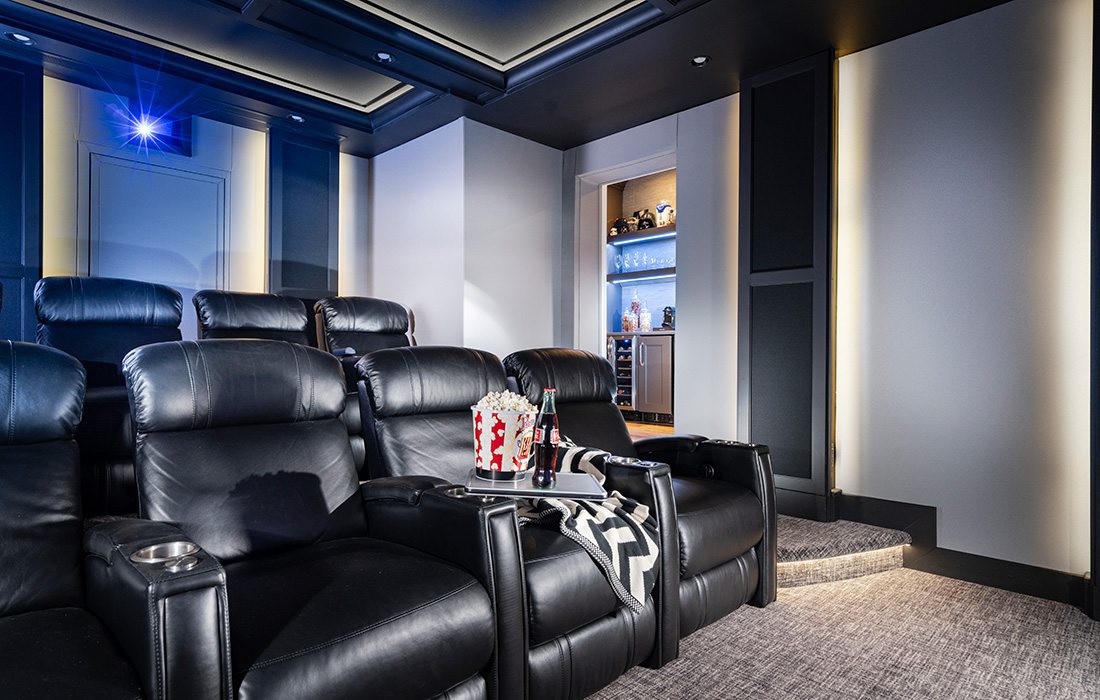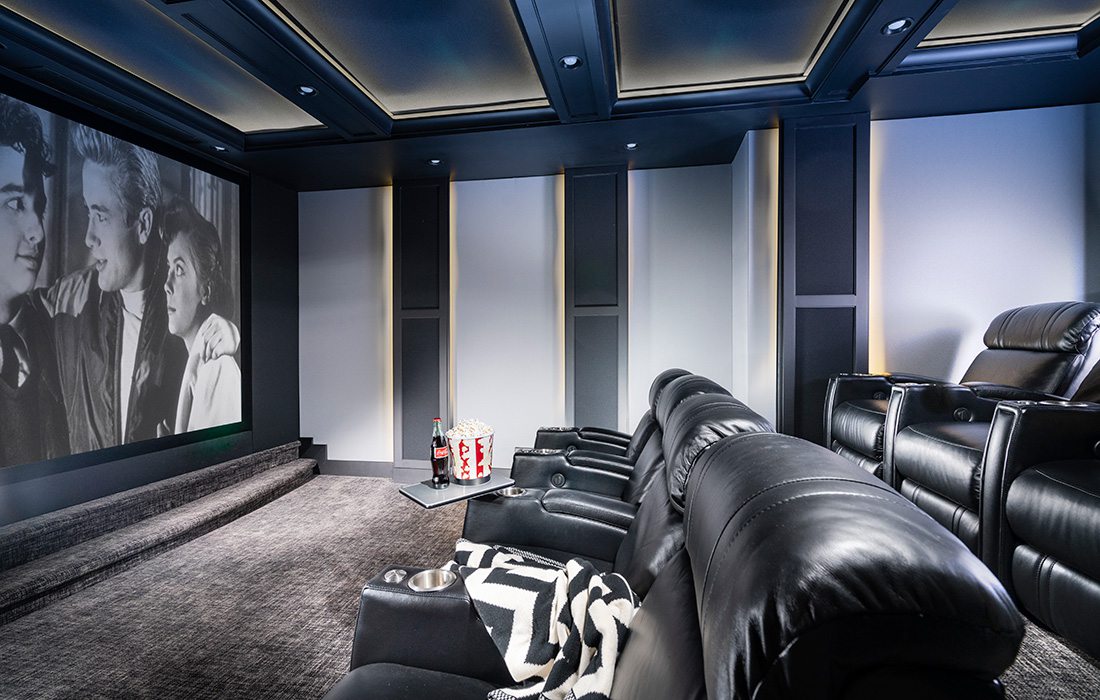 Completely soundproof, the basement allows the homeowners to enjoy movies as if they were at one of the best theaters in town. Aiding in the movie theater experience are leather recliners with individual tray tables, a candy display cabinet, popcorn machine and beverage center. There are also bean bags around the space to accommodate multiplayer video gaming and a Ms. Pac-Man machine. 
This space isn't just for entertainment though. There is also a workout room stocked with gym equipment, a sauna and bathroom for a full gym and spa experience. The TVs in the gym make up three of the five residing in the space so that the homeowners can continue watching no matter where they are in the basement.
The bar area is equipped with a dishwasher, ice maker and microwave to make for easy entertaining for the family, while seating next to the fireplace creates the perfect setting for a cozy night in. The whole space is decorated with colorful art and posters of the homeowners' favorite movies to further personalize the space and welcome in everyone who enters.
RESOURCE LISTINGS
Where to find the looks and materials used to create this winning living space in Springfield, Missouri and surrounding areas.
LIGHT FIXTURES
214 W. Phelps St., Suite 101, Springfield
417-616-6488
FURNITURE
214 W. Phelps St., Suite 101, Springfield
417-616-6488
HARDWARE
4123 State Hwy H, Springfield

417-725-3400

PLUMBING FIXTURES
3358 E. Division St., Springfield
417-865-2822

COUNTERTOPS
1445 W. Chestnut Expy., Springfield

417-864-0999

FLOORING
214 W. Phelps St., Suite 101, Springfield
417-616-6488
CABINETS
4123 State Hwy H, Springfield

417-725-3400

STONE/TILE
214 W. Phelps St., Suite 101, Springfield
417-616-6488
WALL COVERINGS
202 E. Commercial St., Springfield
417-429-1243

PAINT
535 E. Saint Louis St., Springfield
417-862-7483
ARCHITECTURAL ACOUSTICS ENGINEER
Quest Acoustical Interiors (Shawn Byrne)
785-220-1239

TECH COORDINATOR
Adam Pelz
770-560-1862