Home Profiles
The Homes of Jones Spring
From Civil War campsites and the forgotten town of Mumford to Laura Ingalls Wilder passing through, Springfield, Missouri's Jones Spring neighborhood is packed with history and beautiful homes.
by Colin Shea Denniston
Sep 2022

Although it's commonly referred to as Jones Spring, the official name—and boundary for that matter—of the enchanting east Springfield neighborhood changes depending on who you ask. And the same can be said for the neighborhood's history. Each resident provides similar yet slightly altered versions of the same stories—and that just adds to the charm. From Civil War campsites and the forgotten town of Mumford to Laura Ingalls Wilder passing through on her way to Mansfield, the tales surrounding Jones Spring are as wild and winding as the waterway for which it's named. And for those living on the banks of Jones Spring (and its neighborhood counterpart, Pearson Creek), the waterways are the central arteries—connecting the secluded set of homes with one common pulse. Over the train tracks and down the winding roads, we're taking you inside one of Springfield, Missouri's most alluring yet elusive locales. Welcome to the Homes of Jones Spring—you're going to want to stay a while.
In the Beginning
As a resident of Jones Spring for over three decades, Merrill Drummond's connection to the neighborhood dates back even further—when a dirt road connected Jones Spring to Oak Grove and the neighborhood was in what she calls, "the sticks."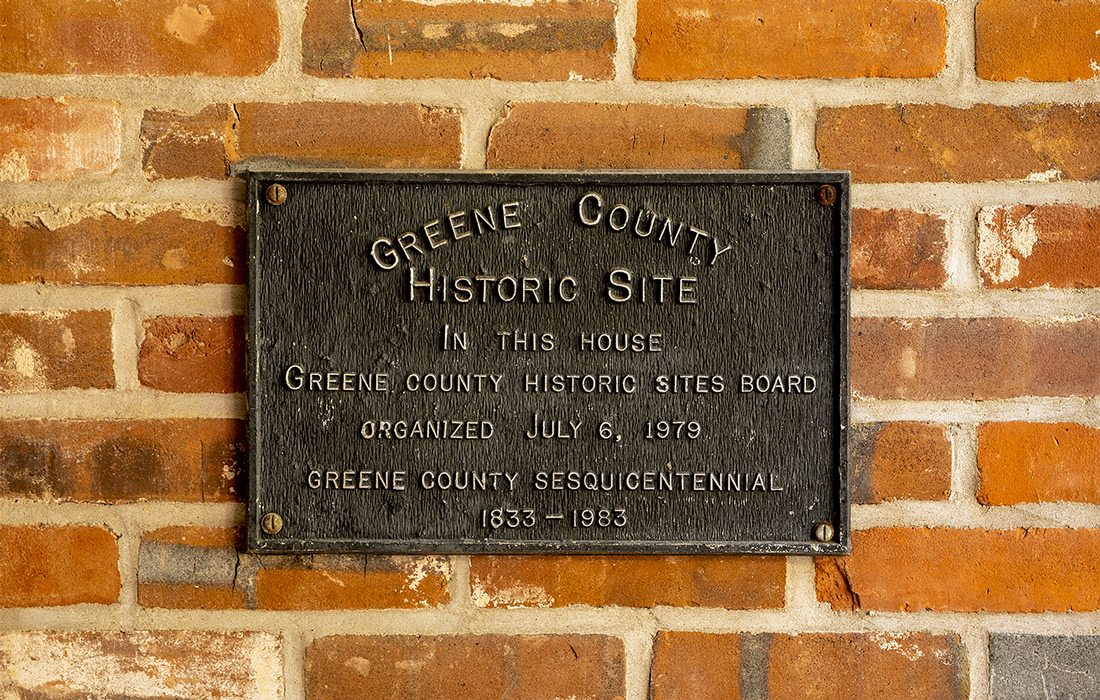 Sitting on a plush sofa in her peacefully quiet Jones Spring home—the absolute definition of a pristine, midcentury charmer—Merrill Drummond reads from an old, only slightly worn 1963 newspaper clipping. "'Fifteen miles from city hall, Jones Spring is a green wilderness through which a sparkling brook bubbles from an icy spring.' You're going to love all this stuff," she adds with a mischievous grin. She continues reading, eventually circling back to the spring, which "'was once used by Civil War traders to power a mill and distillery. The old rock wall, which supported the flume of water, still stands like a forgotten monument to days that are long gone with the wind.' And that's this wall down here," she interjects, pointing outside her wall of windows and down to Jones Spring below.
Drummond, who lives in the home with her husband, Bill, is the niece of Marjorie Baker Fite, who, with John R. Woodside and a couple of others, purchased 60 acres of land from the Ash Grove Limestone Company in the early 1950s and eventually platted—and built on—the neighborhood we now call Jones Spring.
"My aunt built this house," says Merrill, who has been in the home now for more than 30 years. The Drummonds—perfectly content living in center city—learned that after her aunt's death, the bank's trust department had put the house up for sale, and an interested buyer was considering tearing it down. "I'll admit it, it was an emotional thing for me," says Merrill. "Once I heard 'tear down,' I thought, I can't let that happen." That emotional tug was enough for the Drummonds to put in an offer, leave center city and move into the home Merrill visited as a child. 
Now, as longtime residents of Jones Spring, the Drummonds—who are more than well versed in the neighborhood's folklore—point out that its reach extends far beyond southwest Missouri. "We came home one time and there was a tour bus here, and there was a group of young Japanese women from Tokyo," recalls Bill. "And the tour guide told us that they were following the route of one of Laura Ingalls Wilder's stories—leaving Springfield and this is where they spent the night—and that these young women were in a Laura Ingalls Wilder Club in Tokyo."
Even with the tour groups, the old public records, historical plaques and faded documents passed down from one owner to the next, like its canopy of mature trees, a shroud of mystery continues to hang over the Jones Spring neighborhood. "If you talk to everybody who lives out here," says Bill. "I think you'll get a slightly different history."

The Gathering Place
Driving east down Catalpa—over the railroad tracks as it turns into Farm Road 144—it's easy to miss Mindy Ferguson's house. Even if you—and your GPS—are on the lookout. "When I'm telling friends how to get here, they're like, 'Oh my gosh I never even realized your house was here,'" Ferguson laughs.
While she now appreciates the home's secluded location and hidden entrance—set back off the road and nestled behind an old schoolhouse-style Methodist church—it wasn't necessarily love at first sight. "At first, I didn't like [it]," says Ferguson. "But now I love the privacy… Because nobody knows it's here."
Beyond the church's parking lot and down a long private driveway sits Ferguson's stately home, which she describes as "Craftsman meets New England." The home sits on over 11 acres with direct access to Pearson Creek running the full length of her property, so it's easy to see why she was eventually taken by the location. "It's in the city but it feels like you're in the country," Ferguson says. "The terrain—it kind of brings you back in time... A more simple life even though you're still in 2022."
Originally built in 1987, the earliest version of the home was far from the grand family home—painted in a rich dark tone—that now sits on the property. "It was just a little white farmhouse," says Ferguson. "And they did another phase to it—built the barn in front, and the next owners built onto it and then I built onto it, so it's been built onto three times."
Ferguson moved into her Jones Spring home in 2020, right before the start of the COVID-19 pandemic. With lockdowns and stay-at-home orders in full effect, Ferguson and her family were "so grateful to have this paradise of space and land during that time period."
Although Ferguson is currently in the process of moving into another home, she isn't going far. "I wasn't going to move unless there was something in this neighborhood that I loved," she says. When Ferguson walked through her neighbors' house as it was undergoing renovations—she knew it was the right move. "It just fit me perfectly," Ferguson says. "It just all fell in line. I didn't want to leave the neighborhood; otherwise, I'd be keeping the house."
And for the home's next owners (and her future neighbors), Ferguson hopes to forge a friendship, continuing the home's tradition as the unofficial neighborhood gathering spot. Ferguson and her neighbors regularly meet at the home's fencepost with glasses of wine or beer in tow. "Mostly beer," Ferguson says with a chuckle.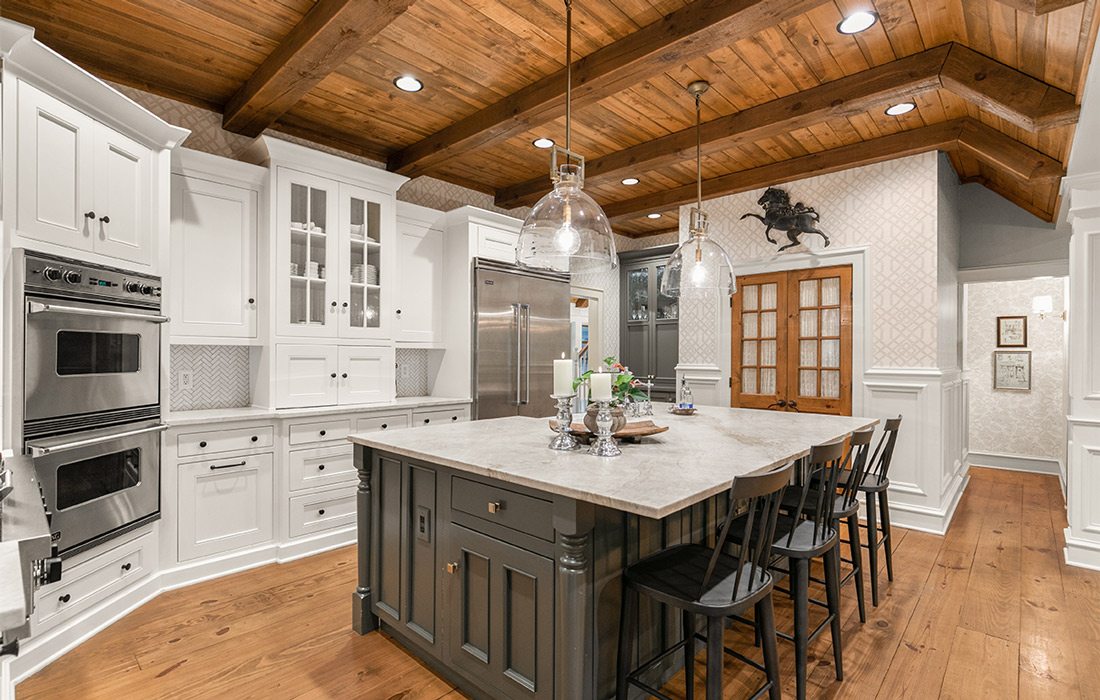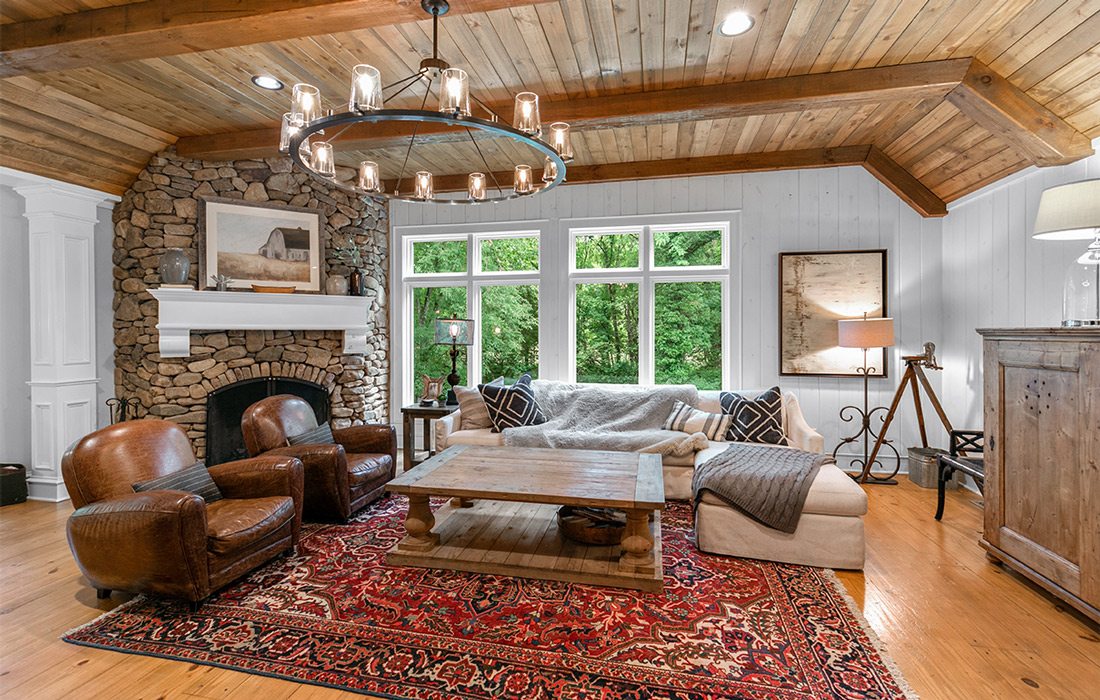 Photos by BR Photography Left: Crisp white cabinetry and a herringbone backsplash are complemented by the warm, rustic wood on the ceiling and floor—enhancing the home's craftsman-meets-New-England aesthetic. Right: The home's main living space includes an expansive view of the backyard and Pearson Creek, while also offering sightlines into the kitchen and front hallway.
"The terrain—it kind of brings you back in time."
— Mindy Ferguson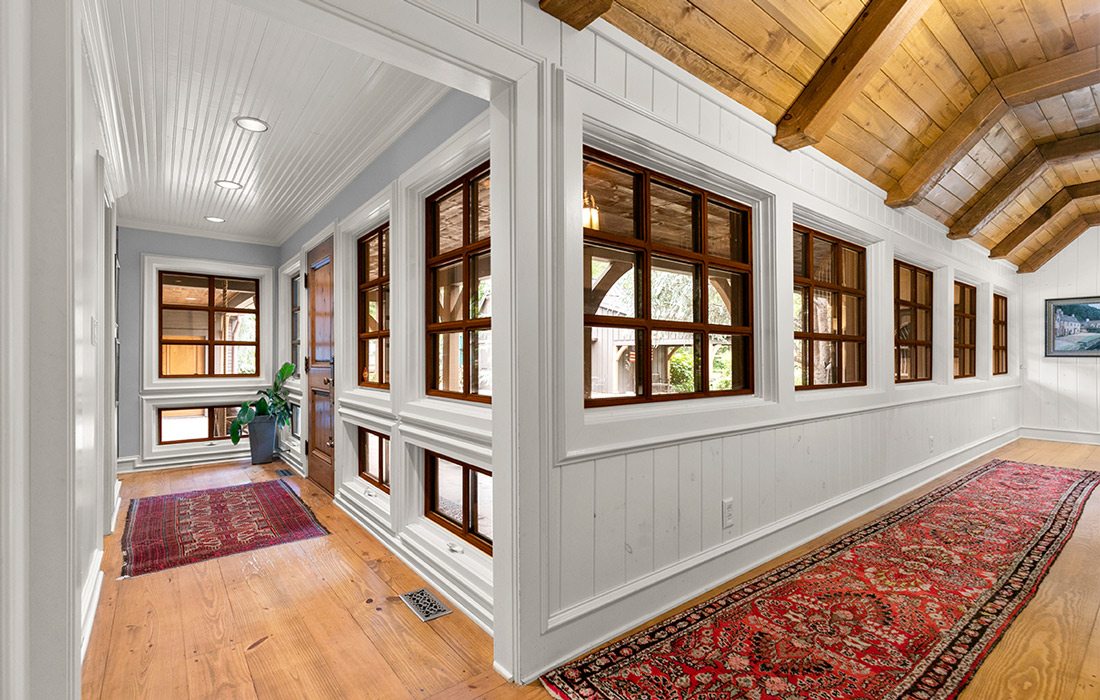 Photos by BR Photography, Brandon Alms Left: With large floor-to-ceiling windows, the home's charming entry hallways welcome visitors inside with an abundance of warm, natural light. Right: More than just an ideal spot for imaginative kiddos, the backyard treehouse offers a great bird's-eye view of Pearson Creek below.

The Home Upstream
Walking through the Morgan family's spacious and light-filled modern home overlooking Jones Spring is like getting a first-rate lesson in geology and architecture—and it's that way by design. "It was really important for us to focus on water," says Chad Morgan. Before eventually being changed to Streamline House by architect Matthew Hufft, the home was originally named Alluvial, referring to a natural occurrence called an alluvial fan—usually created as flowing water runs down a mountain, hill or canyon before spreading out into a fan-like shape. "That informed the decision that the house should be sort of modulated by the water," says Morgan. "The concept is that pieces of the house were together, and then, like that alluvial fan, broken apart by water flow."
Though relatively unnoticeable once inside the house, a bird's-eye view of the home's structure shows three seemingly disconnected units, conceptually detached by years of water flow: the garage area—separated by a dry riverbed leading to the front yard spring, the central structure, and the primary bedroom wing, which, although on the same foundation, appears independent. "You're supposed to be standing here—in architectural terms— feeling as if you're on a bridge," says Morgan, standing in the home's main entryway. With floor-to-ceiling windows and open stair slats, the light-filled room draws the vibrant, natural landscape in—giving those inside the feeling of floating right over Jones Spring.
When they moved to Springfield 15 years ago, the Morgans were immediately drawn to the neighborhood they now call home. After purchasing the property in 2018, they tore down the existing 1970s home—with dark wood, small windows and a limited connection to its natural surroundings—and started fresh. And the fact that Jones Spring runs directly through the front yard was an added appeal for the family, whose beloved lake house sits on the shores of Table Rock Lake. "The ability to live on a body of water that connected us to our lake house—I just thought that was really pretty awesome," says Morgan. "Literally this water goes to the lake house. You could effectively do the message in a bottle thing, and it should, in concept, show up at that lake."
Stunning as the home is, it's the neighborhood, the surroundings and the spring that are the heart of the property. "There's a lot of times that I pull onto the bridge and just stop," says Chad's wife, Kelly. "I'm not looking at the house. I'm looking at the landscape, the stream and outside." Or as Chad puts it, "I've always thought your house is like a vehicle. You should be in the car, experiencing what is outside."
Photos by Brandon Alms Left: As an homage to the family's lake house—which has a wooden rendering of Table Rock Lake—the kitchen ceiling features a custom made, jetted metal rendering of Jones Spring. Right: The floor-to-ceiling windows in the living space are, in fact, multi-slide doors—taking indoor/outdoor living to the next level.
"The ability to live on a body of water that connected us to our lake house—I just thought that was really pretty awesome."
— Chad Morgan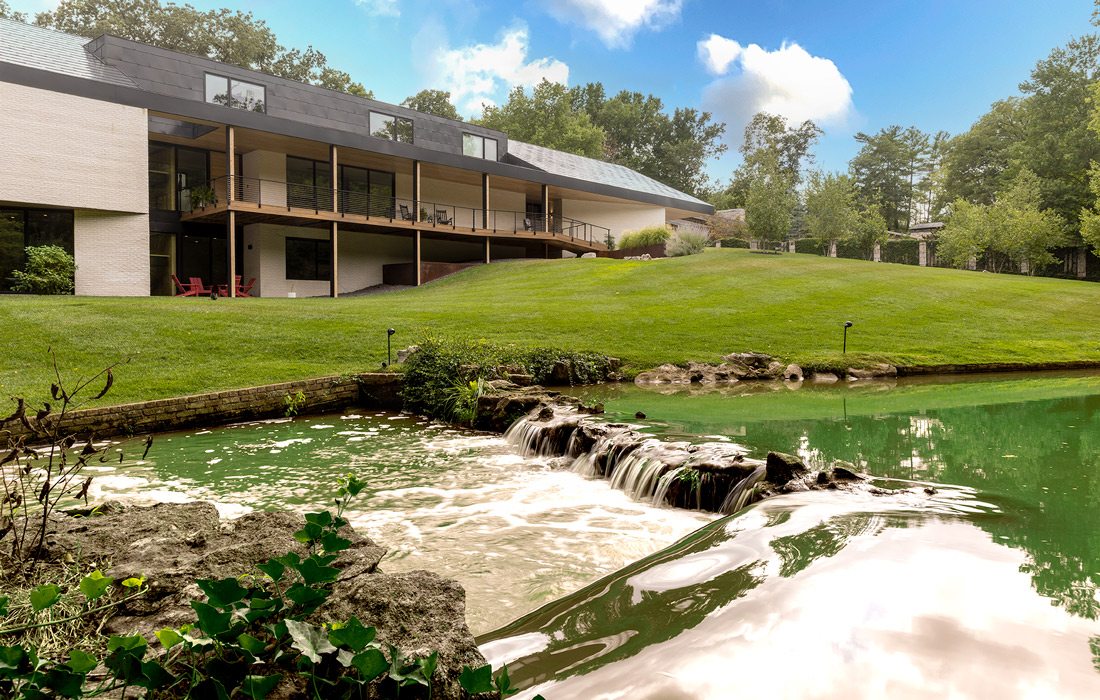 The House Built with History
For Ben Jacobs, Springfield, Missouri, is an ideal city. "The town itself is probably the perfect size—it's not too big, it's not too small, it has everything you need," says Jacobs. Ben, along with his wife, Betsy, and two sons, moved back to Springfield in 2018 after spending years in a variety of larger cities around the country like Redding, California, and Austin, Texas. The Jacobs family lives in an utterly charming cottage-style home—uniquely situated on the banks of Pearson reek and within walking distance of its convergence with Jones Spring.
"This area specifically—it's really quiet," says Ben. "We're just on the edge of Springfield, but it kind of feels like you're farther out than you are."
"Honestly," adds Betsy, "it's just wild because we'll be sitting here and you'll have these huge birds fly in in the morning and deer with their babies walking in the creek." And that's just during daylight hours. "The whole vibe at night is beautiful," she adds. "You can see the creek and at night you can hear it going by—it's just so nice."
And while the Jacobs were initially drawn to the home's one-of-a-kind design style and serene setting, they quickly became immersed in the neighborhood's mystical charm and historical folklore. "There's just history here, and I think you can connect to and feel it," says Betsy. "I felt it immediately when we walked in the house to see it."
Ben even recalls hearing that the land surrounding their home was used as campgrounds during the Civil War. According to the story, Union soldiers camped on the banks of Pearson Creek on their way to Wilson's Creek. "And I think that makes sense," says Ben. "Because a lot of the guys out here with metal detectors will find buttons or coins from that era. Someone actually saw a bullet—like a spent bullet—one of those little musket balls."
Even the home itself, which was completed during the late 1970s, is—down to its foundation—full of history. "On the exterior it has this New England, cottage type of vibe, but inside, everything you're looking at has been reclaimed and restored," says Betsy. "Literally every piece of wood in this house." And what they've now transformed into an outdoor fire pit overlooking the creek was initially a pile of brick left over from the home's construction. "That brick came from Coffeeville," says Betsy. "You can look at it and it has all the Coffeeville stamps from Kansas where they made it."
Since honoring the home's history is a top priority, the Jacobs are hesitant to make any dramatic interior changes. But the backyard, with its freshly updated fire pit, has become one of their favorite locations to soak in the sights and sounds of nature. "You would have to come out and hang out at that fire pit when the sun's setting," says Betsy. "It's so quiet and you can hear the creek going."
"And then Ben's always in that hammock," she adds, laughing. To which he quickly replies, "I am!"
Photos by Brandon Alms Left: The home's salvaged history is displayed through a variety of unique decor. Center: Rather than altering the home's original design, Jacobs personalized the space with eclectic furniture and one-of-a-kind art. Right: A sitting area by the bay windows offers unobstructed views of nearby nature. "I just like that at any point I can see outside," says Jacobs. "It really does feel like the outside's inside."
"There's just history here and I think you can connect to and feel it. I felt it immediately when we walked in the house to see it."
— Betsy Jacobs
Photos by Brandon Alms Left: Designed by noted 417-land architect Don Russell, the exterior features shake shingles and stonework often found on Russell-built homes of the same era. Right: The home's serene backyard is often visited by a wide variety of feathered friends. "Owls, ospreys, cranes—all these incredible weird little creatures," says Betsy Jacobs.