Life
417 Magazine Honored with Three ADDY Awards
417 Magazine has won ADDYs in 2016, 2017, 2018, 2019, 2020 and 2021. In 2022, the team added three more trophies to the shelf.
by Maddie Bane
Mar 04 2022 at 8:57 a.m.
The 417 team celebrates a successful night at the American Advertising Federation's 2022 ADDY Awards! Every year, midwest leaders in the advertising, publishing and digital media industries submit their top creative works to be considered for an ADDY award. The awards ceremony was held on February 26, where team members from 417 Magazine's art and account services departments traveled to Joplin's Downstream Casino & Resort.

417 Magazine took home three awards this year: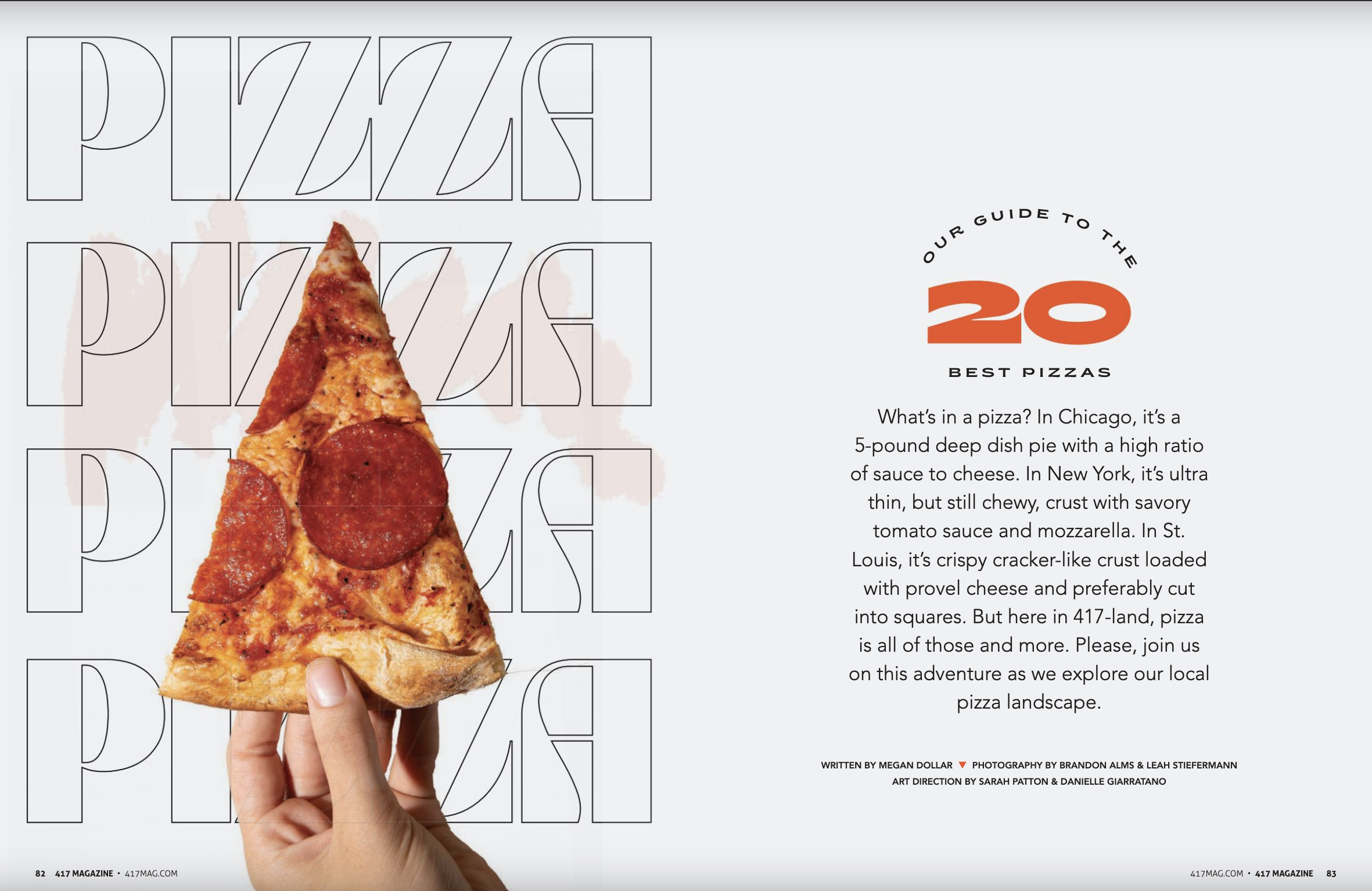 SILVER: Editorial Spread or Feature Design for 417 Magazine's Guide to Pizza
Art Director: Sarah Patton
Editor: Megan Dollar
Photographer: Brandon Alms
Photographer: Leah Stieferman
Editorial Designer: Danielle Giarratano
"This project was one of my favorites that the team worked on last year. We had a lot of fun with it and didn't take ourselves too seriously, which I think translates through to the design of the feature — we played around with a more experiential photography style, bold and funky typography and fun sidebar topics. All of it is designed to pull the reader in for second helpings!"—Sarah Patton, Art Director
SILVER: Editorial Spread or Feature Design for Biz 417's Women Who Mean Business
Editorial Designer: Danielle Giarratano
Photographer: Brandon Alms
Editor: Jenna DeJong
SILVER: Campaign for 417 Magazine's Leong's Asian Diner
Ad Designer: Grace Chipley
Advertising Campaign Coordinator: Christy Howell
"The campaign for Leong's is super bold and fun! We were able to use bright colors and exciting headlines that make the advertisements really pop off the page. It's so rewarding to know that those bold choices are paying off in an even bigger way!"—Grace Chipley, Ad Designer
Additionally, 417 Magazine has won ADDYs in 2016, 2017, 2018, 2019, 2020 and 2021. 
The ADDYs are held by the Joplin chapter of the American Advertising Federation (AAF), which is the unifying voice for advertising. Established in 1905, AAF is the only organization that includes members across all disciplines and career levels in advertising. The organization helps professionals advance in their careers, build connections and celebrate the ever-changing advertising industry.
From editorial to advertising, 417 Magazine is proud to maintain the highest standards in the work it produces—for both readers and advertisers. To learn more about the 417 team, click here.