Arts & Culture
Ames Plays OOVVDA Winery Festival
Steve Ames was featured at the year's first Founders Park lunch concert. He plays Saturday at OOVDA Winery's third annual Folk and Americana Music Festival.
By Brett Johnston
May 23 2016 at 2:34 p.m.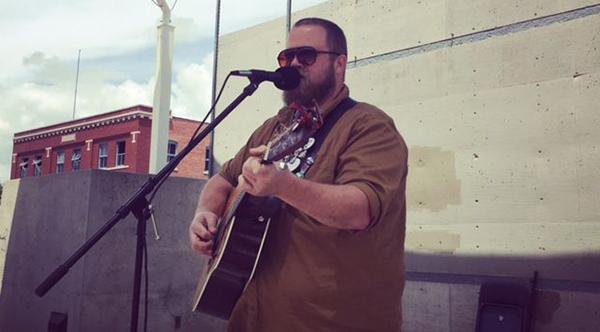 When Steve Ames was a freshman at Eastern Illinois University, his roommate would sit around and play tunes all day long.
Ames, the primary songwriter for local staples The Lowdown Fancy and Hamburger Cows, grew up singing in choir. His collegiate focus was opera.
"I would watch [my roommate] play and think, 'Man, I could probably do that,'" he says. Ames didn't immediately act on the notion.
The following year, as a sophomore, Ames transferred to then-Southwest Missouri State. He followed his high school voice instructor Pearl Yeadon from the quiet of central Illinois. "I really didn't get along too well in Charleston, tiny little country town." he says. Yeadon recruited him to the activity of Springfield, and he says the rivers, streams, hills and all-around fun were a plus.
Once in town one of his first purchases was a $75 Fender from a south Springfield pawnshop, and a chord book.
He already frequently wrote poems and short fiction pieces. Penning verses wasn't a stretch.  
"There were a lot of songs I didn't like, so I thought I would write my own," he says with a laugh. His first song came in 1994.
"Sometimes I sit down with an idea for a song and hammer it down, like for Wild Bob's," he says.
Not every song comes the same for Ames.
In 2011, he wrote "Skinny Dip Waltz." The song is a romantic ballad retelling his first date with the love of his life.
"I'd been sweet on Grace for six months, trying to talk her into going out with me," Ames says. He recalls the bachelor-bachelorette party when they finally agreed on a date. "That night we danced and kissed—it was magical."
Their first date ended at Fellows Lake.
Ames says he took her into work early the next day and returned home. "I was sitting at the piano letting my mind wonder about the week," he says. "It was a process of discovery, more accidental than anything, which is how some of my best songs have come about. After that evening we didn't spend too much time apart."
Ames plays Saturday, May 28 at OOVVDA Winery's third Annual Folk and Americana Music Festival. The free concert features several great regional songwriters, including what could be one of southwest Missouri's final opportunities to catch Goat Milk Honey.