Things to Do
Tips for a Safe and Festive 4th of July Celebration
The Fourth of July is about fun, food, friends, family, and of course, fireworks! Follow these tips from Fireworks Supermarket for a festive and safe holiday.
Jun 01 2019 at 8 a.m.
Make this 4th of July a blast. Whether your hosting a small get together or a full blown party, Fireworks Supermarket makes shopping for the big show simple, so you can focus on all the other elements of the party. Here are some of our favorite ideas to add some more bang to your fourth!
PRESENTED BY

START PLANNING YOUR CELEBRATION
Designing the Best Fireworks Show
Variety is what can take your show from the ordinary to the extraordinary! No one wants to see the same item over and over. Fireworks come in a multitude of colors and different effects. Mix them up, and your viewers will be on the edge of their seats waiting to see what amazing item you will be shooting next.
Start small and go big! Starting your show with ground items like fountains will give your audience something beautiful to look at while you are awaiting that dark sky for the backdrop of your show. Then move to your smaller multi effects. Even though they are smaller, they also have a great mixture of color and effects. starting with these not only adds a little variety to your show but also allows you to get more bang for your buck! And then, of course, there are the big guns—the reloadables and 500-gram multi-effect finale cakes that have huge loud bursts with spectacular colors to light up the sky. Give your family and friends a finale to remember!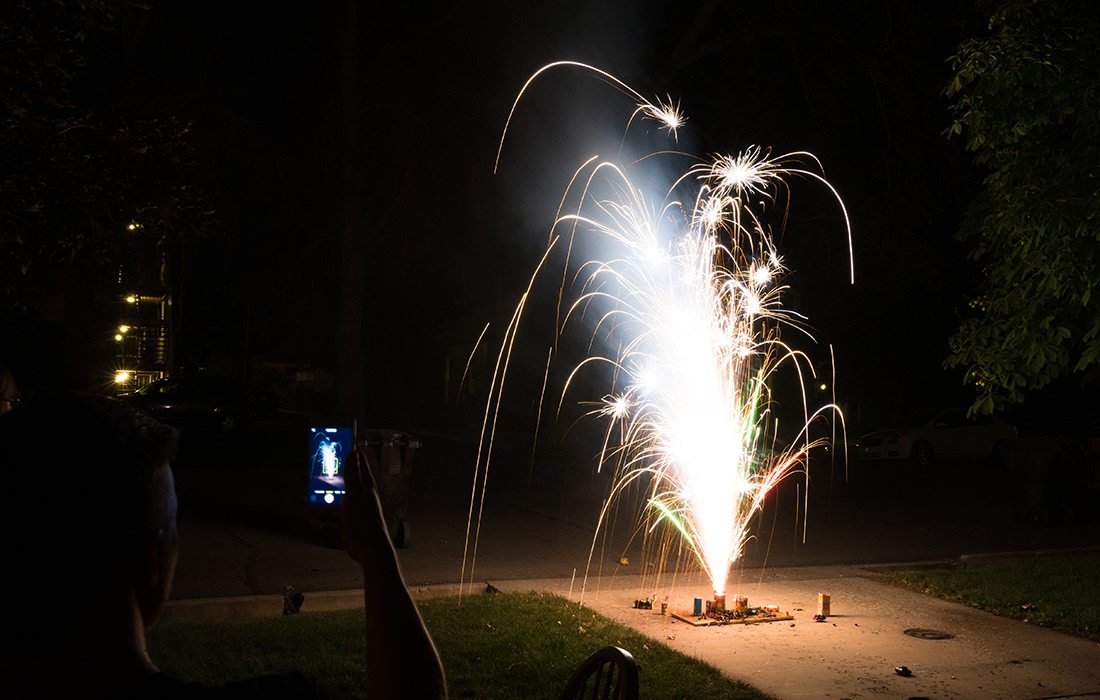 Safety Tips for Shooting Your Show
For the best results, take time to prepare your fireworks before the show. If shooting reloadable shells, it is beneficial to unwrap all the fuses before showtime. take off the fuse covers on all the items you will be shooting. On all fountains, the fuse will be coming out of the top. And on almost all aerial items, the fuse will be coming out of the side.
1. Make sure you have a flashlight so you can easily locate the fuses when lighting.
2. Fireworks Superstore recommends that you use punk or a grill lighter for lighting your fireworks.
3. Keep a water source or a fire extinguisher handy and ready to go in case you need it.
4. Make sure your crowd is seated at a safe distance from your shooting area.
5. Make sure that your shooting area is on concrete, asphalt or other hard, smooth, flat surface. Never shoot fireworks on plywood or fiberboard.
6. Place the item upright. Some items may have arrows to show what side of the device should face the crowd for better viewing.


7. For extra precaution you can even brace these items using gardening bricks or cinder blocks.
8. Now that you've taken the time to get ready all you need to do is fire!
9. Safety continues after all the fun is over. Make sure all items are soaked with water before putting in your trash can.
Billboard's Top 4th of July Songs
1. "God Bless the USA" | Lee Greenwood
2. "Born in the USA" | Bruce Springsteen
3. "Courtesy of the Red White & Blue" | Toby Keith
4. "Made in America" | Toby Keith
5. "America" | Neil Diamond
6. "Fourth of July" | Fall Out Boy
7. "American Soldier" | Toby Keith
8. "Arlington" | Trace Adkins
9. "Where Were You (When the World Stopped Turning)" | Alan Jackson
10. "Pink Houses" | John Mellencamp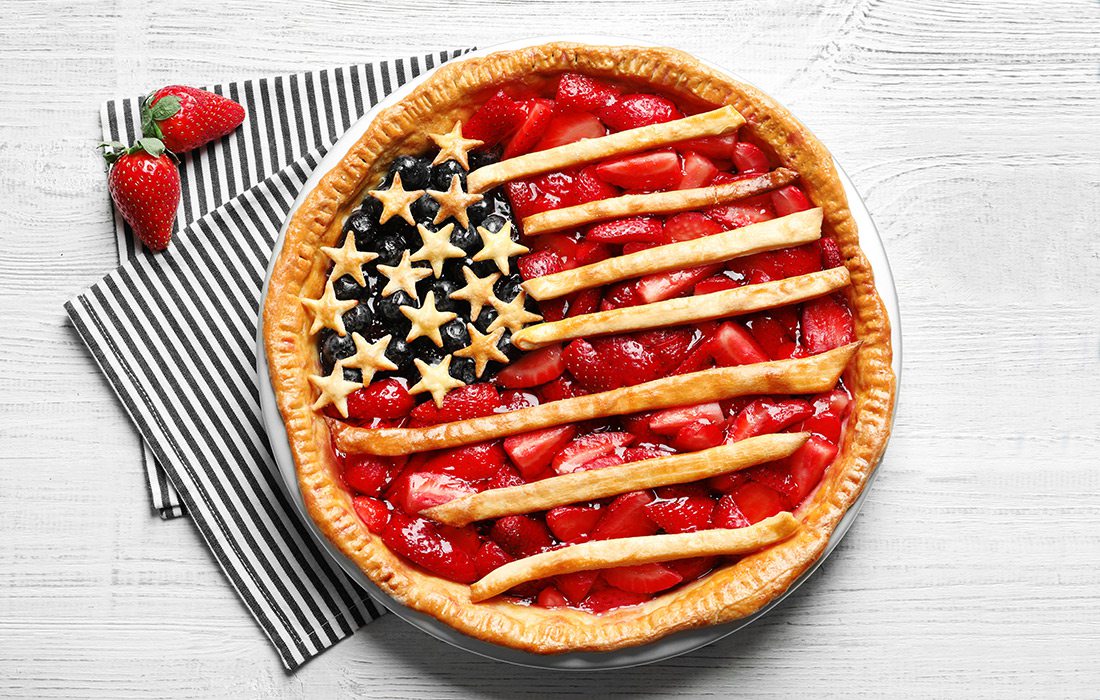 Red Berry & Blue Pie
For the Crust
2 ½ cups all-purpose flour
¼ teaspoon salt
1 cup cold butter, cubed
6 to 8 tablespoons ice water
For the Filling
1 ¼ cups sugar
¼ cup cornstarch
Dash salt
¼ cup water
3 ¾ to 4 cups of fresh seasonal berries
1 tablespoon lemon juice
2 tablespoons butter
To Prepare Crust
Combine flour and salt in a large bowl. Cut in the butter until crumbly. Slowly add ice water (minus ice), mixing with a fork until dough holds together when pressed. Divide dough in two, with one half being slightly larger. Shape each into a flat disk and wrap in plastic wrap. Refrigerate at least one hour or overnight.

To Prepare Filling
Heat oven to 400˚F. In a large saucepan, combine sugar, cornstarch, salt and water. Whisk until smooth. Add seasonal berries. Heat to a boil. Stir until thickened, approximately two minutes. Allow to cool. Fold strawberries, blackberries and lemon juice into cooled mixture, then set aside.

To Assemble Pies
Lightly flour your work surface. Roll each dough half out until approximately a half-inch thick or, if making miniature pies, divide each half in half and roll into smaller circles (one batch makes one 9-inch pie or two 6-inch pies). Line pie pan(s) with bottom halves of pie dough. If making one large pie, use the larger half for the bottom. Add filling and dot with butter. Using various sizes of star-shaped cookie cutters, cut remaining to dough into various star shapes. Create stripes by slicing some of the dough into thin strips with a pizza cutter. Arrange crust shapes on pie(s) to create your favorite designs, then crimp edges. Place pie(s) on a cookie sheet, and place in oven. Bake 10 minutes. Reduce heat to 350˚F and bake 45—50 minutes or until crust is golden brown and filling is bubbly. Cool on a wire rack. Serve with vanilla ice cream, if desired.

View the recipe here.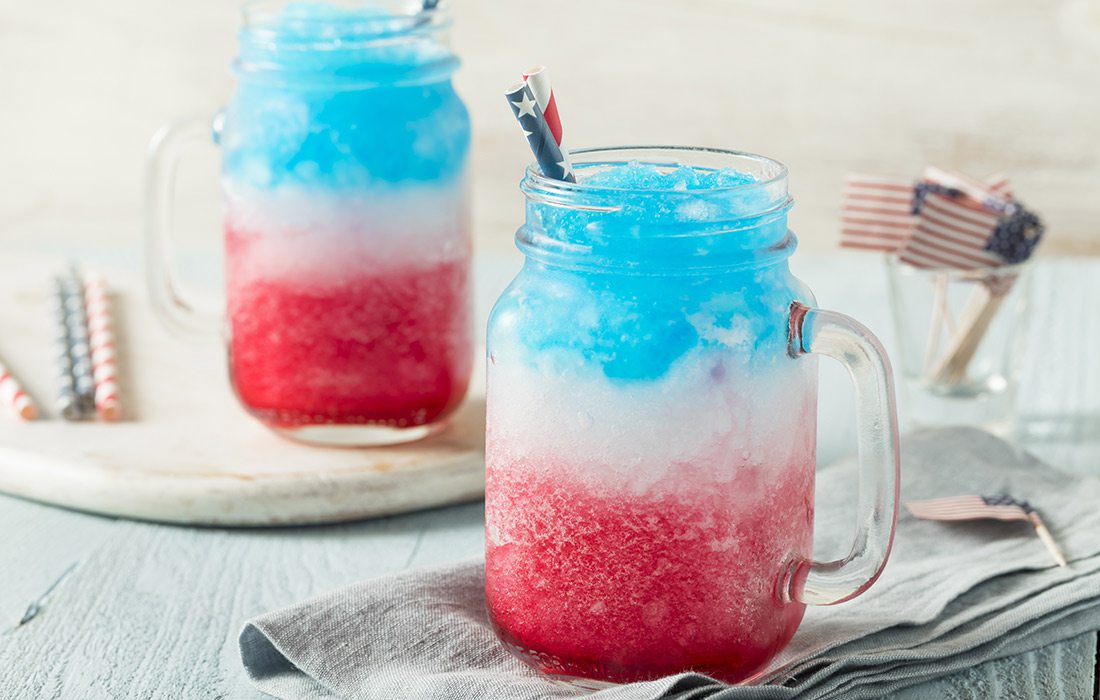 Red White & Booze
The best refreshments have an adult version. Layer shaved ice and simple syrup with a sizeable splash of vodka to create a festive slushie. You and your guests will be feeling festive in no time!
Easy Homemade Vanilla Ice Cream
Ingredients
4 cups half and half or light cream
1 (14 ounce) can Eagle brand Sweetened Condensed Milk
Directions
In a large bowl, combine ingredients. Mix well. Pour into ice cream freezer container. Freeze according to manufacturer's instructions. Top with some strawberries and blueberries and you have the Fourth of July in a cup!

View the recipe here.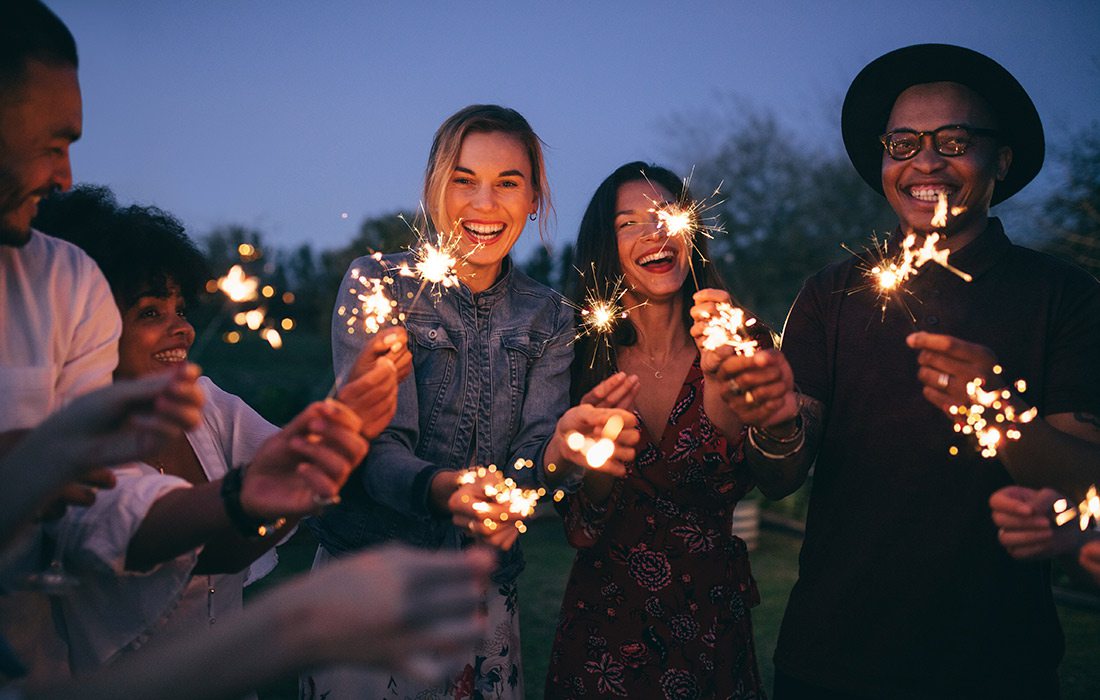 Top 10 Reasons to Shop at Fireworks Supermarket
Free Fireworks with Every Purchase
You get to pick it! Check out their Free Fireworks Program. And yes, they do mean free.
See Before You Buy
Take the guessing out of your fireworks buying. Fireworks Superstore's trained pyro professionals can show you the products before you buy on big screen TVs.
Build a Show
Drag and drop your show at fireworkssupermarket.com or through their app. If you want a different effect, the delete an item and drag in another. The fun just keeps on going!
Trained Professional Pyros
Members of the Fireworks Supermarket team take their pyro training to a whole new level so all that product knowledge can be passed right along to you.
Find the Color and Effects You Want
Choose from over 500 different products. The majority of items are specially designed by their team that travels to China to give you the very latest in colors and effects. You will be blown away!
Fireworks Superstore is Fun
They love fireworks just as much as you do, and they can't wait to have you visit the showroom to see what it's all about.
Air Conditioned Showrooms
Fireworks Supermarket has the coolest showrooms where you can pick out the hottest fireworks on the market. Why get all hot and sticky in a tent when you can shop in comfort?
No Long Lines. Ever.
With a huge parking log and fast cashiers, you'll be able to get in and out and on to your party in a flash.
Safety First
Safety is their number one priority.
The Fireworks Superstore "Experience"
You can't believe it until you feel it. Stop by to experience it for yourself.


Visit Fireworks Supermarket