Life
Brace Yourself for the Skyscraper Thrill Ride in Branson
The Skyscraper is open to the public and 417 Magazine was one of the first in line to take it for a spin. Located right on the Branson strip, the attraction adds to The Track's portfolio of race cars, the Branson Ferris Wheel and more family fun.
By Jamie Thomas
May 24 2019 at 3:32 p.m.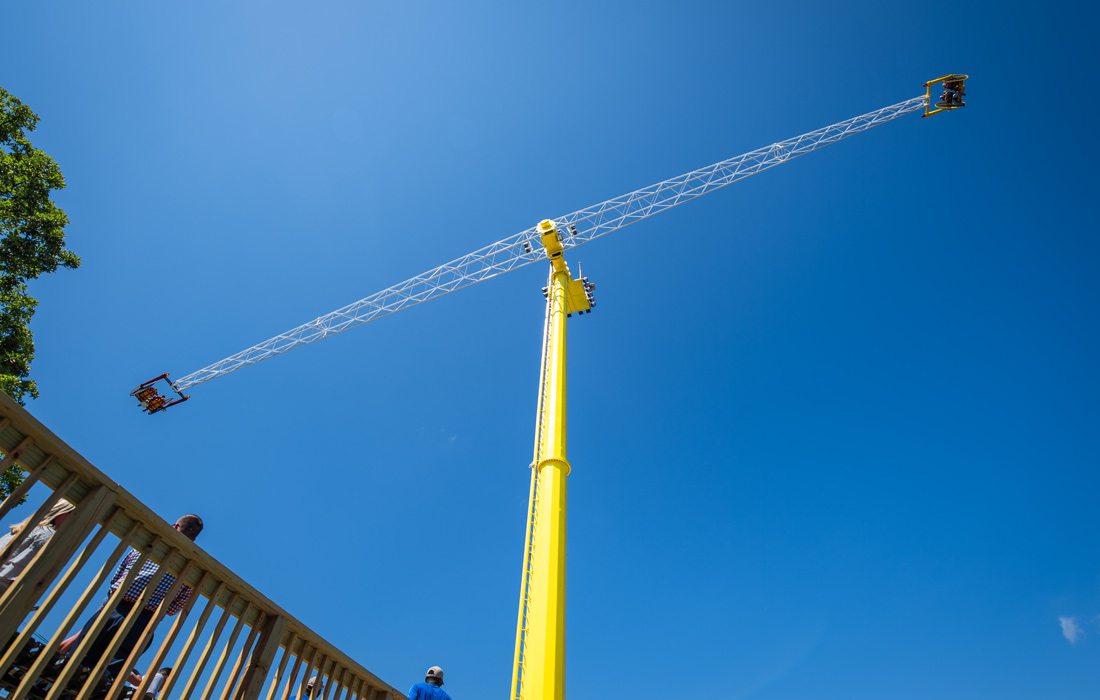 Just in time for the 2019 Memorial Day Weekend, the Skyscraper at The Track Family Fun Parks in Branson is finally open. It's been a year in the making and we got to be among the first to take a ride.

The Skyscraper is a feat of thrill-ride engineering. Standing more than 20 feet taller than the Branson Ferris Wheel, according to Track CEO Craig Wescott, it towers over the buildings around it. Two seats are secured at either end, and the brave souls who sit in those seats experience G-forces similar to those you'd feel in a fighter jet. The sheer size of the Skyscraper is never more impressive (or terrifying) than when you're on the ground looking up. And up. And up. Pictures don't really do the Skyscraper justice, but we snapped a few to give some idea of the sheer scale.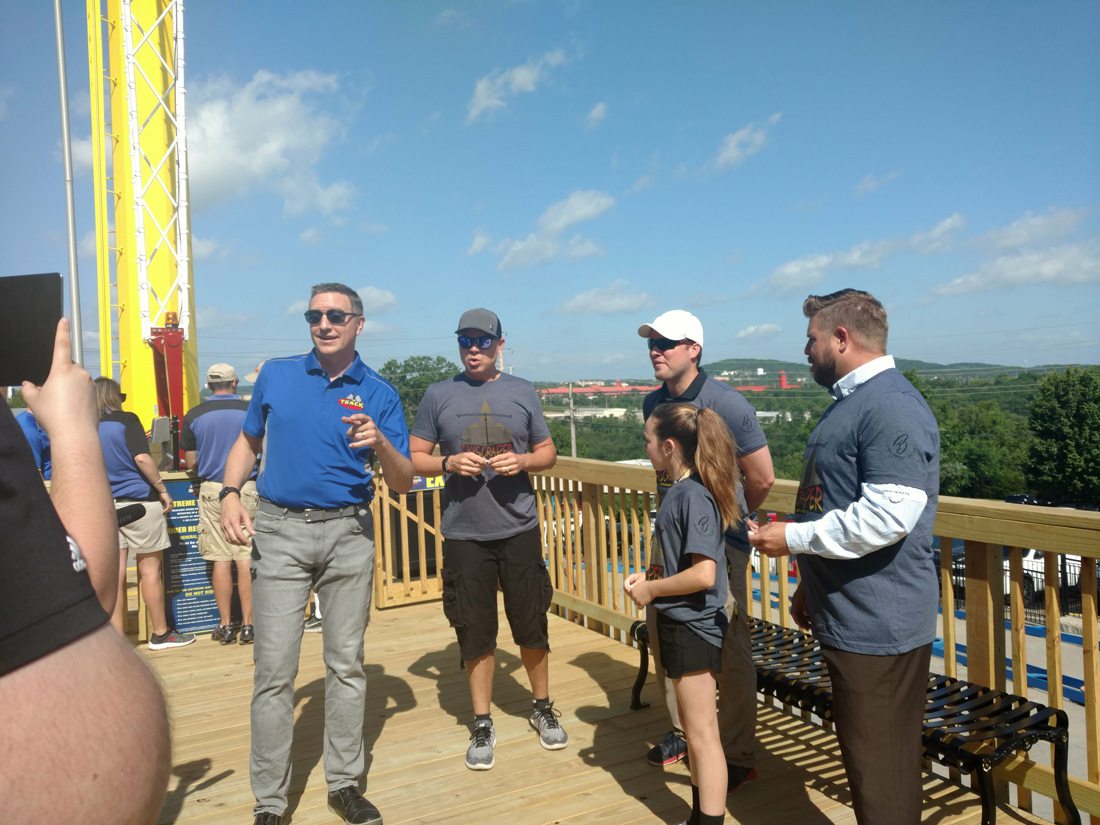 A ribbon-cutting ceremony officially opened the ride to the public (although Wescott assured us there had been three days of testing beforehand), and four special guests were first in line: Renowned lighting designer and stage performer Michael Haygood; Branson Area Lake Chamber of Commerce CEO Jeff Seifried; Country music star, Branson mainstay and hesitant Skyscraper-rider Clay Cooper; and 14-year-old thrill-seeker Payton Smith.
After the first four had gone through their dizzying experience, it was our turn. Full-disclosure: I'm not a lover of wild, thrilling rides. I get dizzy if I stand up too quickly. Nevertheless, two of us from 417 Magazine were securely strapped in, and the ride began.
You know how a rollercoaster usually gives you the slow-build of the initial climb? The Skyscraper doesn't. Almost as soon as it starts moving, the momentum ratchets up, and you're hurtling through the air at 60 miles-per-hour. The wind rushes in your ears and your body leaves the seat, defying gravity and held in place by the barriers and belts that strap you in. 
After a few spins, your hands sweating and gripping onto the shoulder braces for dear life, the ride comes to a stop. If you've had your eyes closed this whole time (like I did), you finally feel safe enough to open them again.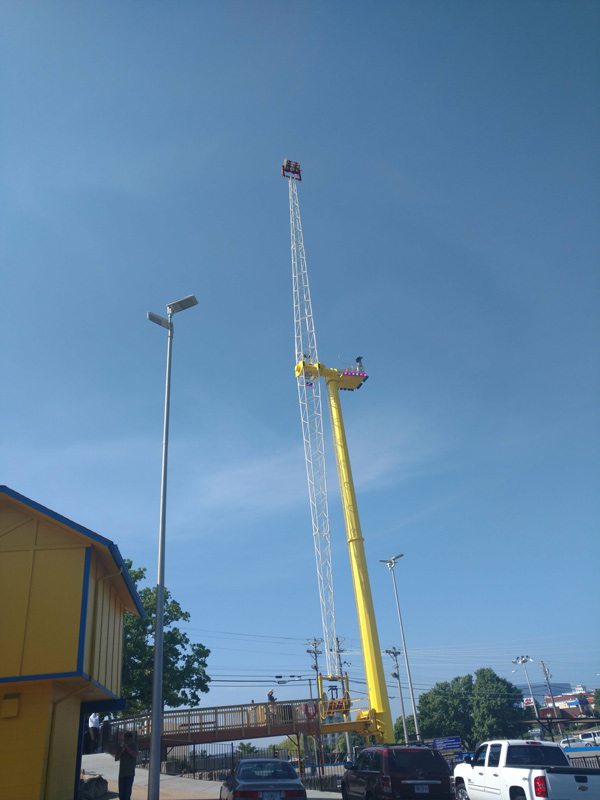 Photo by Jamie Thomas
The 160-foot tall Skyscraper towers over The Track Family Fun Parks
Purchase Photo
Photos by Jamie Thomas
That's when you realize you're 160 feet above Branson. This might sound like the most intense part of the ride, but it's more relaxing than you'd think. After the immense rush of those first few spins, sitting quietly in the air, with a gentle summer breeze whispering around you as you take in the sights, your heart starts to slow and you begin to feel at ease. 

Of course, the whole point is the false sense of security. You're just waiting for the next two people 160 feet below to step on and strap in. Just like when you take off, the drop back into a spin almost instantly whips you up to full speed. Once again, you're floating in your seat as the whole world careens by around you. It's a rush that sweeps all the thoughts out of your head, and it's easy to see how it could be addictive.

Finally, the ride comes to a rest. We're unbuckled and asked what we thought. I was actually earnestly asked if I was okay (and told I didn't look it), but it only took a few steps to feel grounded again and able to watch the next set embark on their human spin-cycle.

A palpable buzz ran through the crowd once the ride was up-and-running. The first four riders talked about their experiences. I was glad to hear that, like me, Clay Cooper had kept his eyes shut the entire time. Others stepping off raved about the adrenaline rush and the incredible view, along with how the Skyscraper is unlike any other ride. In fact, Payton was already in line for a second go-around.

The Skyscraper is a ride that's more than worth it for anyone who loves roller coasters, zip lines, skydiving or anything else that gets your blood pumping. For anyone like me who is less of a fan of these kinds of rides, I would still say it's worth a try. The speed, the feeling of weightlessness and the strange kind of euphoria when you step off all need to be experienced firsthand. It's also much smoother than most big rides, which really makes you feel like you're flying. Of course, you could always just ride the nearby teacups.
TAKE A SPIN ON SKYSCRAPER
Open daily, 10 a.m. until close
Cost: 
One person: $29.95 plus tax, Two people: $49.95 plus tax