Life
Chilling with the Penguins at Wonders of Wildlife
We were invited to chill with the gentoo penguins at Wonders of Wildlife.
by Jamie Thomas
Nov 15 2019 at 8 a.m.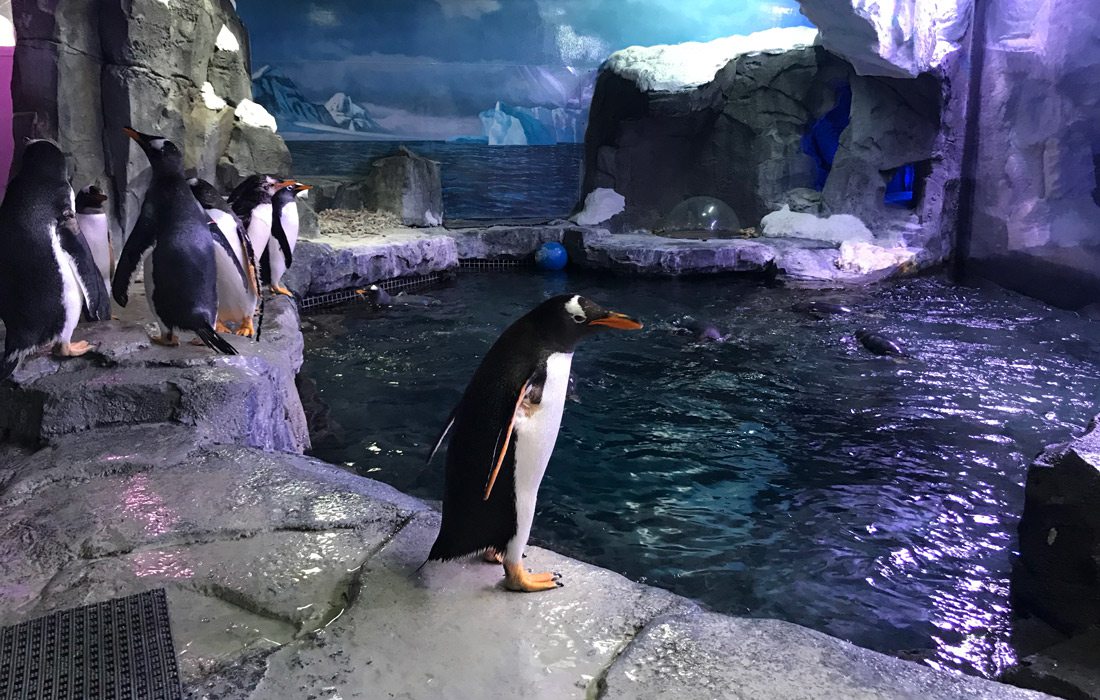 You might not like how cold it is outside right now, but somebody does. Me. But also, the adorable gentoo penguins in the new exhibit at Wonders of Wildlife National Museum and Aquarium in Springfield, MO. The exhibit, titled Chill Out with the Penguins, opens November 16 and 417 Magazine was invited to a preview of the up-close avian experience.
Gentoo penguins are native to Antarctica and are smaller than the Emperor penguins you might typically see on National Geographic. These small, sleek birds can grow up to 30 inches tall and typically weigh around 12 pounds. Under water, gentoo penguins can swim at speeds up to 22 mph and down to 600 feet thanks to their aqua-dynamic shape and slick feathers.
We got to see these cold climate characters up close thanks to Wonders of Wildlife public relations manager Shelby Stephenson and our guide Caitlin McHaffie, who fed handfuls of small fish to and corralled the penguins as she told us about them.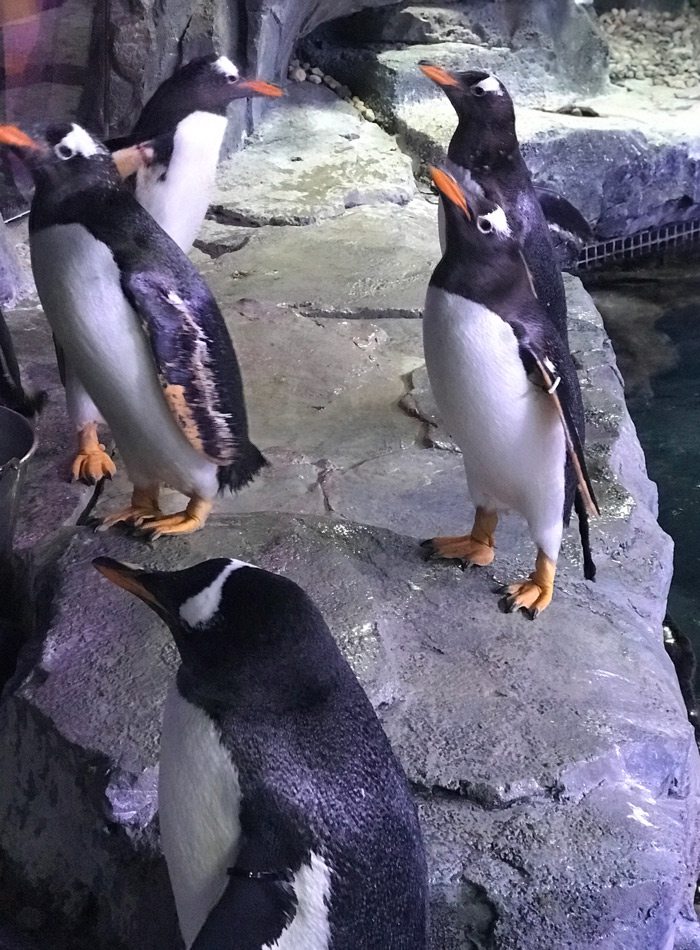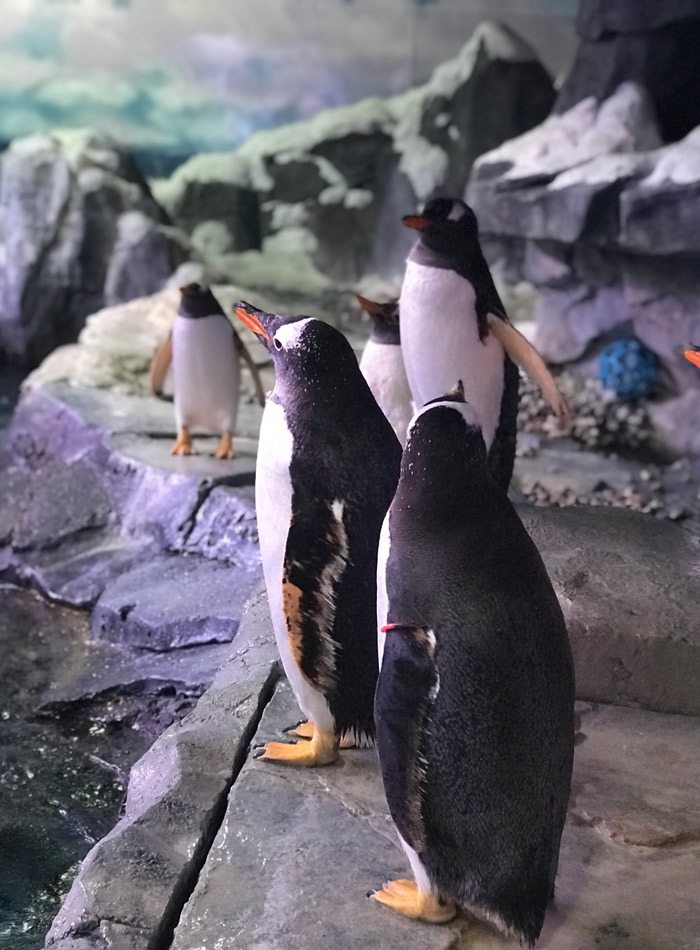 Photos by Dayle Duggins The penguins popped up from the pool fully prepared to be fed.
The penguin habitat is smaller than you'd think when you step inside—but then again, so are the penguins—so you really do get an up-close experience. A waist-high wall is all that separates you from them, and they'll come right up to investigate the four-person tour while they're fed. McHaffie, who is the primary penguin keeper at Wonders of Wildlife, has clearly gotten used to the residents of the chilly habitat, since she's not even slightly phased by the honking gaggle that quickly gathers around her—technically it's a colony, not a gaggle, but the alliteration is nice. A frenzy begins as the gentoos shoot gracefully up from the water to greet her, then waddle somewhat less gracefully up to her to be fed. Clearly, none of them are phased by her, either.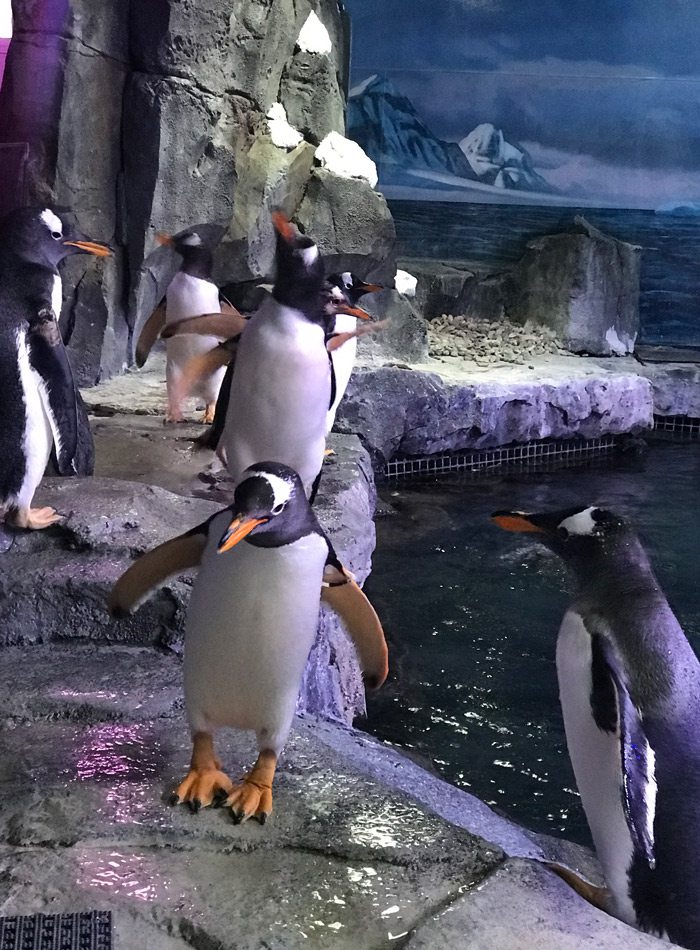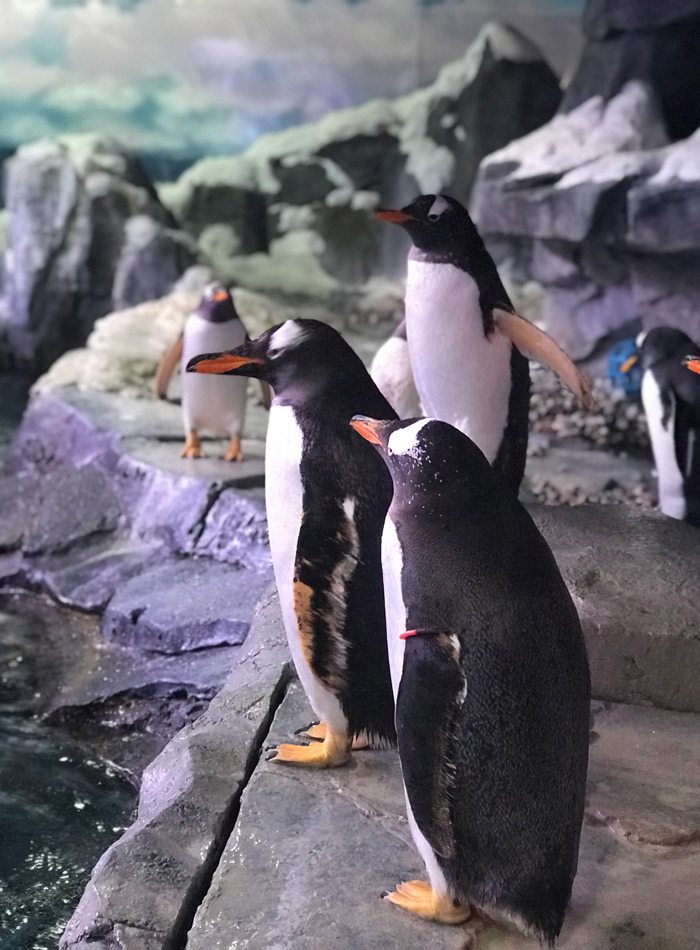 Photos by Dayle Duggins The gentoo penguins aren't even remotely camera-shy.
Most of the penguins eat the food that's scattered either onto the acrylic rocks or into the water by McHaffie, but two older residents like to be hand-fed in their advancing years. These two female penguins, Reese and Kipp, both born in 1993, are the elder stateswomen of the habitat. While we were there, Reese took to what is apparently her usual perch on the far side of the water to watch over the proceedings, while Kipp stuck quietly and patiently at McHaffie's side.
On the other end of the personality spectrum is Maverick, a male gentoo who likes to be the star of the show. Right on cue, as McHaffie told us about Maverick's natural showmanship, he threw back his head and let out a loud call. In fact, McHaffie told us that Maverick had recently taken to a male photographer who had visited the exhibit, paying particular attention to him and even displaying some gentoo mating behaviors like wing-flapping and bowing.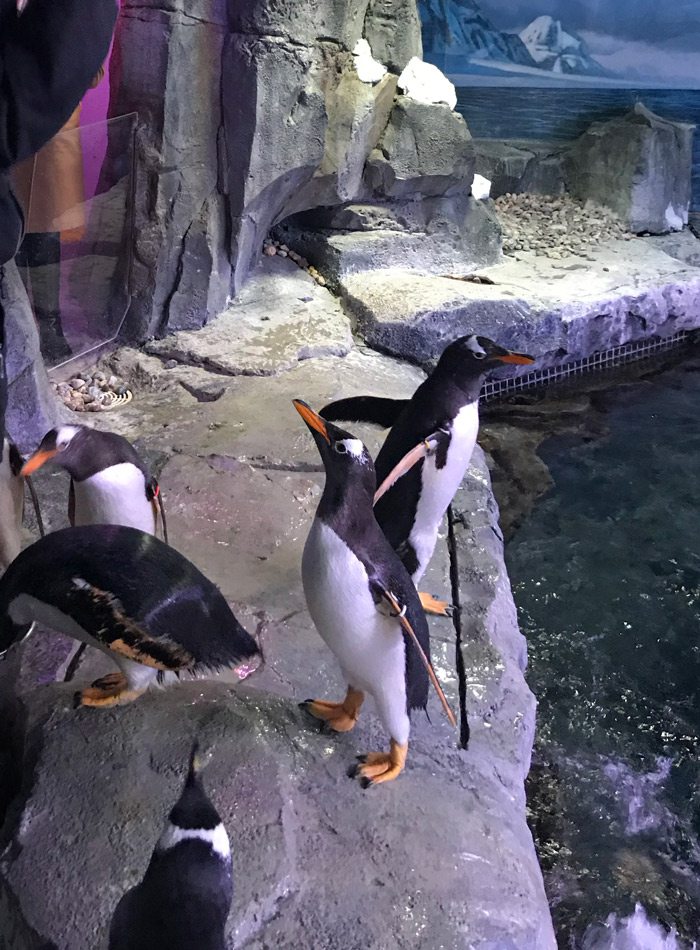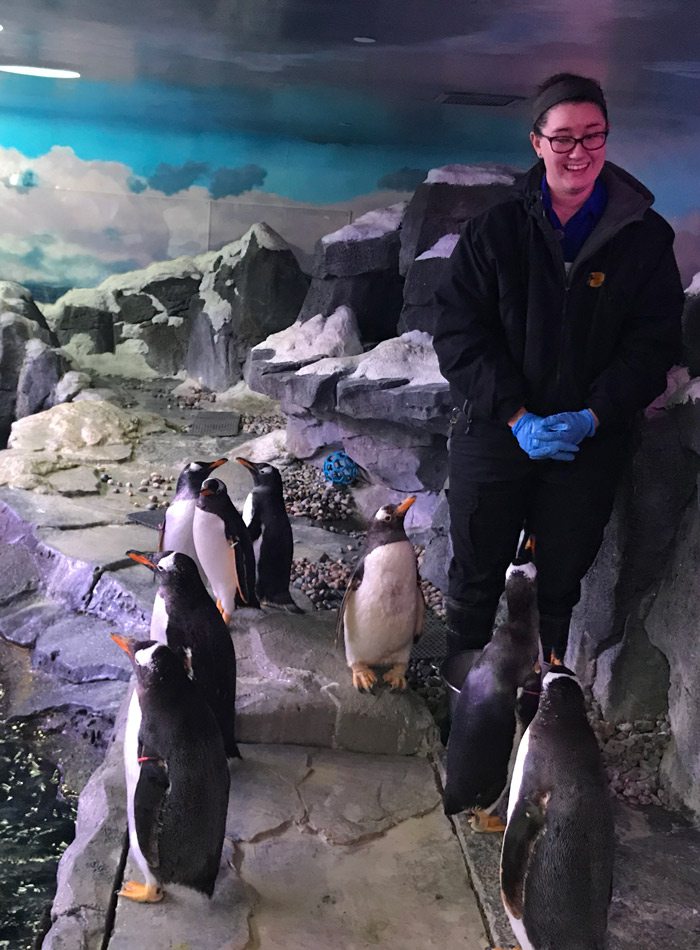 Photos by Dayle Duggins The Gentoos are perfectly happy to approach Caitlin McHaffie.
Speaking of which, McHaffie also mentioned that a few of the penguins had been building nests of pebbles around the enclosure, although none had taken definitive steps to pair off just yet. Gentoo penguins typically build nests of pebbles for their eggs, with males often picking out smooth pebbles and presenting them to females as a gift, along with the two bowing to each other as part of their mating ritual. If that's not cute enough for you, gentoo penguins also tend to stick together for life once they mate. Hopefully that photographer we mentioned is aware of that, too.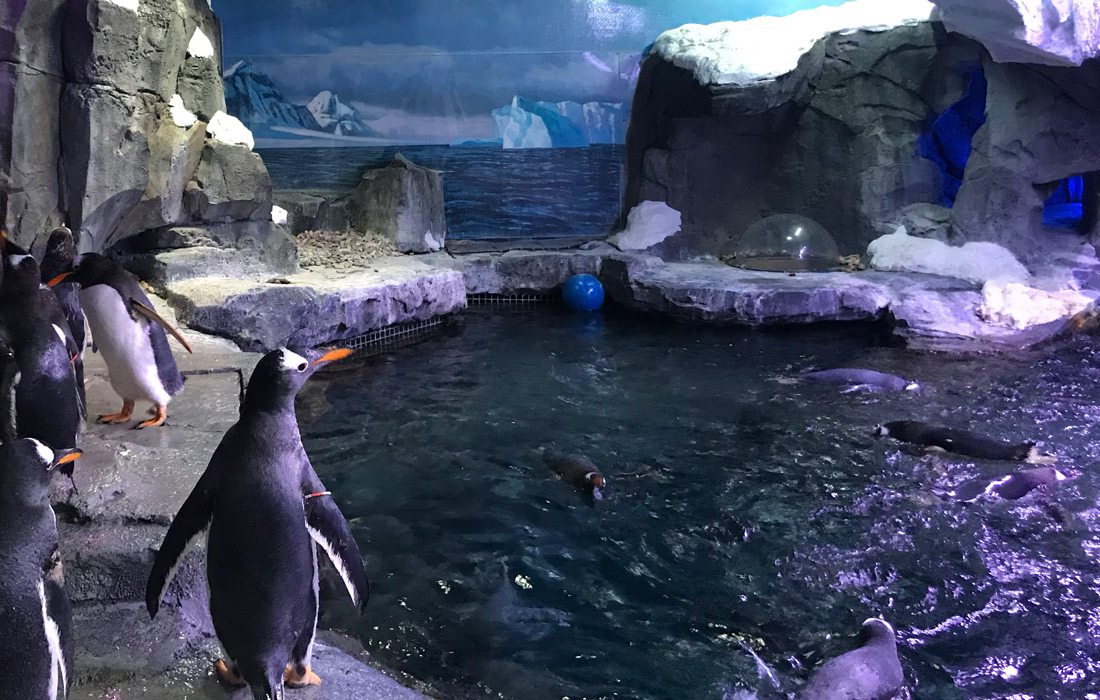 A quick but important note about this new experience: while you do get very close to the penguins, you're not allowed to pet or feed them yourself. There are strict rules in place about protecting these exotic animals from all the exciting new germs and diseases us humans might be carrying for them. For their safety, feeding and handling is limited to the pros at Wonders of Wildlife. Also, according to McHaffie, they bite. And it hurts.
Some tips for the tour:
• Make sure you dress warm, it really is cold in the enclosure (43 degrees) and you'll be in there for about 15 minutes.
• Wear flat shoes, ideally something athletic and at least a little waterproof. You'll need to step in a shallow tray of disinfectant on your way in and out to protect the penguins.
• You won't be able to take your phone in to take pictures. If that annoys you, imagine how much more annoyed you'd be if you dropped your expensive smartphone and had to watch it slide into the icy water forever.
• The youngest age allowed is four years old. Remember that it's cold in there, and there are some steep steps to climb in and out. Kids under 14 must be accompanied by an adult (18+).
• If you've had cold or flu symptoms within 48 hours of going to the exhibit, book it for another time. Even if you're feeling better, that kind of sickness can be very dangerous for the penguins.
• Anyone working with, or who regularly handles, poultry livestock or other birds will not be allowed in due to the risk of disease.
• Come with questions. Cailtin McHaffie demonstrated a huge wealth of knowledge about gentoo penguins so the more you ask, the more you'll learn.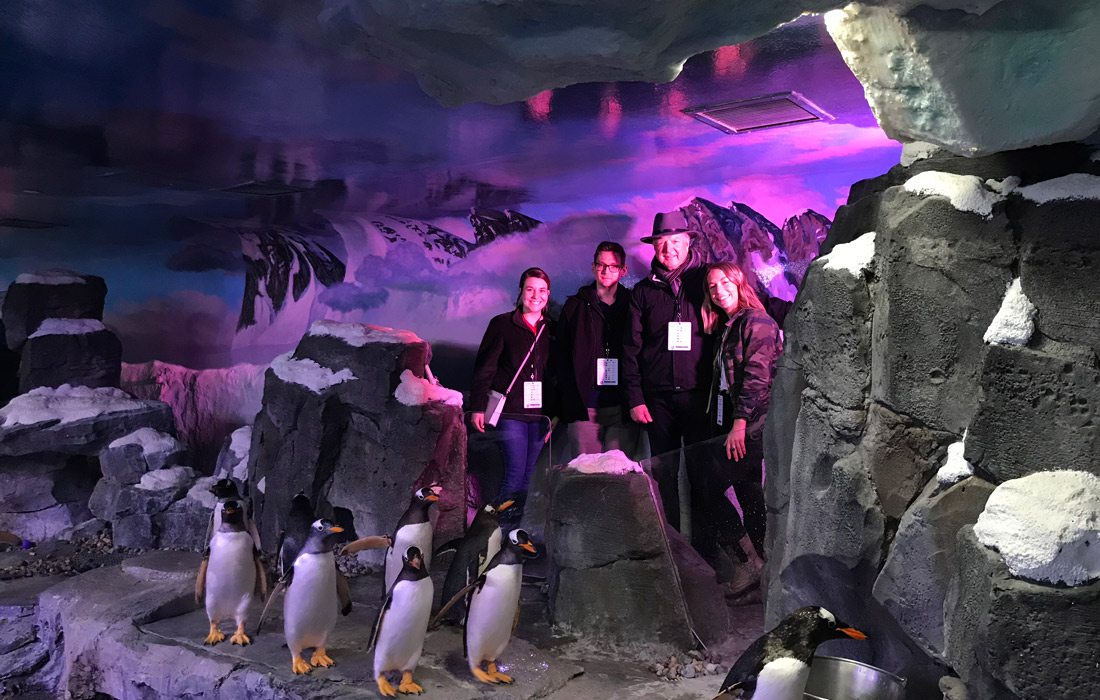 The experience of just being that close to an animal you'd normally see from a distance, behind glass or just on a screen is worth it. Being able to watch them interact and to identify their different personalities (which doesn't take long) isn't something you should pass up. You also get a 6x8 commemorative photo and an exclusive "I Chilled Out with the Penguins" t-shirt. Head to the website to find out all the details about the Chill Out with the Penguins experience. To learn more about gentoo penguins… book a tour! You can easily read about them all day online, but it's a lot more interesting to see the real thing. Check out the video of our experience below.
Chill Out with the Penguins at Wonders of Wildlife