Drinks
A Round Up of Springfield MO's Christmas Pop-Up Bars
'Tis the season for merrily drinking your way through downtown. Grab a festive drink at Missouri Spirits, Civil Kitchen Hotel Vandivort and more for photo-ops, ugly sweater parties and signature drinks.
by Jenna deJong
Nov 29 2019 at 8 a.m.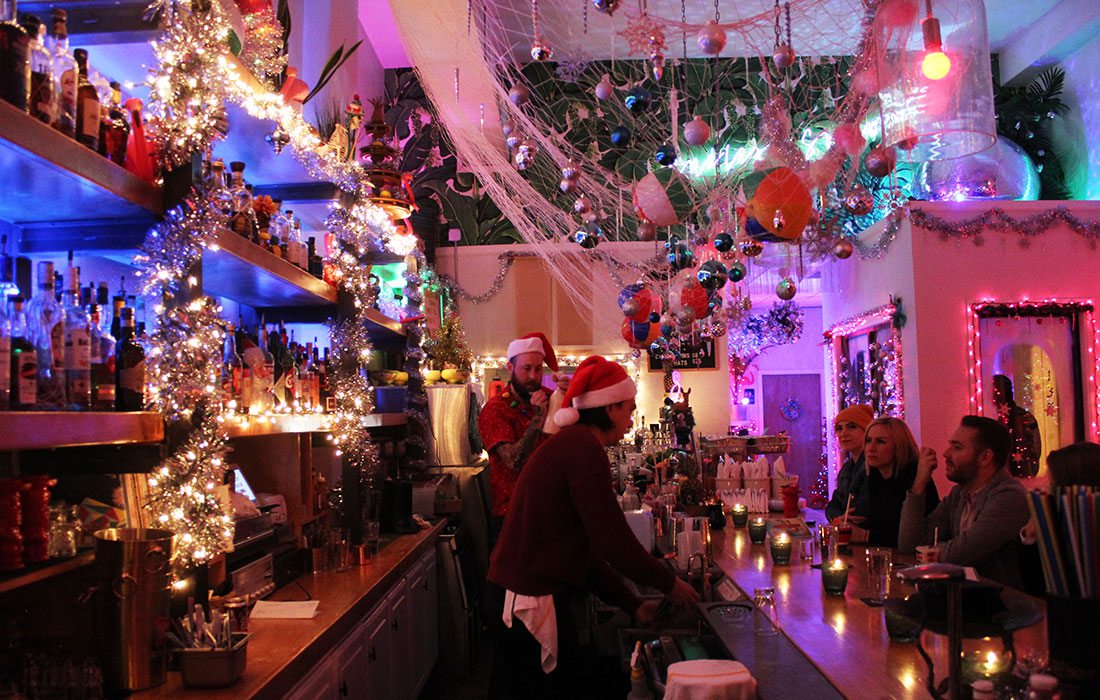 The holiday season is all about saying thanks and giving back. What better way to do it than drinking your way through downtown? Miracle on Walnut, previously known as Miracle on the Square, is back for another year of specialty cocktails and celebration. Missouri Spirits and Community Partnership of the Ozarks team up to bring "over-the-top traditional decorations and themed cocktails," according to a press release. The event begins Thanksgiving evening and ends December 28. To accommodate for the event, Missouri Spirits plans to extend its house. There's no cover charge to attend, either.

Last year's Christmopolitan, Snowball Old Fashioned, Run Run Rudolph, Kris Kringle Colada and Sippin' Santa are back, along with a few others. Try out some of these specialty drinks this season:

Christmas Carol Barrel: Blanco tequila, coffee liqueur, coco nib infused orange and cognac liqueur, iced hot chocolate and Mexican spices.
Gingerbread Flip: Rye whiskey, gingerbread syrup, tiki bitters, egg and ginger snap cookie crumbs.
Jingle Balls Nog: Brown butter and cinnamon fat-washed cognac, amontillado sherry, almond milk, cream, sugar, egg, vanilla and nutmeg.
Christmas Eve of Destruction: Over proof dark rum, lime juice, nutmeg syrup, benedictine and angostura bitters.
Papa Noel: Blanco tequila, apricot brandy, lime juice, pineapple juice, orgeat and cardamom bitters.
Once you've hit Missouri Spirits, head across the square to Golden Girl Rum Club. This local favorite is back with a new menu for the holidays. Try the Isle of Gold, a concoction of blended scotch, golden milk, Herbsaint and nutmeg, or sip on a spiced rum cider or hot buttered rum. View the complete menu here.
Finish the loop at Civil Kitchen or Finnegan's Wake. The two local partner with Jimm's Steakhouse & Pub for a month-long holiday pop-up fundraiser for the Child Advocacy Center (CAC) for the month of December. Called "Up to Snow Good for the Child Advocacy Center," all three locations are decked out in holiday swag. Each plans to sell snowflakes, with 100% of the proceeds benefitting CAC. While you're there, ask for one of the special cocktails, sponsored by McCormick's brand—one dollar from your purchase also benefits the CAC. Plus, in December, Jimm's Steakhouse & Pub is donating a portion of its gift card sales to both CAC and the Rare Breed Youth Outreach Center.
Head a little off the square and dip into Hotel Vandivort on Wednesday, December 18 from 6 - 8 p.m., where the hotel is hosting its annual Cocktails with Santa. The event includes happy hour specials and live music from Shawn Eckels. Insider scoop: Last year, Hotel Vandivort accepted toy donations for its Salvation Army Angel Tree in exchange for a smoked old fashioned per guest at The Order. Stay tuned for more details on a similar exchange for this year. The party is for adults only. Admission is free and walk-ins are welcome.


Up to Snow Good Schedule
Monday, Dec. 2nd at 7:00 p.m. Holiday Trivia with Anne Baker, owner of Finnegan's Wake and Jimm Swafford, owner of Jimm's Steakhouse & Pub.
Monday, Dec. 9th at 7:00 p.m. Holiday Trivia with Anne Baker, owner of Finnegan's Wake, Joe Everest, owner of Ozark Fence and J.W. DeLong, owner of DeLong Plumbing.
Monday, Dec. 16th at 7:00 p.m. Holiday Cocktail Karaoke partnered with USBG (United States Bartender's Guild) where bartenders from different restaurants will perform karaoke to their favorite holiday tunes while creating drinks to be auctioned off. 100% of the sale of all drinks will be donated to the CAC.
Wednesday, Dec. 18th at 7:00 p.m. Star Wars Trivia sponsored by 4 by 4 Brewing Company. 100% of cover charge will be donated to the CAC.
Reverie 12 Days of Christmas Bar
Reverie announced its 12 Days of Christmas Bar on E. Republic Road beginning December 13 along with a new Reverie Egg Nog. Until New Year's Eve the rooftop bar will be decorated with festive, Christmas decor and a special holiday cocktail menu.
It's Not All Downtown Pop-Ups
Downtown isn't the only Springfield district getting their festive celebration on. Rescue One hosts its fourth annual Ugly Sweater Christmas Party on December 6 at The Barley House at Moon Town Crossing. From 6 to 9 p.m., guests donning festive sweaters delight in dogs, music, food, raffles, a silent auction and more. Dinner is catered by Ott's Pasta, drinks are available through a cash bar and your favorite four-legged friends are also welcome. There's even an ugly sweater contest just for them, in addition to one for just guests and another for a dog-and-owner combo. Tickets are $25 in advance, and $30 the day of the event.