We Are #417Strong
Skip the Grocery Store Lines with Mini-Market Pop-Ups
As people panic-buy and overshop, grocery stores are struggling to keep up. To fill the gaps, local restaurants, farms and bakeries are turning into pop-up mini markets, sharing their supply chains and offering alternatives to the supermarket.
By Claire Porter
Apr 23 2020 at 9 a.m.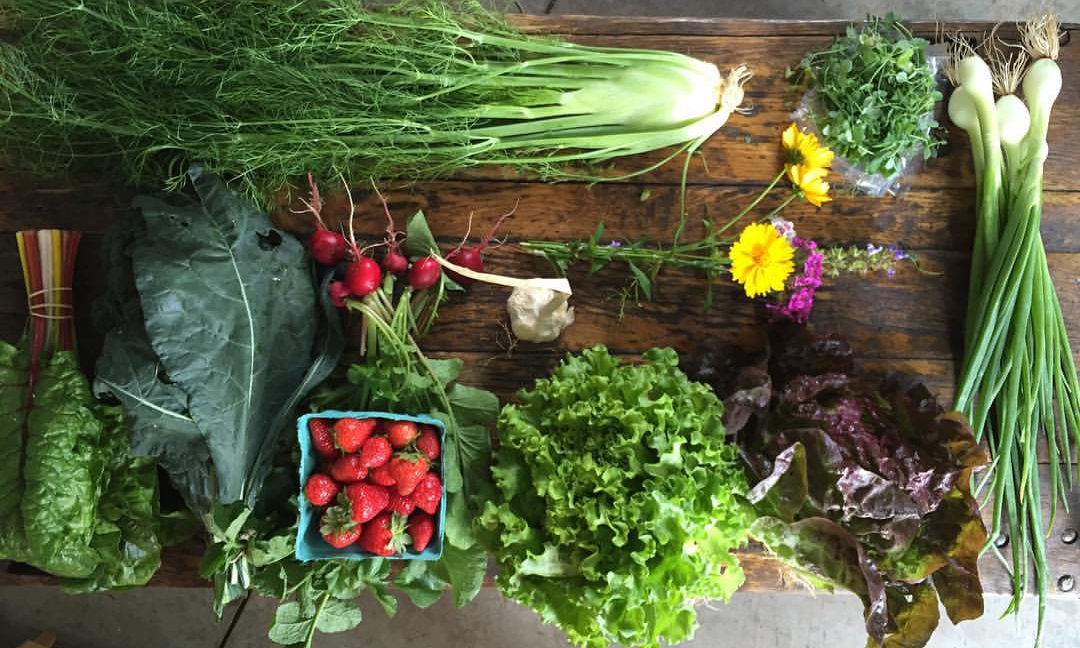 This article was last updated 4-23-2020.
If you're tired of pushing a shopping cart through throngs of people, only to find grocery store shelves empty of the basic items you need, local bakeries, farms and cafes are stepping up to offer an alternative solution to the supermarket.
Bet on Bread
Aviary Café is selling bread at both locations in addition to baked goods, such as vegan brownies, via online or call-in ordering. The Aviary Pantry Box includes kitchen staples such as four, sugar, potatoes, onions, bread, butter, milk, eggs and two rolls of toilet paper. Additional items are available to add on at an extra cost, such as orange juice, instant yeast and rice. If you're just in need of a loaf of bread, swing by the bread tent at the corner of National and Weaver Rd.
Pasta Pronto
Bambino Cafe's Battlefield location has bulk bags of pasta for $15 while supplies last. Call 417-881-4442 for availability.
A C-Street Pop-Up
Commercial Street's Cafe Basilico is taking advantage of its supply chain to offer groceries, like eggs, roma tomatoes, fresh produce, potatoes, toilet paper, dried pastas and even homemade sauces and butters. Groceries are available for traditional shopping (all foods are kept behind the counter to avoid contamination) from 10 a.m. to 5 p.m., or you can order groceries ahead for pickup.
Bringing the Basics
European Cafe is still offering its delectable desserts for walk-in, carry-out, curbside and delivery orders, but now you can also add basic groceries, like bread, flour, sugar, butter, eggs, milk and even European Cafe Baking Kits to your order. Call for details. 
Farm-Fresh Picks
You can still shop local and support small family farms, even in the midst of a pandemic. The Farmers Market of the Ozarks has become a drive-thru market. The pathway takes drivers past each vendor booth, where you can stay in the car and buy right from the driver's seat. 
The Ozark Farmers Market at Finely Farms will open for the season on Thursday, May 7 from 3 to 7 p.m. The market will operate by drive-thru or by pre-order pickup only.
Ready for Retail
Margot on C-Street (housed within The Artisan's Oven) has retail grab-and-go items like fried rice, congee and hot sauce. 
Quarantine Kit
Morning Day Cafe in Nixa has created Quarantine Kits with all of the goods you need to make some tasty sandwiches and lemonade. $40 gets you the box, and delivery in Nixa is free.
Bake from Scratch
Neighbor's Mill is selling 2 and 5 pound bags of milled wheat, spelt and white flour that's ground in their own grist mill. Call ahead and order to-go or for curbside pickup.

The Essentials
The RibCrib chain, including the two Springfield locations, has The Essentials available for purchase on their website, including limited pantry staples, produce, meat, eggs and dairy.
Soil to Subaru
Springfield Community Garden has a produce distribution program that gives garden-fresh produce to those in need, to volunteers and to restaurant and business partners. The weekly Wednesday program is shifting to carside delivery only.
Express Staples
Thai Express has plenty of pantry staples ready to go, including rice, flour and active dry yeast. All first responders, law enforcement and healthcare workers receive 50% off with an ID badge. In an effort to help community members in any way they can, Thai Express also has bottles of hand sanitizer available, limit one bottle per purchase to help ensure those who are in need have it available.
Make a Stand
In addition to offering a straight-to-your-door CSA, Urban Roots Farm has a Farmstand that is stocked with fresh produce, eggs and even seeds and plants for your garden. The honor-system stand accepts all payment types, is sanitized regularly and rarely has more than one person inside at a time. 
Your COVID-19 Dining Guide
How to eat out safely and responsibly during Springfield's coronavirus outbreak.