Recipes
Banana Cake
This banana cake will shock you with its deliciousness, which makes it the perfect sweet treat to share with your loved ones this Mother's Day.
By Ettie Berneking
May 06 2015 at 5:52 a.m.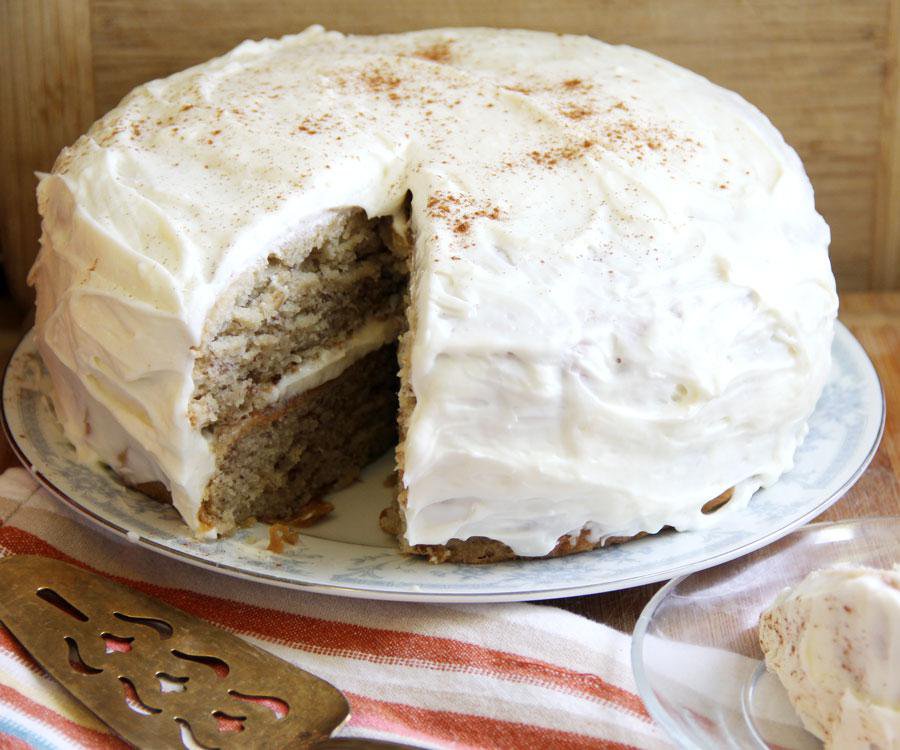 This banana cake will change your life.
Okay, so maybe not, but it will shock you with its deliciousness, which makes it the perfect sweet treat to share with your loved ones this Mother's Day. All of us editors here at 417 are obsessed with banana cake. It's all thanks to St. Michael's Sports Bar and Grill. Besides humongous salads and hot, melty sandwiches, this corner eatery in downtown Springfield serves up huge slices of dreamy banana cake.
Every time we plan a lunch trip to St. Michael's, we secretly know it's that luscious, icing-topped cake that we really want. So one day, our senior editor Savannah Waszczuk decided to try and make our favorite cake at home. Savvy is a great baker, and she came through once again. After finding a recipe on Pinterest (of course) that sounded like it would be pretty darn close to the cake at St. Michael's, she experimented with the banana to flour ratio until she reached the ideal level of moist, banana dreaminess.
Now we are sharing the recipe with you! So go load up on bananas and treat your mom to this fabulous dessert. We have no doubt that soon after you too will be singing love songs about this cake.
Banana Cake with Cream Cheese Frosting
(From Cooking Classy)
Shopping List:
Bananas
Cream Cheese
1 Lemon
Butter
Eggs
Buttermilk
(All available at MaMa Jean's Natural Market)
Ingredients:
3 cups flour
1 teaspoon baking soda
½ teaspoon salt
2 cups mashed bananas
1 teaspoon lemon juice
½ cup butter, softened
¼ cup vegetable oil
1 cup sugar
¾ cup brown sugar
3 large eggs
1½ teaspoons vanilla extract
1½ cups buttermilk
1¼ cups heavy cream
14 ounces cream cheese, softened
1/3 cup salted butter, softened
1¾ cups powdered sugar
½ teaspoon almond extract  
Directions:
1. Heat oven to 325 degrees. Line two round cake pans with aluminum foil and leave some overhang on the side so you can easily pull the cake out of the pan. Spray with cooking spray, and dust lightly with flour. Set aside.
2. Whisk together the flour, baking soda and salt. Set aside.
3. Mix the mashed bananas and the lemon juice. Set aside.
4. Using an electric mixer fitted with the paddle attachment, mix the butter, 2 tablespoons of the vegetable oil, sugar and brown sugar until the mixture starts to get fluffy.
5. Stir in the remaining 2 tablespoons of vegetable oil, and blend in the eggs one at a time on low speed. Stir in the mashed bananas and 1 teaspoon of the vanilla extract. Slowly add the flour mixture, alternating with the buttermilk in batches. Mix until just combined.
6. Divide the batter evenly between the two cake pans, and bake for 45 to 50 minutes or until a toothpick inserted in the middle comes out clean.
7. Allow the cakes to cool completely before frosting.
8. While the cakes are cooling, prepare the frosting by whipping the heavy mixing cream on high speed until stiff peaks form. Transfer to another bowl, and set aside.
9. Blend the cream cheese and butter together until smooth and fluffy. Add in the powdered sugar and remaining ½ teaspoon of vanilla extract and blend together.
10. Add half of the whipped cream into the cream cheese mixture, and gently fold until combined before folding in the other half.