Things to Do
What to do at the Ozark Empire Fair
Want to make the most of your summer? It just so happens that the Ozark Empire Fair is back! Rides, food, live music and much more are all waiting for you from Thursday, July 25 to Saturday, August 3.
by Jamie Thomas
Jul 23 2019 at 10:47 a.m.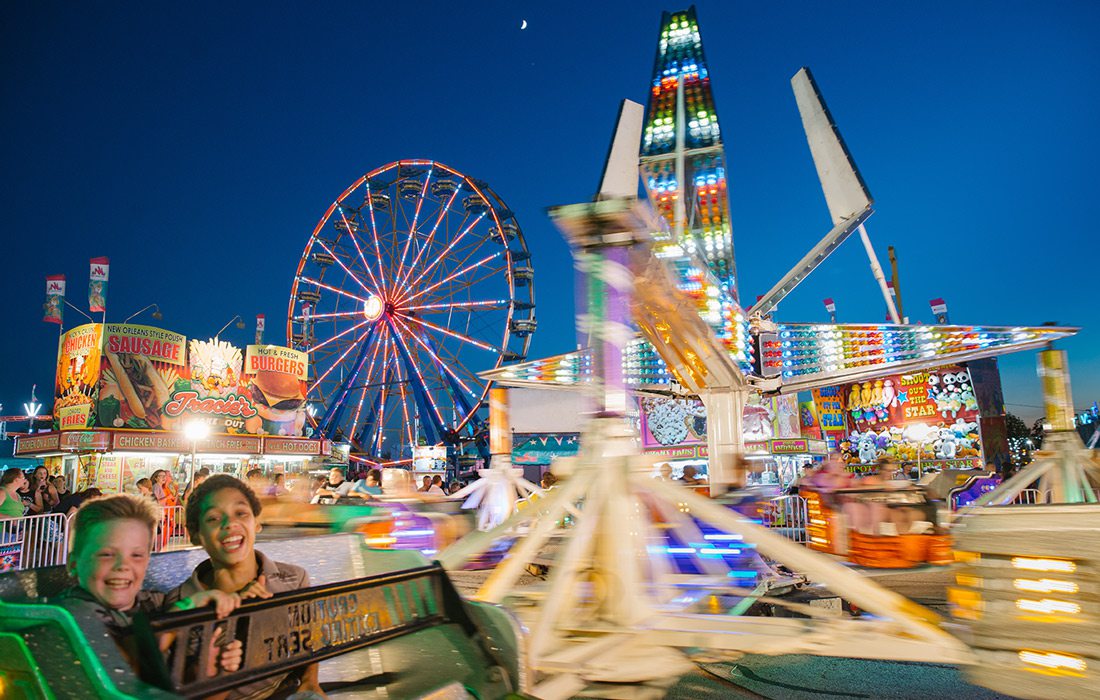 I'm not much of an enthusiast when it comes to thrill rides (you can read this blog about the Branson Skyscraper for more on that), but that doesn't mean I don't enjoy the atmosphere of a theme park or a fairground. The smell of fried food and fresh cotton candy, the flash and glow of neon lights on a warm summer evening, the screams and laughter of people who aren't me from thrill rides that spin overhead. The atmosphere of a fairground can take you right back to your childhood.
With summer in full swing, it's time for your annual dose of fairground fun and maybe a little nostalgia at the Ozark Empire Fair. The fair returns to the Ozark Empire Fairgrounds for 2019 from Thursday, July 25 to Saturday, August 3.
The Ozark Empire Fair kicks off with live music from Kansas on opening night and a guest appearance from Springfield's own Shaun Munday. The fair also features live music from country singer Michael Ray and for KING & COUNTRY, known for singles like "Priceless" and "Glorious."
Admission gets you access to a few free attractions at the 2019 fair. These include Dale Scott's World of Magic, an exotic petting zoo, pig races and livestock shows. Find out about more free attractions at this year's Ozark Empire Fair.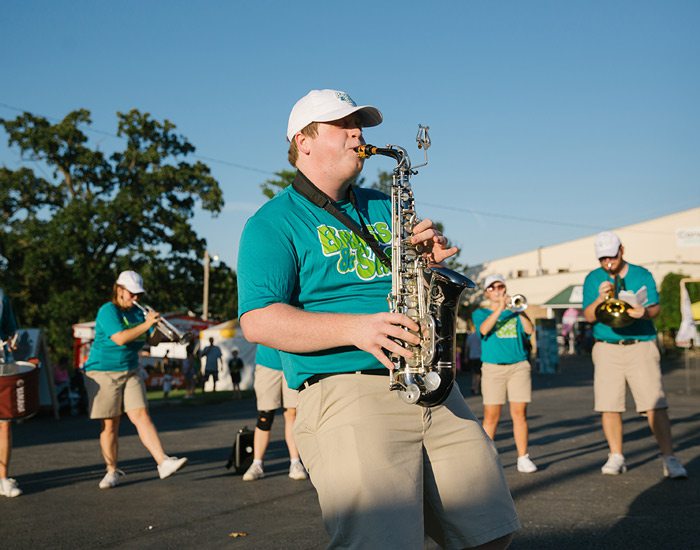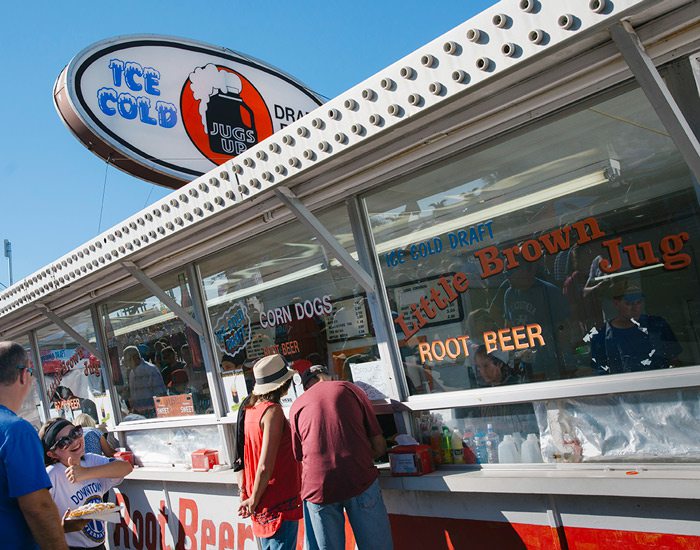 Photos by Brad Zweerink Live music at the parade and classic fairground food.
If you're looking for a rush of adrenaline, there are plenty of rides to give you a thrill. Take a spin in the Centrifuge, swing on the Spider or get flung around on the Fighter. Kids rides and family-friendly rides are also available for little ones, the faint-of-heart and me. Keep in mind that these rides aren't included in the admission price.

What would a fair be without fairground food? Corn dogs, funnel cakes, pretzels, churros, root beer, regular beer, cotton candy and all the carnival classics you've come to know and love will be available.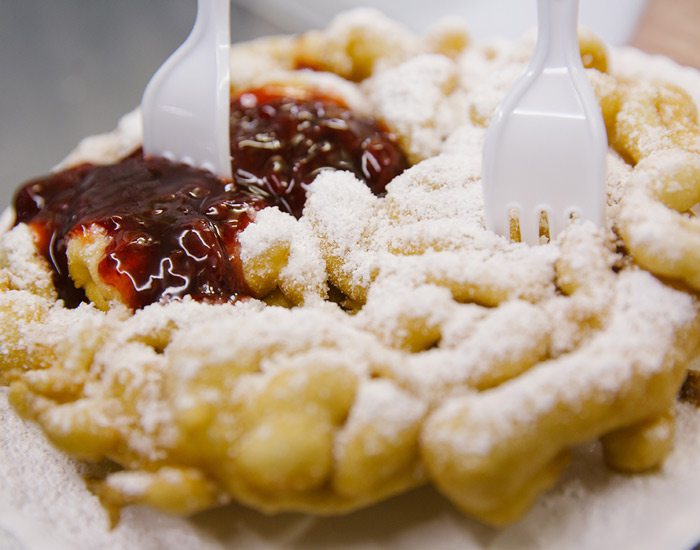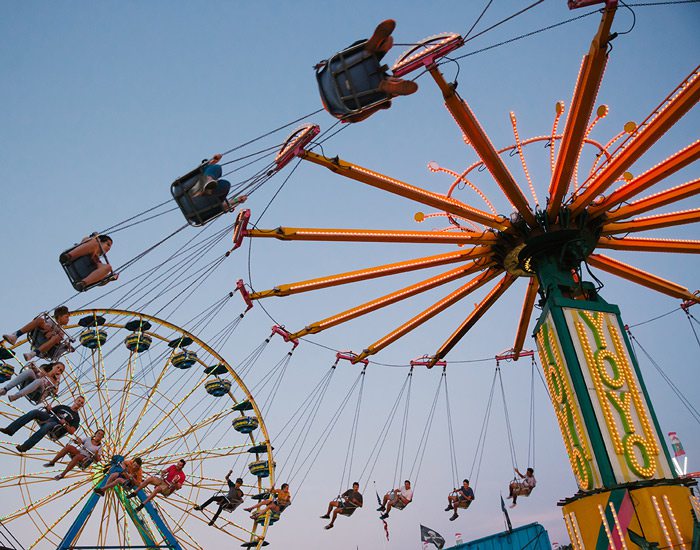 Photos by Brad Zweerink Food and fun at the Ozark Empire Fair.
Ozark Empire Fair Schedul
Discounts and special offers are available on a few specific days.
- $3 Day: Monday, July 29.
- Senior Citizen Day: Monday, July 29.
- Service Day: Tuesday, July 3.
- Free Ride and Military Day: July 31. Rides are free from 1 p.m. to 5 p.m. and entry is free all day to all military personnel and veterans with the proper ID.
Stay Safe in the Sun
The recent heat wave might have passed, but July in the Ozarks can still get blazingly—and potentially dangerously—hot. Check the forecast, make sure to lather up with whatever SPF-grade sunscreen you need and stay hydrated throughout the day. Wear light clothes and consider something to cover the top of your head. All of this goes doubly for small kids, who can get overwhelmed quickly on a hot day. Take breaks indoors or in the shade throughout the day and don't overdo it.
Adults $10, kids (ages 6–12) $5, Superpass $28,
Family Fun Four Pack $105.
Thursday, July 25–Saturday, August 3.