Things to Do
What's Next for the Morris Family and the Ozark Mill at Finley Farms
Purchased by Bass Pro Shops' Johnny Morris, the Finley Farms project kicks off this year with his daughter, Megan Morris, spearheading the project. The Ozark Mill restoration will take center stage and will include a restaurant, speakeasy and more.
By Lillian Stone
May 16 2019 at 4:06 p.m.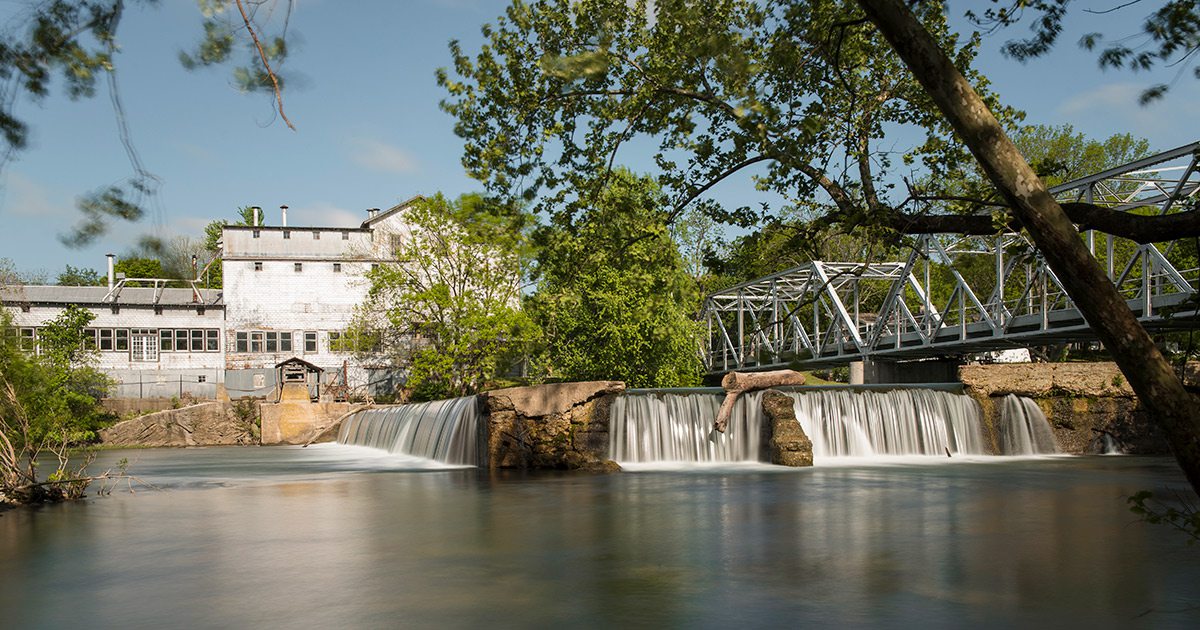 This blog has been updated with new information.
Since 1883, the historic Ozark Mill has been a landmark for generations of Ozark residents. Purchased by Bass Pro Shops' Johnny Morris in the '90s, the property will soon join Big Cedar Lodge, Top of the Rock and Wonders of Wildlife as part of the Morris family legacy. The concept: Finley Farms, a spacious new development that Morris's daughter, Megan Morris, is spearheading. While the 40-acre project will take several years to come to fruition, developers are already making progress. 
What's Happening Now
The Ozark Mill will take center stage as the main project, reopening later this year as a functioning grain mill open for tours. For Morris, the mill is more than a tourist attraction: It's a chapter in her family's story. "My great-grandfather actually lived just up the road from the old mill," Megan says. "It's an honor to be able to preserve the role of the mill in Ozark's history." Her great-grandfather was also a career miller in nearby Willard, making this project particularly special.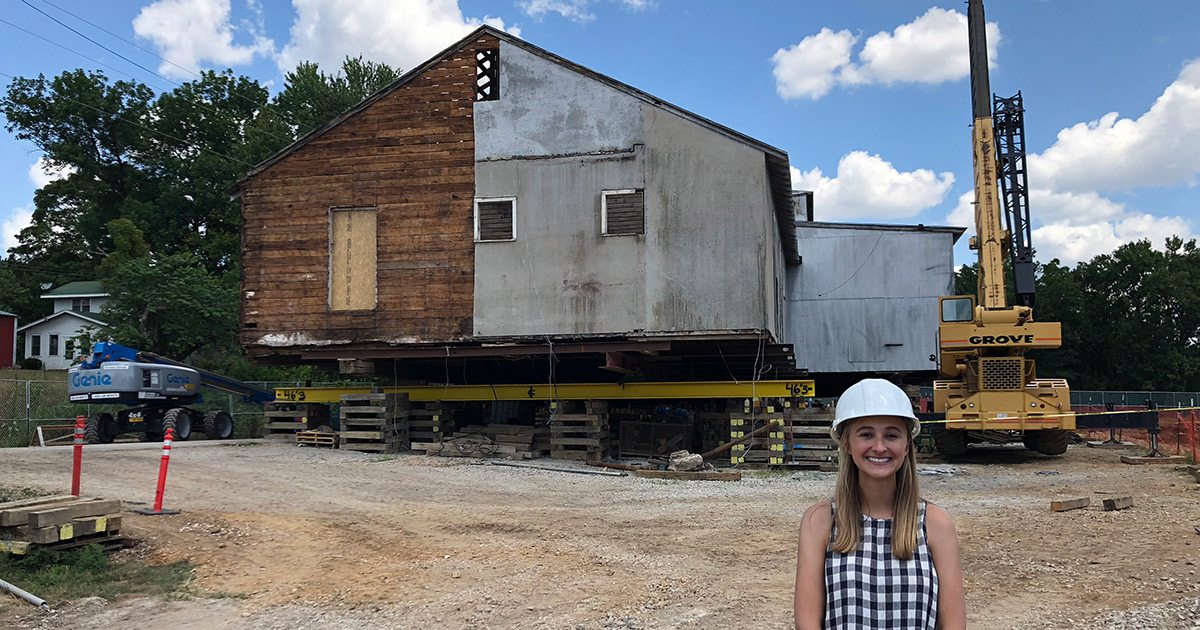 Other attractions in the project's first phase of development include a chapel with both public and private access for guests. Additionally, the Ozark Farmers Market has relocated to the southwest corner of the site. Next to the market is The Workshop, a space that will feature a coffee shop, an urban farm and classes taught by local artisans specializing in traditional skills like seed starting and canning. "It's all about getting people to slow down," Megan says, pointing out that some of her favorite childhood memories involved gardening, cooking and antiquing in Ozark with her mom.

Photos by Corin Cesaric The mill has to be moved a few inches at a time in order to build it a new flood-proof foundation.
What's Next
Phase two of the project is slated to begin in 2020 and includes several attractions: a full-service restaurant that overlooks the Finley River inside the historic mill; a speakeasy-style bar called The Garrison; several private event spaces within and around the mill; nature trails with direct river access and restoration of the historic Riverside Bridge, built in 1906. The latter is a testament to Megan's commitment to Ozark history. "It's a blend of progress and preservation," Megan says, adding that she currently serves as vice president  of the Historic River District, an organization that's devoted to building community and celebrating the rich history of Ozark. "That's one of the great things about working on this project with my dad. He represents the heritage, and I'm working on preserving that for the next generation."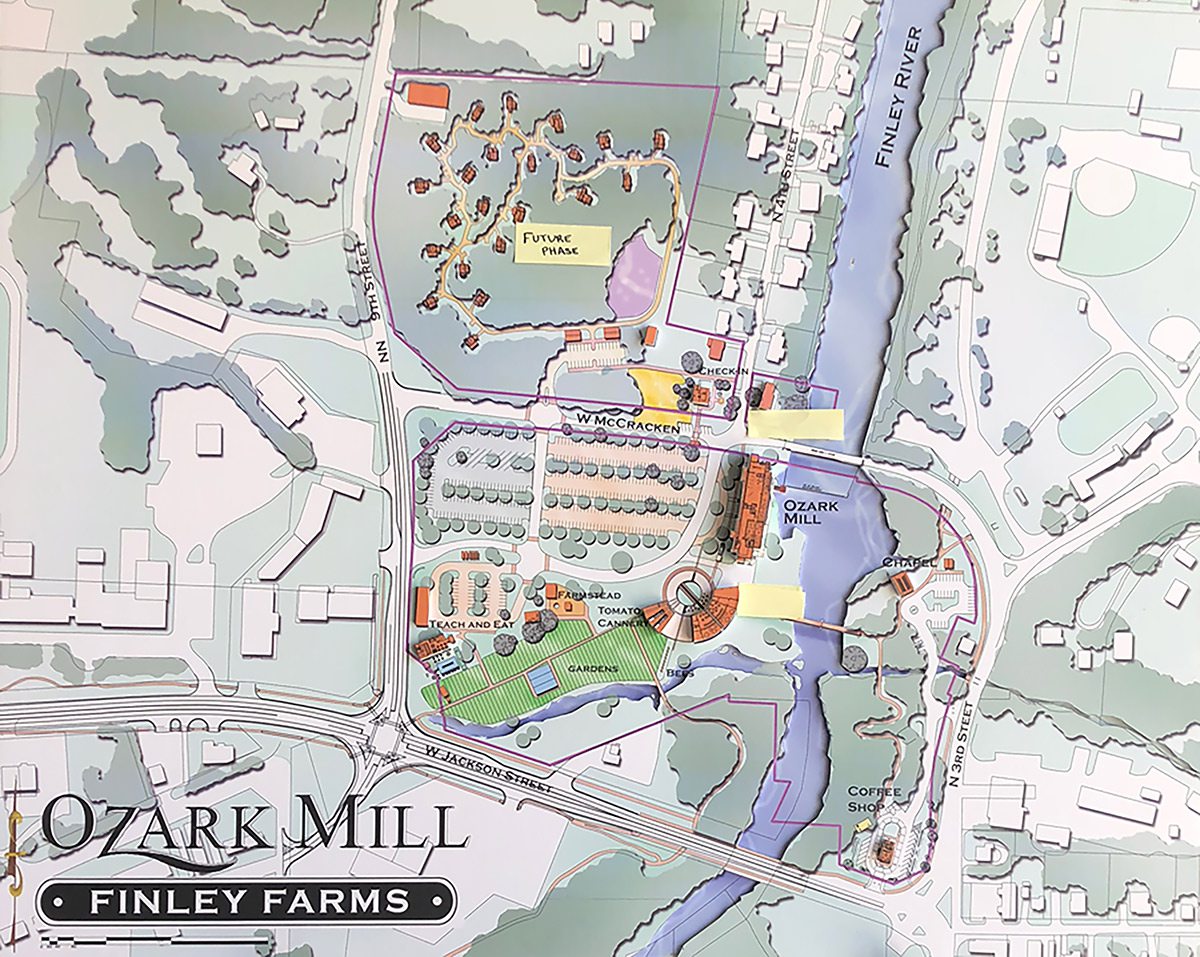 What's New
The Workshop is now open. This spectacular space is a restored industrial building from the 1930's, now converted into a spacious event, meeting or eating space, as well as hosting a variety of crafting and cooking classes. Pie-crust, cheeseboard and ramen-making classes are just a few options of what's already been offered at The Workshop, so add yourself to the waiting list for upcoming events. These events sell out fast, so you'll want to stay notified of what's happening and when. The Workshop can fit up to 99 people.
Also open is The Market Shed, located next to The Workshop. This rustic, seasonal space also offers an outdoor area and can be booked along with The Workshop for events. The Market Shed fits up to 300 people.


On April 26, Finley Farms will host 417 Home Market, presented by Holt Homes Group. Allow the 417 Home team to curate your Instagram-worthy day with a charming marketplace, brunchy bites and sips, workshops, charcuterie boards and tons of home inspiration at The Workshop. Find out more on the 417 Home Market page and make sure to get your tickets now.
Finley Farms Project Phases

PHASE 1
Slated to open
summer/fall 2019
Ozark Mill reopening as a functioning grain mill
Chapel with both public and private access
Ozark Farmers Market relocating to the southwest corner of the site
The Workshop
, a space including a
coffee shop
, an
urban farm
and
public classes
taught by 
local artisans
PHASE 2
Slated to open
2020
A full-service restaurant that overlooks the Finley River (name to be determined)
The Garrison, a speakeasy-style bar
Nature trails with direct river access
Restoration of the historic Riverside Bridge, built in 1906
PHASE 3
Details tentative

Boutique cottages for guest rental

Boathouse with direct waterfront access