Table Talk
Table Talk: November 16–22
This week: New Chef at Bruno's, Thanksgiving Meals To-Go and Colombian Cuisine
By Jorge Cespedes
Nov 16 2021 at 8 a.m.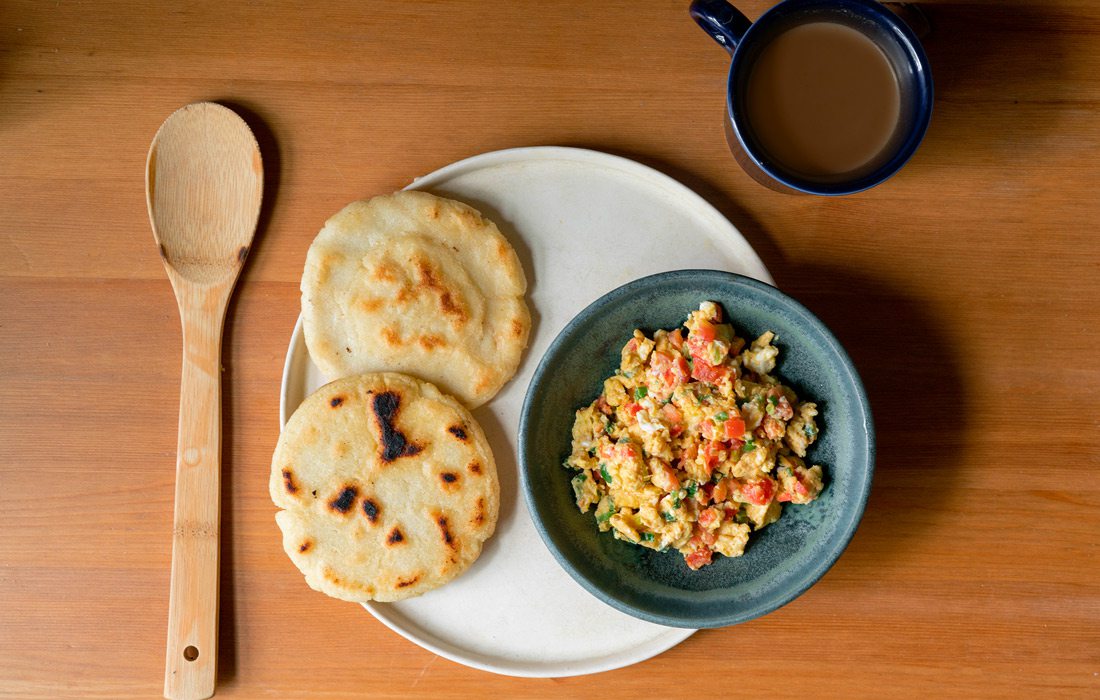 Colombian Cuisine

There's a big, refurbished school bus turned food truck, painted with the colors of the Colombian flag (yellow, blue and red) that's parked at the Route 66 food truck park on St. Louis Street, and you can't miss it. It's called La Chiva Colombiana. This new South American cuisine destination is brand new, just opened for less than a week and it's already making a big splash on our international cuisine map. Colombian food has always been delicious, flavor-packed and unique amongst Latino countries. The current menu is serving papa rellena, a large, mashed potato ball stuffed with shredded seasoned beef, hard boiled eggs and rice. It's deep fried to a crispy golden texture. They also have arepas, a delicious and savory cornmeal cake filled with cheese, beef or chicken; Colombian-style empanadas; and small buñuelos, a round cheese bread normally enjoyed with a hot cup of coffee either in the morning or afternoon. That food is delicious and unique, and I hope everyone gets a chance to try it out.
Banter Brewing

For the last 10 years, I've been focused on the marketing side of food, and part of my interest is in studying the food and beverage market: what's trending, what's new and what are the areas of growth. And I can tell you that microbreweries have been on the rise since day one of my career. I remember the number starting in the hundreds and very quickly reaching thousands, and we just keep adding more. Now, there's a new and exciting brewery with new flavors, textures, and creative delicious beers. It's called Banter Brewing and it's located on your way to Nixa on 330 W. Farm rd. 182, Springfield. Owned by a group of friends who had a dream of one day opening a small-town brewery in the southern side of town, this is a place for the community to come and hang out, chat with strangers, make new friends and enjoy a nice cold one. With a varied menu, there's a beer for everyone: hefeweizen, lagers, IPAs and so much more to come.
Thanksgiving Meals From Progress

If you're like me, you love to go to Progress and have an incredible mea. Maybe it's a special occasion or just another Friday night, but you know you're going to have delicious, modern and very well-crafted dishes with the most creative plating and flavor combinations. Chef Daniel Ernce and his crew have decided that you may also want to enjoy their creations for Thanksgiving dinner and are offering prepared Thanksgiving dinner boxes that serve up to six people, and I can't wait to give these a try. These meal boxes include a main component of smoked and roasted turkey meat, four sides such as bay leaf carrots with pecan vinaigrette, Progress-style mashed potatoes, parker rolls with a maple and black pepper butter and a nutty wild rice pilaf. Oh, and don't let me forget about their pumpkin and chocolate tart for dessert. You have until the 18th to order, so don't spend one more minute and go do it! In case you want a few more options, here is a list that will make your decision much easier.
New Chef at Bruno's Restaurant

This is bittersweet news with a happy ending: Bruno's restaurant, a beloved institution in downtown Springfield, has changed hands in ownership and in the kitchen. Bruno Gargiulo, the owner and chef who started it all, has decided it's time for new adventures and has passed the pizza peel over to a young and determined chef who's excited to introduce a new version of Italian cuisine to Springfield. Chef Taylor Roten wasted no time and is already serving new pasta dishes, has been working on a 24-hour pizza dough recipe and is very excited to modernize the wine list to include a more global selection. Chef Roten is focused on more traditional Italian techniques, while using the best ingredients he can find and providing a well-rounded menu. In the next six to 12 months there will be some noticeable changes happening to the restaurant space with new paint on the walls and art work to highlight the chef's new style. Go check it out!