Dishes
Thanksgiving Meals and Desserts That Don't Involve Cooking
Cooking is time consuming and the holidays are stressful. Avoid the hassle altogether by ordering a pre-prepared Thanksgiving meal or enjoying a turkey day feast at a 417-land restaurant.
By Blake Haynes
Nov 12 2020 at 11 a.m.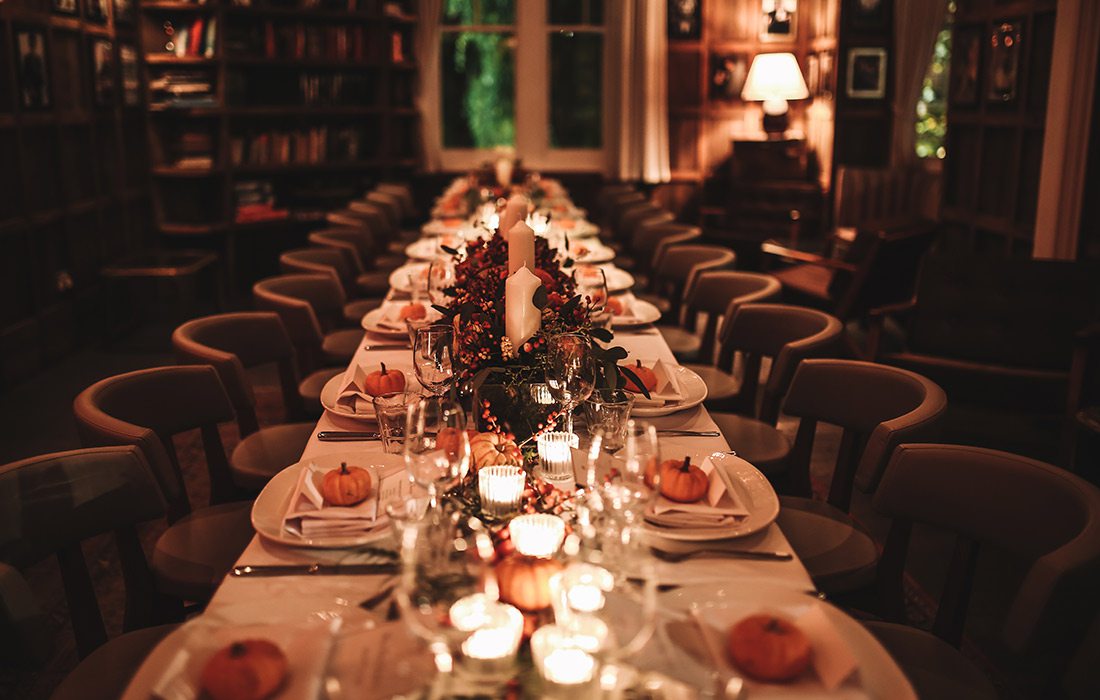 Turkey Dinner and Everything In Between 
603 S. Kimbrough Ave., Springfield , 417-831-5300
Confident about your side dish situation but fearful of over-cooking the star of the Thanksgiving show? Check out Black Market Smokehouse. This Springfield restaurant is selling 13-pound birds coated in a savory and sweet dry rub and smoked to tender perfection for $41.99 each. Call 417-831-5300 to order, and pick up in-store on November 25 from 11 a.m. to 7 p.m. or on November 26 from 9 to 11 a.m.
904 N. Main St., Nixa,  417-886-4630
The team at Dining by Design, typically known for the decadent sweet desserts served by their sister company The Pie Box,  is offering quite the deal for this year's Thanksgiving. For $99, you can order the "Thanksgiving Family Dinner." Included in the dinner are an old fashioned coca-cola cherry jell-o salad, baked rolls with butter, sliced turkey breast, mashed potatoes and turkey gravy, Southern cornbread stuffing, bacon wrapped green bean bundles, sweet potato soufflé, and caramel pumpkin pie with whipped cream. They are offering free delivery or pick up with curbside service November 23–25. There is limited availability, so get your order in fast. For more information call 417-866-4630 or email info@DBDGourmet.com. 
This option is perfect if you have gluten-sensitive folks dining with you. Every item The Gracious Plate serves is gluten-free.
1330 E. Cherry St., Springfield, 417-234-7456
Want both family and individual meal options to take to your friends and families' homes? Homemade Delivered will get you all taken care of. They offer a $99 Thanksgiving Bundle that includes sage roasted turkey breast, brown buttered mashed potatoes, turkey stock gravy, roasted green beans, traditional sage dressing, mulled cranberry sauce, and a 6-pack of dinner rolls. This bundle will serve 3–4 people. You can also purchase individual soups, entrees, sides, desserts, and breads. These are at varying prices between $5–$28. You can either pick up your items or they will also deliver to your home.
1720 W. Battlefield Rd., Springfield, 417-881-1950
With 16 holiday meals to choose from, Hy-Vee pre-prepared dinners are ideal for hosts catering to a large group, picky eaters or people with food allergies. Visit the website to select a main course meat like turkey, ham or prime rib, then customize your meal by choosing from a long list of side dishes and desserts. These cold dinners should be ordered online about two days in advance. Each order comes with detailed heating instructions, making this Thanksgiving meal option totally foolproof. Prices range from $21.99 to $269.99.
200 E .Main St., Branson, 417-243-3433
This steakhouse, nestled inside Hilton Branson Convention Center Hotel, offers an upscale family style Thanksgiving meal from 11 a.m. to 3 p.m. on Thanksgiving Day. This year's menu will include main options of smoked turkey, prime rib, and ham. The sides include sausage cornbread stuffing, candied yams, loaded mashed potatoes, and green beans and carrots. Finish off your filling meal with an array of dessert options. Choose from peanut butter mouse macarons, chocolate cake, lemon bars, classic pumpkin pie and more. The price is $70 per person, $35 for children between the ages of 6 and 12, and children 5 and under are free. Call Level 2 Steakhouse to make reservations.  
610 W .College St., Springfield, 417-869-4755
Why worry about cooking a turkey yourself? Lost Signal has got you covered. This year, they are offering 50 smoked turkey orders. The turkeys are $4.99 per lb, and are available in either a 12 to 14 lb or 18 to 22 lb sizes. The last day to put your order in will be Friday, November 20, and there will be two pick up options. Either November 25 from 11 a.m. to 8 p.m. or November 26 from 10 a.m. to 2 p.m.
381 McNabb Rd., Marshfield, 417-468-2032
Are you searching for vegan Thanksgiving meal options? Look no further! Polymath Educational Cafe in Marshfield has a vegan meal for the price of $14.99. Pick up day will be Wednesday, November 25.
Multiple 417-land locations
Spiral ham or full roasted turkeys are the centerpieces of the meals you can order, and there are also  plenty of traditional side options.
2340 W. Grand St., Springfield, 417-766-2946
Simply Delicious Market's "Thanksgiving Feast" will be open for orders between November 16–25. They are offering ready-to-heat traditional meals with smoked turkey, citrus ham, and all of your favorite side dishes, including sausage and herb stuffing, garlic mashed potatoes and honey garlic butter carrots. After you're done with your main course, enjoy apple, pumpkin or pecan pie as well as red velvet, pumpkin and chocolate whoopie pies. Ordering can be accessed through Simply Delicious' Facebook page or Instagram. You can pick up your order Monday November 16 from noon to 6 p.m., Tuesday November 17–19 from 10 a.m. to 6 p.m., Friday November 20 from 10 a.m. to noon, Monday November 23 from noon to 6 p.m., Tuesday November 24 from 10 a.m.to 6 p.m., and Wednesday November 24 from 8 a.m. to noon. 
206 E. Elm St., Ozark, 417-582-1912
The Finley has the perfect takeout Thanksgiving package ready for you! Their menu includes a herb roasted turkey, roasted apple and sage stuffing with onion, mashed potatoes and classic giblet gravy along with other special sides. Top off your meal with pumpkin or pecan pie with fresh vanilla whipped cream. The meal feeds up to 6 people and is $180. Orders must be placed by November 21 and pick up will be on Thanksgiving Day, November 26, between 11 a.m. and 2 p.m.
608 W. Walnut Lawn St., Springfield, 417-920-5960
Whipped Cream and Other Delights' vegetarian Thanksgiving menu is an amazing option for you, a couple or your family. You start by selecting the individual option, which serves 1–2 people, or the family option, which serves 4–6 people. Then pick your entree, choosing between either stuffed seitan roast or stuffed squash. You will also pick your pie, picking from their pecan, pumpkin, apple crumb, and chocolate creme options. The meal is also served with onion gravy and 6 delicious sides. The meal ranges between $25–$125. Additionally, you can add as many pies as you want for $20 each. Your order must be put in by November 22 at 11:59 p.m. Hurry fast, because they have a limited amount of spots. Pick up will be on November 25 from 8 a.m. to 6 p.m.
Don't Forget Dessert!
1108 E. Walnut St., Springfield, 417-831-6095
Amycakes takes your favorite holiday flavors and bakes them into delicious treats. Their holiday menu includes lavish cakes, cupcakes, hot and fresh cinnamon rolls and a parfait sampler. The cakes are $32.99 with options of apple crumble, pumpkin spice, triple chocolate ganache and triple berries 'n' cream. You can also order either pumpkin spice or apple crumble cupcakes with pricing starting at $16.99. The hot and fresh cinnamon rolls are a Friday special starting at $16.99 and the parfait sampler is $39.99. Most items are required to be ordered a week to 10 days in advance. 
607 S. Pickwick Ave., Springfield, 417-315-8602
If you're looking for scrumptious pies, fresh baked breads, cornbread and pumpkin rolls, B+B Boulangerie will take great care of you. Their pie options this year are maple bourbon pecan, classic pumpkin, Ozark apple, honey-thyme apple, traditional cherry and chocolate chip cookie. All regular sized pies are $20, while the petite sized pies are $10. Add to your Thanksgiving meal with festive holiday rolls, wild rice and onion bread, maple granola bread or a great pumpkin brioche. They've also got cheesy cornbread—a perfect blend of salty, sweet, corny and cheesy. If you want to add something special to your meal, order the fall leaves pumpkin roll. It's hand painted leaves on pumpkin chiffon cake filled with salted caramel and maple-bourbon French buttercream. Pick up for your special sweets are Tuesday, November 24 from 1 p.m. to 3 p.m. and Wednesday, November 25 from noon to 3 p.m.
100 E .Pine St., Strafford, 417-736-0035
Debbie Rich of Allie Mae's Bakery is baking your favorite holiday pies and warm dinner rolls. The pie options are apple, pumpkin, and cherry, each at price of $19.99. There is also a frozen apple pie available for $18.99. Dinner rolls are $6.99 a dozen. The ordering link will go live on Monday, November 2 and stay open until Wednesday, November 18. Pick up will be available November 23–25 from 7 a.m. to 4 p.m. 
307 S. Jefferson Ave., Springfield, 417-459-8222
Indulge in your favorite Thanksgiving pies, by ordering through Prairie Pie. They have six options to choose from and all you have to do is order online and pick up at their new downtown location. The pie options they provide are sweet potato pumpkin pie, caramel apple pie, honey custard with sea salt, chocolate pecan pie, cinnamon buttermilk pie, and pecan pie. All six pies are the same rate of $25. 
Thanksgiving Safety from the Springfield-Greene County Health Department
If you are planning to have some kind of event or get-together this Thanksgiving, it's important to think hard about safety and do some careful planning. The Springfield-Greene County Health Department recently sent a press release about its new guidance for Thanksgiving to keep everyone healthy for the holidays. Some of the key takeaways from the new guidance are:
• Hold a smaller event and hold it outdoors, if possible
• Have a shorter get-together and maybe spread your celebrations out a few days
• Limit your travel and use your own vehicle whenever you can, as well as limiting the number of stops whenever possible
• Change your greeting style: we all know the elbow-bump by now, but it's important to avoid hugging or handshakes, as much as we might want to do both
• Avoid contact with family or friends who you know are or have been sick
• Remember to wash your hands and regularly use hand sanitizer
• Wear a mask when out and around other people.
To see the fully guidelines, which also includes a risk assessment quiz and links to more detailed information, head to the Springfield-Greene County Health Department page on Thanksgiving safety.
---
Editor's Note: This page was last updated with new information November 12, 2020 and will continue to be updated as additional Thanksgiving meal options are found.