Dishes
Thanksgiving Meals That Don't Involve Cooking
Cooking is time consuming and the holidays are stressful. Avoid the hassle altogether by ordering a pre-prepared Thanksgiving meal or enjoying a turkey day feast at a 417-land restaurant.
By Hanna Flanagan
Nov 05 2018 at 1 p.m.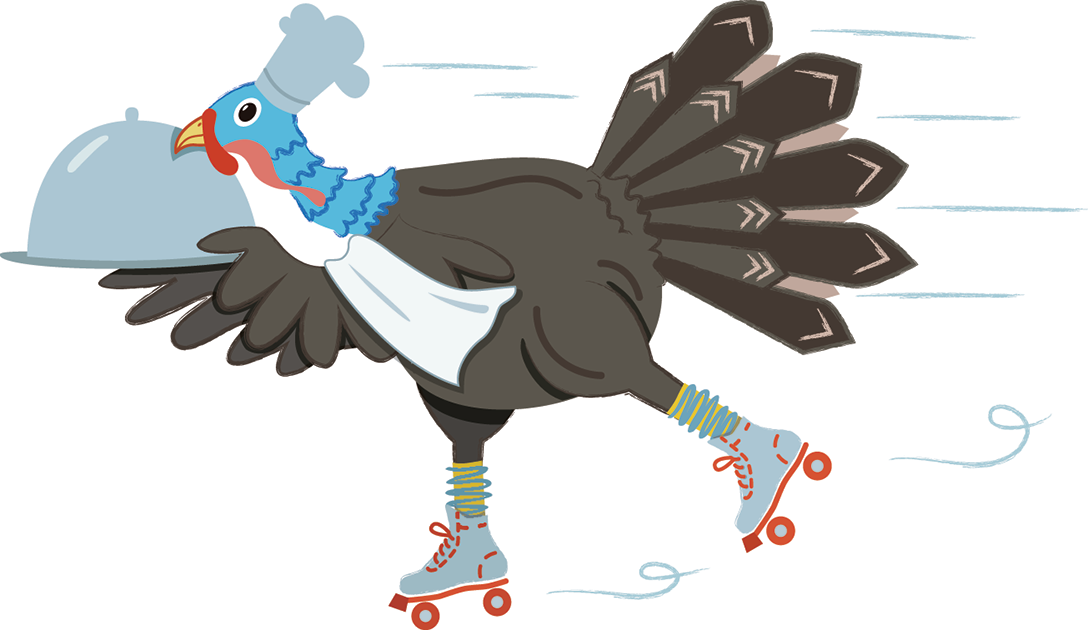 Level 2 Steakhouse
200 E. Main St., Branson, 417-243-3433
This steakhouse, nestled inside Hilton Branson Convention Center Hotel, offers an upscale buffet from 11 a.m. to 3 p.m. on Thanksgiving Day. The mouth-watering entrees like herb-crusted prime rib, orange- and ginger-glazed salmon, and house-smoked and oven roasted turkey are just a few of the menu standouts. Priced at $60 for adults, $30 for children ages 6 to 12 and free for children 5 and younger, this buffet also has a variety of salads, traditional Thanksgiving side dishes, breakfast bites and sweet treats. Call Level 2 Steakhouse to make reservations.
Big Cedar Lodge
190 Top of the Rock Rd, Ridgedale, 1-800-225-6343
Even if you're not a hotel guest, Big Cedar Lodge has you covered this Thanksgiving, offering three different buffets. Devil's Pool Restaurant is open on Thanksgiving Day from 10 a.m. to 8 p.m., offering meals at $39.95 for adults, $17.95 for children ages 4 to 12, and free for children 3 and younger. The menu is a balance of standard brunch items like made-to-order omelets, waffles and ham, as well as foodie picks like roasted strip loin and gluten-free macarons. Starting a bit earlier at 9:30 a.m. is The Worman House Thanksgiving feast, which has an entirely different menu from Devil's Pool Restaurant. The highlights? A carving station with roasted turkey, maple-glazed ham and prime rib. The third and final Big Cedar Lodge Thanksgiving feast is set at Top of the Rock's Osage Restaurant, Buffalo Bar and Arnie's Barn Restaurant from 11 a.m. to 8 p.m. Reservations are required for all Big Cedar Lodge Thanksgiving options. 
Aviary Café
2144 E. Republic Rd., Suite E120, Springfield, 417-881-9736
Your favorite brunch spot just got even better; Aviary Café chefs are pre-making entire Thanksgiving meals, available for order by phone at 417-866-6378 or email at catering@aviarycafe.com before November 17. The $200 meal includes oven-roasted and sliced boneless turkey, mashed potatoes, green beans, traditional Thanksgiving dressing, cranberry sauce, rolls and candied yams with homemade marshmallow fluff. So, basically, it's time to kick your Thanksgiving cooking plans to the curb. These all-in-one baskets serve 8 to 10 people and are available for pickup on November 21 between 10 a.m. and 3 p.m. at the Farmers Park location. 
Black Market Smokehouse
603 S. Kimbrough Ave., Springfield, 417-831-5300
Confident about your side dish situation but fearful of over-cooking the star of the Thanksgiving show? Check out Black Market Smokehouse. This Springfield restaurant is selling 12- to 15-pound birds coated in a savory and sweet dry rub and smoked to tender perfection for $45 each. Purchase online here before Saturday, November 17, and pick up your order in-store on November 21 from 11 a.m. to 7 p.m. or on Thanksgiving Day from 9 to 11 a.m.
Hy-Vee
1720 W. Battlefield Rd., Springfield, 417-881-1950
With 15 holiday meals to choose from, Hy-Vee pre-prepared dinners are ideal for hosts catering to a large group, picky eaters or people with food allergies. Visit the website to select a main course meat like turkey, ham or prime rib, then customize your meal by choosing from a long list of sides dishes and desserts. These cold dinners, which should be ordered online about five days in advance, are available for pickup after November 2. And each order comes with detailed heating instructions, making this Thanksgiving meal option totally foolproof. Prices range from $49.99 to $299.99. 
Pro Tip: Hy-Vee does not allow customers to re-enter the online portal after making a purchase, so employees recommend nailing down the details in advance. Finalize your Thanksgiving plans and triple-check your guest list number before placing an order. 
Price Cutter
417-land Price Cutter stores
Purchasing a Thanksgiving meal from Price Cutter could not be more convenient; simply call your local Price Cutter deli three to four days in advance, then pick up your dinner at any of the 417-land locations. Side dishes vary, but all three choices (the Turkey Dinner, the Deluxe Turkey Dinner and the Spiral Ham Dinner) serve six to eight people and include a pumpkin pie dessert. Starting at $59.99, theses dinners come cold but can be heated and ready to serve in just 90 minutes.