Table Talk
Table Talk: September 22–29
New spaces for old-favorite bakeries, pancakes with a side of sunflower-picking and two new sauces from a local company.
Katie Pollock Estes
Sep 22 2020 at 8 a.m.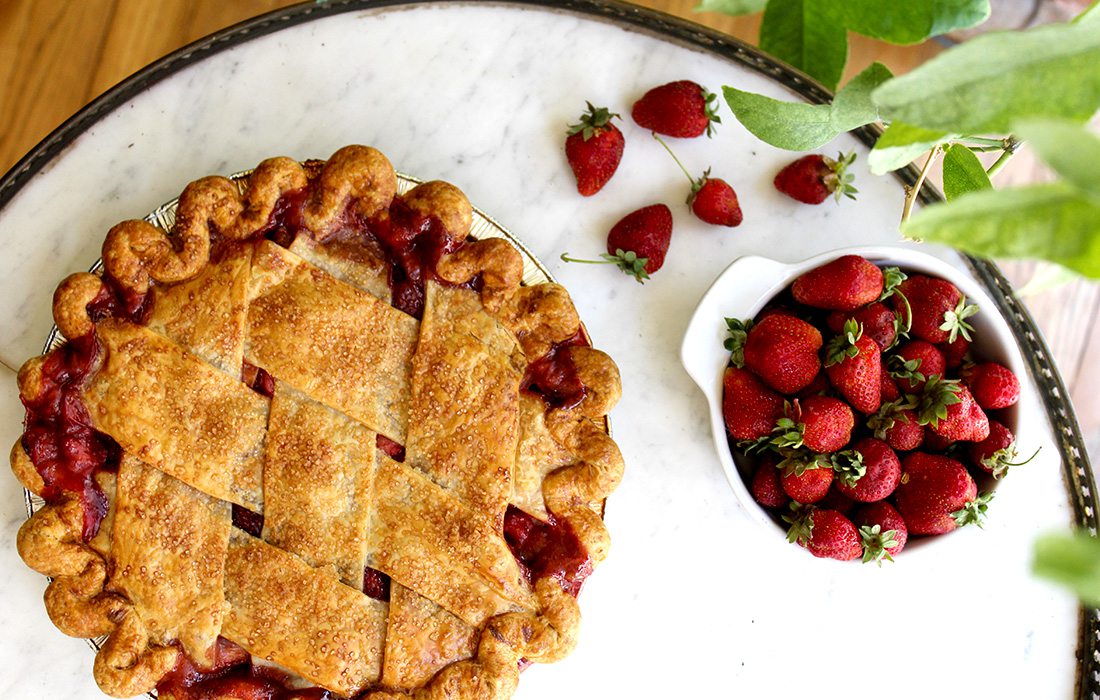 Big Bakery Updates
Some of our favorite local bakeries have big things in the works, as they gain storefronts or redo existing spaces to better serve their customers.
Let's start with our friendly local purveyor of practically perfect pies: Prairie Pie. Owner Eleanor Taylor has been baking in the commercial kitchen at Vito's Kitchen for a few years now, but starting in 2021 she'll flipping the space—and remodeling it so she can serve her treats in a sit-down bakery to be designed by Pickwick House, as reported by Tessa Cooper for Feast. In the meantime, while we wait for our chance to sit down at the storefront and tuck into a slice of the best strawberry rhubarb pie on earth, we can still order owner Eleanor Taylor's desserts through the Prairie Pie website.
Farmhouse Bakery in Joplin is known for baking delicious breads from scratch (along with fun stuff like toaster pastries and cinnamon rolls) and selling them at the weekly Joplin Empire Market. Now, they're super-close to opening a new kitchen (which they're remodeling to fit their needs) to keep up with all those bread orders. Now we just need to get out to Joplin to get our hands on what looks like some beautiful challah bread.
And finally, European Cafe is temporarily closing its doors this week through September 23 so they can work on a little revamp—the first since opening seven years ago. The cafe said the counter is being updated and extended, but at this point that's all we know. We can't wait to see the end result! We'll celebrate with a macaron.
Sunflowers and Pancakes
It looks like sunflowers and pancakes go together like peas and carrots. Who knew? This weekend, Burtons Farm in Billings is hosting a U-Pick Sunflowers and Pancake Breakfast event. They are slinging the freshly made from scratch pancakes and offering loads of toppings to spruce them up. After you tank up on a hearty breakfast, you can hit the fields and gather some sunflowers—so your home can get spruced up too. Admission is free and sunflowers are $2 each.
Goodies to Go
A couple of weeks ago, we told you about Simply Delicious Market. Now we have some menu items to share, so you can get an idea of what kinds of goodies are available for take-out. The entree menu features everything from Korean beef bulgogi to Hawaiian ham and cheese sliders, and they are all packaged up to serve four people. You can also buy Simply Delicious faves for your pantry, like root beer barbecue sauce, a list of eight salad dressings, homemade quick pickles and (pause to pray to the gods of self-control) 32-ounce tubs of chocolate chip cookie dough. The entrees, sides and desserts that are available rotate each week, for that sweet combo of convenience and variety. Visit the Simply Delicious Facebook page to see upcoming menus.
And in other to-go news: At The Workshop Finley Farms, new menu items include some scrumptious options that you can order to-go, such as a scoop of creamy chicken salad that come with baguette slices. Look for super-fancy toasts, and grab a lavender Earl Grey tea latte too. They'd all make great picnic eats for a lazy afternoon by the Finley River.

Some Saucy News
It seems like Date Lady, the Springfield-based business that creates all sorts of date-centric food products plus drinks and baked goods at its Cafe Dhibs drive-through, always has something new to get excited about. Right now, it's their two new sauces that they've added to their lineup. The sweet chili sauce starts with California-grown dates and includes chili pepper flakes (among other ingredients) to spice things up a bit. The barbecue sauce also starts with dates, of course, and also features tomatoes, apple cider vinegar and a blend of spices. That barbecue sauce is already kind of a big deal; it won a best new product Sofi Award in the barbecue sauce category this summer. You can purchase the sauces and other Date Lady products online or from local shops like Culture Counter, MaMa Jean's Natural Market, Hy-Vee, Harter House and Price Cutter.