Recipes
Danielle Giarratano Shares a Family Recipe
417 Magazine's Editorial Designer, Danielle Giarratano, shares a love-filled recipe passed down through her Colombian family.
by Danielle Giarratano
May 2021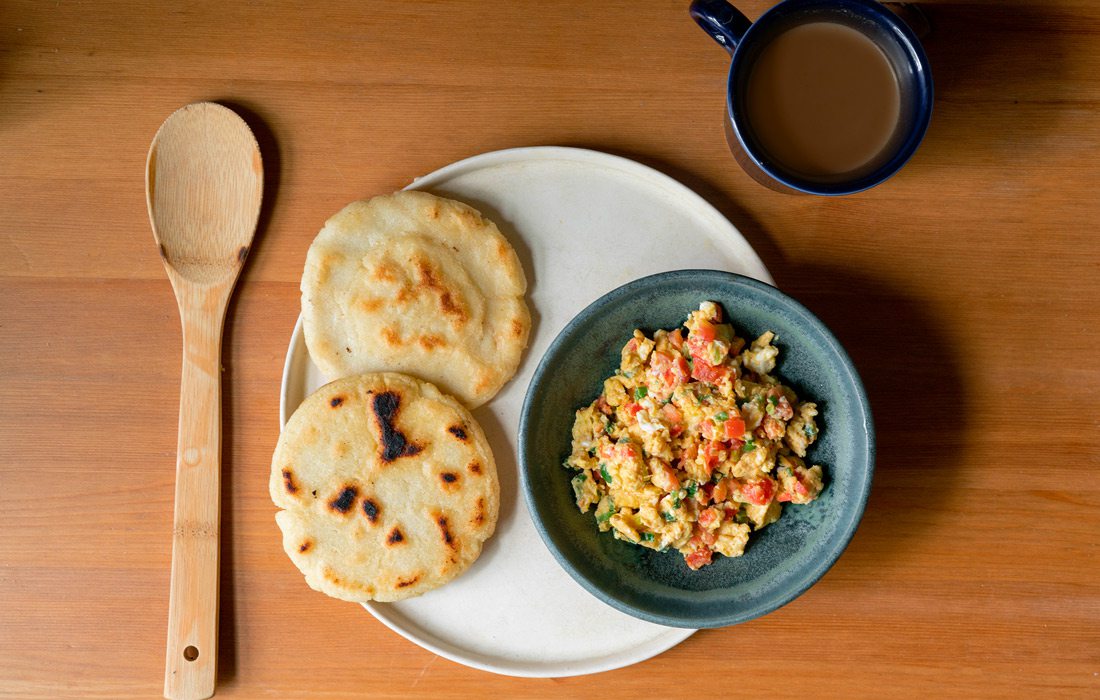 One of the most important things to know about Hispanic culture is that food is one of our main love languages. For centuries it has been an expression of devotion that (primarily) the matriarchs provided to their family and community—it's a non-verbal way of communicating love and care. The act of cooking with your family, especially with a mother or grandmother, is an intimate one. You are not only learning recipes and methods, but you are realizing that the food tastes so good because of the history and culture that's intertwined in it.
My mother was born and raised in Cali, Colombia, and came to America when she was 20. She grew up on her mother's cooking, and I got to grow up on both of theirs. I can vividly remember asking my mom why nothing ever tasted as flavorful or delicious as her cooking, no matter how similar the recipe. "It's because it's made with all my love," she would say. As a kid I always thought her response was a cop out answer to some hidden family food secret, but as I grew older and became more involved in her process of cooking, I realized what she meant. The flavors come from the heart of the cook.
One of the first dishes I learned to make was arepas, which are essentially a grilled cornmeal cake native to Colombia, Venezuela and Panama. Arepas can be eaten many ways, but a traditional Colombian breakfast consists of arepas served with huevos pericos (Colombian scrambled eggs with tomato and scallion). Another preparation is to cut the arepa through the middle and stuff it with ingredients such as pork, avocado, queso fresco, pickled red onion, cilantro or whatever you'd like. Although the ingredients in an arepa are simple, there is a specific method to shaping the dough with your hands into a perfect, even circle. To this day I still cannot create one as perfect as my mother's or grandmother's.
I believe that for Hispanic communities, food is emotional. It is the root of some of the strongest bonds and warmest memories. Preparing and eating meals together, sharing stories and laughter, dancing Cumbia or Merengue—they're all sources of our joy. Although food isn't one of the traditional love languages, it absolutely is for us.
Try Out the Recipe
Follow along below and try out the traditional Colombian dishes yourself.

Arepas
Yields 4
Ingredients:
• 1 cup pre-cooked white corn meal (such as P.A.N.® (at our local Latino markets)
• 1 cup lukewarm water
• ¼ tsp salt (or to taste)
• ⅓ cup shredded Mozzarella cheese (optional)
Method:
Combine all ingredients in a bowl and knead until a soft, moist and malleable dough is formed. Divide the dough into four balls and carefully press in between the palms of your hands, forming it into a ½ inch thick patty (for thinner and crispier, make it closer to ¼ inch). If the dough cracks a lot on the edges and is crumbly, you may need more water. The dough will naturally crack a little, just gently pat along edges to smooth.
Add butter or oil (whatever you prefer) to a pan or griddle and place over  medium heat. Place arepas in pan and cook each side for about 5 minutes, until golden brown.
Huevos Pericos (Colombian Scrambled Eggs)
Serves 4
Ingredients:
• 8 eggs
• 2 Roma tomatoes
• 5 scallions
• 1 tbsp. olive oil
• Salt and pepper to taste
Method:
Heat olive oil in a pan over medium heat.

Chop scallions and dice tomatoes, then saute until liquid from the tomato evaporates. Cook for about 3–4 minutes. Add beaten eggs to the pan and scramble until just cooked. Once plated, add salt and pepper to taste.
This dish is typically served with hot chocolate (such as Nestle® Abuelita Hot Chocolate, which can be found in local supermarkets or Latino Markets) or cafe con leche y azúcar (coffee with milk and sugar).