Table Talk
Table Talk: May 30–June 5
This week: A new happy hour to add to your schedule, 3-in-1 concept eats coming to Springfield and more.
by Tessa Cooper
May 30 2023 at 8 a.m.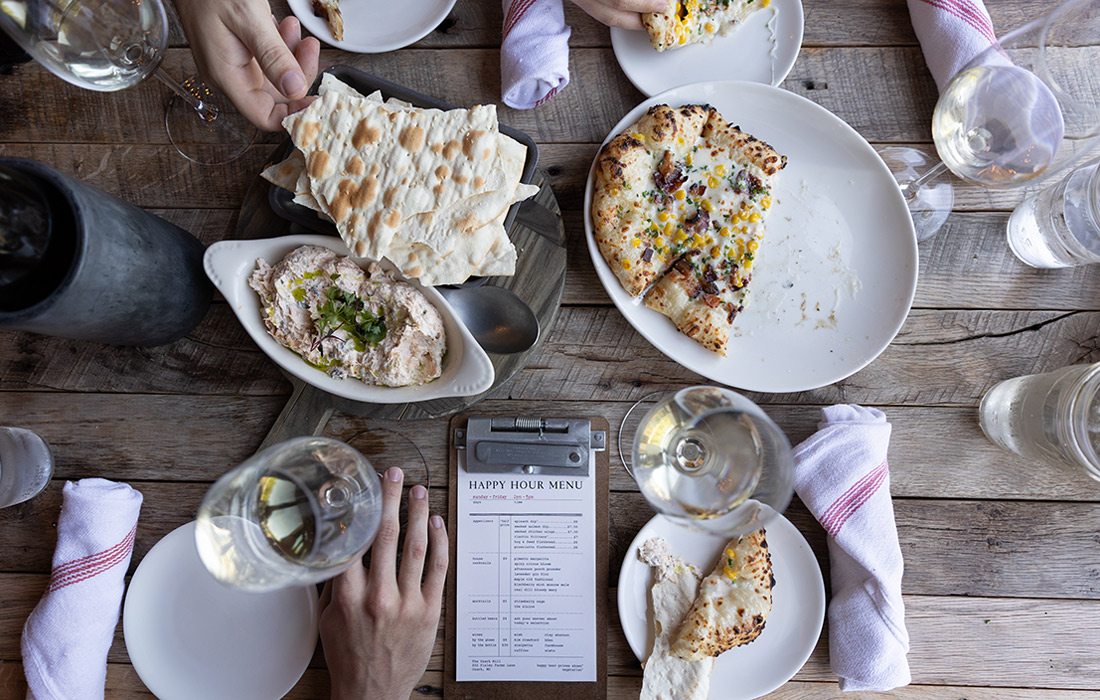 Another Happy Hour for Your Rotation
The Ozark Mill Restaurant at Finley Farms invited us to experience their new happy hour, and we've gotta say they have some great deals going on with it. When you're going to the Ozark Mill Restaurant for dinner, it is undoubtedly hard to decide between the appetizers. However, if you go there for happy hour, you can indulge in them all for half the price. For a group of four, we recommend splitting a bottle of wine, such as the Sauvignon Blanc by Kim Crawford, which comes to your table chilled and has a crisp taste. It pairs very well with the two flatbreads on the menu, but the prosciutto flatbread with parmesan and perfectly ripe cherry tomatoes was our personal favorite. The two dips on the menu, which are the creamy spinach dip and the chilled salmon dip, are also super easy to split amongst friends. For a group of six, just go ahead and order the smoked chicken wings and the risotto fritters too, in which case you'd get to sample all the appetizers on the menu. The happy hour runs Sunday through Friday from 2-5 p.m., so it's an especially great stop if your office practices early-out Fridays in the summer.
Something's Brewing on Sunshine…
East Springfield is getting a new neighborhood gathering spot this summer! Cleverly named Before and After Brewing, the part coffee shop, part brewery is opening up at 2940 E. Sunshine in the Southern Hills Shopping Center (which is currently undergoing renovation). The four co-owners are Doug Riddle, David Soper and Brent and Marci Sonnemaker, and the group has already proven themselves through their other food-centric business ventures like Team Taco and City Butcher and Barbecue. Soper, former head of production at Mother's Brewing Company, is taking the lead on the beverage program. Riddle tells us they're on track to open in late June, so very soon! We'll keep you posted and let you know the must-try drinks and bites, but you can expect a little bit of everything. So far, the lineup includes beer and cocktails with some nonalcoholic options sprinkled in, plus coffee and elevated-yet-fun bar food.
Big News for Branson
The Ozarker Lodge is a boutique hotel that's coming to Branson, and it sounds like it's bringing some tasty things with it. Hotel guest or not, you'll be invited to the lobby to enjoy espresso-based beverages with beans roasted by Kingdom Coffee and beer and natural wines by companies like Good Clean Wine. On the food side of things, there will be pastry offerings, a cheese plate featuring Terrell Creek Farm cheese, sandwiches, salads and quiches. The lodge's café, Storeroom, will serve dishes for you to enjoy in the rustic-meets-modern lobby, but some food will also be available in a grab-and-go cooler. We're excited to relax with a glass of wine in hand by the open garage doors that overlook the neighboring green scape when they open come June 15.
It's Almost Lunch Time for Missouri Mike's
Fans of Missouri Mike's BBQ & More, meet Deli Mike's, coming soon to 2040 S. Glenstone Ave. This new concept will serve the housemade deli meats and sandwiches that grew a cult-like following as specials at Missouri Mike's. Expect meat-forward subs with their signature roasted turkey, roast beef, Italian beef and chicken, all topped with loads of fresh veggies. And they also plan on serving other favorite go-to lunches, including filling salads and pizza, but not just any pizza—Nanann bread pizza. We'll let you know when opening day comes so you can count down the hours to your first lunch there.