Health
What It Takes to be a Springfield Little Theatre Dancer
Audience Development Intern Corin Cesaric put her dance skills to the test alongside Springfield Little Theatre's die-hard dancers, who never stop moving throughout the two-and-a-half hour performance of Disney's Newsies.
By Corin Cesaric
Sep 07 2018 at 11 a.m.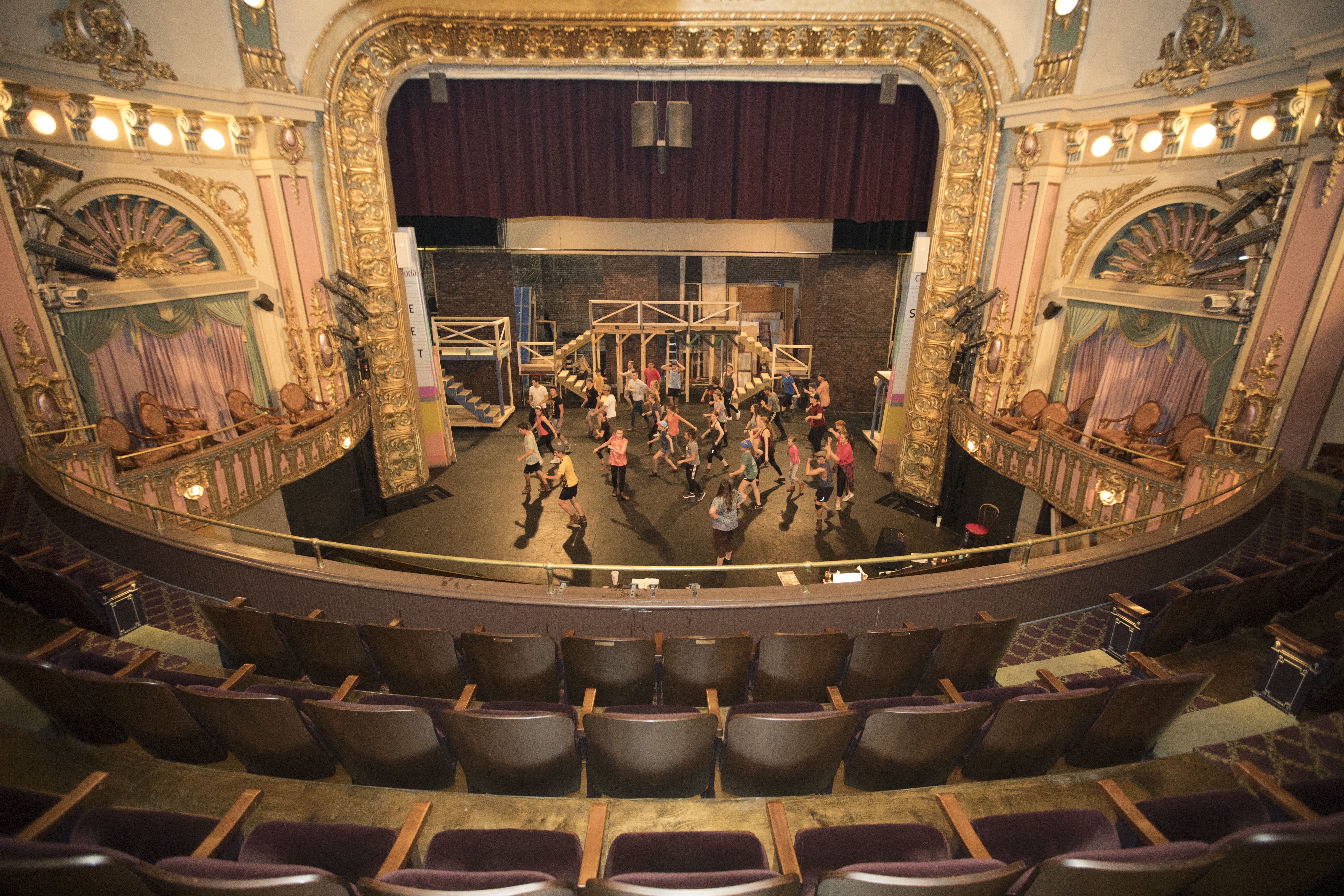 Aside from dancing in my kitchen and watching every season of So You Think You Can Dance with my mom, I don't have any dance history or training. Now, that ritual has ended, my mom gives me the scoop on how the dancers are doing. When I was asked to do a dance-focused story, I thought my hours of watching would help me. It did not. The dancers make every move look so easy, but I soon learned that this is serious (and sweaty) business.
PRESENTED BY:


Warming Up 
A couple of weeks into my internship, I made my way to the historic Landers Theatre, which serves as Springfield Little Theatre's home. When I arrived, I found Lorianne Dunn, Springfield Little Theatre's education director and choreographer, rounding up the dancers in the upcoming musical Disney's Newsies. Dunn is the real deal: she's been with the theater for 15 years. She asked if I was a dancer, to which I replied no. She said that I looked like a dancer, and that was good enough for me. Fake it 'til you make it, right? 
The musical is set in turn-of-the-century New York and follows a newsboy named Jack Kelly, who rallies teenaged "newsies" around the city to strike against unfair conditions when the distribution prices are raised. There are more than 60 cast members, with the youngest being just 10 years old. 
Leading up to the show, the newsies, who are the die-hard dancers in the musical, rehearse every night Sunday through Thursday. They show up to the theater at 6 p.m., rehearse until 10 or 11 p.m., and perfect new scenes each time. 

I hopped on stage with them and the warm up began. Dunn stood in front of me and the dancers, and slowly walked through the steps while using dance terminology that is way over my head. There were roughly 30 dancers on the stage that Tuesday evening—all stretching, warming up and dancing at once. 
After the warm-up, I took a break while the cast showed off their skills and performed a fast-paced scene they had already perfected in past rehearsals. Then it was time to learn a brand-new act. I joined them back on the stage that overlooked the theater and tried to follow along as best as I could. 

Photo by Brandon Alms
The cast stays focused during rehearsal. Cesaric is in the maroon.
Purchase Photo
""They're so talented. They never quit moving.""
— Megan Buchbinder, Springfield Little Theatre's Marketing Director
Learning The Steps
Things escalated quickly once the rehearsal got underway. At first I was able to keep up with the slower pace, but it quickly sped up and, before I knew it, we were dancing at a high-speed tempo and taking it from the top. This is when things got tricky. Just when I thought I was about to have the steps down for one part, we moved on to a whole new set. "They're so talented," says Megan Buchbinder, Springfield Little Theatre's Marketing Director. "They never quit moving."
I tried to keep my eyes on the person's feet in front of me, but I realized that made things worse. The best thing to do was to look toward Dunn while repeating the steps in my head. 

Right, left, right, leap!
While Dunn used dance terminology like fifth position, barre and adagio, I was just hoping to not trip over my own legs while doing a barrel turn. At one point, I kicked someone or they kicked me... I'm not sure how it all happened considering how fast the dance was going, but I am sure that it left a bruise on the inside of my right ankle. 


The Musical
During the rehearsal, the newsies were lively, enthusiastic and in-sync. They picked up the dance with ease and paid close attention to the direction Dunn gave. The rehearsal was intense. They were dancing. Singing. Jumping. Leaping. Acting. And this wasn't even the entire cast.
I don't think I'll be making my way to auditions anytime soon, but I would gladly practice with the cast again. Only this time, I would make sure I knew some dance terminology beforehand. 
So, what does it take to be a Springfield Little Theatre dancer? A whole lot of energy, training, dedication and some serious skill. Newsies' opening night is September 14, and the musical plays for four weeks. Get tickets here to see the cast break a leg!  
Springfield Little Theatre Season Performances
Want to try it?
If you're interested in trying out for one of the upcoming musicals, check out the audition schedule. Audition workshops are also available before the try outs take place.
Springfield Little Theatre
311 E Walnut St, Springfield
417-869-1334