Life
Swim with Sharks at Wonders of Wildlife
Wonders of Wildlife's brand-new attraction brings a slice of the sea to southwest Missouri.
By Dayle Duggins
May 2018
SWIMMING WITH SHARKS AT WONDERS OF WILDLIFE
Dreaming of dipping a toe in the ocean's salty water? Yearning to snuggle a shark? A 12-hour drive used to be all that separated you from your desires. Thanks to Wonders of Wildlife (WOW) and Johnny Morris, that is no longer the case. 

WOW's newest addition is the Out to Sea Shark Dive, where brave souls can get up close and personal with brown sharks, tiger sharks, Atlantic Goliath grouper, barracuda and colorful reef fish. Participants slip into wetsuits and state-of-the-art air helmets before immersing themselves in an underwater cage.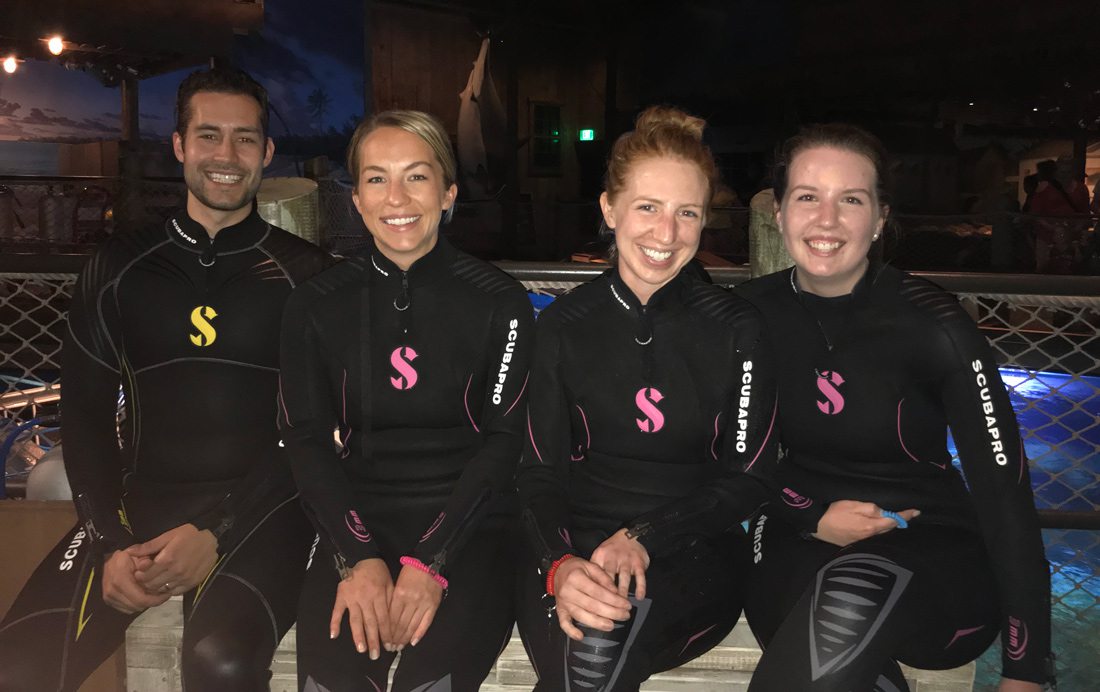 Before its public debut in mid-June 2018, we got the chance to experience the new attraction. Of the four staffers that took a dip, none of us had ever swum with sharks or sea critters. The closest we came was petting a stingray. 

When we arrived at WOW, we navigated the museum before swapping out our work clothes for wetsuits. In changing rooms located right next to the exhibit, we were able to lock up our belongings and quickly shower to make pulling on a wetsuit easier. 

Once we were suited up, we watched an informational video that outlined the most important portions of the experience: safety (including keeping those fingers inside the cage!) and hand signals used to communicate while underwater. 

Shortly after, we stepped into the water and made our way to the ramp where a massive oxygen helmet apparatus is lowered onto your head before you step underwater. If you're claustrophobic, this experience is not for you. It takes a moment to adjust and a bit of encouragement, but once acclimated to your personal diving bell, the excitement of the fish surrounding you will have you exploring the perimeters of the cage.

Between the helmet and the sturdy cage, safety isn't a concern when underwater. Watching the sharks whip around the tank and seeing a 400-pound grouper that resembled a school bus was a mesmerizing experience. The divers say occasionally the giant fish curiously approach the cage, and smaller ones even enter the space; unfortunately, we weren't graced with an up-close encounter on our visit.

Our experience lasted about 20 minutes. Once open to the public, the full experience will last an hour and a half from beginning to end, according to WOW. To up the ante even more, you can pay extra to dive during a feeding frenzy. In our opinion, the extra $25 would be totally worth it. In addition, divers receive a ticket to WOW, a commemorative T-shirt, an underwater camera and a flash drive with photos. 

As if WOW wasn't already impressive enough, this subaquatic adventure solidifies its position as one of Springfield's leading tourist attractions. Keep an eye on WOW's website and Facebook to snag one of the first spots. 
Out to Sea Shark Dive at Wonders of Wildlife
Online reservations required
Suitable for kids ages 10+
$130 Out to Sea Shark Dive ($90 for members)
$155 Out to Sea Feeding Frenzy ($115 for members)