Recipes
Private Chef Anna Davis Shares Her Secrets for Making Homemade Bone Broth
Turn kitchen scraps and dinner leftovers into a pot of liquid gold by whipping up a batch of bone broth with help from private chef Anna Davis.
By Anna Davis
Apr 2020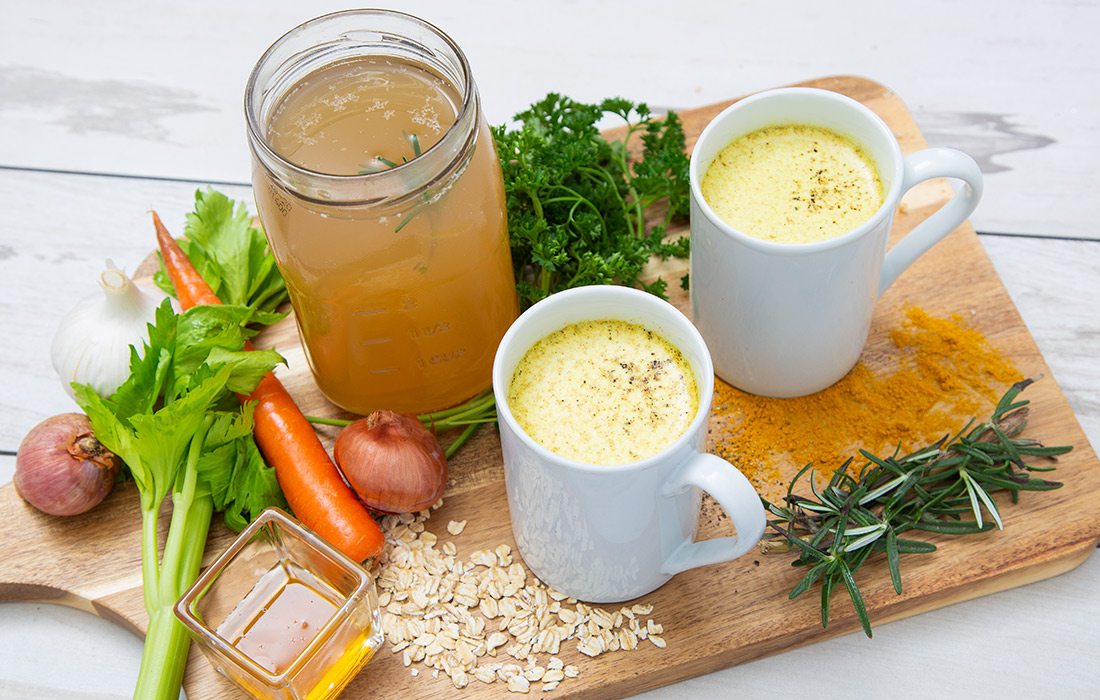 Broth is liquid gold, but what makes this stuff so special? Not only is it full of healing qualities, but this tasty liquid is versatile, enabling us to enjoy its benefits year-round. With spring in full bloom, the possibilities for light broth-based soups, fresh pasta sauces, creamy gravies and detox drinks are inexhaustible. Homemade bone broth is by far the best-tasting broth—and the best for you. If you're wondering where to start, look no further than your own freezer.
Remember all the scraps and grisly pieces leftover from your slow-cooked pot roast or the chicken carcass and gnawed-off leg bones after roasting a chicken? Don't throw out the "yucky stuff." Keep saving it and freezing it until you have enough to make your bone broth. The leftover waste from a good dinner has more tasty nutrients in it than any other part of the chicken or beef meal you just cooked. When these scraps and bones are roasted first, it intensifies the flavor even more. And then, simmering those bones in water for hours allows time to release all those nutrients into liquid form, so you can easily digest and reap all its benefits.
Bone broth is rich in minerals that help strengthen your bones and contains healthful nutrients including vitamins, amino acids and essential fatty acids. Studies show broth supports the gut and heals digestive issues through a special protein called collagen. After your broth cools, it gets gelatinous. This is the collagen at work. The "jellier" your broth, the healthier it is. This  protein forms gelatin with amino acids that support an anti-inflammatory response to bad gut bacteria going on inside us. Collagen is also a natural beauty product and is good for your skin, hair and nails. It even helps support effective sleep.
With a little patience, lots of bones, and some water, the benefits of bone broth are just steps away. Spruce things up by adding your own natural color, seasoning and thickeners to it. My favorite current use for broth is a creamy oat and turmeric latte. I never thought I'd like anything better than coffee, but this has me addicted, and now I drink it every morning. Using oats results in an extremely creamy and silk-like drink with extra-energizing and anti-inflammatory ingredients of turmeric and ginger.
Book Recommendations
Anna Davis shares her recommendations for cookbooks that offer even more fantastic broth recipes.
• Broth and Stock from the Nourished Kitchen: Wholesome Master Recipes and How to Cook with Them by Jennifer McGruther
• Bone Broth Secret: A Culinary Adventure in Health, Beauty and Longevity by Louise Hay and Heather Dane 
Yields about 8 cups broth
Ingredients
4 pounds chicken or beef bones
1 yellow onion
2 stalks celery with leaves
5 cloves garlic
3 carrots
Enough water to cover bones
1 tablespoon black peppercorns
1 bunch parsley
1 tablespoon apple cider vinegar
To Prepare
Roast bones, onion, celery, garlic and carrots uncovered in an oven at 450ºF for about 20 minutes. Flip everything over and roast another 20 minutes until bones retain a nice browned color. Place the roasted bones and vegetables in a large (at least 6-quart) stockpot and cover with water until everything is submerged. Add the peppercorn, parsley and vinegar. Bring to a light boil. Reduce heat to a simmer and cover. Cook on low heat for 24 hours, adding a little water if necessary. Remove from heat and let cool slightly. Strain broth through a fine mesh sieve to keep any impurities out. Let chill and scrape off the fat that has collected on the top. The bone broth can be frozen for several months or kept in a sealed container in the fridge for up to six days.
---
Ingredients
4 cups homemade or organic broth 
¼ cup rolled oats
2 teaspoons turmeric powder
1 teaspoon freshly grated ginger 
1½ teaspoons salt
1 tablespoon honey
1 small stick fresh rosemary leaves
½ teaspoon ground black pepper
2 teaspoons cider vinegar
Pinch of cayenne pepper
2 tablespoons fat of choice: coconut oil, Kerry gold Butter, ghee
To Prepare
Heat all ingredients together in a medium pot. Bring to a simmer. Using a blender or emulsion mixer, blend until mixture is smooth and foamy. Adjust seasoning if more sweetness or saltiness is desired.
---
Ingredients
1 bunch asparagus
1 bunch scallions
2 sunchokes
1 tablespoon ghee
4 cups bone broth
Salt to taste
1 tablespoon ghee
¼ cup toasted macadamia nuts
3 tablespoons cream
sour cream for garnish
Asparagus curls, optional
To Prepare
Cut asparagus, scallion and sunchokes into a small dice. Place in a medium pot with ghee and sprinkle with salt. Saute at medium-high heat until softened. Meanwhile, finely chop macadamia nuts and spread on a baking sheet. Toast in the oven at 350º for five minutes. Add the broth to the sauteed vegetables and toss in the toasted nuts. Let simmer for 15 minutes. Place in a blender or Vitamix and puree with cream. Serve with a dollop of sour cream and some fresh asparagus curls.
---
Chef's Note: Authentic risotto from Italy has never used cream or milk in it. The creaminess comes from the actual rice itself. Butter and Parmesan are added at the end to elevate this dish's creaminess, but no other dairy products are used.
Ingredients
2 tablespoons olive oil
1 leek, finely diced
3 cloves garlic, minced
2 cups short-grain Arborio rice
Salt and pepper to taste
½ cup dry white wine
5 cups bone broth, warmed
¼ cup chopped dried shiitake mushrooms
½ cup fresh peas
⅔ cup freshly grated Parmesan cheese (This must be fresh—none of that powder stuff!)
2 tablespoons Kerrygold butter
Toasted hazelnuts
Pea sprouts and extra Parmesan for serving
To Prepare
Heat two tablespoons of oil in a deep skillet. Add leek and garlic. Saute until translucent on medium-high heat. Add the rice and sprinkle with salt and pepper. Cook rice for 5 minutes, stirring frequently. You do not want the rice to burn or toast. It should start turning translucent, and when this happens, add the wine. Let boil until wine is mostly absorbed, and then add one cup broth, stirring in the mushrooms at this time.
Continue stirring and adding more broth as it absorbs. The stirring releases the starch from the rice, which creates the creaminess in risotto. Giving it several good vigorous stirs helps release this starch even more.
Cook and stir until rice is softened and very creamy. Fold in fresh peas, grated Parmesan, and butter. Continue cooking for a few more minutes until the cheese and butter have melted.
 Remove from heat. To serve, sprinkle with hazelnuts, extra Parmesan and pea shoots.