Profiles
Personal Chef Anna Davis on How to Do it All
A true Renaissance woman, Anna Davis does it all. She flexes her culinary chops as a personal chef, but she also fills her days with music, language, running and so much more.
By Jeff Houghton
Jun 2019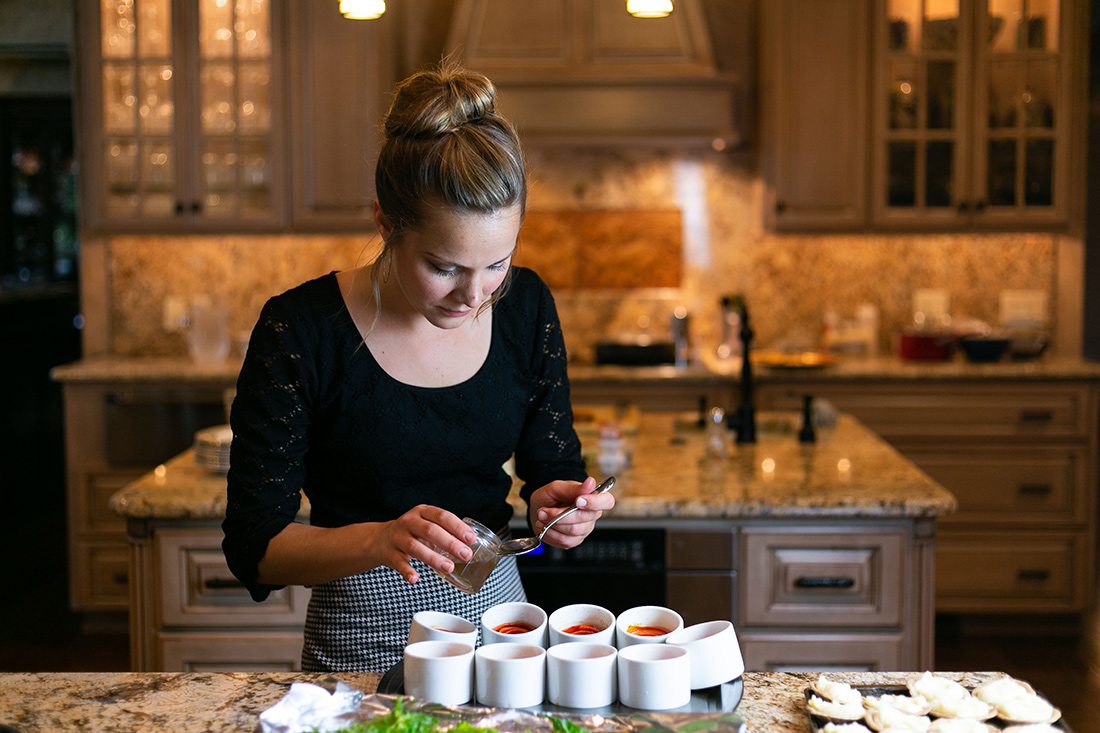 It's hard to pin down what Anna Davis does. Most notably, she's a personal chef, both for events and for smaller gatherings in homes. On top of that, she teaches piano lessons and sings. Whatever she's doing at the moment, Davis brings a meticulous passion to it all.
417 Magazine: How do you approach your menus?
Anna Davis: Every single menu is different. I meet with a client beforehand to talk about a menu, so there's a lot of pre-planning before to figure out what that person wants and creating it for their personal palate.
417: What made you think you could do this here?
A.D.: I've never really even thought about it; it just happened. When I decide I want to do something, I go after it 100 percent. I knew the food scene was developing, and I saw what Springfield didn't have, and that's what I want to give it. My specialty is Scandinavian cuisine, and now I'm focusing on South African as well.
417: What does your recipe development look like?
A.D.: All the menus that I create for the private events that I do, I develop all of those recipes. I'm constantly developing recipes. The one I'm working on right now is for a competition that I'm going to be doing. That's kind of how I got into cooking was doing the recipe competitions.
417: What does a recipe competition look like?
A.D.: You submit recipes, and if you get on to the final, you go there and compete against people. I've done a few of them in the past. I like the intensity, but I have to wait awhile before I do another one.
417: What do you think about the Springfield food scene?
A.D.: I really love how it's developing more and more and quickly. People are actually wanting to branch out and try more things. That's been really recent; even three years ago I couldn't do what I'm doing now and have enough clients.
417: Is it hard to adapt all the time? 
A.D.: As a private chef, I'm in a different location for every single event. I only bring my knives; that's all I bring. I go before the event into the kitchen and get an idea of it.
417: I imagine there's a lot of timing involved when you're cooking for large groups, so you have to know where everything is.
A.D.: It's true; I go in and open up all the cabinets and figure out what they have.
417: Do you think it could feel maddening to be stuck in a restaurant kitchen?
A.D.: I've been in enough that I don't want to do it for a living. I do go to different restaurants in the summer and go get more training, but I wouldn't want to do it all the time.
417: Do other people do that? Is that a thing in the industry?
A.D.: So, yeah, it's called staging, and people in the higher-end restaurants do it.
417: Do you get paid?
A.D.: It's trade. I'm working for them, and I'm learning as well.
417: Is it hard to travel for an event?
A.D.: I'll get asked to do an event somewhere else, and I'll bring a bag full of spices and odds and ends. I get stopped almost every single time I fly somewhere.
417: In addition to being a chef, you're also a piano teacher. How often do you give lessons?
A.D.: I have 14 students now and do those on Monday, Tuesday [and] Wednesday.
417: Have you ever had an event where you've been hired as a chef and a singer?
A.D.: I haven't yet done that. I have played piano for something before. It's hard to serve it as well as do that. I love that idea.
417: So, is there anything I'm missing? Anything else you're doing?
A.D.: I'll be visiting Norway again this summer, so I'm taking Norwegian lessons and want to be able to connect more with the people and culture this time around as I study their cuisine more. So studying Norwegian is a normal day-to-day occurrence for me. I'm also currently taking an online course to get my gastronomy certification, and I do that every evening. 
417: That sounds like plenty. How do you relax?
A.D.: I run every day.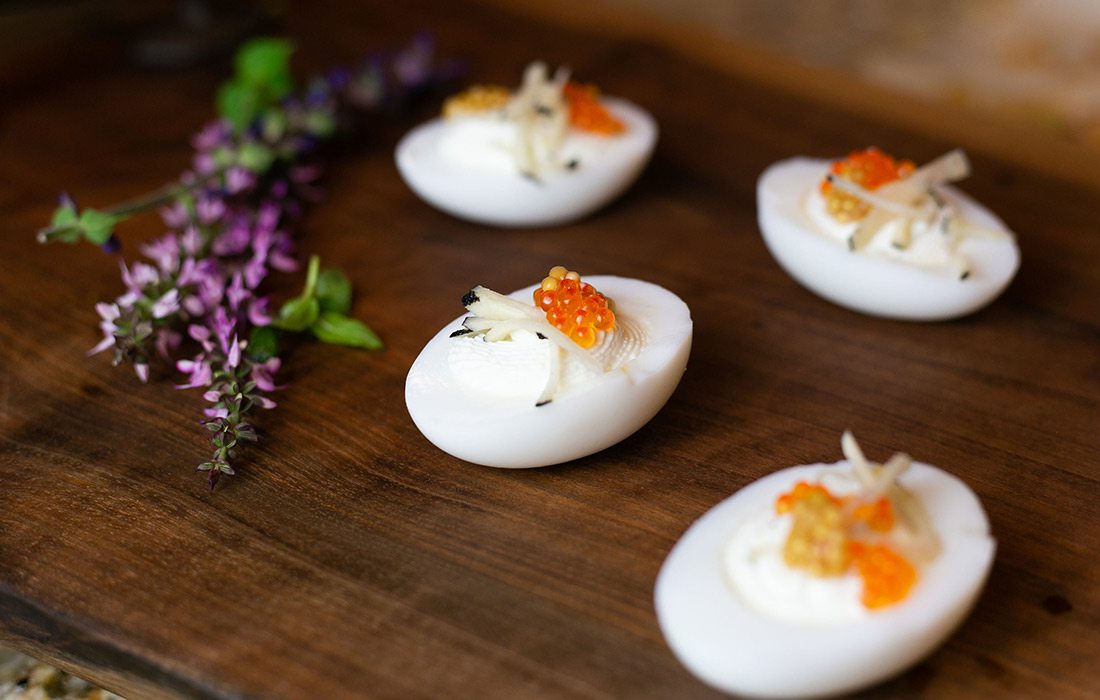 Photos by Tessa Cooper From recipe ideation to the grocery shopping to the final preparation of the dishes, Anna Davis puts a lot of care and thought into her craft.
A Day in the Life of Personal Chef, Anna Davis

8:30 AM | Anna Davis is at The Coffee Ethic with laptop out and notebook at hand. It's Friday. She's researching recipes for an event she has coming up and a recipe competition on the horizon. She's also working on her summer schedule that will involve staging for restaurants in New York and South Africa, where she'll have the chance to learn from other chefs. 
9:12 AM | MaMa Jeans Natural Market on Campbell is the first stop for Davis to get ingredients for a new recipe she wants to experiment with. She's surrounded by containers of spices and ingredients. Carrying a jar from the shelf to the counter, she scoops out some bee pollen and puts it in a clear baggie—it's one of her favorite ways to naturally sweeten a dessert. 

9:47 AM | Davis is at Lucky's Market, one of her favorite spots for meat. She couldn't have had this job a few years ago, but people want to experiment more; they're more adventurous with their food. Davis talks to the employee behind the meat counter. They don't have 80/20 ground chuck in stock. She needs to try somewhere else.

10:14 AM | After a call to Hörrmann Meats to be sure they have it, Davis is at the store to pick it up. First, she peruses the meat selection and notices they have camel meat. While the butcher gets her the 80/20 ground chuck they talk about camel meat, surmising it's probably pretty close in taste to elk meat.

10:48 AM | Davis is on to the Brown Derby International Wine Center. The recipe she's working on requires just the right cheese. Grocery shopping is an interactive experience for Davis. She talks to the cheesemonger behind the counter about the particulars of cheese.
11:06 AM | Shopping is done for the day, a little shorter than usual, which is great because it will give her time to get a jog in. Her afternoon piano lesson had to cancel, giving Davis more time to do, well, everything else she manages to do.

3:00 PM | Davis is finally in a kitchen; she's prepping for a seven-course Scandinavian dinner for several people in a home setting. She's getting familiar with the kitchen while she's working from a list she's made, with times for when each element needs to be done, and drawings of how she wants the plates to look.

6:30 PM | It's time to serve the appetizer. She has stations set up around the kitchen in order to pull off the complexity of doing this by herself. It's important she gets everything out hot. Davis has printed off menus and served everyone, then after opening the room up to questions, she hurries back into the kitchen to be ready for the next course. Going slow isn't her thing anyway.