Profiles
Five Questions with Jeff Schrag
This month, Mother's Brewing Company turns 5 years old. Founder and Owner Jeff Schrag chats with us about the brewery, the community and the exciting new developments on the horizon.
Written by Katie Pollock Estes | Photos by Vivian Wheeler
May 2016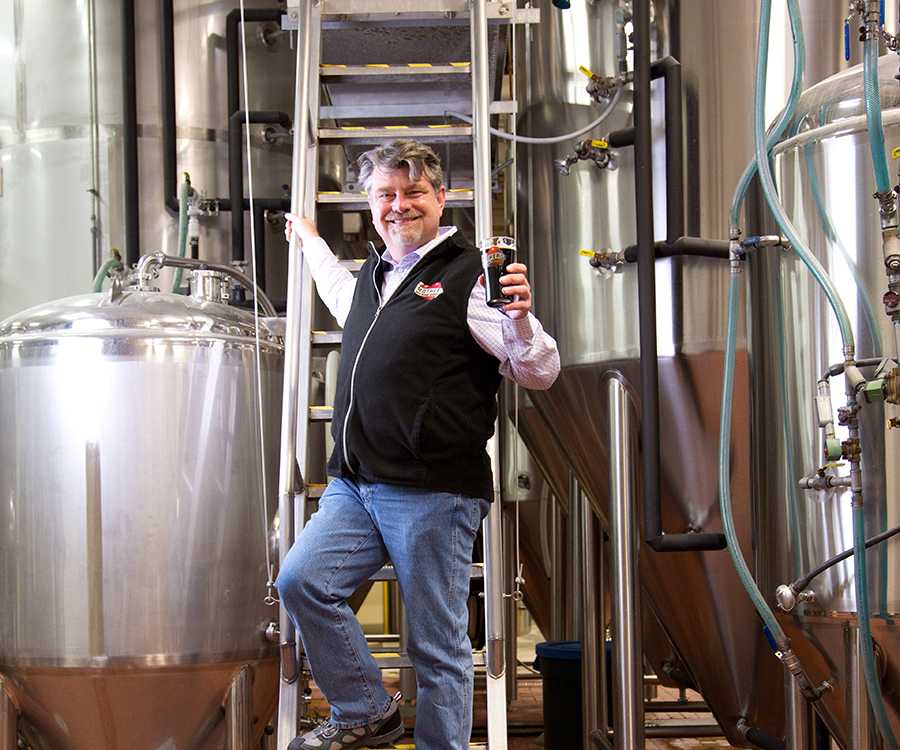 A serial entrepreneur, Jeff Schrag felt like he had one more business venture in him when he did some soul-searching and decided to take on craft brewing. With a goal of enhancing the culture of downtown Springfield—and the confidence that Mother's could brew a beer as well as anybody in the world—Schrag founded a community-involved brewery with a grassy backyard just begging for picnics and fun. Now, five years later, the company is refreshing its packaging with hand-drawn illustrations and new artwork and rolling it out first to the local market. And it's celebrating how far it has come with the help of the whole city behind it.
417 Magazine: With events like bocce leagues, movies on your lawn and more, Mother's Brewing Company has become really involved in the community. How did you develop that identity?
Jeff Schrag: I looked at just about every different business model you can look at with beer, and this is the business model that fit for me and for my personality. It was kind of like the area was just sitting around waiting for a brewery to root for. I didn't fully understand that a brewery can almost function like a sports team and be kind of an identity for the area. A very important part of that equation, I strongly believe, is giving back to the community that's supporting you. And you know, beer is of the people. Beer is accessible. We hope that we're never pretentious, and that resonates with people.
417: Mother's Brewing Company is an unusual name. How did you come up with the concept behind the name? 
JS: The name first came from a marketing firm that was helping us, and they had a different notion for it that I didn't think was great. And we looked at hundreds of names. But in the end, mother stands for love. What says love better than a mother? We love the notion of a mother expressing love to a family through the food cooked in the kitchen. We express love to consumers through a batch of beer.
417: You test out a lot of interesting flavors that are only available in your tasting room. Have you ever come up with a dud?
JS: That is a really difficult question to answer, because no matter what you do there will be a constituency for it. And that's the beauty of the tasting room: When people come and try something obscure and they don't like it, they're not mad at you. They're happy to be part of the process and to be trying something new and different. 
417: What's your favorite Mother's Beer?
JS: Sandy is my all-time favorite beer. It's a hoppy wheat beer. And it's named after my mother. It has not been commercially successful, so we will have a very limited amount of it in May in the tasting room only. And I'm soul-searching about the future of that beer, because it is my favorite beer. And if you own a brewery, damn it, you should be able to have your favorite beer! So we always make at least a batch for me to have all summer long.
417: You guys have gotten a lot of recognition for growing so quickly. Is there anything that's a particularly big point of pride for the brewery?
JS: I would say the biggest point of pride for me is that just over 150 breweries opened in 2011, and we had the biggest sales of any of those 150 in our first calendar year. And again, that's a sign of community support. We've had that community support from the very beginning. I get a little misty when I think about it, because when we started we couldn't supply everybody on the first day. We just started with those who would either add three tap handles or four tap handles. So we had 15 bars and restaurants take three handles or four handles, and they couldn't try the beer. We didn't have anything for them to try. So they trusted us, sight unseen.
Mother's Day Festival
Bring your picnic blanket to this family-friendly outdoor live music festival that features three bands, tasty eats from local food trucks, a marketplace of local artisan vendors and—of course—a beer garden.