Features
Your Guide to the Best Italian Dining in Springfield
Get ready to ciao down with dishes from Springfield's Italian eateries that are sure to satisfy you, body and soul.
by Lucie Amberg
Dec 2022

Image by Grace Chipley
There's something about Italian food. It can be as boisterous as the date night in Lady and the Tramp, or as subtle as the shift in Michael Corleone's mood. No cuisine is more conducive to falling in love, yet it's also the go-to for heartbreak and grief. There's just something about it—it's got soul. And 417-land's food scene is rich with Italian treasures. Mom-and-pop bistros, corner delis, upscale experiences—we have them all. So get ready to ciao down with dishes that are sure to satisfy you, body and soul.
1908 S. Glenstone Ave., Springfield, 417-567-3463

Ravioli Aragosta
Shape: Ravioli with a lobster filling
Personality: Slightly spicy, slightly creamy tomato sauce tossed with succulent shrimp.
Impression: Avanzare offers a few different versions of its ravioli, and you can't go wrong with any of them. We like the decadent feel of this lobster variety.
Filetto Avanzare
Avanzare is deservedly known for its steaks, which are served with a variety of accompaniments and preparations. This one is a filet with sauteed shrimp and a buttery sauce.
Sauteed Spinach
Simply prepared, this is the perfect accompaniment to a juicy steak.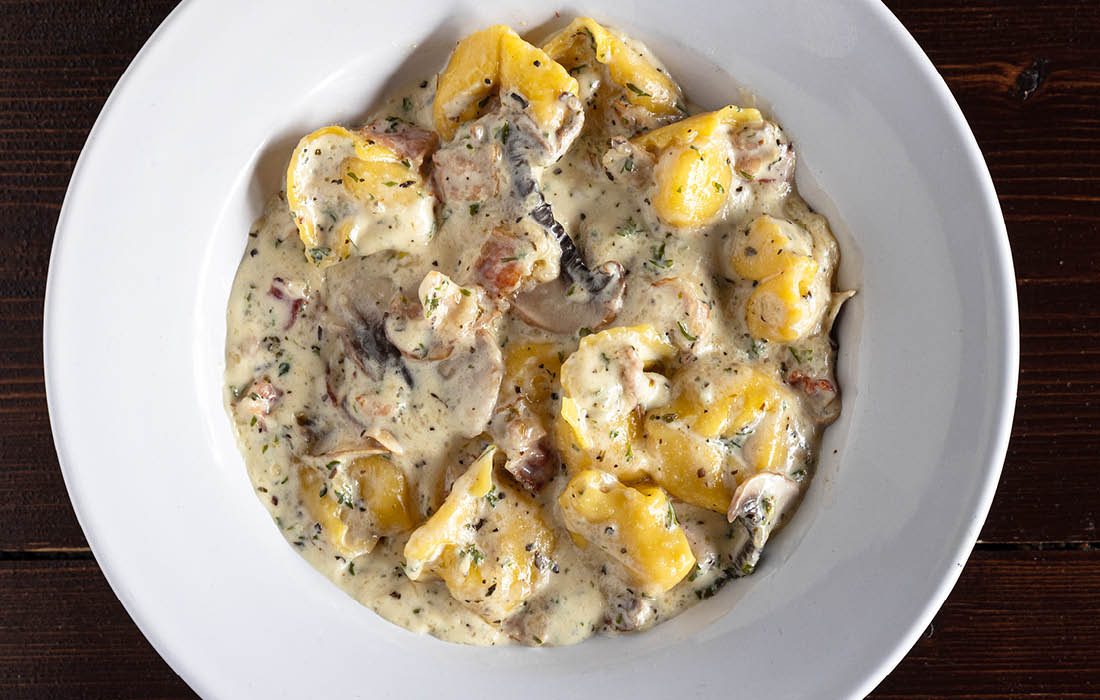 Basilico's cheese-stuffed tortellini carbonara.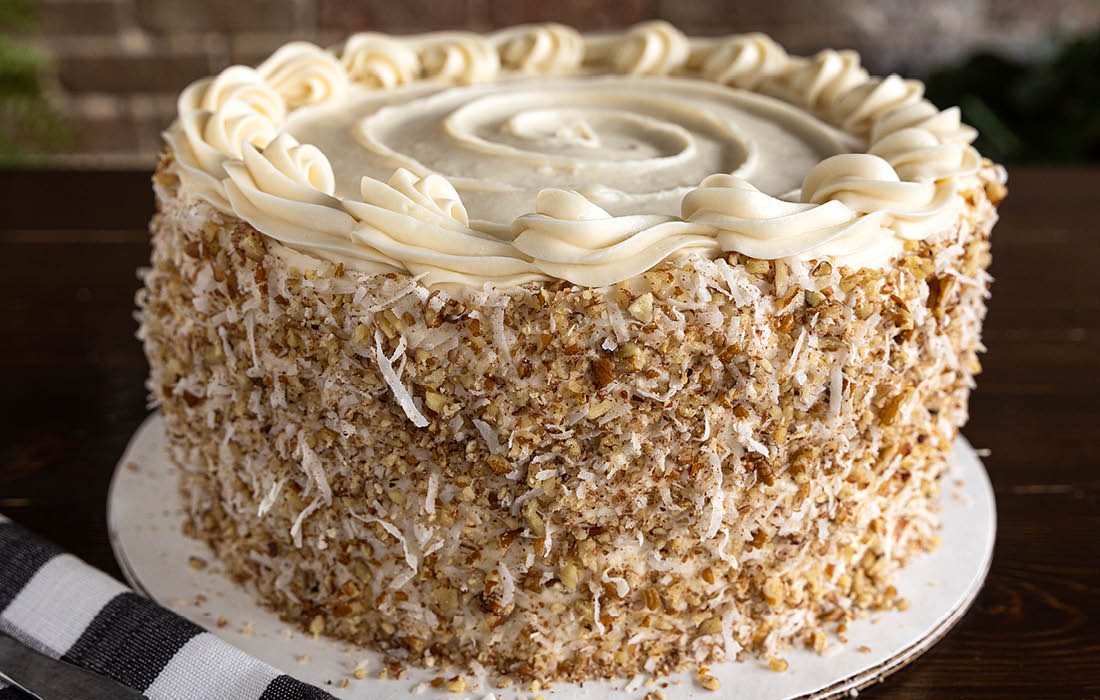 Basilico's Italian cream cake is tender, nutty, coconutty—and easy to pass around a big, family table.
Photos by Brandon Alms
306 E. Commercial St., Springfield, 417-873-9224
Tortellini Carbonara
Shape: Cheese-stuffed tortellini
Personality: So many good things: bacon and mushrooms plus a delicate cream sauce.
Impression: Wow, the sauce. You taste the bacon first. Then a warm, herbal note of sweetness hits you on the back end. And then you're already thinking about your next bite.
Italian Cream Cake
Basilico offers up a range of scrumptious cakes, all served in showstoppingly giant slices. The Italian cream variety is tender, nutty, coconutty—and easy to pass around a big, family table.
Sweet Tip: People rave about the chocolate cake, too, plus seasonal types like carrot cake in the fall and berry-citrus in summer.
Bread Service
This homemade bread is zhuzhed up with basil and olive oils, garlic, Parmesan and fresh herbs.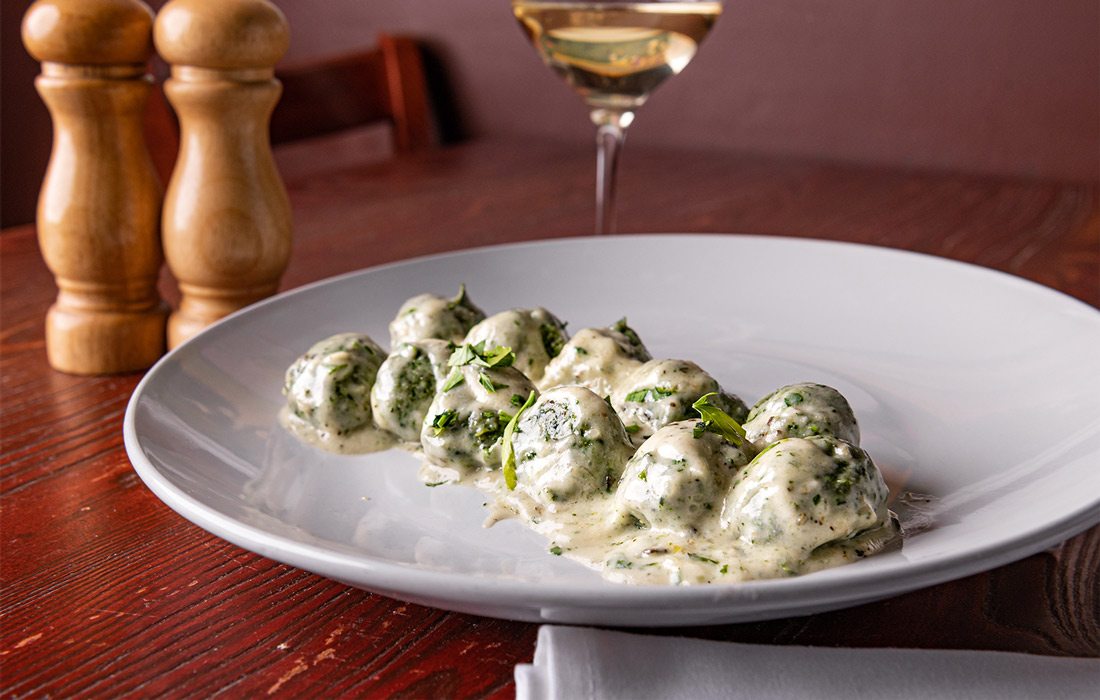 416 South Ave., Springfield , 417-866-0007
Spinach and Ricotta Gnocchi
Shape: Perfect little puffs of gnocchi
Personality: Elegant and lush
Impression: The gnocchi are formed from ricotta and spinach, which gives them a pillowy, melt-in-your-mouth texture. They're served in a cream sauce with just the right whisper of sage.
Limoncelo Cake
Two layers of moist yellow cake with hints of vanilla and citrus and a lemony, cheesecake-like frosting, topped with white choco-late shavings. 
Sweet Tip: It's delicious on its own, but we think it would slay with a glass of sparkling wine. 
Pane
This cheesy flatbread is technically an appetizer but makes a great accompaniment to a meal.
3522 S. National Ave., Springfield, 417-409-3084
D'Vine Delicatessen & Wine's "Tour of Italy" charcuterie board takes your taste buds on a savory vacation. Here's a roundup of the tasty treats featured on the board.
Rosemary Ham
Delicate taste with a delightful, papery texture and a whisper of rosemary
Taleggio
Soft, mild and fruity cheese made in Italy's Lombardy region
Mortadella
A lush and grown-up version of the lunchbox favorite, labeled DOCG to signify that it was produced with high standards 
Prima Donna
A crowd-pleasing cheese with the flavor of Gouda and the texture of Parmesan
Proscuitto Di Parma
A 600-day-aged variety, with a not-too-salty, almost-sweet flavor
Parmesan Reggiano
The nutty classic that D'Vine Owner Doug Gruenberg calls "the king of cheeses"
The Extras
Italian olives, roasted red peppers and pickled red onions.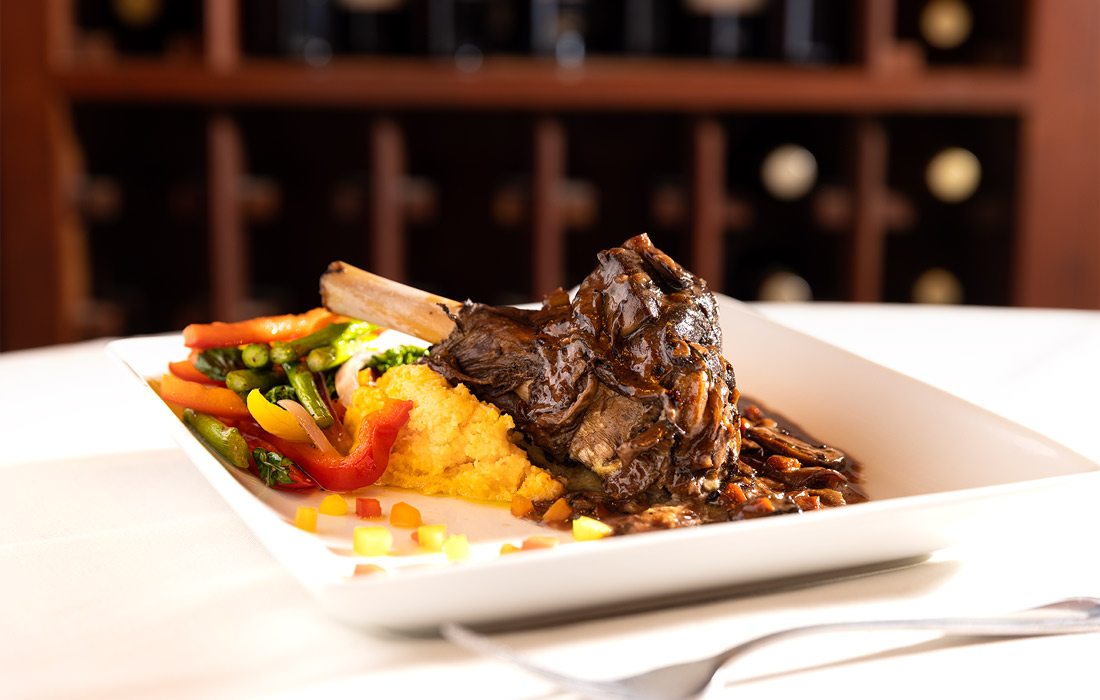 Sicilian-style meatballs, held together with oats that have been soaked in cream for total tenderness. Served on a bed of fire-roasted red pepper polenta. 
Brisket Ravioli
Shape: Big, inviting ravioli 
Personality: Warm and comforting, but sophisticated, like a favorite aunt from Tuscany. 
Impression: Gilardi's smokes the brisket for deep, full-bodied flavor. Before you know it, you've finished the whole plate.

Lamb Shank
Braised eight hours in a rosemary-red wine mirepoix jus, served in a light cream sauce over polenta or garlic mashed potatoes.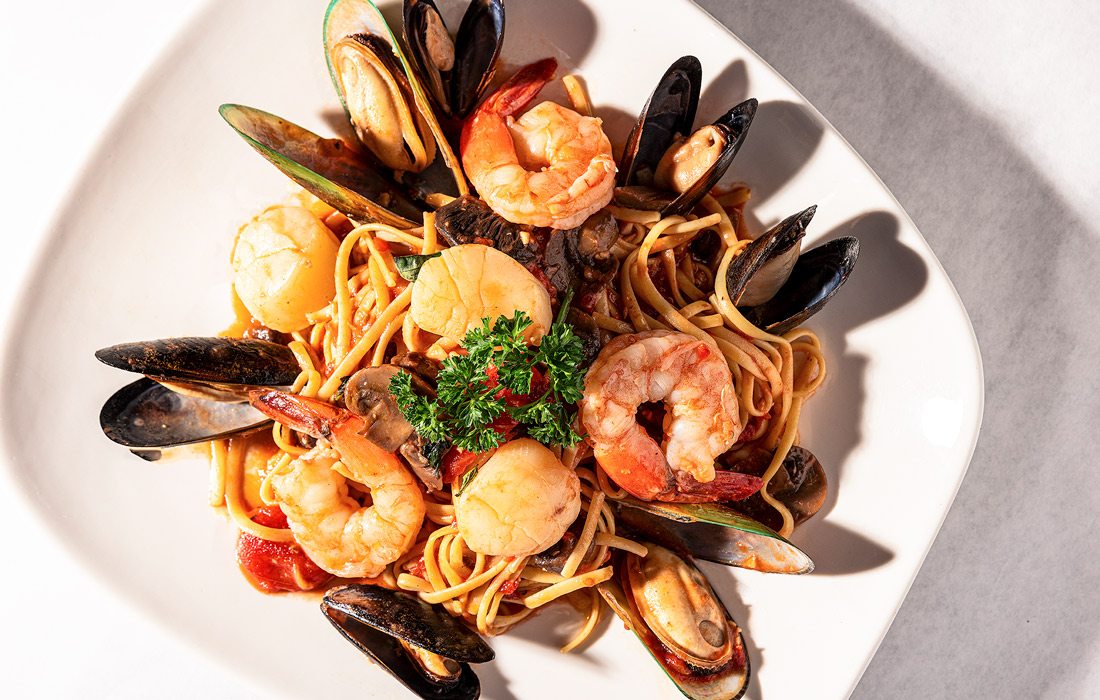 Fresh scallops, shrimp and mussels lightly coated in a white wine and tomato sauce make up the seafood pasta at Nicola's.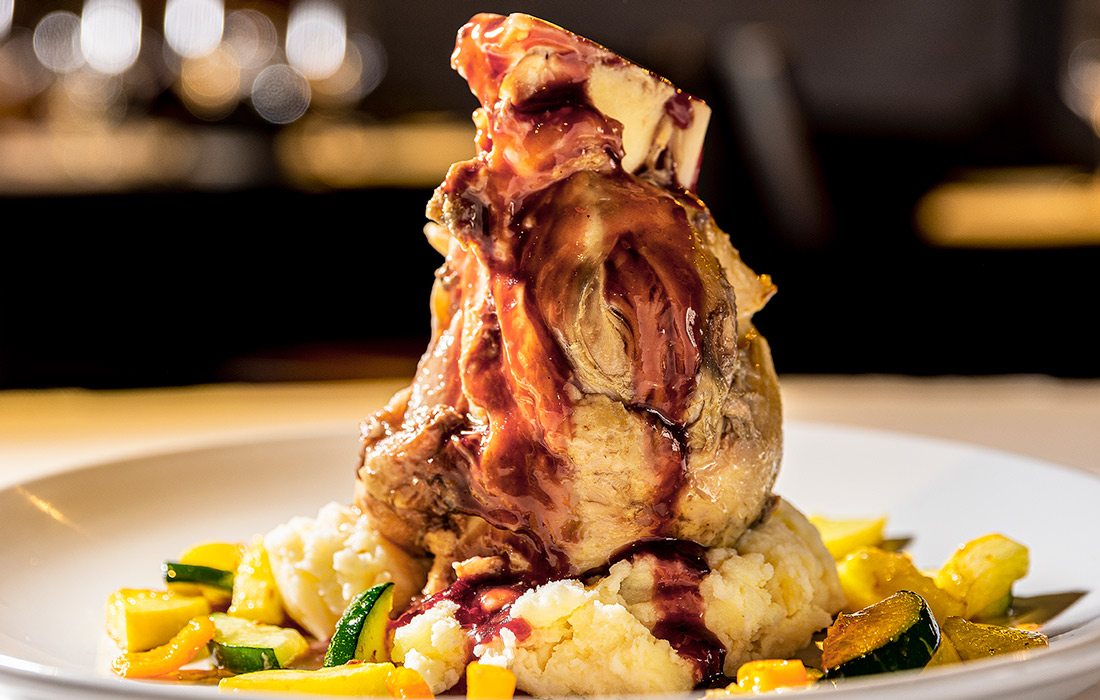 The star of this Pork Shank is a big, tender hunk of meat, slow cooked in Port wine for a sweet and savory finish.
Photos by Brandon Alms
3631 E. Sunshine St., Springfield, 417-886-3700
Carpaccio
Thinly sliced beef tenderloin, served raw with extra virgin olive oil, Parmesan shaves, capers, celery and a slice of lemon.  
Seafood Pasta
Shape: Linguine
Personality: Like a romantic beachside stroll, served up on a plate. 
Impression: Plump, fresh scallops, shrimp and mussels lightly coated in a white wine and tomato sauce. It's got the breezy ener-gy of a vacation on the Amalfi Coast.  
Pork Shank
The star of this entree is a big, tender hunk of meat, slow cooked in Port wine for a sweet and savory finish. It's served with hearty mashed potatoes and sauteed veggies on the side and plated with grand, celebratory presentation. 
Tiramisu
We love Nicola's version of this classic dessert. Delicate cake, sumptuous  cream and intriguing coffee flavor—perfection. 
Sweet Tip: Something about this dessert strikes us as very sexy. Share it with your sweetheart for maximum amore. 
Beet Salad
Roasted beets, caramelized onion and Gorgonzola over greens.
306 South Ave., Springfield, 417-831-1222
Lasagna Arrabbiata
Shape: Lasagna noodles, wide and delightful
Persaonlity: Rich and spicy, like that one guy you had a crush on in college.
Impression: A luscious lasagna is topped with both a spicy tomato cream sauce and a vodka sauce, for a "best of both worlds" effect.
Ratatouille Risotto
Deliciously satisfying risotto features flavorful stewed vegetables, like eggplant, roasted red peppers, onions and tomatoes.
Cheesecake
When you ask people to name a dessert they associate with Italian restaurants, cheesecake is bound to come up.  Restaurants often order it in from a supplier, but Nonna's is known for making theirs in house.
Sweet Tip: Look for seasonal flavors, and try the crème brûlée cheese.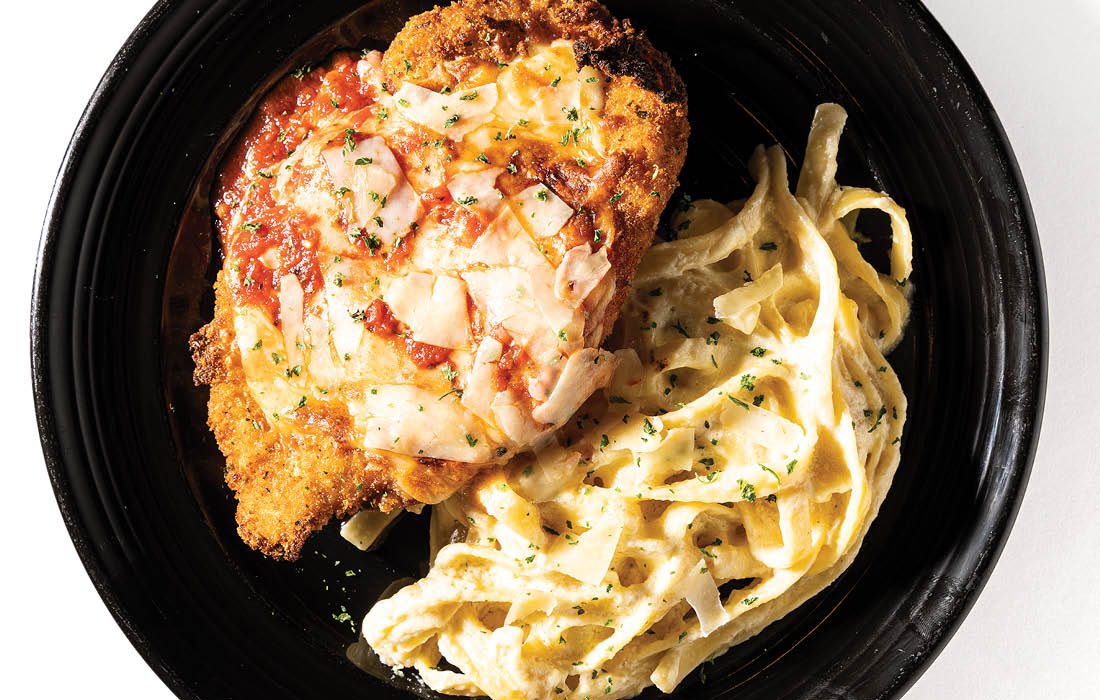 The juicy fried chicken breast is accompanied by D'Arpino's beloved marinara and is topped with Provel cheese.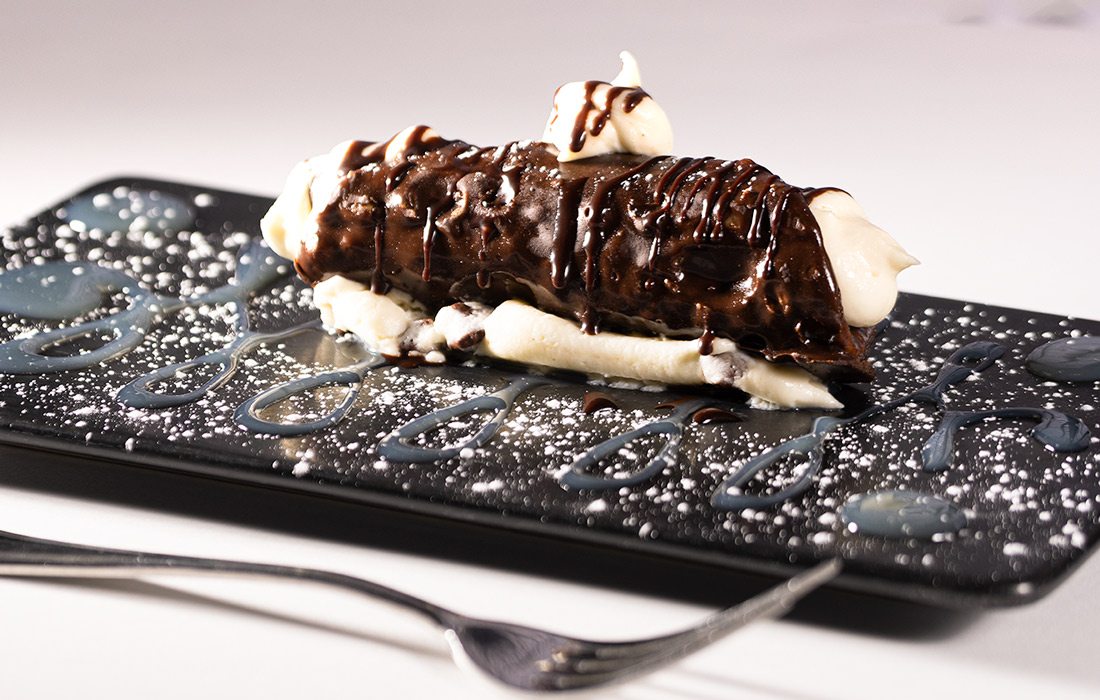 The Piccolo team conducted extensive testing before rolling out their version of this Sicilian sweet.
Photo by Brandon Alms
107 W. Aldersgate Dr., Nixa, 417-374-7291
Italian Nachos
Crispy wonton chips topped with Alfredo sauce and grilled chicken, all accented with classic Italian flavors like basil, pepperoncini and balsamic.
Chicken Parmesan
Piccolo does right by this staple of red-checkered-tablecloth bistros with a juicy fried chicken breast and D'Arpino's beloved marinara. It's topped with Provel cheese.
Cannoli
The Piccolo team conducted extensive testing before rolling out their version of this Sicilian sweet, and the research shows. Piccolo fills its crispy cannoli shells with creamy mascarpone instead of the traditional ricotta.
Sweet Tip: Look for seasonal types, like pumpkin spice in the fall and carrot cake around Easter.
Jalapeño Creme Corn Brulee
Smoky, creamy corn and jalapeños.
1201 Branson Landing Blvd., Branson, 417-231-9559
Calamari Fritti
The Mediterranean classic served up fresh and hot with spicy peppers, lemon and plenty of zesty red sauce for dipping.
Rigatoni Ricardo
Shape: Rigatoni
Personality: Classic, all the way. What you crave when you think "Italian."
Impression: There are familiar flavor combinations like Italian sausage paired with bell peppers, but this dish is kicked up a notch thanks to spicy sherry marinara.
Marsala
Crimini mushrooms and red onions are smothered in a marsala wine sauce. You can add chicken or veal if you want extra protein.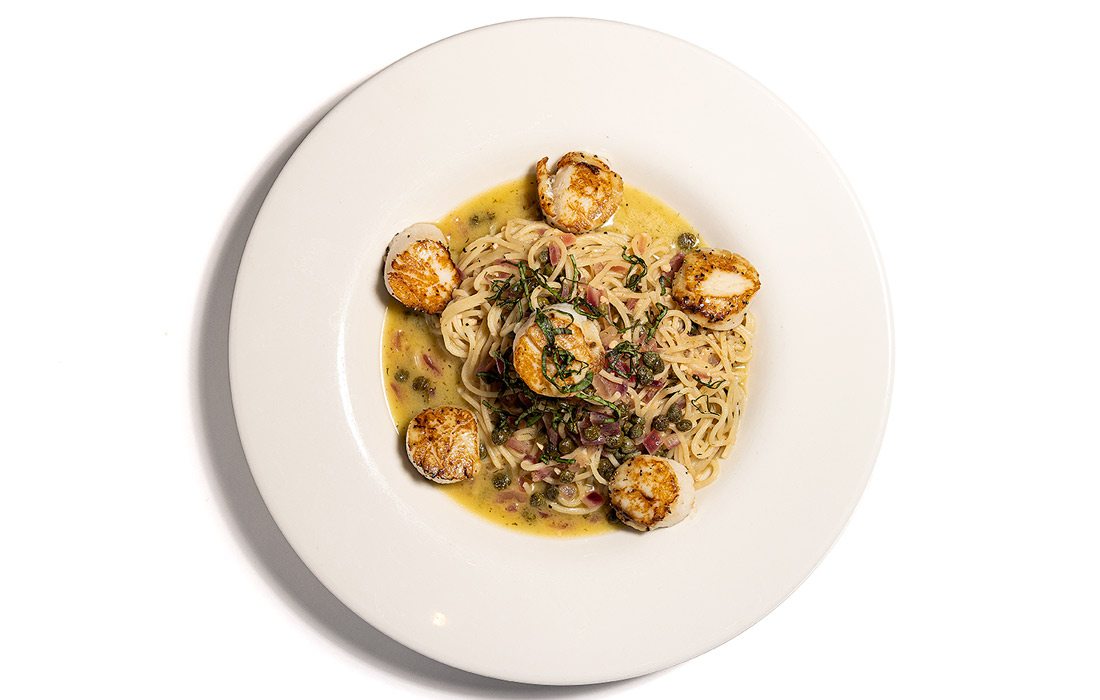 Build Your Own Pasta
Shape: Your choice of nine options
Personality: For you creative types 
Impression: Choose one housemade pasta, including gluten-free options.  Select a sauce—anything from garlic cream to tradi-tional pesto to vodka—and top it all off with your favorite meat and veggies. 
Drunken Scallops
The alcohol in this dish comes courtesy of a white wine sauce, so it feels more "tipsy" than "drunken." The plump scallops are further flavored by dill, capers, garlic, parsley and onion.
Red Cabbage and Carrots
An Italian version, served warm with a balsamic vinegar dressing.
Where's the Pizza?
You might notice that we left pizza out of this feature. Don't worry; we didn't forget about it. Visit 417mag.com/pizza to read our cover story all about the best pizza in 417-land.
Toasted Ravioli Taste Test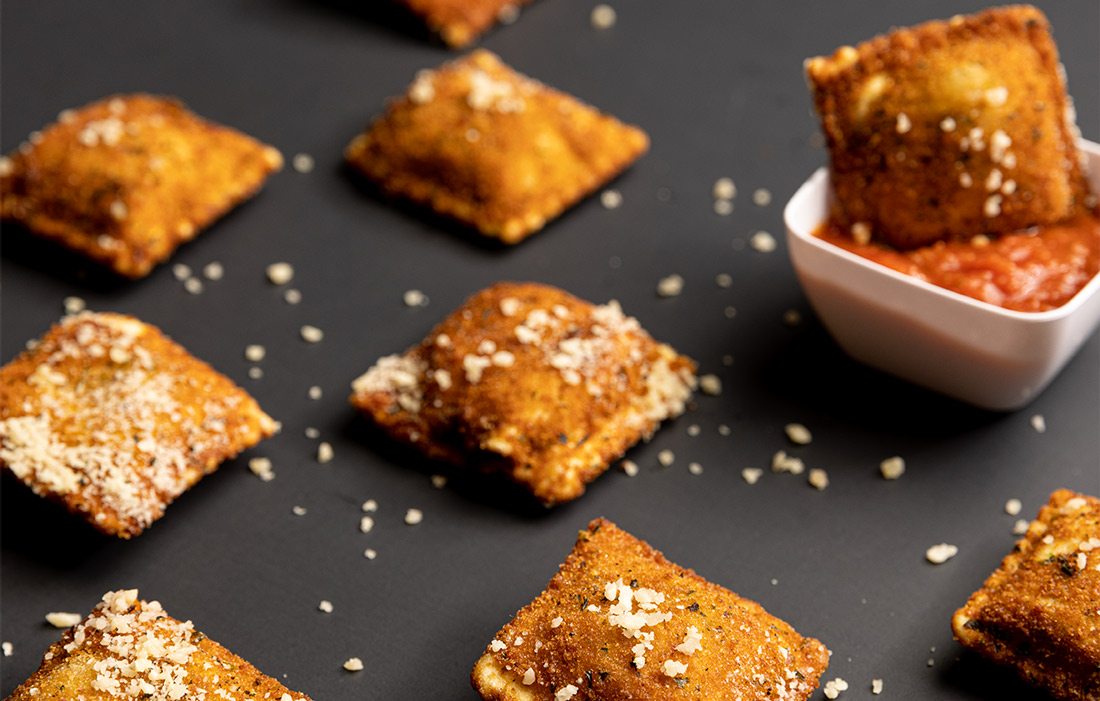 Where can you score Springfield's best toasted ravioli?
It's a tough job, and we're just the team to do it. We taste tested toasted ravioli to find the most scrumptious version in town. Since this St. Louis-style staple appears on many menus, we created the following qualifying criteria for candidates. Contenders had to:
• Be headquartered in 417-land.
• Primarily serve Italian food.
• Offer a meat-filled version of toasted ravioli.
• Open for lunch on Tuesdays (when we conducted our taste test).
• Answer the phone when we called to order.
Four local competitors qualified. Six tasters, including Editorial Designer Grace Chipley, Engagement and Style Editor Colin Shea Denniston, Research Editor Jo Jolliff, Creative Director Sarah Patton, Staff Photographer Leah Stiefermann and Digital Editor Jamie Thomas, assessed the ravioli's flavor, texture and sauce. We've rarely met a toasted rav we wouldn't take home to Mama, so rather than using a best-to-worst paradigm, we judged the contenders on a scale of delight. "Twilight Roman Stroll" was arbitrarily chosen as the lowest point on the delightfulness index, and "Venice's Grand Canal" signified the apex of delight.
The Results
Which ravioli scored at Grand Canal levels?  It was a tie! Our tasters split evenly in two camps. The ones who craved classic comfort chose the toasted ravioli from Ott's Pasta. They praised its texture, filling, snackability and "good crunch-to-squish ratio." The second camp consisted of full-on flavor-stans, and they liked Bambinos' version for the depth of its traditional Italian herb taste.
The Bottom Line
Bambinos and Ott's Pasta share the winning crown.
We asked Bob Lowe, a sommelier and owner of The Reserve at Town & County, to suggest ways we might enjoy the fruits of Italian vines.

Badia A Coltibuono
This chianti classico comes from a site with almost 1,000 years of wine production history. Sip it for cherry, spice and tobacco flavors.
Casanova Di Nergi "Giovanni Neri"
This 2020 sangiovese vintage was bottled to celebrate the 50th anniversary of its estate. Its grapes came from the oldest vines on the property. 
Capezzana "Villa Di Capezzana"
This red, which is 80% sangiovese and 20% cabernet, comes from a family-owned winery that dates back to 804 A.D.
Tenuta Tascante
Made from Sicilian nerello mascalese grapes, this light-in-color-but-big-on-flavor red is grown on Mt. Etna, an active volcano.
Surrau Limizzani Vermentino
This fragrant, savory 2021 wine was grown in northern Sardinia and has notes of peach, lemon and salt.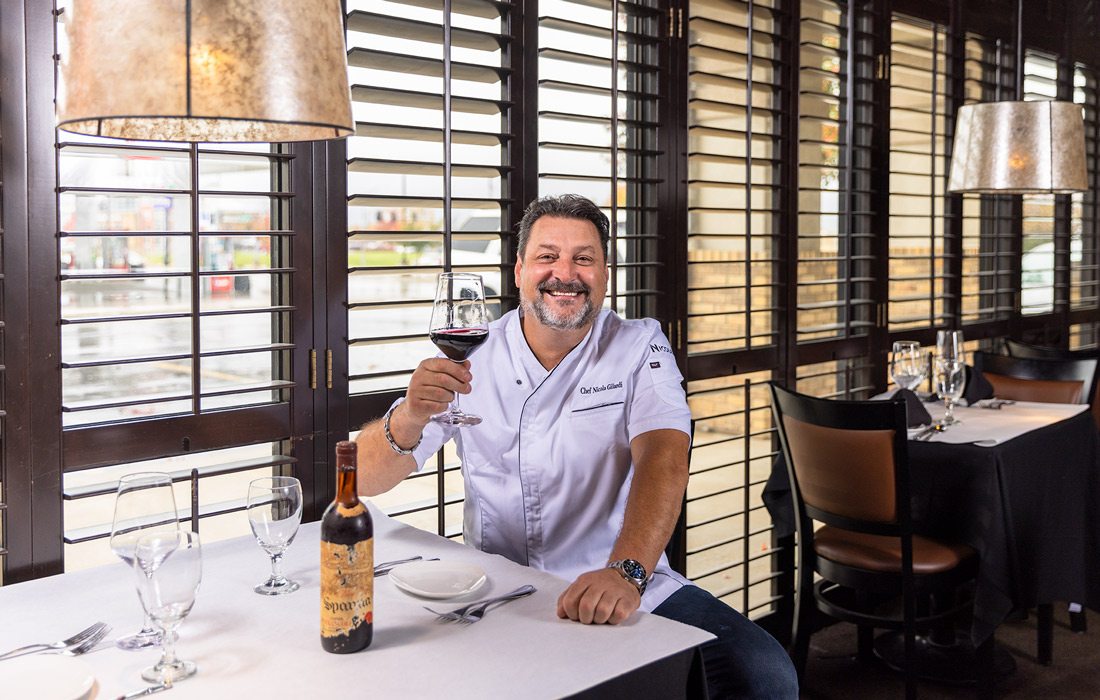 Nicola Gilardi
Chef/Owner, Nicola's Italian Ristorante and Maso Pizza Bar
Nicola Gilardi tells us, "In Italy, we had so many wars, so many civilizations that came in." All that history—and the resilience that sprang from it—got baked in.
"We learned a lot," he says. "In the end, we started to cook with what we grow, using techniques we learned from other countries."
Gilardi grew up in Chiavenna, Italy, near the Swiss border. He was the youngest of nine children, so he learned how to eat fast. But here in Springfield, his restaurants tempt you to linger. At Nicola's Italian Ristorante, he serves classics like pork shank and rigatoni beneath moody lighting. At Maso Pizza Bar, you'll find pub fare in an "everybody knows your name" atmos-phere. If you visit either location, there's a good chance you'll see Gilardi. He'll greet you warmly, maybe with the traditional Italian double-cheek kiss.
He keeps his menus focused and curated so that he can deliver the freshest food. With options like seafood pasta and housemade ravioli stuffed with ricotta and spinach or beets and goat cheese, most people have no trouble finding something they like. But, he says, "I have people call me once in a while and ask me for stuff I don't serve." When people call him up with special requests, he'll do his best to accommodate them if he can.
It's part of running a local place, he says, and it's consistent with how he views his restaurants' place in the community.
"When you open a restaurant, you do not own the restaurant," Gilardi says. "Your customer owns the restaurant. Without them, there would be no business. So each individual who comes to my door owns the restaurant for the time they are here."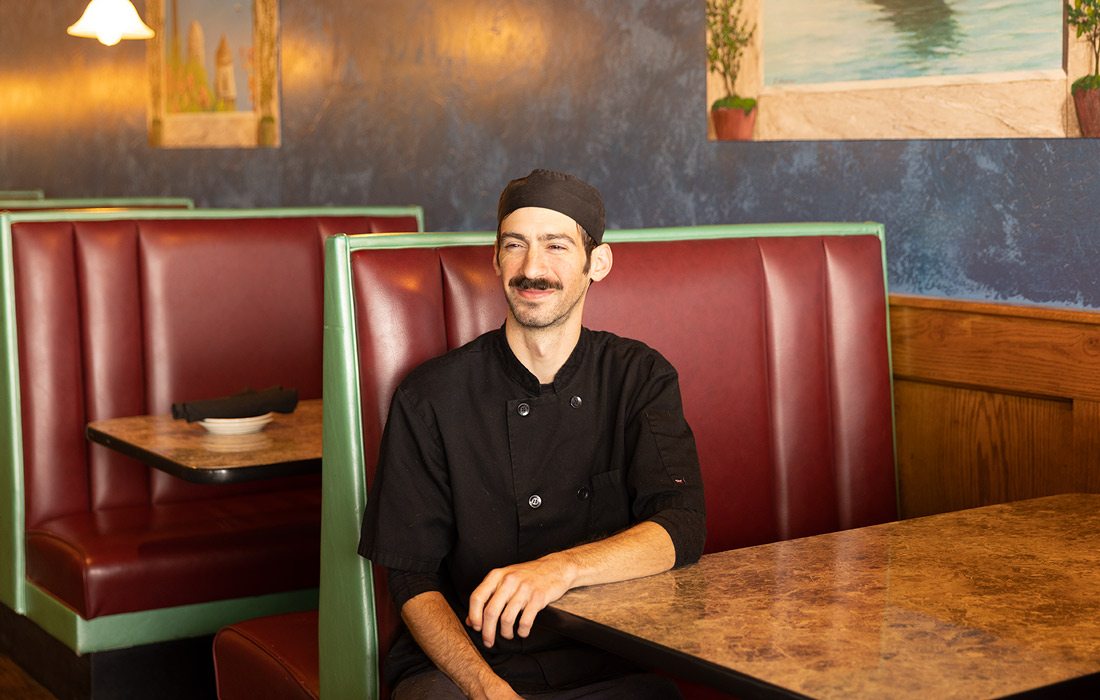 Daniel Oawster
Chef/Owner, Salvatore's Fresh Ristorante Italiano
"I've had a passion for Italian food ever since high school," says Daniel Oawster. "I always wanted to have an Italian-style restau-rant."
A Branson native, Oawster attended Le Cordon Bleu Culinary School in Austin, Texas. That's where he first started making his own fresh pasta. He returned to 417-land and further strengthened his chef skills by working in restaurants around our region. Then, he says, "a windfall" struck. Jerry and Judy DeMaro were looking to sell their Ozark restaurant, Salvatore's Fresh Ristorante Italiano—just at the time Oawster was thinking about opening his own place. "We felt like it was a perfect match," Oawster says.
He collaborated with the DeMaros on a careful transition, one that would ensure customers at Salvatore's continued to enjoy the quality food they'd grown to love, and in 2021, Oawster officially took the helm. Oawster says he's preserved the restaurant's core dishes and welcoming, family atmosphere, but "I have made the place my home. I live there 60–100 hours a week, so I changed a few things."
For example, he streamlined the menu and added more gluten-free options, such as zucchini "noodles" and chickpea pasta. He al-so introduced Salvatore's build-your-own pasta, which lets diners choose from nine pasta varieties, plus several sauces, meats and vegetables. With the exception of the chickpea pasta—which is pre-ordered to avoid gluten contamination in the kitchen—all of those pasta varieties are made on site at Salvatore's. "We produce about 200 pounds of pasta a day," Oawster says.
He's thankful for the families who've made Salvatore's part of their regular routine and says he wants them to know that "we try hard every day to provide the freshest food possible with the freshest ingredients available to us." This means that on any given day, the restaurant might run out of dishes, but he says, "Everything we make is fresh. We don't pull anything out of the freezer to serve to anybody."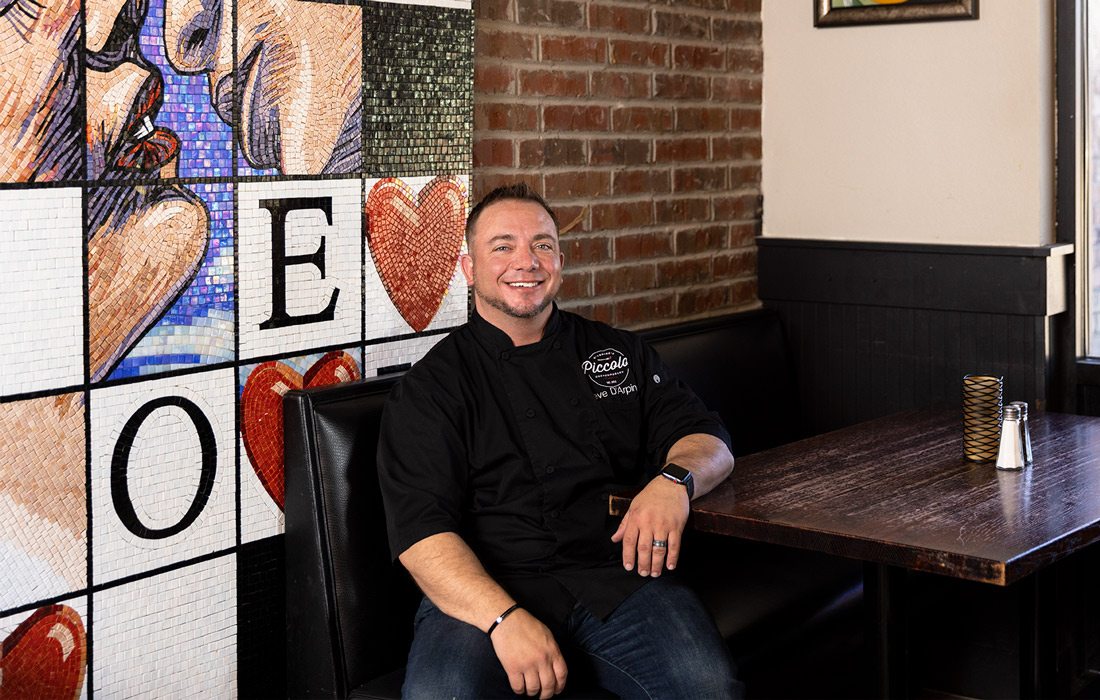 Steve D'Arpino
Owner, Piccolo
In 2016, Steve D'Arpino had been thinking about opening his own restaurant for years. He'd worked in restaurant management, and his parents were known for Springfield fave D'Arpino's Italian Café. "I always had the dream of taking a spin-off of [D'Arpino's] and doing my own thing," he says.
He found the perfect spot in Nixa, and three months later, he and his wife, Cassie, opened Piccolo. Imagine a cross between your favorite Italian date night place and a contemporary gastropub, and you've got the right vibe. D'Arpino's marinara sauce is a staple on the menu at Piccolo, alongside inventive dishes featuring seafood and steaks.
There are plenty of vegan options, too. Piccolo partners with 417-land producer Jake's Burgers to offer plant-based versions of dishes like pizza, lasagna and spaghetti Bolognese. "I take pride in being able to accommodate that," D'Arpino says.
Inclusive menu options are just one way D'Arpino replicates the neighborhood feel of the Springfield café his parents operated for 14 years before their retirement at the end of 2017. Piccolo builds on the welcoming energy his parents cultivated—with bigger din-ing space and an expansive bar.
It's a great accomplishment, especially considering that D'Arpino says, "When I was a kid, my parents didn't think I was theirs be-cause I didn't like marinara sauce." With two Sicilian grandfathers and a foodie family, he was surrounded by authentic Italian cook-ing, but he says: "All I would eat was butter noodles. I was 10 when I decided I liked pasta sauce."
Now, he not only likes it, he makes it. For Piccolo's customers, that's certainly something to celebrate.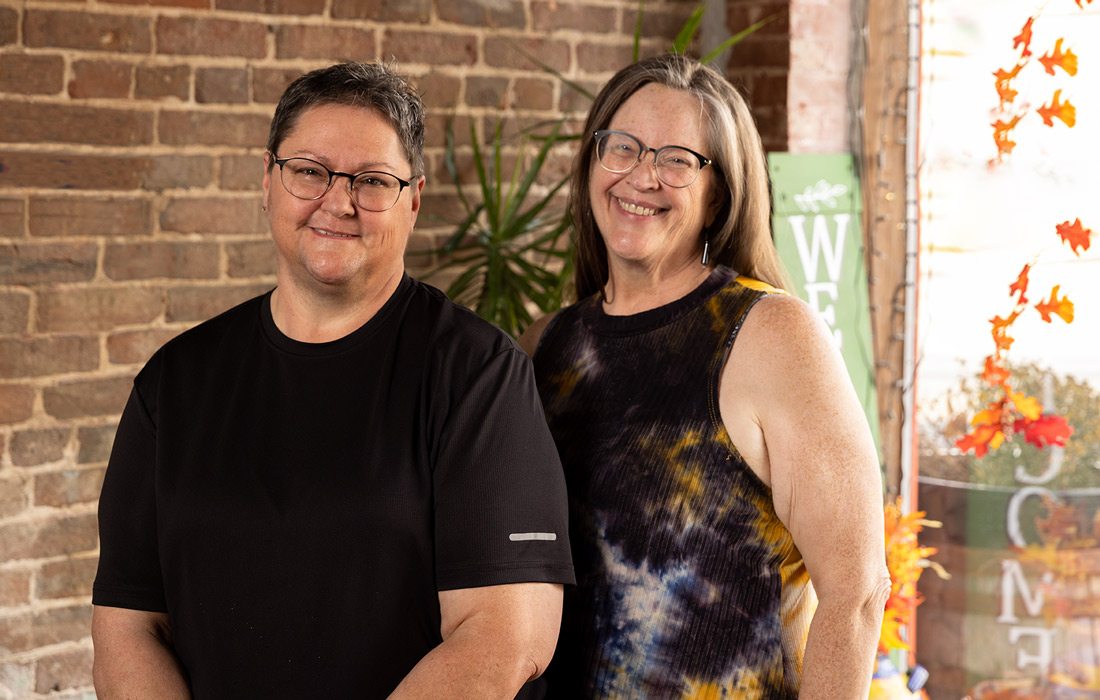 Martha Cooper and Gina Cooper
Owners, Basilico
One morning in 2019, Martha Cooper woke up, "with this incredibly strong compulsion to change the business." The business in question was Sisters in Thyme, the deli she'd been running with Gina Cooper for more than a decade. She says it wasn't bringing her joy anymore, and she felt compelled to shift her focus to Italian food, which had always been her passion. In just six weeks, Martha and Gina made the transformation; Basilico Italian Café opened in the old Sisters in Thyme location on Commercial Street. "I try very hard to act on my intuition," Martha says.
Now, she gets to indulge her love for Italian food in a setting that makes you feel like you're at a cozy corner spot in Brooklyn. At Basilico, comfort is the goal. When customers walk in, they're urged to take any seat where they'll feel comfortable. "I want them to enjoy their meal, sit and visit, have a glass of wine," Martha says. Alongside intimate, date-night friendly tables, there's a special place designed for big family gatherings. It seats 12, and Martha says she's always happy to make room for more. "Our family table fills up and is so joyful," she says.
Diners enjoy tender pasta with Martha's delicately flavored sauces. With the exception of the marinara, which she makes ahead, every sauce is prepared to order for maximum freshness. And to make sure everyone truly feels welcome, Basilico offers extensive gluten-free options, even on the dessert menu. Martha and Gina work with two pastry chefs—one traditional and one who bakes without gluten—to ensure there's no cross-contamination.
"I base everything on simplicity," Martha says. "I want people to enjoy food that's been created simply where you can taste all the ingredients."
The Holidays, Italian Style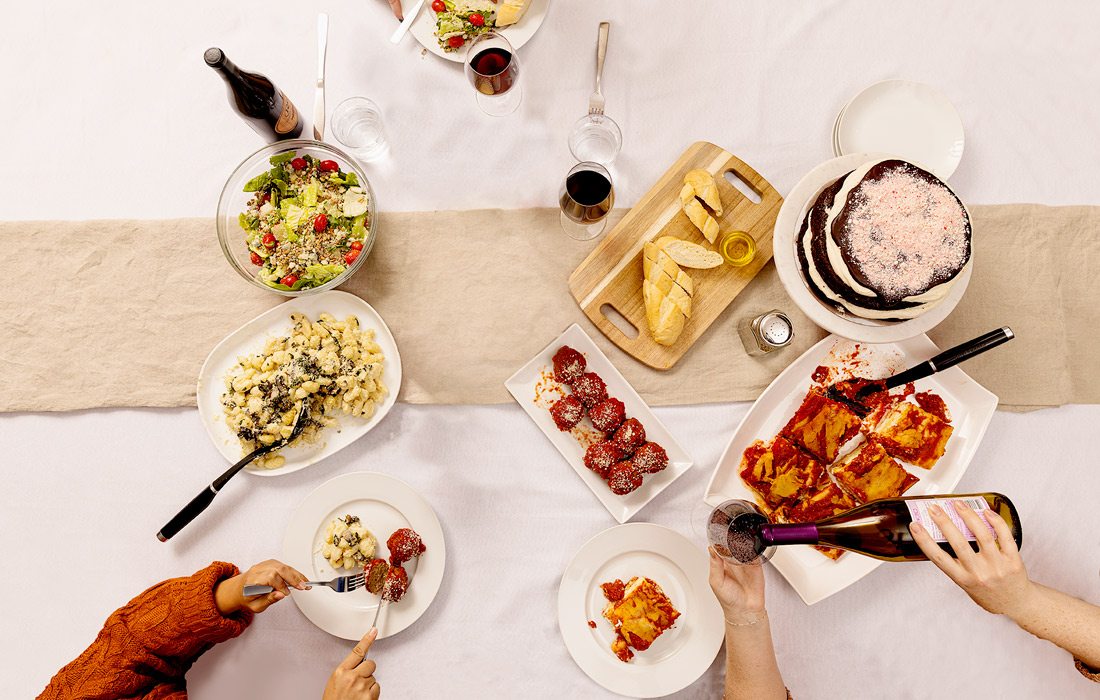 Southwest Missouri's shops and restaurants can bring Italian-style abundance to your Yuletide.
For the Night Everyone Arrives
St. Michael's Restaurant and Italian Catering offers The Italian Feast, a to-go order that you heat and serve at home. It's your choice of cheese lasagna, gnocchi in mushroom sage sauce or penne pasta in tomato cream sauce. It comes with salad, meatballs, bread and one of St. Michael's to-die-for cakes. No matter how weary your travelers are, if you welcome them with this spread, you'll have them saying, "Mamma Mia!" all night long. Order ahead by calling St. Michael's at 417-865-2315.
For Christmas Eve
Nicola Gilardi tells us that back in Italy, his family always enjoyed panettone on Christmas Eve. They served it with spumante, Italian sparkling wine, and they typically ate it after midnight mass. This sounds like a fine plan. If you've never had this sweet, leavened bread, imagine a blissful brioche studded with candied fruit. Pickwick & Cherry makes a few extra panettone for customers who walk in to purchase them, but if you want to guarantee you get one, order ahead at pickwickandcherry.com.
For Stocking Stuffers
We know there are foodies on your "nice list." Brown Derby International Wine Center can help you give their stockings an Italian makeover. There's Il Boschetto Infusolio, olive oil infused with lemon or herbs, packaged so prettily that it's automatically molto giftable. Or treat them to Masseria Mirogallo Spaccatelle Sliced Tomatoes, a jarred, heirloom pantry staple. Or stock their bar with vibrant Lazzaroni Limoncello del Chiostro, which should make the holiday very spirited indeed.