Dishes
Your Guide to the Best Pizza in Southwest Missouri
What's in a pizza? In Chicago, it's a deep dish pie with a high ratio of sauce to cheese. In New York, it's ultra thin crust with savory tomato sauce and mozzarella. Here in southwest Missouri, pizza is all this and more.
by Megan Dollar
Aug 2021

312 E. Commercial St., Springfield, 417-881-4073
Pizza House is one of Springfield's strongest cultural forces. The shop was opened by a pair of Air Force veterans, Dorothy Smith and Pat Clay, in 1958, and has been serving Springfieldians ever since. After 50 years in the pizza business, Smith sold Pizza House to Stacey Schneider, who first started working at the restaurant in the '80s, at just 15 years old. Over the restaurant's long history in Springfield, it has survived and thrived through the 2009 relocation from South Glenstone to Commercial Street and the 2018 menu additions of beer and wine. The pizza is still as simple and undeniably delicious as it was in the late '50s: There's a paper-thin, hand-rolled crust that's topped with savory tomato sauce, a blend of both high and low moisture mozzarella cheeses and the toppings of your choice.
1550 E. Battlefield Road, Springfield, 417-883-4324
McSalty's pizza is one-of-a-kind. It's not St. Louis-style pizza, and it's not Chicago-style either. We believe that if Springfield-style pizza were a thing, McSalty's Pizza Cafe would be its creator. The signature feature is a cracker thin, whole wheat crust topped with a blend of mozzarella, provolone and cheddar cheeses. Many might turn their nose up on hearing the words "whole wheat crust," but this pizza has been a Springfield favorite for decades. Maybe that's due to it being just similar enough to St. Louis style, or maybe it's just based on long-time favorites like the Bear Pie—Canadian bacon, Italian sausage, mushrooms, onions, green peppers and black olives. McSalty's has had a few different owners and locations since first opening in the late '70s, but Springfield's love for the joint hasn't wavered one bit.

2925 W. Republic Road, Springfield, 417-315-8586
Luco's Pizza is a delicious 3-year-old pizzeria tucked away in perhaps one of the most unexpected places. On West Republic Road, west of Scenic Avenue, Luco's is situated at the end of a small strip center where they're able to serve their creative pizzas from a drive-thru window. It's an unassuming place, but the pizzas are not. Start with the Luco's Legacy: fig jam, mozzarella, prosciutto, red onion, Boursin and Gorgonzola cheese. It's a far cry from a traditional pie, but all of those toppings melted together on Luco's pillowy, chewy crust taste like a dream. Or give the Fire Starter a go: olive oil, mozzarella, Sriracha chicken, red onion and Gorgonzola—plus ranch dressing added after baking. Luco's vegan and gluten-free options also stand out. "We have noticed a severe lack of options for vegans and vegetarians here in Springfield, so we wanted to bring some," says owner Daniel Fenton.

305 S. Market Ave., Springfield, 417-832-8277
Springfield Brewing Company, of course, is not a "pizza place." But, we don't care. They make great pizzas! Choose one of their classics—margarita, pepperoni or cheese—or stop by once a week for their creative, weekly specials. Past inventions include a German-inspired sausage and sauerkraut pie, a buffalo chicken bacon ranch and chicken artichoke spinach dip-inspired pizza. Like we said, very creative, definitely delicious. If you're a morning person, try the breakfast pizza. It's one of our favorite ways to start the day.

[MORE: Your Guide To The Best Italian Dining In Springfield]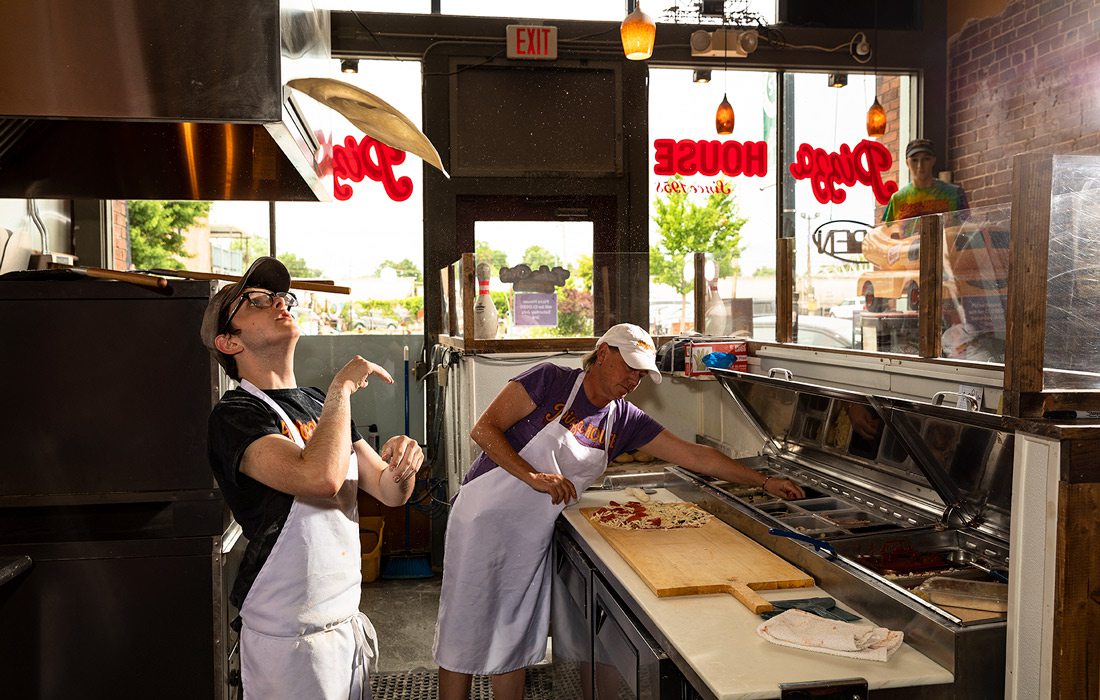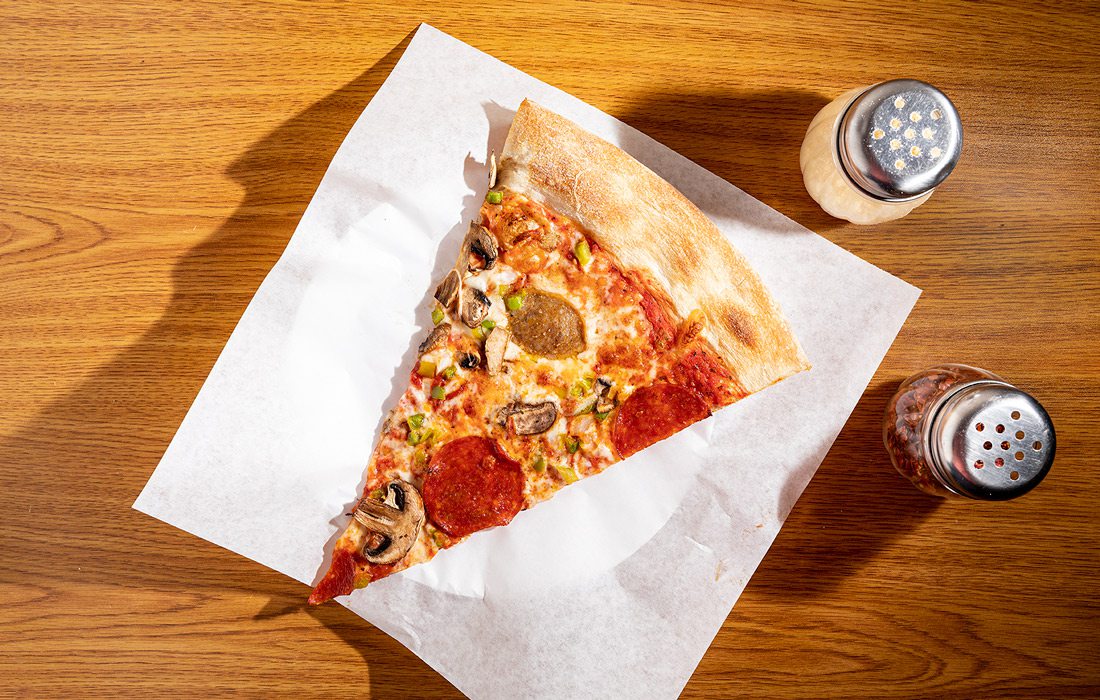 This Crust is a Must
Take a bite out of these cauliflower crusts.
1454 E. Sunshine St., Springfield, 417-720-1928
4126 Kansas Expressway, Springfield, 417-720-4108
When a hankering for East Coast 'za can't be appeased by a small triangle or square, it's time to go big. The Big Slice is one of the only 417-land spots to truly resemble a New York City-style pizzeria—large triangle-shaped slices with thin yet chewy hand-tossed crust, topped with an umami sauce and low-moisture mozzarella. Levi Grant, a Springfield native, opened the first shop on East Sunshine in 2013 and the second location on Kansas Expressway in 2019. Grant has never visited New York himself, but says he learned the craft of City-style pizza while working at Springfield's New York Pizzeria. That shop closed in the early 2000s but was owned by a couple from Queens, New York. While the city slickers tend to keep their slices simple with plain cheese or pepperoni, The Big Slice's most popular pies are the meat-loaded Mongo and a barbecue Canadian bacon pie called The Burt Reynolds. Whichever slice you choose, just make sure you eat it correctly: folded in half, that is.

3550 N. Glenstone Ave., Springfield, 417-883-4411
Neighborhood Pizza Cafe, located on North Glenstone Avenue, is a classic pizza stop. The interior is as humble as can be, which shows you how well-loved the neighborhood spot is—no frills needed! Just good pizza. This is another spot that boasts unique pies. The taco pizza swaps refried beans for red sauce, while the luau goes for a barbecue sauce base and finishes things off with not just pineapple, but mandarin orange, too. Of course, the restaurant also has a selection of traditional pizzas, like supreme, four meat and garden. Or, there's the house neighborhood pie, which pushes the limits of pizza without breaking them: alfredo sauce, spinach, chicken, bacon, mushrooms, tomatoes and Neighborhood's signature five-cheese blend. Don't forget to try the garlic breadsticks!

2924 E. Sunshine St., Springfield, 417-368-0277
Pizza, sports and beer might just be the ultimate combination. Bryan Bevel, the owner of The Pitch Pizza and Pub in Springfield, knows that well, which is why the rugby lover decided to open a pizza restaurant named after a sports field. The Pitch has been open in the Southern Hills Shopping Center since early 2016 and, while not a full-on sports bar, it is definitely a place where sports lovers like to eat pizza. That's partially due to the sports-watching potential, but the pizza at The Pitch is an equally appealing draw. This is one of the best places in 417-land to visit for creative pizzas: from buffalo chicken pizza to gyro pizza and even a chicken Caesar pizza, The Pitch gets serious credit for artistic flair. The Pitch also has an eclectic cocktail menu that features everything from wine to craft beers and chocolate martinis.
22065 Main St., Reeds Spring, 417-272-3507
Named Missouri's Best Pizza by USA Today in 2010, this small town pizza shop has a big legacy. Reeds Spring Pizza Co. has been serving specialty and custom pies inside a stone-laden building in Reeds Spring since 2007. Humble as a pizza shop should be, Reeds Spring Pizza Co. is known not only as a stop-over en route to Branson but as a community gathering spot. These pies sure do leave an impression with wild card toppings like cashews, pecans, rosemary lemon dressing and fresh flowers. One pizza is even named the "Cornucopia of Flavors." If that doesn't break tradition enough for you, try ordering your pizza on cauliflower crust or a top it off with a bed of penne. You can always opt for a classic pepperoni if that's more your style. Either way, Reeds Spring Pizza Co.'s award-winning pies will win your affection.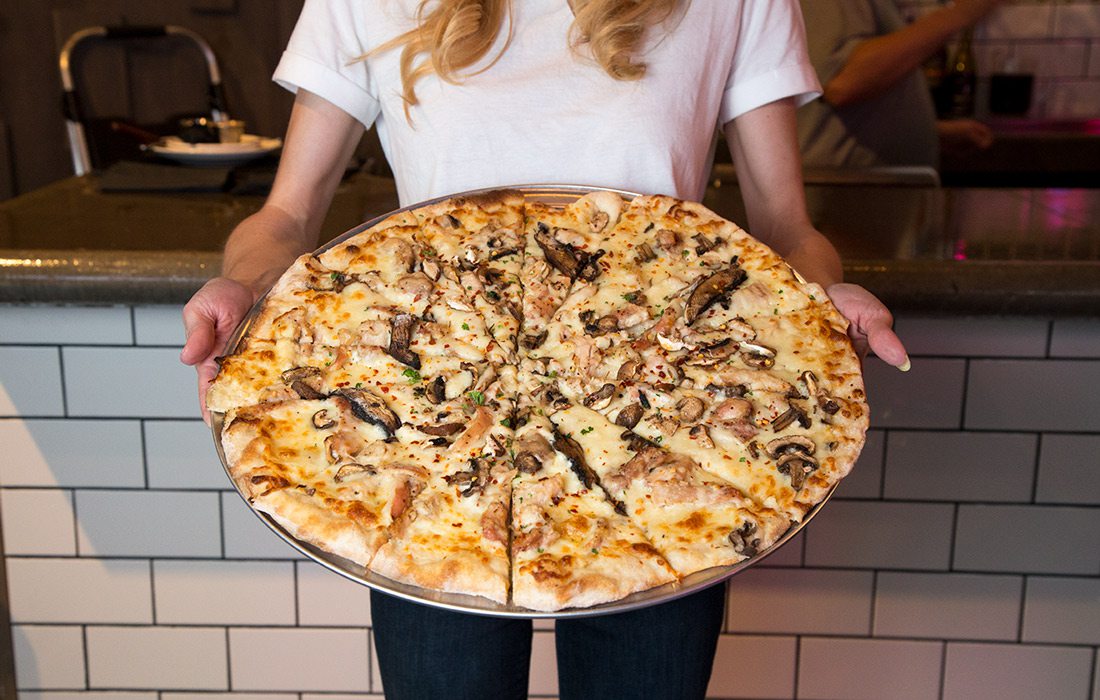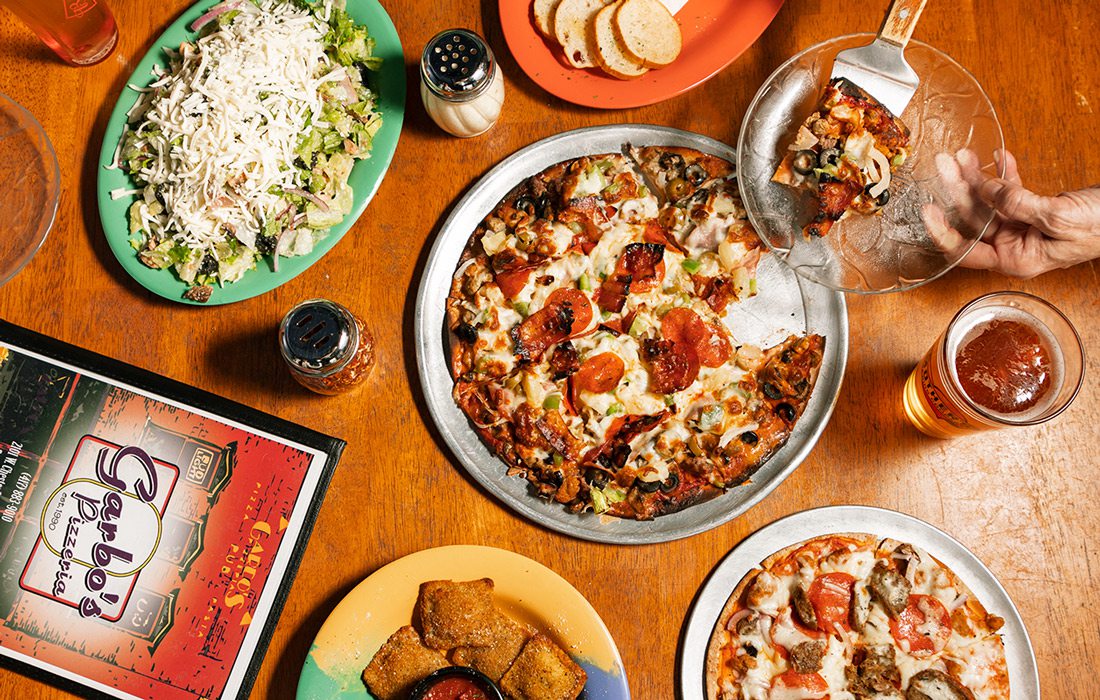 Pizza On the Go
Three places to grab some convenient slices

2101 W. Chesterfield St., Springfield, 417-883-9010
Garbo's might be home to some of the most divisive pizza in Springfield. That's just the nature of the St. Louis square! They've been serving STL-style pies since the '90s, and Springfield has been eating up all the provel-covered pizzas. An open space dotted with neon signs and retro touches makes for a novel pizza experience. Mutli-colored plates brighten up the table and serve as the perfect pedestal for Garbo's crunchy, thin-crust pizza, which is typically served piping hot and smothered in a gooey, tangy blend of provel and mozzarella cheeses. For the true provel aficionados, Garbo's also makes the perfect pre-pie salad that is just bursting with the stuff. If you're not a thin-crust lover, you can still enjoy Garbo's. They offer thicker crusts as well as a selection of calzones. Just know that the provel cheese stays.
garbospizzeria.com
3653 E. Sunshine St., Springfield, 417-720-1047
Springfield's prized Italian chef, Nicola Gilardi, is at it again with this one. Maso Pizza Bar is located off East Sunshine Street, just a few storefronts down from the chef's namesake Nicola's Ristorante. Like Gilardi's past ventures, Maso is a delicious Italian dining experience, but this one has a bit of a twist. Rather than following the traditions of Italian cuisine, Gilardi decided to lean into his creative side and craft some funkier pizzas. For example, the Nic Rise and Shine is a pie topped with Italian sausage, hash brown, bacon, ham, jalapeño gravy, mozzarella cheese and an egg on top. Whether you go for the chaotic or the classic, this high-quality pizza will satisfy your craving.

416 South Ave., Springfield, 417-866-0007
Chef Bruno Gargiulo opened Bruno's Italian Restaurant on South Avenue in 2005, and he's been pleasing 417-land with his Italian bites ever since. While Bruno's is top-of-mind when considering Italian restaurants in Springfield, it might not always be top-of-mind for pizza. Here's why it should be: Bruno's Neapolitan-style, brick oven-fired pizza is the closest you will come to authentic, Italian pizza in Southwest Missouri. The crust, with its crunchy exterior and soft, pillowy interior, is the perfect bed for the sweet, herbaceous sauce that tops it. The brick oven method gives the crust that truly authentic, not-quite-perfect finish that is, in fact, actually perfect. The fresh mozzarella on top of the pizza margherita is that ideal blend of salty, fresh, chewy and stretchy—there's just nothing quite like it.

1332 E. Republic Rd., Springfield, 417-881-7260
Whether or not pizza existed in Greece before the Roman conquest probably doesn't matter because we now get to enjoy a fusion of both cuisines. Arris Pizza has been serving Greek pizza and other specialties in 417-land and beyond for decades. The restaurant started in Jefferson City in 1961 when a Greek immigrant, Arris Pardalos, decided to share his pizza recipe with the community. The franchise then grew south, first to Osage Beach and then to Springfield. The restaurant can now be found in Republic and Columbia, too. The pizza is unlike any other in the area: the crust, perfectly crimped along the outside, is crumbly and not at all obtrusive. The tomato sauce is sweet and herby, the cheesy gooey and salty, and the toppings are almost always large. Whole slices of tomatoes sit on top of these pies; big chunks of Greek sausage and large artichoke hearts, too.

Not So Cheesy
Vegan? Lactose intolerant? Grab a slice, cheese-free.

Various locations in Springfield, Nixa, Ozark and Republic
Rocco's Pizza sure has left its mark on 417-land. The local franchise serves New York-style pizza at five locations in Nixa, Ozark, Republic and Springfield. Equally delicious in-house or out of a cardboard box, Rocco's is known for its creative, but not totally outlandish topping combinations. The local favorite is the chicken bacon ranch pie. Some like to spice it up by adding the house habenero honey. Another notable combination is the Spicy Pig, which comes with sweet barbecue sauce, honey habenero, ham, bacon and sausage. Rocco's uses fresh mozzarella on all of their pies, which makes for some serious cheese string action with every bite, and the crust is textured on the outside with a soft and chewy interior, just like a New York-style slice should be. Rocco's makes pies that are best shared with friends and the local brew of your choice.

18050 Business 13, Branson West, 417-272-8287
Nothing is more pizza parlor-esque than a red checkered tablecloth. Pizza By The Chef in Branson West is another 417-land pizza institution that has been around for nearly 30 years. With freshly baked sub bread and freshly made pizza dough (oh those sweet, sweet carbs!) they offer creative pies like the Salty Dog with pepperoni, feta and green olives or classic Mama Mia with meatballs and fresh basil. And if you have dietary restrictions, they've got you: The restaurant offers cauliflower crust too. You can also get toasted sandwiches, a truly loaded antipasto salad and much more at this beloved spot.
mypizzabythechef.com
137 Park Central Square, Springfield, 417-425-5162
Golden Girl Rum Club is another one of those places that isn't really a pizza restaurant, but it is a restaurant that serves pizza. Golden Girl does the classics well with options like cheese, pepperoni, veggie and Italian. But where this joint really shines is with its specialty pies. The Thai Fighter is a classic sweet and salty combo with roast chicken, diced jalapenos, mozzarella and a sweet thai peanut sauce drizzle. The Super Shroom is the mushroom pie of our dreams topped with spinach, green onion and crispy fried garlic. Keep an eye out for specials that will really blow your mind.

6593 N. Emu Lane, Springfield
Millsap Farms Pizza Club celebrates one of pizza's best qualities: its ability to bring people together and foster community. Why else would pizza have been the go-to for every childhood function you attended? Every Thursday evening from May until October, Millsap Farms hosts pizza night at the farm. The pizzas are made by the Millsap family and feature ingredients grown right there on the farm or otherwise locally sourced. This summertime event is everything we love about 417-land: community, food and togetherness. Tickets and season passes can be purchased online for those interested in attending.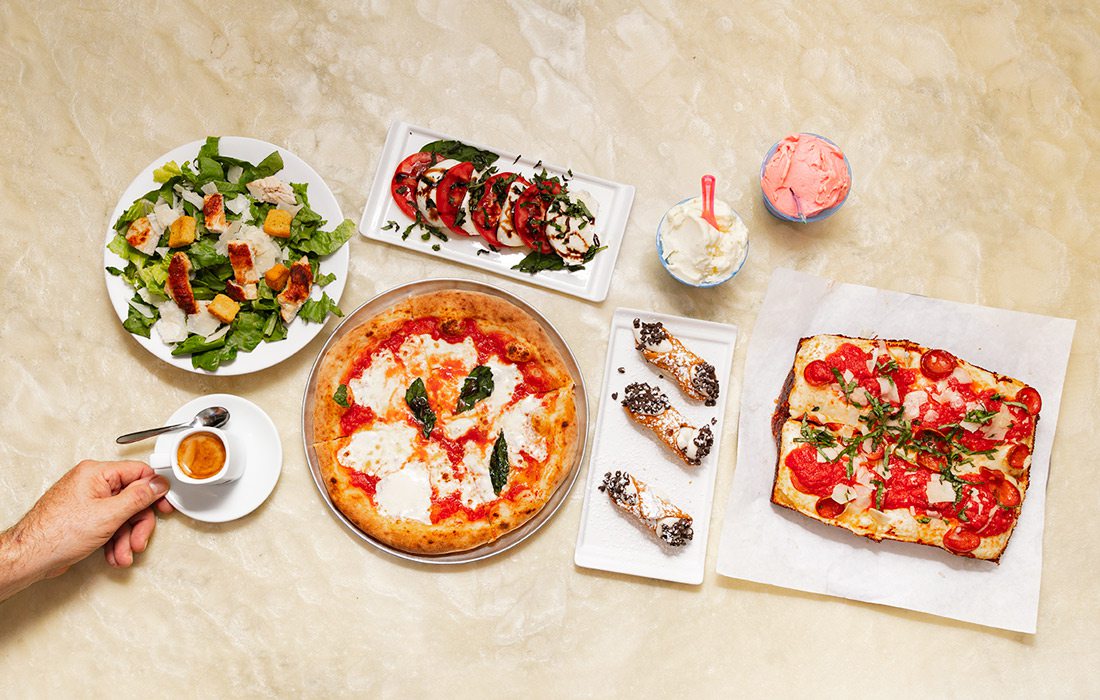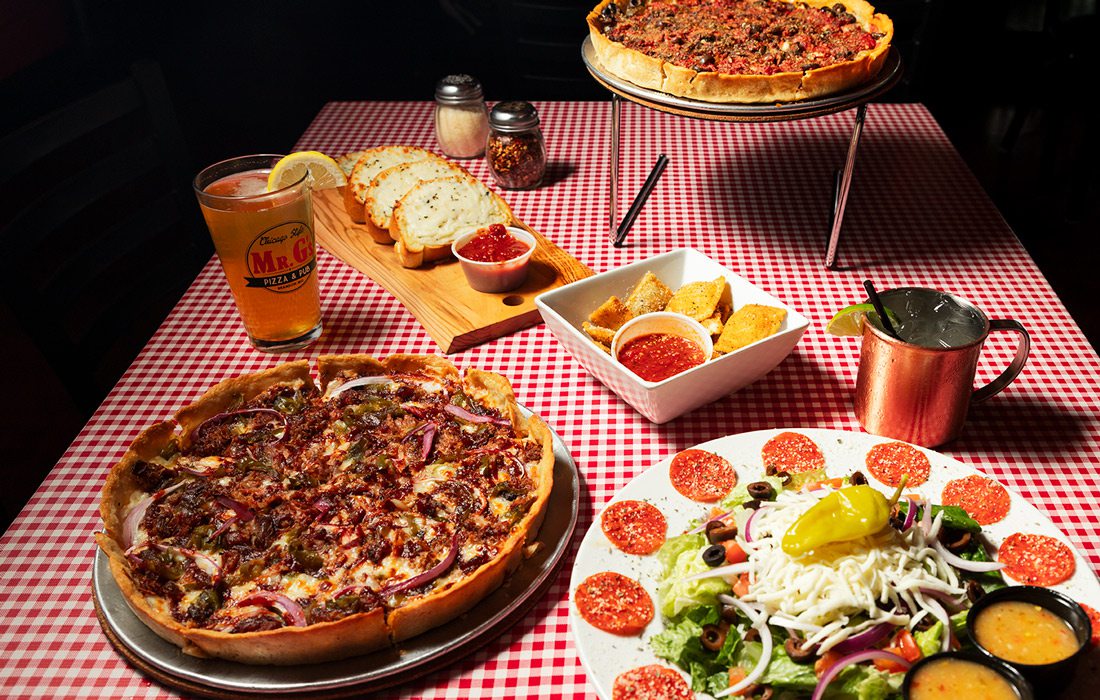 Is It Pizza?
We're not sure whether or not flatbread is pizza, so we'll let you decide. We do know that flatbreads are pretty good, though. Might we suggest:
107 W. Aldersgate Dr., Nixa, 417-374-7291
The team behind the pie at Piccolo in Nixa knows what it's doing. The restaurant is owned by Steve D'Arpino (whose parents Mark and Mary Ann D'Arpino ran Springfield's D'Arpino's Italian Cafe until they retired from and closed it in 2017). The strip center spot is well known for the Italian nachos and chocolate cannolis, but restaurant-goers will also uncover decadent pizza. The carni (meat-lovers) and veggie pies are the most traditional on the menu. After that, it gets wild. The shrimp scampi  is loaded with garlic butter and grilled shrimp while the "Egg-cellent 24/7" is topped with mozzarella, bacon, spinach and over easy eggs (possibly a twist on carbonara?). Those who have already discovered the greatness of Piccolo's pizza seem to agree on one thing: The vegan options are impressive.
202½ N. Commercial St, Branson, 417-335-8156
For a region relatively close to the windy city, 417-land doesn't have a lot of Chicago-style pizza. In fact, Mr. G's Pizza & Pub in Branson is one of the only restaurants in the area that serves deep dish pies. Mr. G, a.k.a Chicago native Wayne Gilberti, opened the restaurant 30 years ago. Mr. G's has changed ownership a few times in its three decades, but one thing is constant: the pie. Mr. G's, like any good Chicago-style pizza, layers a tomato sauce seasoned with fennel, black pepper, oregano and basil on top before finishing with a sprinkling of Parmesan. The customer choice is appropriately named "Mr. G's Favorite," and comes packed full of pepperoni, Italian sausage, onions, mushrooms, black olives and sweet green peppers.

221 E. Walnut St.,417-866-1111
900 E. Battlefield St., 417-306-9091
PaPPo's is another pizza place rooted in Italian family traditions. Chris "Pappo" Galloway started making pizzas on East Walnut Street in 2012 and has since expanded to a second Springfield location, plus shops in Lake of the Ozarks and Columbia. His goal was to break the expectations that fast-food pizza had created by re-creating the fresh, whole-ingredient pizzas he grew up eating. Those familial traditions can be tasted on pies like the PaPPO's margherita, which comes with a balsamic reduction drizzled on top, and the prosciutto di Parma pie that comes topped with thin-cut prosciutto. Galloway also gets more creative with pies like the Mexicana, the American
cheeseburger and the apple bourbon pulled pork pizza.

524 S. Joplin Ave., Joplin, 417-691-8523
If you're not sure what style of pizza you might be craving, Carmine's Wood Fired Pizza in Joplin is probably the place for you. William Carmine Cornell started making his own wood-fired pizza in a mobile unit about seven years ago after he moved to Joplin and couldn't find the kind of pizza he knew and loved back home in New Jersey. Carmine's brick and mortar celebrated its five-year anniversary in May, and they now offer three different styles of pizza. Each style—New York, Neapolitan and Detroit—is distinct and made to be as authentic as possible. The New York-style pizza is a 16-inch pie cooked in a deck oven and cut into eight oversized slices, just like you might find in a New York City pizza shop. Carmine's Neapolitan style is made with flour and tomatoes imported from Italy and baked in a hand-made, wood fire pizza oven also imported from Italy. Cornell says the Detroit-style pizza, which is a thicker crust, pan-style pizza usually topped with Wisconsin brick cheese, is an up and coming style that has been growing in popularity across the country. Carmine's brings not just good, but diverse pizza to 417-land, which we appreciate as an excuse to eat pizza every day of the week.

Pizza and Beer
The pair, made even more perfect thanks to these local favorites.

Lil's Helper IPA
Everyone's favorite IPA from Mother's Brewing Company makes a wonderful pizza pairing with those lip-puckering fruit flavors.
417 Lager
Malty with a touch of sweetness and just a little hop, this classic, balanced lager from Springfield Brewing Company is just as trusty as pepperoni pizza.
Brewery Dream Cream
Light, crisp and very Midwestern, this ale from Hold Fast Brewing will love pizza almost as much as you love it.

The Portal
A simple, classic brew done well, this pilsner from Great Escape Beer Works is the perfect pizza pairing.

Basil Saison
Why not have your pizza and drink it, too? Basil is a classic pizza herb, and it's delicious in this Tie & Timber brew, too.